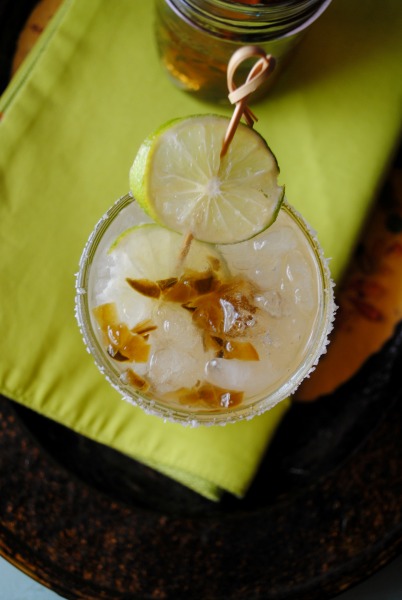 Jalapeño Jelly Margarita – Margarita de Jalea de Jalapeño
Do you remember that jalapeno jelly I made for my mom and neighbors as Christmas gifts? They were a big hit and I'm glad I was smart enough to keep a jar for myself.
Warmed ever so gently on a low flame then drizzled over room temperature cream cheese served with crackers, oh it's a treat..and addicting.  
I was reaching the end of my jar when I remembered I had clipped this recipe from Southern Living last year.  With all ingredients on-hand I thought I'd give them a try last night to enjoy them with dinner, so good. 
Sweet, spicy and with a tingle from tequila these margaritas hit the spot! 
If you love jalapeno jelly (I know I do), then you will LOVE these jalapeno jelly margaritas    
Ingredients
1 cup tequila
1 cup fresh lime juice
1/2 cup orange liqueur
1/3 cup powdered sugar
1/4 cup green pepper jelly
Garnish: lime slices
Instructions
Stir together first 5 ingredients in a large pitcher, stirring until sugar and pepper jelly are dissolved. Fill cocktail shaker with ice cubes; pour desired amount of mixture into cocktail shaker. Cover with lid, and shake vigorously until thoroughly chilled (about 30 seconds). Strain into chilled glasses with salted rims. Serve immediately.
Notes
recipe from Southern Living 2012
http://sweetlifebake.com/2014/01/17/jalapeno-jelly-margarita-margarita-de-jalea-de-jalapeno/
   Jalapeño Jelly Margarita – Margarita de Jalea de Jalapeño
¿Te acuerdas de que la jalea de jalapeño que hice para mi mamá y vecinos como regalos de Navidad? Fueron un gran éxito y estoy contento de haber sido lo suficientemente inteligente como para mantener un frasco para mí.
Calentado muy suavemente a fuego lento y luego rociados sobre el queso crema temperatura ambiente servido con galletas saladas, oh, es una delicia .. y adictivo.
Yo estaba llegando al final de mi frasco cuando recordé que yo había recortado esta receta de Southern Living el año pasado. Con todos los ingredientes a la mano pensé que les daría una oportunidad anoche para disfrutar de ellos en la cena, tan sabroso.
Dulce, picante y con un hormigueo de tequila estas margaritas,  son fabulosos!
Si te gusta la jalea de jalapeño, entonces te encantará estas margaritas jalea de jalapeño
Margarita de Jalea de Jalapeño
Ingredients
1 taza de tequila
1 taza de jugo de limón fresco
1/2 taza de licor de naranja
1/3 taza de azúcar glas
1/4 taza jalea de jalapeño
Guarnición: rodajas de limón
Instructions
Mezcle los primeros 5 ingredientes en una jarra grande, revolviendo hasta que la azúcar y la pimienta jalea se disuelven. Llenar una coctelera con cubitos de hielo, verter la cantidad deseada de mezcla en coctelera. Cubra con una tapa y agitar vigorosamente hasta que esté bien frío (unos 30 segundos). Cuele en vasos fríos con borde salados. Sirva inmediatamente.
Notes
receta from Southern Living Dec 2012
http://sweetlifebake.com/2014/01/17/jalapeno-jelly-margarita-margarita-de-jalea-de-jalapeno/