Sweet Life Disclosure: This is sponsored post with Avocados from Mexico in Celebration of the Avo Awards. While I was compensated, all opinions are my own.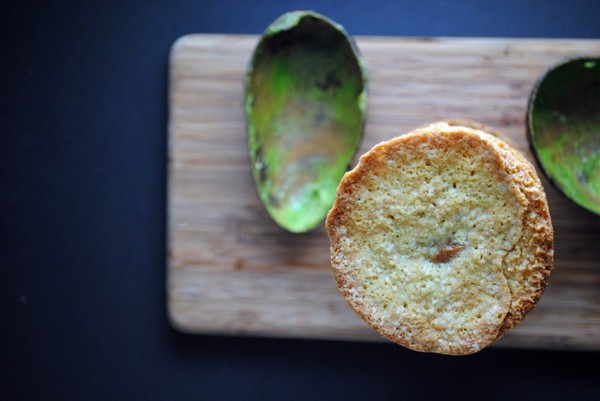 Are you excited for the Hollywood's Big Night? Yes, me too! 
Which movie do you think will take home the coveted award for Best Picture?
Leading actor in a movie?
Or leading actress?
In the spirit of the celebration drawing near on March 2, Avocados from Mexico is rolling out the "green carpet" for its "Avo Awards" on facebook.
Awards Season watch parties are becoming a popular social event each year, because you can't cheer on your favorite movies without a great table brimming with tasty nibbles.
Avocados from Mexico and I want to make sure you are ready for the Big Night with a friendly "green carpet" competition plus an Amazing $500.00 giveaway! 
Three talented bloggers along with myself are nominating recipes using Avocados from Mexico in four Avo Awards categories. Fun!  Sixteen delicious Avocado recipes that are elegant enough for the red carpet, but are easy to make, delicious and bursting with Avocado goodness.  We've got you covered with amazing recipes that are sure to make your Film's Big Night viewing party the talk of the town.    
It's easy to vote for your favorite recipes in the Avo Awards by visiting the Avocados from Mexico's Facebook through March 5.
Look for the Avo Awards nominations, and vote for your favorites by commenting on the graphic.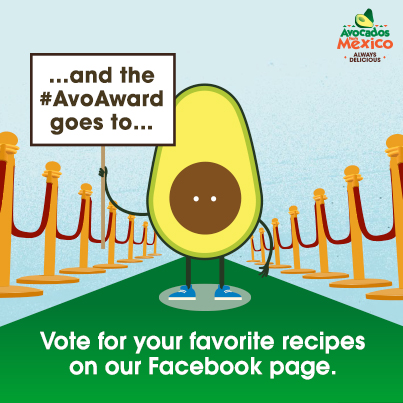 Here are my nominations: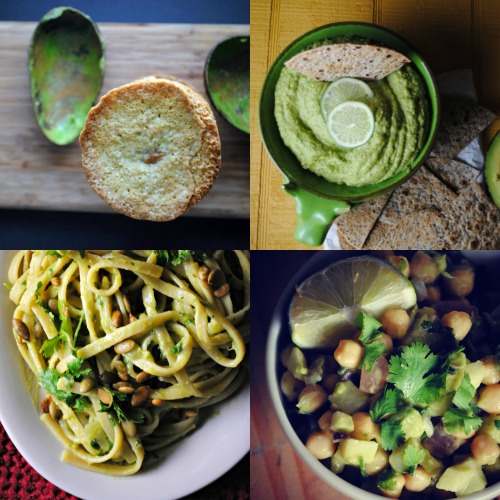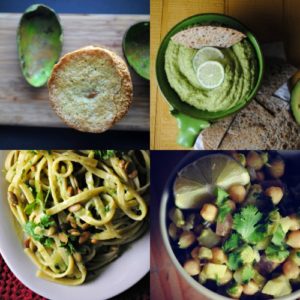 My Avocado Dulce de Leche Muffins  for Best Picture, showing the best food styling / food photo featuring avocados
My Avocado hummus for Best Supporting Avocado, featuring a side dish that includes avocados
My Avocado Pasta for Best Leading Avocado, my favorite main dish that features avocados
My Garbanzo Salad with Mango Cumin Dressing for Best Dressed Avocado, my favorite salad that features avocados
These recipes will be great for your viewing party, but here's a few more from Avocados from Mexico to round out your viewing menu. Fresh avocados from Mexico add creamy, rich texture and delicious flavor to take your Awards Season watch party fare to the next level. You can wow friends and family with delicious and elegant avocado appetizers, like Avocado Gazpacho shooters, Avocado, Mozzarella and Tomato Salad and Tempura Fried Avocado Bites.
I'm also giving away a $500 Avo Awards prize pack to one lucky reader who votes in the Avo Awards. Good Luck!!
The Avo Awards gift pack includes (approximately $500 value):
$150 Rent the Runway gift card – for your next "red carpet" event
$200 Visa gift card for entertaining supplies
$25 Redbox gift card – to rent your favorite movies
$125 worth of entertainment supplies which include:
Cheryl Forberg "Flavor First" Cookbook
Also make sure you follow Avocados from Mexico on Twitter who we will be hosting a Twitter party on Wednesday Feb. 26 from 9-10p.m. ET  to share Hollywood's Big Night Watch party tips, ideas and recipes.  Follow @AvosfromMexico or Hashtag #AvoAwards to join in on the fun.
Find new recipes over at the Avocado from Mexico homepage and follow along on their Pinterest page.  Be sure to keep up with new promos, events, recipes and giveaways on their Facebook page.