When I threw my first dinner party, I was a nervous wreck. I wanted everything to be perfect, the house to be spotless and the food had to be amazing. My daughter was six months at the time, so in between feedings I was in a mad rush to clean, chop, dice and bake. By the time my guests arrived to enjoy dinner I was completely exhausted. As I cleaned up after my guests left, I thought to myself, there has to be a better way to host dinners where I can relax and enjoy my guests' company.
Since then I've entertained at home countless times, and over the years I have developed a few tips and tricks I always adhere to. I've teamed up with Febreze ONE  today to share my best entertaining tips that will make you the hostess with the mostess in no time.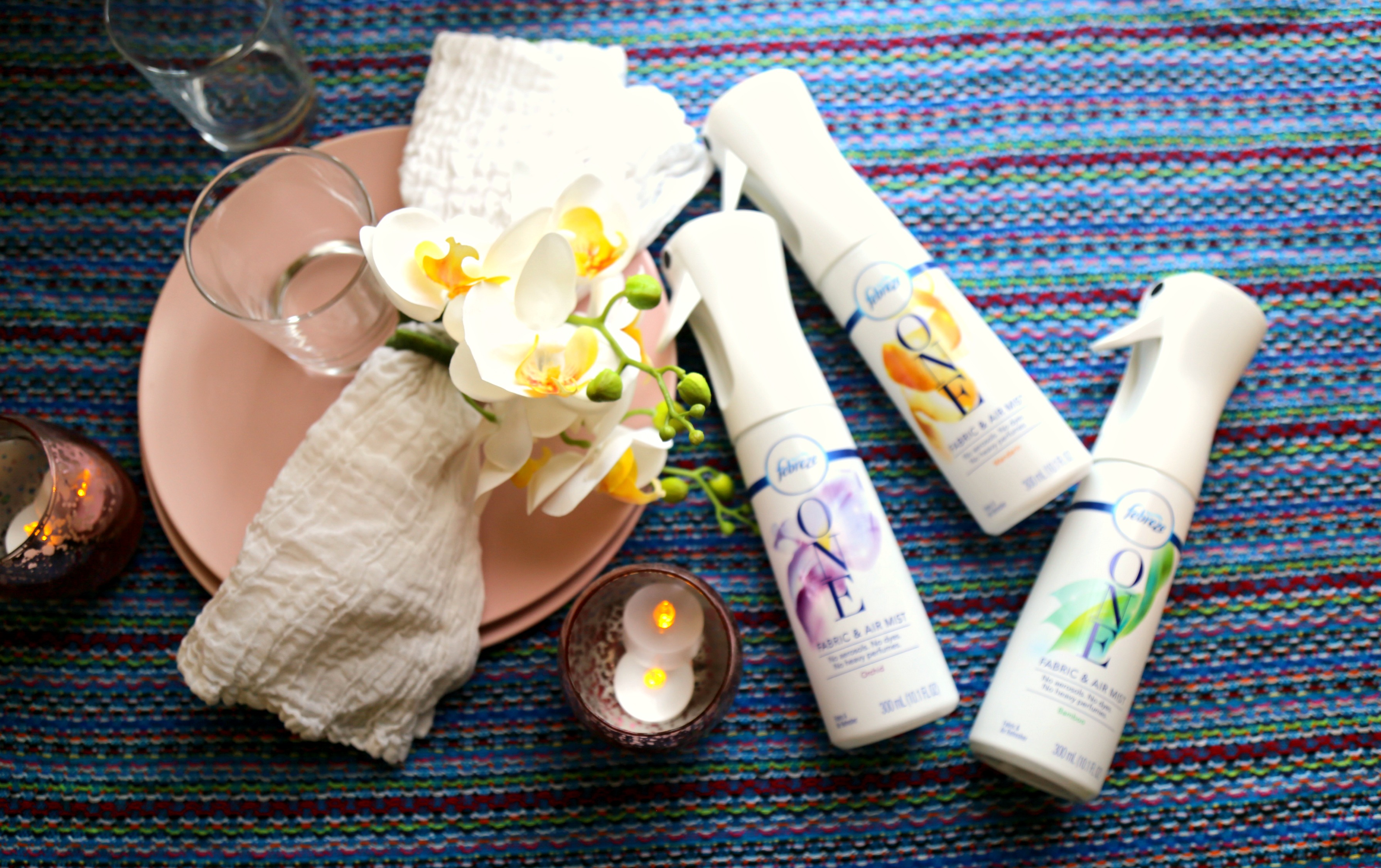 Cook what you know: Cook what you are comfortable making. Make a dish you are confident in cooking. Don't' stress yourself out by attempting a new recipe or technique to impress your guests. Simple is sometimes the best. Stick to what you know, if that's your mom's famous casserole or a slow cooker meal, pair it with a fresh salad or an easy dish. Also, don't sweat taking easy shortcuts like buying appetizers from the supermarket or heading to the local bakery for desserts.
Plan, Plan, Plan: Once you have set the menu, create a solid grocery list. Include everything you need, from the ingredients for the menu to the bar essentials. Make sure you have enough of all the necessary tableware to serve your guests: plates, silverware, serving dishes, wine glasses, and dessert plates. Having a solid list avoids you having to run around on the day of your party.
Prep, Prep, Prep: Make a prep schedule and prepare as much as you can in advance. Chop veggies for a recipe, bake the dessert in advance, set the table and chill the wine. Cooking for a dinner party takes longer than a meal for two. Preparing in advance allows you be well rested and leaves you a few extra hours in the kitchen on the day of.
Clean, Clean, Clean: Clean as you go to avid a mountain of dishes. It also makes the after-dinner clean-up much smoother. Empty the dishwasher or sink before your guests arrive so that you can easily fill the dishwasher or begin to soak the dishes in the sink.
Set the Mood: A few candles, soft music in the background and my favorite fabric and air mist- Febreze ONE will set the mood. After the dinner prep in the kitchen, a refresh of your space is a must. No dinner guest should arrive to the lingering odors of cooked onion or bacon. Everyone is faced with odor problems in their home, but many people don't think air fresheners are a solution, because they have had bad experiences with overpowering scents or the desire to avoid products with harsh chemicals and heavy perfumes.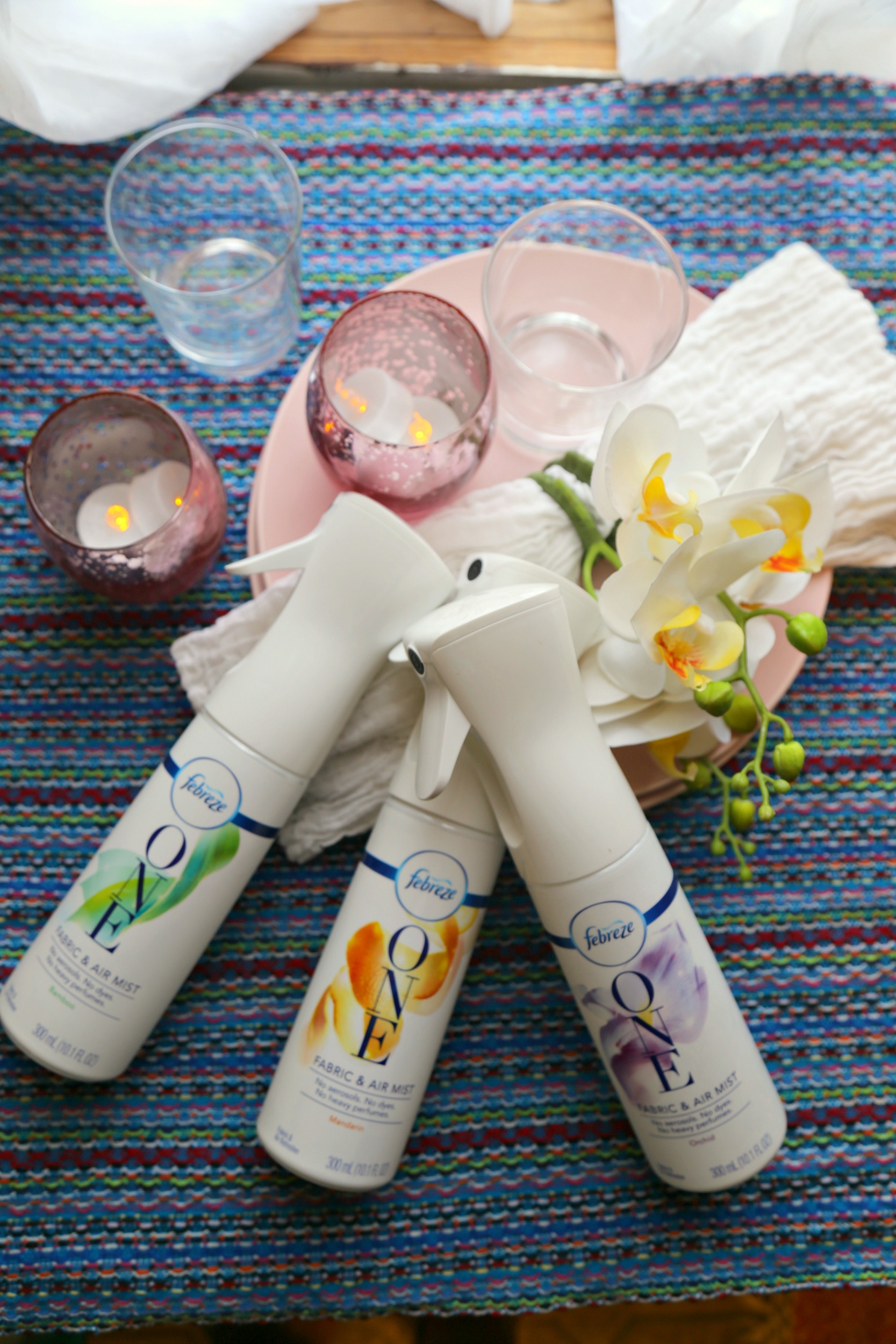 Many people even find that the strong scents and overpowering sprays of some air fresheners can be so overwhelming that it sends them running for the door. Febreze has created Febreze ONE Fabric & Air Mist to offer consumers a product with no aerosols, no dyes, and no heavy perfumes – so even the most sensitive sniffers can spray, stay and love the air they're in, bringing them to an "ONE state of mind."
Febreze ONE gently removes odors from both fabrics and the air. I lightly spray my curtains, sofa, pillows kitchen and the dining room to gently remove the smell of the dishes I am cooking in the kitchen. Febreze ONE has the same odor elimination power of other Febreze products with a unique two-in-one formula that makes it perfect for removing odors both in the air and on fabrics. When your guests arrive, you can greet them with any of the three nature-inspired, single-note scents that Febreze ONE offers: Bamboo, Mandarin or Orchid with a floral scent so delicate, stink won't know what's coming.
I hope these entertaining tips inspire you to host your very own dinner party. Febreze ONE  has graciously offered one of my readers a chance to win a bottle of  Febreze ONE. Comment on my latest instagram post featuring Febreze ONE for a chance to win. *Open to U. S. residents only. Giveaway ends June 6th, 2018.