WINNERS!!!!
4 prize packs from HEB/ConAgra
Angela
Danielle
Michele P
Jennifer
Sweet Life Prize Pack
Monica
send me your info and I will send out your prizes!! Thanks!
We have come to the end of our Meal Maker Challenge!! I had a blast sharing my spin on quick dinner ideas and wanted to thank you for your support!
I have been showered with an overwhelming shower of support with emails, tweets and comments.  I was thrilled at how well my Mole recipe was received and imagine my surprise when I found out that 12 people had made my quick mole and loved it!!  That to me is the ultimate prize!!  I had the pleasure of meeting a great group of gals and am excited to meet George Duran this Sunday.  So what better way to show my gratitude than with a giveaway!!
Let's talk Giveaway!!
4 lucky winners will win a prize package from H-E-B /Con Agra Foods
Wait, there's more.  One lucky reader will also have the chance to win a prize package from Sweet Life!! Pretty Cool!! 5 winners!!
During this challenge I met Rachel from A Southern Fairytale !! A great Corpus Christi, Texas blog that features fun recipes, family and her life in Texas.
But did you know Rachel is in a new cookbook? Yup, she and 50 + talented blogger joined together to create a cookbook to support The American Red Cross.  Aren't bloggers the kindness folks?
When I read this over at her blog I knew I had to share this great cookbook.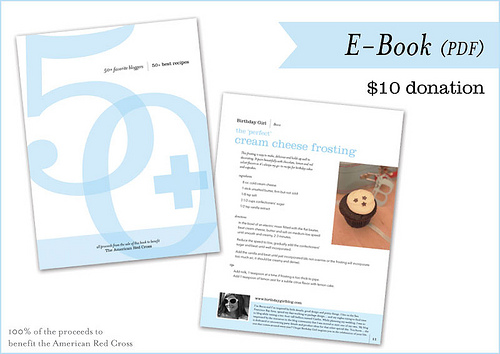 Here's a little information about this cookbook from Rachel's Blog:
I am in an amazing cookbook that gives back But the best part about this book is that all the proceeds, every last little bit, goes to the Red Cross.
100% of your donation will go to the American Red Cross to help the many people who have been affected by recent natural disasters around the world.
After seeing the devastation in Japan, several top blogs teamed up wanting to somehow make a difference.
This cookbook, is the result.
More than 50 blogs donated one of their favorite recipes to be compiled into an incredible cookbook designed by chickabug (design talent was 100% donated as well).
The blogging community is wonderful!! Also, since I am super excited to met George Duran I thought why not share his Cookbook with you.  Yes two cookbooks!!
For a chance to win
Comment.  Follow me on Twitter or Tweet giveaway! Please leave separate comments for each. Giveaway open until August 28, winners will be emailed on August 29. Good Luck!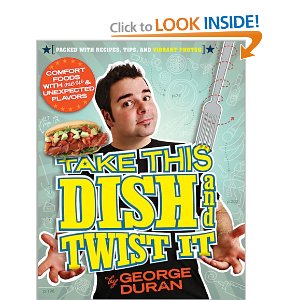 About:
Make it quick, make it delicious–but always make it with a healthy dose of creativity! This is the delightful way George Duran, who is part comedian, part trained chef, and star of Food Network's Ham on the Street and The Secret Life Of, approaches cooking. In his first-ever cookbook, George shares his favorite recipes for easy-on-the-cook comfort foods with a twist, including recipes such as Deep-Fried Chocolate Chip Cookie Dough, Banana Split Pancakes. BLT Hot Dogs, and Tex-Mex Lasagna. The unusual twist comes from ingredient combinations you may never have considered, but are absolutely delicious! Are you ready to get new, creative meals and desserts on the table fast? Then let's get cooking!
*Sweet Life Disclosure:  I was invited,compensated and received promotional items for my time to participate and create quick and easy meal solutions for  HEB ConAgra Back-to-School Meal Maker Challenge.
The opinions expressed in Sweet Life are my own.
The Sweet Life prize package has no affiliation with The Meal Maker Challenge.