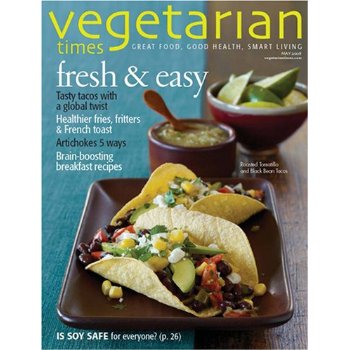 Giveaway!~CLOSED!!
WINNER ANNOUNCED !!
Ambika YOU WON!! Please contact me at sweetlifebake at gmail.com with your address !!
Thanks for entering. Stick around we have more,more,more magazine subscriptions to giveaway!!
I love food magazines.  I'm admit I am a magazine junkie.  They are stuffed in my purse for a road trip, stacked by my bed for evening reading and a few are subject to sticky little fingers determined to help their older sister bake.  My entire family benefits from my addiction.  It's true.
They inspire me to try new flavors, new dishes and offer a boost on days when I dread entering my kitchen.
Vegetarian Times is one of my favorite magazines and I would love to share this gem with you!!
Enter to win a 1 year subscription, Good Luck!     
Vegetarian Times
1 year subscriptions = 9 issues
TO ENTER:
LIKE Sweet Life on Facebook
GRAB my Feed 
FOLLOW me on Pinterest
Please leave a separate comment for each entry.
Winner will be selected by random drawing on Monday Jan. 9th.
Winner will be announced on this post.
For US residents only.
Sweet Life disclosure: Not affiliated with Vegetarian Time.