Print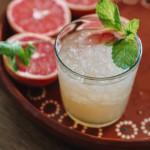 Sparkling Ruby Red Tequila Gimlet
A twist on a classic a sparkling ruby red tequila gimlet showcases the beloved Texas ruby red grapefruit. Fresh ruby red grapefruit juice, mint simple syrup, tequila blanco and prosecco create a simply sweet twist on the traditional gimlet.
In food processor, pulse mint and sugar until combined. In small saucepan, bring water to a boil over high.

Add mint sugar and stir until sugar dissolves; let cool.

Pour into ice-filled rock glass.

Top with Prosecco; garnish.