Print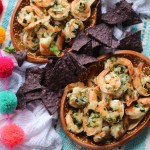 Cilantro Lime Shrimp
Cilantro lime shrimp, succulent shrimp sautéed with olive oil, garlic, lime juice, onions and plenty of fresh cilantro served warm is the ultimate appetizer to kick off the weekend, plus it's ready in under ten minutes.
In skillet heat oil over high heat.

Add onion and garlic, cook until soft and translucent, about 1 minute.

Add the shrimp, season with salt and pepper, stir to coat, cook for 2 to 3 minutes, or until cooked through.

Remove from heat, stir in lime juice and cilantro.

Serve warm with tortilla chips, or as a filling in warm tortillas.