Vianney Rodriguez is the founder and recipe developer of Sweet Life.
A Proud Tejana who feels lucky to have the best of both worlds, Vianney was happily raised in Texas by Mexican parents. Her blog name Sweet Life refers to living a Sweet Life enriched with the spice of two diverse worlds enveloped with the memories of growing up in a Mexican household.

Recognized as:
Latism 2012 Best Latina Food Blogger – NBC Latino food blogs we love
Mama Latina's 12 Best Latin Food Blogs - Latina Magazine Best Cooking Blog Roll.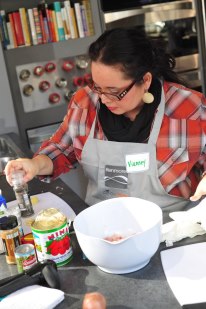 Vianney has had the pleasure to work with Maseca, Avocados for Mexico, Kenmore and New Latina. She contributes to Mamiverse, The Latin Kitchen and develops recipes for local Texas products. She has been featured on Huffington Post, Yahoo Shine, Latina Magazine, Glamour, Fox news Latino and in 2012 was invited to the White House as one of Latism's Top Latina Blogger's in the Nation.
In 2012 Vianney was a panelist at the Latism Conference where she spoke on the topic of Eat Healthy, Live longer and Better. Invited to speak at BlogHer Food 2013 in Austin, Texas she will speak on Sharing your Story Through Food.
Passionate about blogging, she shares her knowledge on Latina Bloggers Connect, where she strives to help new food bloggers find their voice, share their dishes and enjoy the tasty life of recipe development with her weekly column.
Addicted to Margaritas made with fresh bold flavors I share my passion for Tequila on my Margarita Love page. 
Be sure to visit my Media Page to see what I've been cooking up in the Kitchen.  
Connect with Me:
via Email: sweetlifebake (at) gmail.com
Crave fresh recipes? Subscribe and have them delivered straight to you email click here.
Join me as I celebrate Life, Food and Familia all from the Sweet State of Texas.
Sending y'all big Texas hugs!  xoxoxo
Vianney