Vianney Rodriguez is an Award-Winning Food Blogger, Recipe Developer and the Author of Latin Twist, a collection of nearly 100 delicious Latin-inspired cocktails and the forthcoming The Tex-Mex Slow Cooker, a gorgeous cookbook filled with 100 incredible Tex-Mex recipes that you can easily make at home in your slow cooker. Vianney is a native of South Texas and shares the region's vibrant and unique culture here on Sweet Life.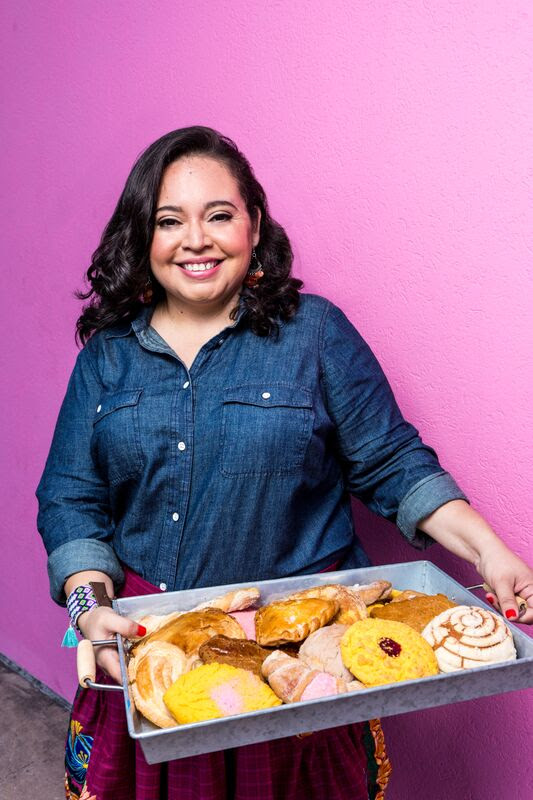 She has been ranked as one of Babble's Top 100 Food Bloggers in 2013 and has collaborated with top level brands, such as Maseca, Avocados from Mexico, Kenmore, Sabra Hummus, Wilton, Tabasco, and HEB.
She is a regular contributor to Parade Magazine and has appeared in The Huffington Post, Buzz Feed, iVillage, Yahoo Shine, Women's Day, Cooking Light, NBC Latino, Latina Magazine, Glamour, Fox News Latino, Mamiverse, The Latin Kitchen, Tastespotting, Foodgawker and Liquirious.
Vianney has been named as one of LATISM's Top Latina Bloggers in the nation, and was invited to an exclusive retreat at The White House in 2012 as part of her honor.
In 2012, Vianney was a panelist at the LATISM Conference where she spoke on the topic of "Eat Healthy, Live longer and Better." She has served as a panelist at BlogHer Food 2013 in Austin, Texas and spoke about "Sharing your Story Through Food."
For a more detailed list of credentials, please visit the Sweet Life media page.

Interested in partnering with Sweet Life?
Here are some ways that we can work together…
Writing & Recipe Development – Sweet Life offers recipe development, writing and recipe testing services to marketers, cookbook authors, content publishers and brands. For details, please use the contact form below.
Brand/Product Ambassador – Sweet Life works with a select number of brands every year as a brand or product ambassador. If you feel that your brand is a "right fit," some options for collaboration might be a series of blog posts, social media engagement and brand events. Long-term brand relationships will be given preference.
Company / Brand Events & Travel – Throughout the year, Sweet Life travels to special events to either represent a brand, review an event or engage with other food bloggers. Invite Sweet Life to attend your event and learn about your product, celebrity endorsements, etc.
Sponsorship – Sweet Life attends several conference and food events throughout the year. If you would like to sponsor a trip and have your brand represented at a particular event, please contact us for more information.
Cooking Demos – Are you looking for someone to present your product or recipe in front of a live audience or give tips on how to give simple recipes a Texan twist? Sweet Life can help by sharing a diversity of ingredients and cooking techniques with your audience.
Private Parties / Catering / Margarita Bar – Sweet Life specializes in Texan, Mexican and Tex-Mex cuisine and brings cultural insights and fun to the table. With our modern, Mexican-inspired Margaritas and cocktails, we can whip up a delectable selection of drinks for your private party or catering event.

Food Photography & Food Styling – Hire Sweet Life to beautify your recipes, cookbook photos or catered events. Contact us to learn more about photography and styling services.
Social Media Management (bilingual) – Sweet Life specializes in writing and editing bilingual content (text, photos, video) in Spanish and English for Facebook, Twitter, blogs, and newsletters. Sweet Life takes into consideration the specific nuances of your audience in every update, tweet or pin that we publish.
Sponsored Giveaways & Reviews – If you have a product or services that is a good fit for Sweet Life, contact us to see what options are available to you. Often, we select giveaways and reviews that are valuable to our audience and which are in line with the content and food style shown on the blog.
Speaking – Sweet Life appears at a select number of conferences and food events each year to educate foodies and enthusiasts on food photography, blogging and food related topics. If you would like Vianney to speak at your event, please contact us.
Spanish Translations – Sweet Life provides translation, editing and proofreading services in Spanish. Please inquire for details.
Have another idea you would like to pitch to Sweet Life? Contact us. We would love to hear what you have planned.
Please note: I will always disclose my relationship with the brands and organizations that I work with. Please refer to my disclosure policy for details. In accordance with Google guidelines, I will also only use "no-follow" links when posting paid promotions.
Contact Sweet Life
If you have any questions, comments, or just want to say hola, please send me an email at [email protected]