My love for beans is well known.  I appreciate their simplicity, ease and endless supply of inspiration for quick week night meals featuring these protein packed buttons.  Like clockwork every week I prepare a pot of brothy beans.  As the week flies by they make their appearance at breakfast – refried with egg,  lunch – a steamy bowl garnished with tomatoes, queso fresco and cilantro or dinner – tossed with rice as a side dish or as the main course with enfrijoladas.  Read on bean lovers… When my pot whittles down to the last cup of beany goodness and I need one more meal I simply add pantry items to change their appeal all together.  I make bean dip.  Not your ordinary mushy mass of beans from a can that you get from your local store.  Okay rewind, you do need cans, but cans of really good beans to liven up this bean dip.  Choose your beans wisely, watch for those laden with sodium.. sodium and artificial fillers ..who knows what's in there.    This bean dip features pinto beans, black beans, red kidney beans and canellini.  Take this recipe as a option add the beans you enjoy, I sometimes add chickpeas with great results.  This makes a heavy pot full, so invite friends over or hoard it all you for yourself, like I do. Enjoy! Sweet Life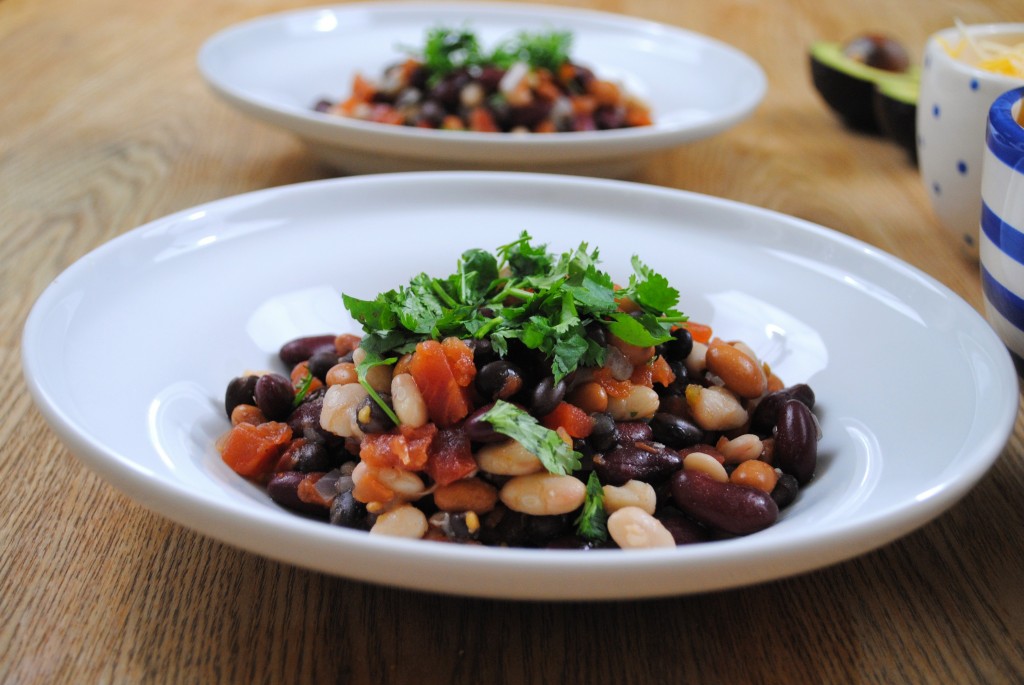 Bean Dip
by Sweet Life
by Vianney Rodriguez
serves 8-10
2 cans (15oz) red beans
2 cans (15oz) black beans
2 cans (15oz) kidney beans
3- 4 cups brothy homemade pinto beans or 2 cans (15oz) pinto beans
1/2 onion chopped
3 tomatoes chopped or 2 cans diced tomatoes
2 garlic cloves
handful of cilantro chopped
2 tsp cumin
2 tsp chili powder
1 tsp salt
1 tsp pepper
olive oil
garnishes- cheese, avocado, extra cilantro, crema or sour cream
In a skillet  add a swirl of olive oil, heat and add onions.  Cook until slightly soft about 4 minutes, add garlic and cook for another 2 minutes.
Drain and rinse all your beans, except your brothy homemade beans if using.
Add onion, garlic mix to your crockpot with tomatoes, cilantro, cumin, chili, salt, pepper and beans.
If you used the canned pinto beans instead of homemade and the mix is too thick add just a bit of water for moisture.
Cover and cook on low for about 4 hours.
Serve garnished with cilantro, cheese, avocado and crema.
Loving the Sweet Life…why not subscribe? New, Simple and Tasty recipes sent directly to your email, pretty cool…
submitting this to