One of hubby's  favs, bolognese pizza.  I quite frankly am not even sure when I began making this for hubby.   I began watching Rachel Ray every day at 5pm as a ritual, as that began my countdown for the end of hubby's day in the Army. He would end his day at five, brave traffic and arrive home promptly at 6pm, ready for dinner.  After a long day a hearty meal was welcomed.   Enjoy! Sweet Life    
Bolognese Pizza
Rachel Ray
1 long loaf, 20 to 24 inches, Italian semolina bread, day old fine
1 tbsp extra virgin olive oil
2 slices pancetta or bacon, chopped
2 pounds ground beef
2 cloves garlic, chopped
2 medium yellow onions, peeled and finely chopped
1 small carrot, peeled and chopped
coarse black pepper and coarse salt
1 tbsp Worcestershire sauce
1 tsp allspice
1/2 cup red wine
1/2 cup beef stock
1 (14oz) can crushed tomatoes
handful flat-leaf parsley, finely chopped
1 pound fresh smoked mozzarella
4 handfuls grated parmigiano or romano
1 cup fresh basil, 20 leaves shredded or torn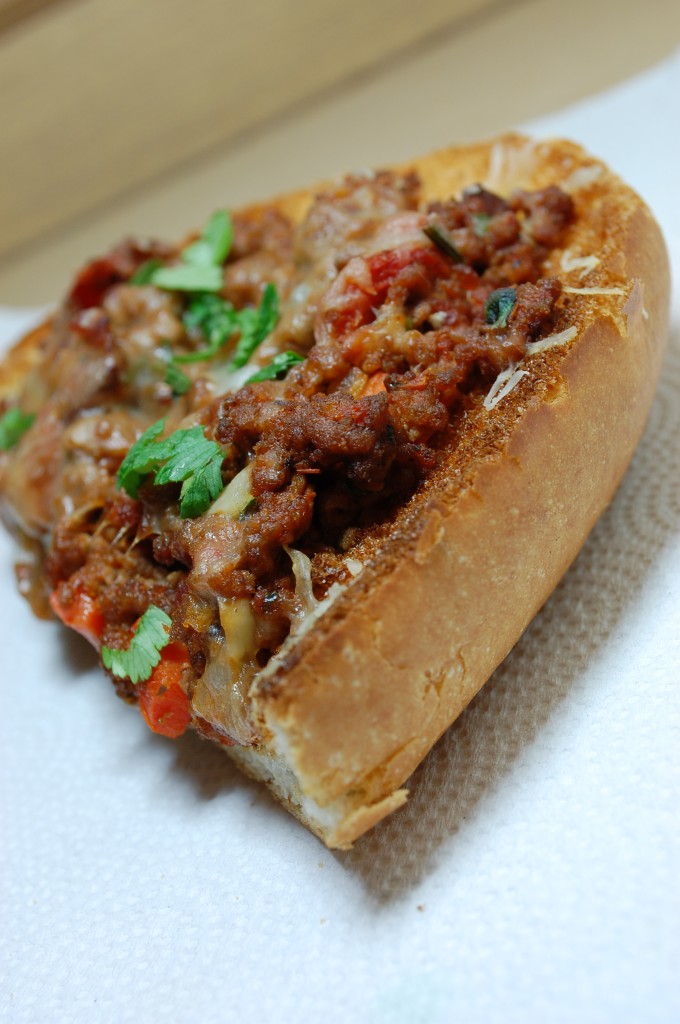 Heat oven to 450
Split bread lengthwise then cut in half again and hollow out.
Lightly crisp bread in oven 5 to 8 minutes.
Remove bread and switch broiler on.
Heat a nonstick skillet over medium- high heat. Add oil and heat. Add pancetta render a minute or so, add meat and break it up into an even layer. Let meat caramelize 1 to 2 minutes without stirring. Break it into small bits and brown well. Add garlic, onions and carrots and season with lots of coarse black pepper, some salt Worcestershire and allspice. cook 10 minutes, stirring frequently. Add wine and scrape up pan bits. Add stock and loosen up the mixture a little. Add tomatoes and parsley and heat through, 1 to 2 minutes. fill breads and top with a thin layer of mozzarella and sprinkle of parm or romano. Broil the pizzas to melt cheese. Top each pizza liberally with basil and serve.
***My notes***
Feel free to use different meat, I have used ground turkey or chicken
Sometimes the mix comes out a little to wet, so feel free to strain, no one like a soggy pizza