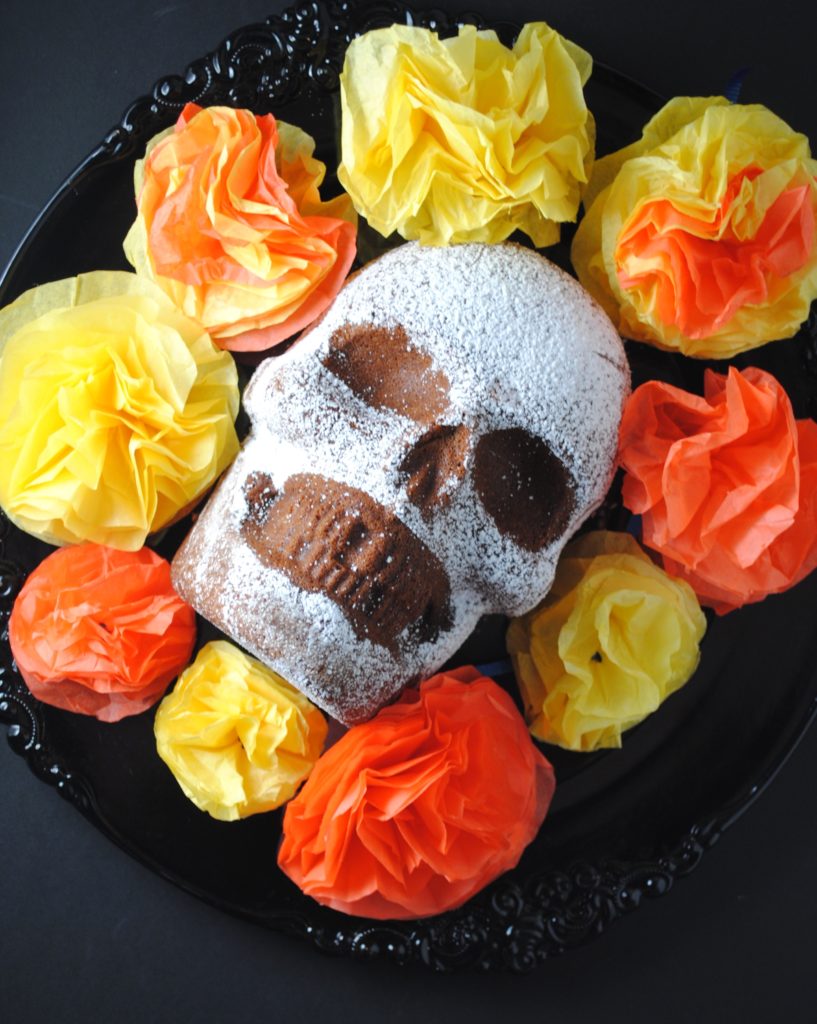 Today I want to share a Holiday that is very dear to my heart, Dia de Los Muertos.  A time to reflect on the loved ones we have lost, celebrate their lives and rejoice in knowing their legacy will be carried on with our children.  Sugar skulls and Cempasúchil (marigolds) are a placed on the Altar to honor the dead. With my familia being in town for an extended Halloween Fiesta we took the chance to explain this Holiday to the children.  As the kids worked on making papel picado and handmade marigolds my mom spoke of this Holiday's rich history.  To end the evening on a sweet note instead of sugar skulls I baked one of my favorite chocolate cakes in shape of a skull.
Dia de Los Muertos is an ancient Aztec celebration of death, the  bittersweet companion to life.  All life must come to an end, so why not  celebrate death as we do life?  As the Europeans arrived in Mexico,  both the Catholic religion and the Aztec celebration intertwined.  Dia de  Los Muertos is celebrated on from October 31 to November 2.  In these days  the lives of our dead are celebrated.  These celebrations include  festivities, food, a family altar, sharing favorite stories of the  deceased and joyful visits to the grave sites.  In the United States  families of Mexican descent are celebrating Dia de Los Muertos more and more  each year, making for Dia de Los Muertos in becoming a widely  popular holiday.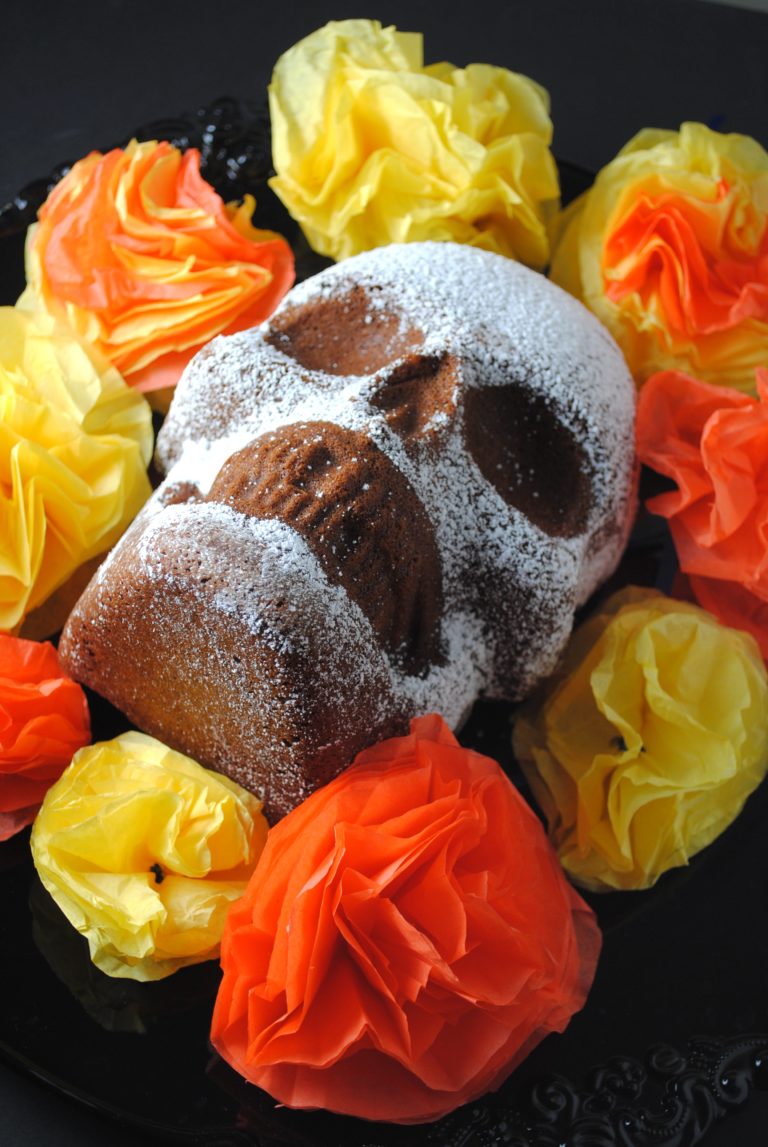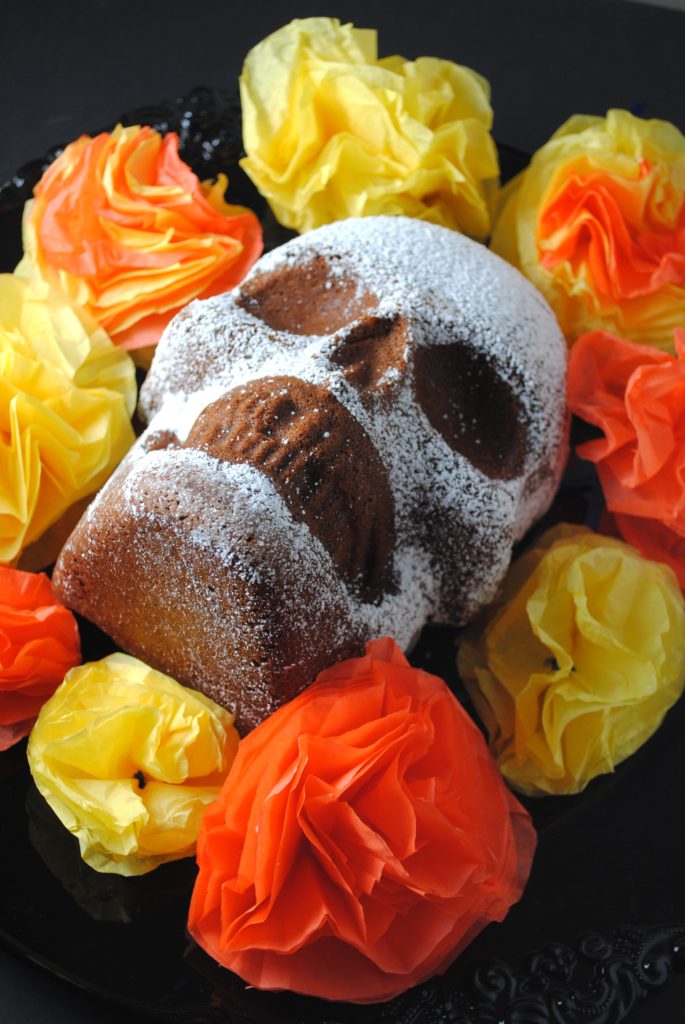 A Glossary for Dia de los Muertos 
Altar – A display honoring departed love one, built in homes throughout  Mexico each year during Day of the Dead celebrations. Offerings are placed on  the altars. 
La Noche de Duelo – The Night of Mourning, the beginning of Dia de los  Muertos in Mexico. On this night, friends and relatives bring food, flowers, and  decorations to the cemetery in a candlelight procession. 
Los Angelitos – Children who have died, remembered on All Saints' Day  Nov. 1st 
Ofrenda – Offerings placed on the altar, sometimes representing the four  elements of earth, air, fire, and water. Earth is represented by food placed at  the altar; air is symbolized by papel picado, elaborate paper cutouts that  flutter on the breeze. fire is represented in scented candles that decorate the  altar, and water is often left in a bowl. Other offerings include personal  mementos of the deceased. 
Our family celebrates this yearly tradition with a week long  celebration of honoring our loved ones with a family altar.  In our  altar we showcase favorite family photos of our departed, papel picado,  candy skulls, flowers and personal  mementos.  Tiny sculptures of their favorite food or  beverage made of Alfeniquen are also placed on the  altar.  During this festive week we as a family recreate their  favorite meals to enjoy as we share their lives with our  children.  This week long celebration fills my heart with  great joy as I honor my departed all while introducing  my children to loved ones they were not fortunate to meet.  As my  children grow they will in turn gain knowledge of their  heritage and begin learning how to cope with future  loss as our altar continues the addition of family members.  I  hope when they are adults they will learn to celebrate death as part of life,  knowing that each year on Dia de Los Muertos our departed with return to  shower us with love.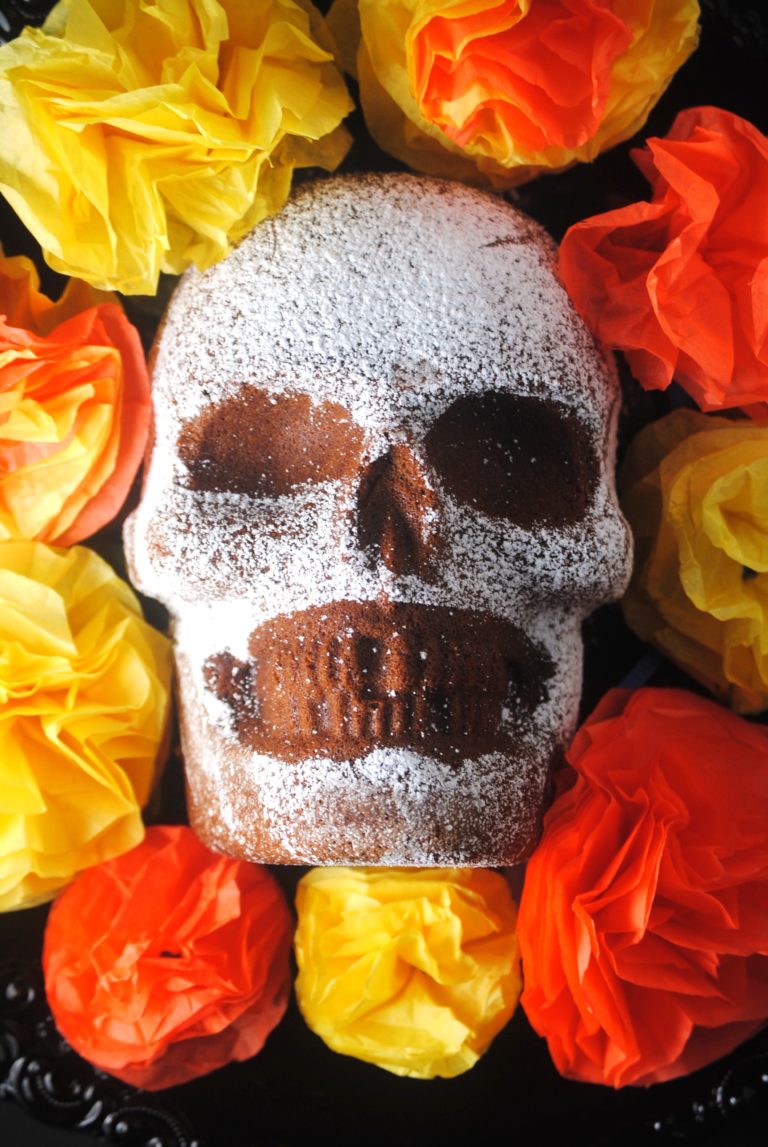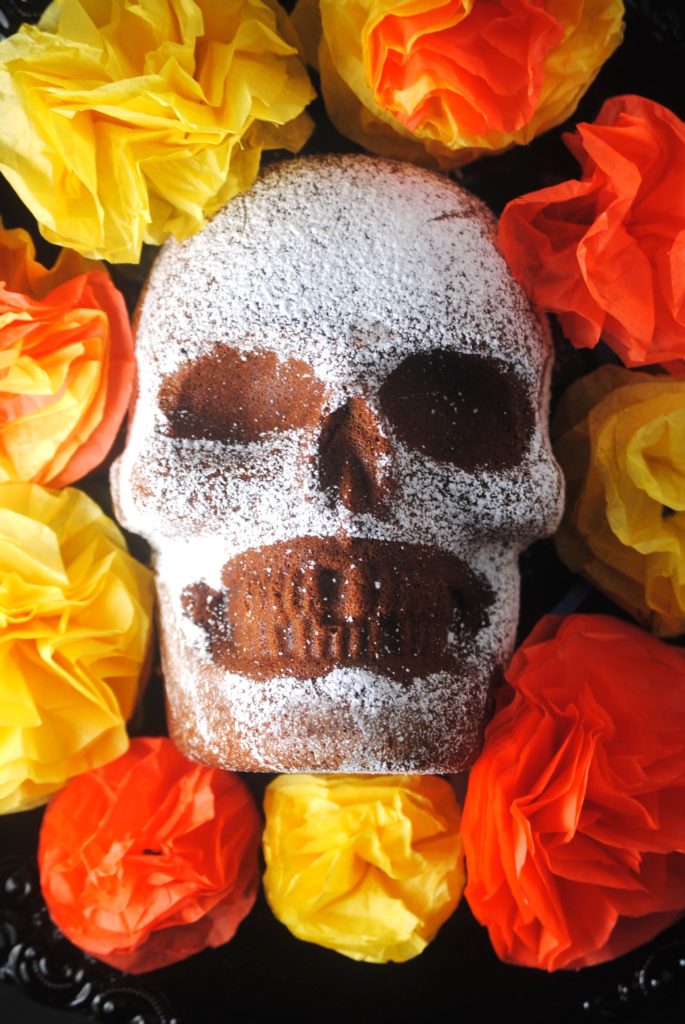 Chocolate Cake
from MI Chita'sMexican Chocolate Dessert Recipes
by Teresa Cordero Cordell and Robert Cordell
cake
6 eggs separated
2 cups light brown sugar
2 cups flour
1/2 cup cocoa
2 tsp baking powder
2/3 cups milk
2 tsp vanilla
Preheat oven to 350
lightly grease and dust with cocoa powder 2 cake pans (9inch). (skull pan)
combine flour, cocoa, baking powder in a large bowl.
In a separate bowl combine milk and vanilla.
Beat the 6 eggs whites until stiff.
Reduce speed and gradually ad the brown sugar to beaten egg whites.
After sugar dissolves add yolks and beat for three minutes.
On medium low speed, alternate flour and milk mixture to eggs until  blended.
Pour equally into prepared cakes pans.
bake 30 to 35 minutes.
Serve with sweet whipped topping or ice cream.
Source: Amazon for skull pan