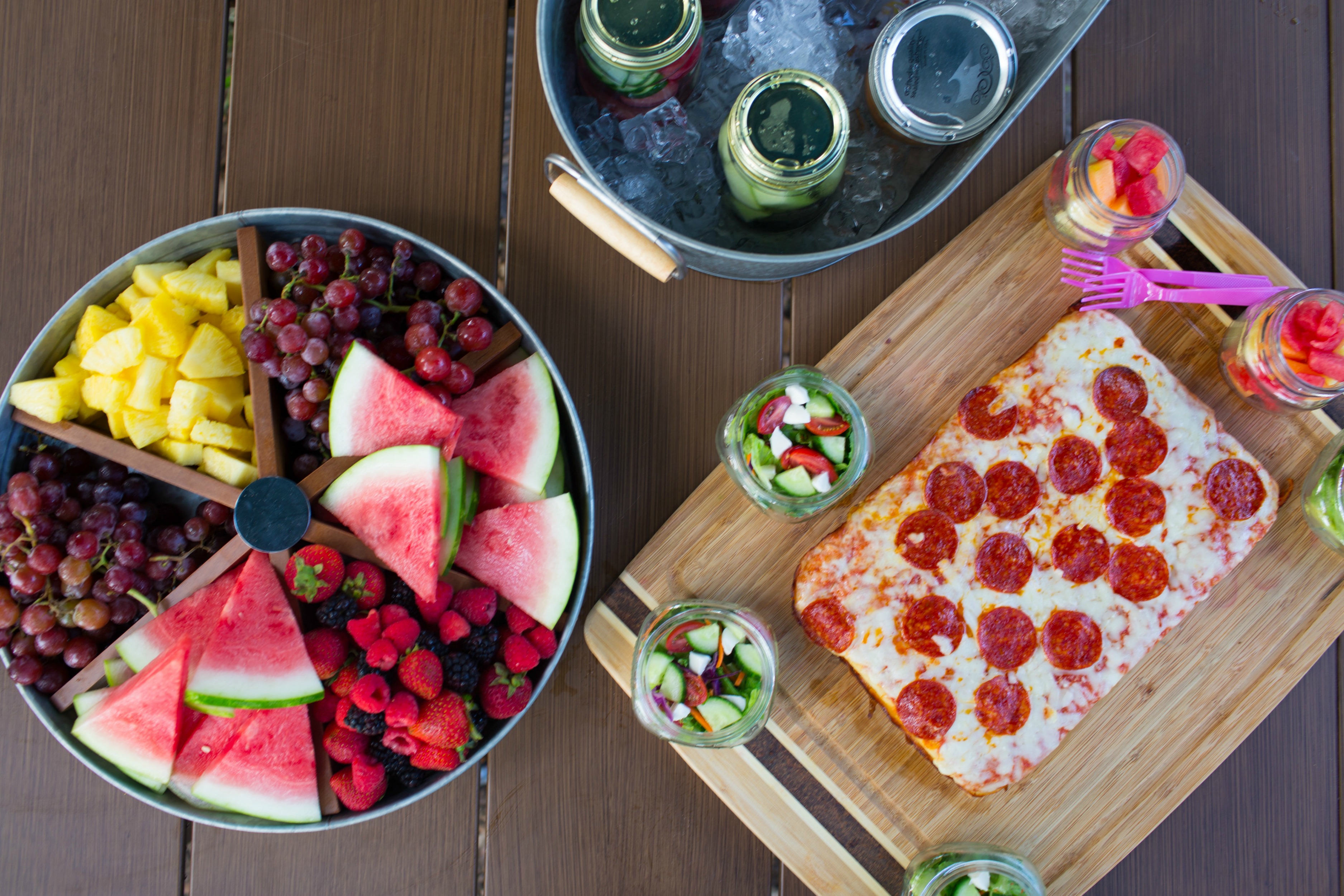 Nothing says summer like gathering the entire family to watch a movie outside. There is something truly magical about sitting under the twinkle of the stars watching a movie together in the cool summer breeze. My family looks forward to outdoor movies all year, so when summer arrives, we are ready to head outside to enjoy a movie.
When DIGIORNO pizza asked me to partner with them to show how easy it is to host a movie night and feature their new Crispy Pan Pizza, I quickly replied let's do it! I'm always up for hosting.
Today I want to share a few easy ideas on how to host your very own outdoor movie night.
MOVIE FOOD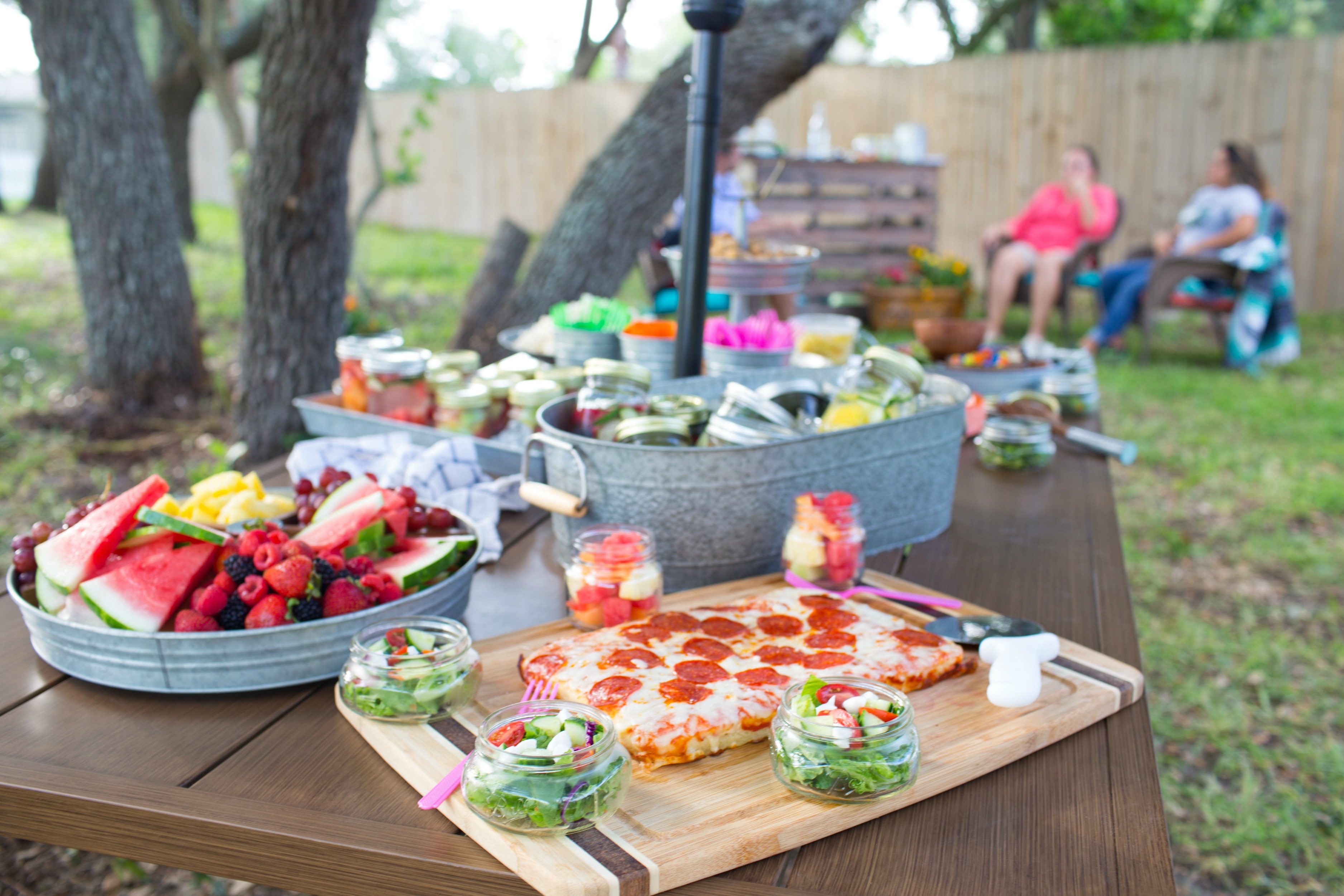 I set up a self-serve food table so that guests could help themselves.  DIGIORNO Crispy Pan Pizza was center stage alongside a colorful mix of nutritious side options.
A colorful tray of summer's bounty – slices of melon alongside plenty of fresh berries.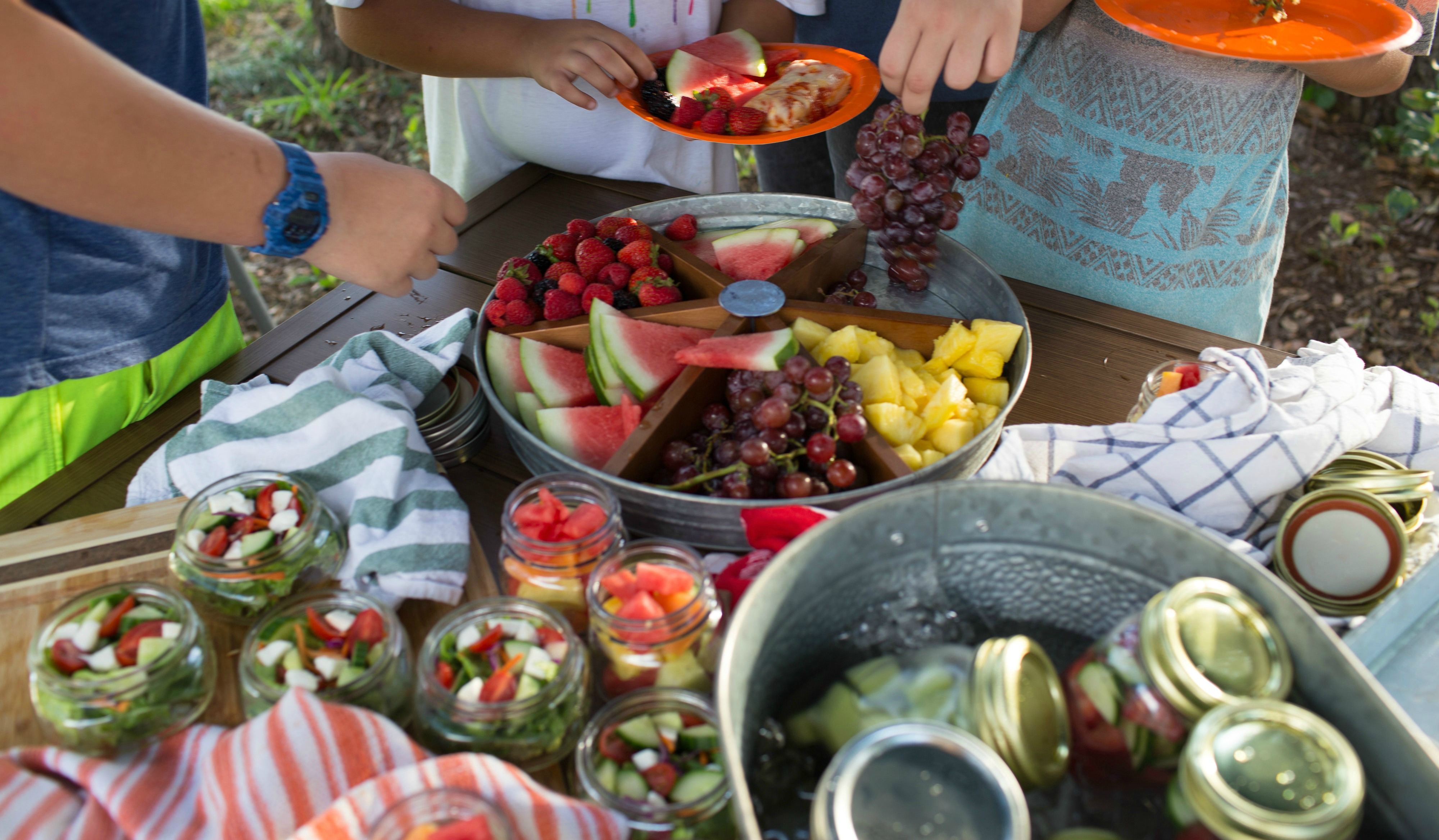 Mini-salads in mason jars, leafy greens, sliced cherry tomatoes, cucumbers, and fresh mozzarella.
Fresh-baked DIGIORNO pizza warm from the oven. DIGIORNO is introducing Crispy Pan Pizza, which is perfect for moments when you and your friends or family are seeking something that excites and entertains. The pizzas are available in Four Cheese, Supreme and Three
The pizzas are available in Four Cheese, Supreme and Three Meat and Pepperoni, which is always a favorite with my group. I was excited to see that DIGIORNO Crispy Pan Pizza bakes up hot in its own single use baking pan because the crust crisps to perfection, plus easy clean up is always nice bonus for this party host.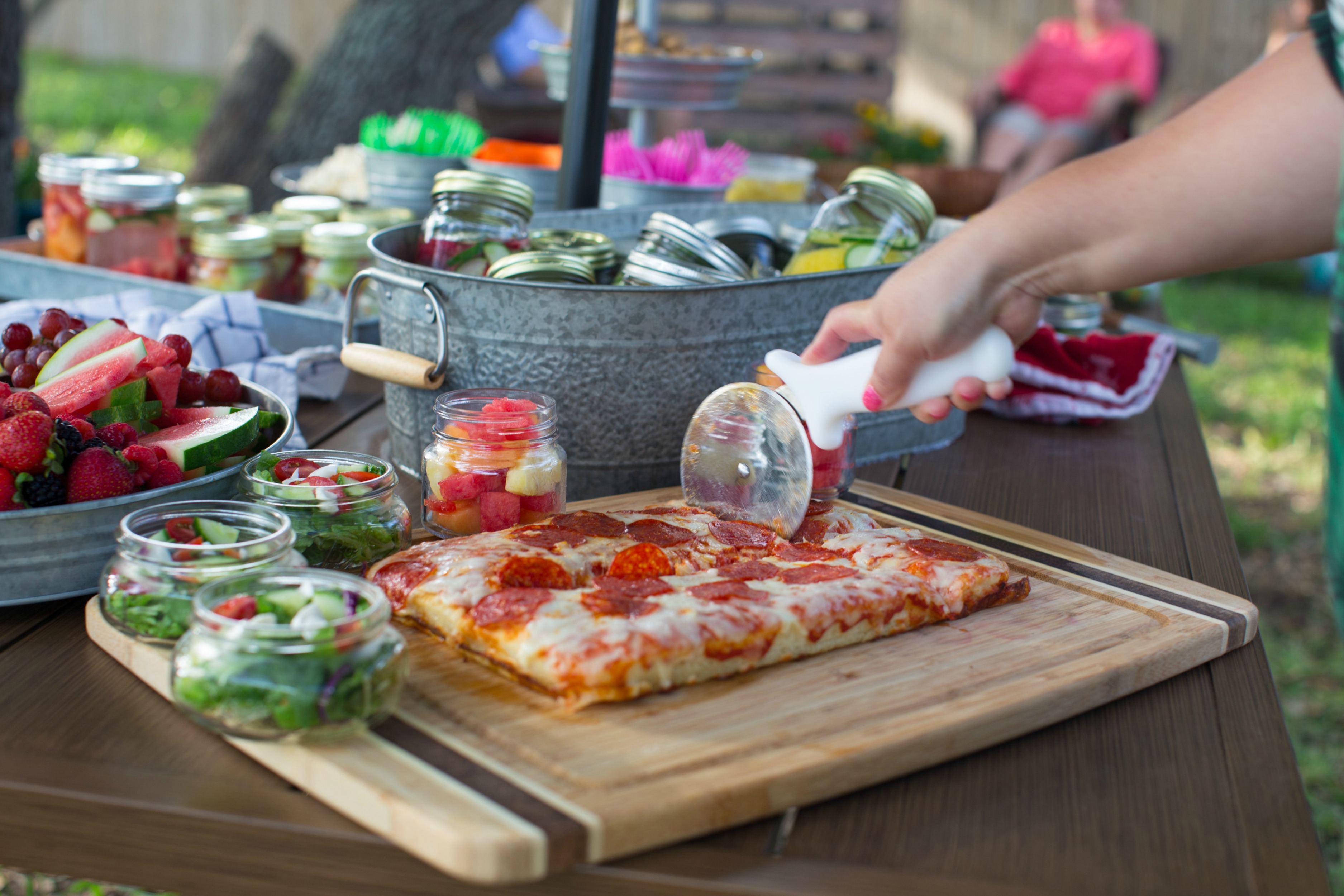 A Popcorn DIY station, roasted peanuts in the shell, sunflower seeds.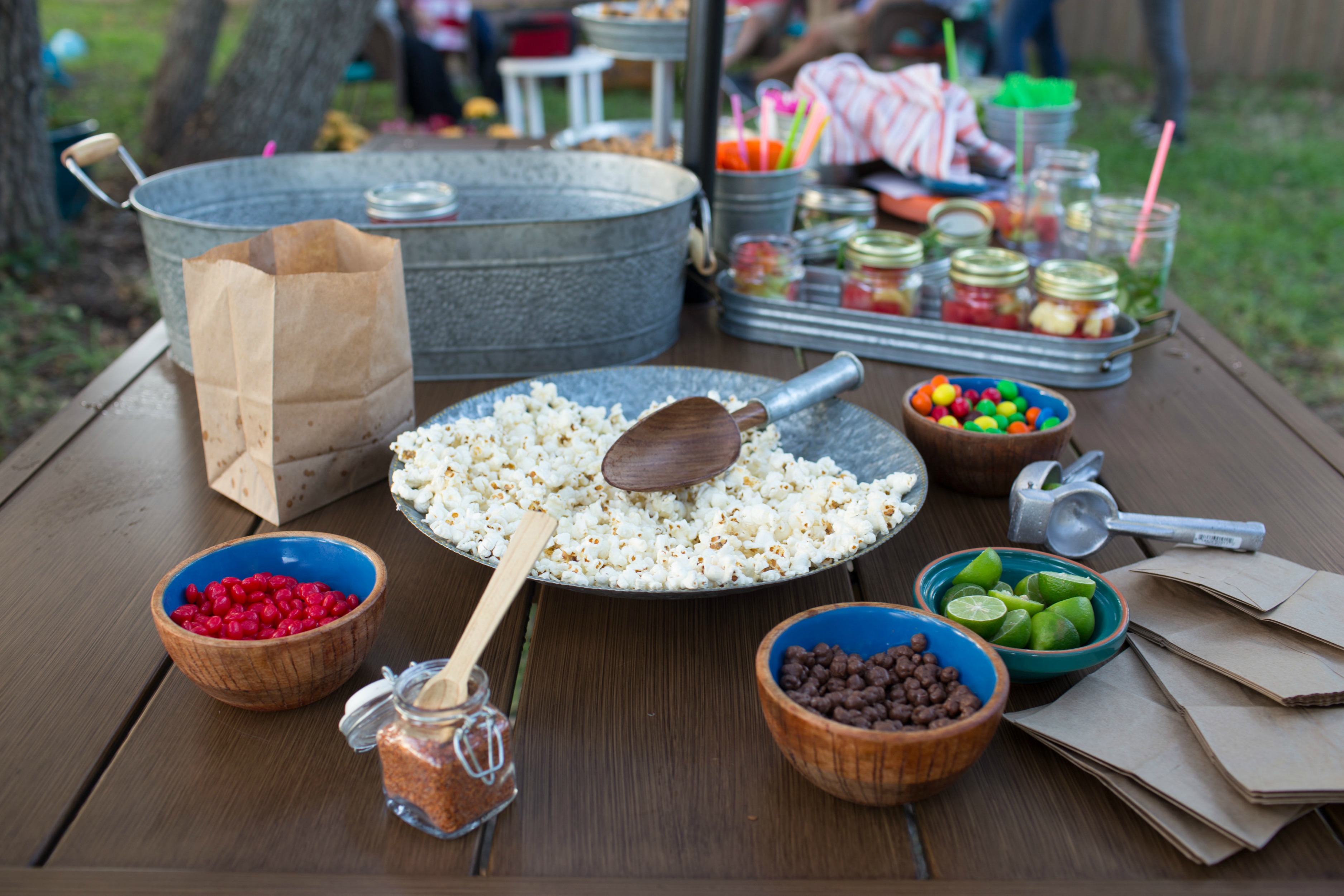 A bin with a selection of fruit-infused water – watermelon-mint, pineapple-blackberry, cucumber- raspberry and cucumber-watermelon. I'm a big fan of reusable mason jars for portability and individual servings.
Hosting a movie night should be a fun, no-stress evening. Having DIGIORNO pizza at the center of my self-serve table is a welcome time saver as I was able to prepare my snacks the day in advance and spend less time in the kitchen and more time with my guests.
My husband was extremely excited to see that we were now able to enjoy pan-style pizza at home. A fresh from the oven pan-style pizza, with easy cleanup, makes hosting movie night a breeze, not to mention my guests were excited to see DIGIORNO Crispy Pan Pizza, is topped with edge to edge cheese for a crust that is crispy and caramelized on the outside and soft and tender inside. Yum.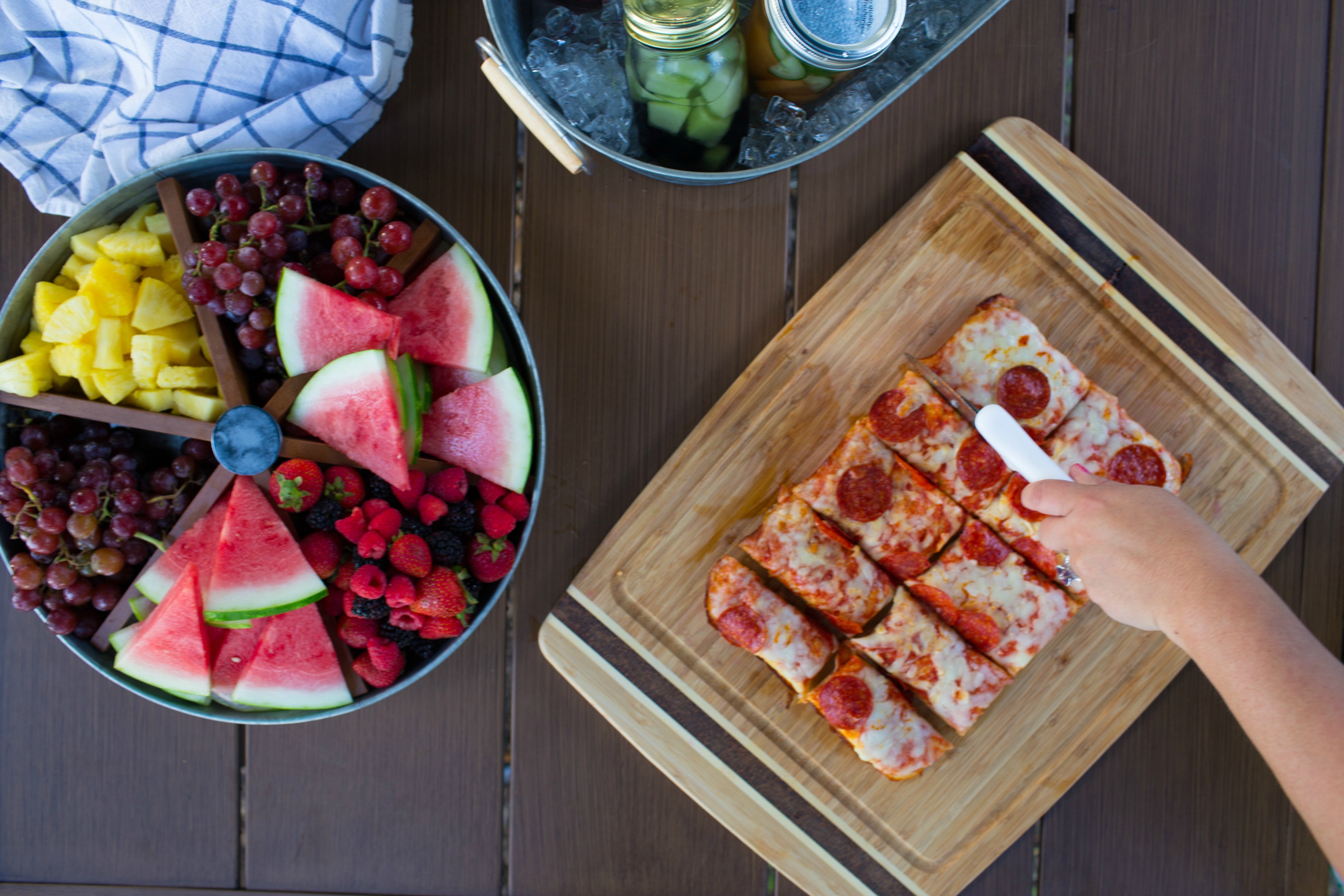 Movie Coziness
I threw down a few colorful blankets for the kids with a mountain of pillows. For the adults, I arranged the patio chairs behind the kid's space so we could all be comfy in our dedicated space.
Movie Magic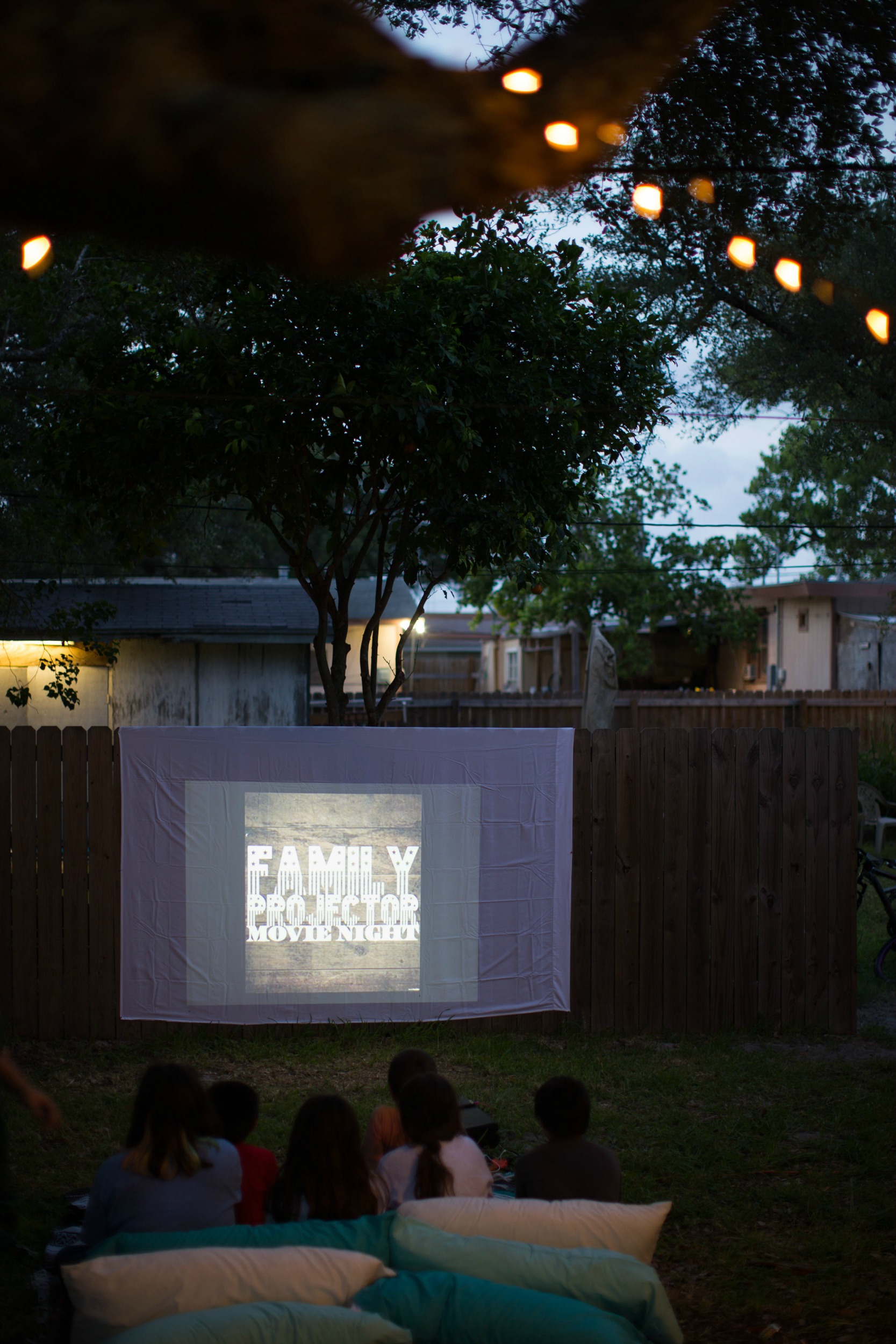 A simple white bed sheet draped over a fence quickly becomes a movie screen. I set up the projector earlier in the day to test out the speakers, movie and adjust my screen. I didn't want to be fumbling in the dark, so it's a good idea to test equipment earlier in the day.
I also strung a few outdoor lights around the trees to create a twinkly effect and shut off my motion. I picked up a few strands at my local hardware store for under $20, a great deal, plus I can keep them up all summer long. We had a blast watching the movie, but the DIGIORNO pizza fresh from the pan was the real star of the evening. We all loved the edge to edge cheesy goodness and that we were able to bake a pizzeria quality pizza at home wins bonus points for this mom.
I hope these tips help motivate you to host your very own outdoor movie night this summer. Also if inclement weather inhibits you from hosting, don't worry – move the party indoors. These easy tips apply for indoor movie night too. Bring in the projector, bed sheet and tack to a wall for an indoor screen. Set up your blankets and pillows on the living room floor. Slide that dining table against the wall to create an indoor self-serve table. After all whether you are outside or inside what counts is spending time with the family.
Thank you DIGIORNO pizza for partnering with me to bring you exciting new ideas on how easy it is to host your next get together.
For additional entertaining inspiration check out Digiorno on social media.
Sweet Life Disclosure: This is a sponsored post with DIGIORNO's thank you for supporting the brands I collaborate with to bring you exciting new recipes and enteratining tips. Photos by Gabriel Mancha Martinez