Roasted Acorn & Chayote Squash Salad with Marigold Vinaigrette. Acorn and chayote seasoned with agave, resting atop a bed of green, topped with pomegranate seeds, queso fresco dressed with a marigold vinaigrette. A delicious fall salad to pay homage to my Abuelita.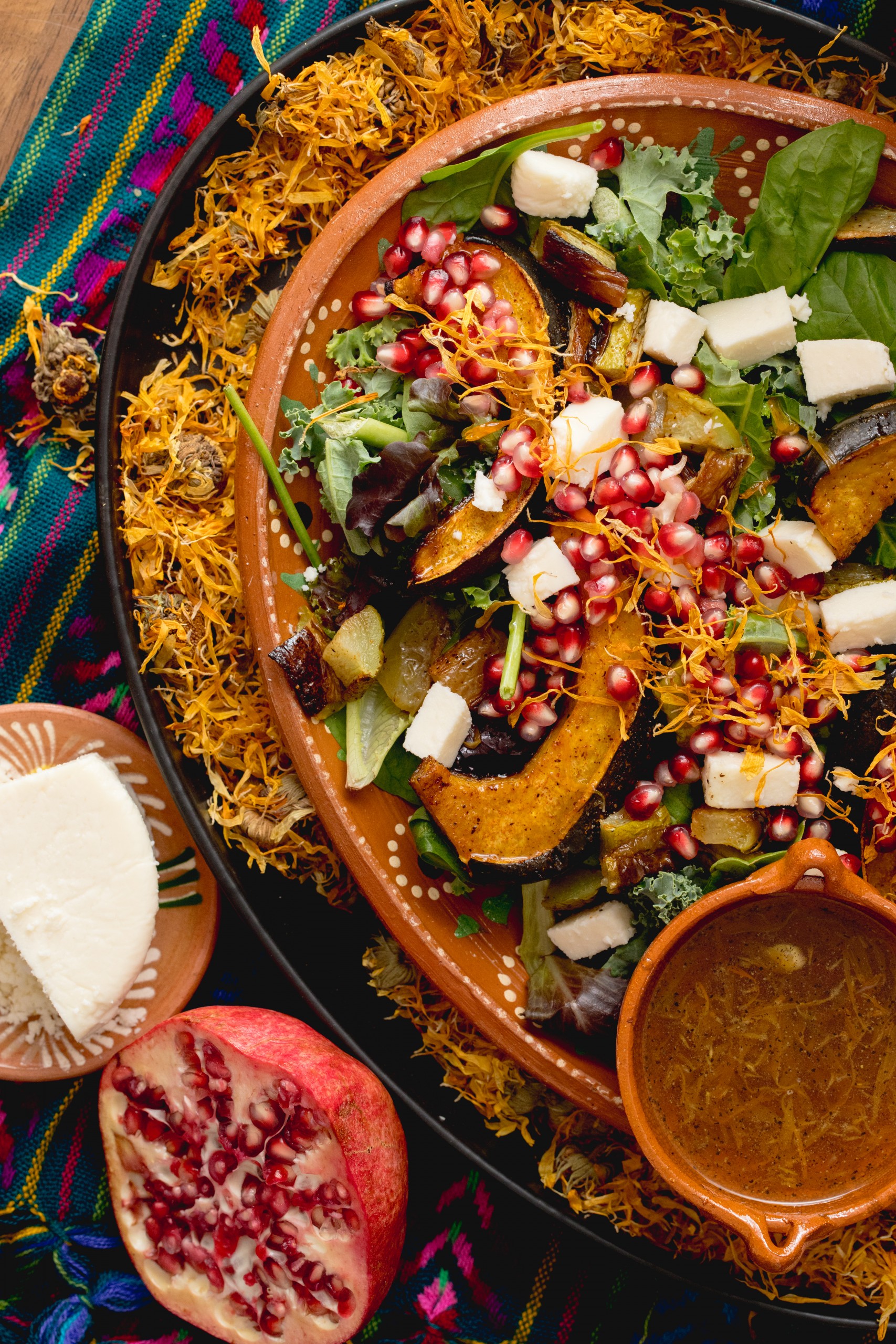 Roasted Acorn & Chayote Squash Salad with Marigold Vinaigrette, a fall inspired salad for Dia de los Muertos. Día de Muertos is upon on. I find myself craving heartier, vegetable filled meals much like my Abuelita made for us when the temperatures dropped. The smell of marigolds reminds me of my Abuelita, so I also find myself adding them to my dishes leading up to Día de Muertos.
The smell of dried marigolds wafting through my kitchen takes me back to childhood spent with her making empanadas, pozole or simply sipping café.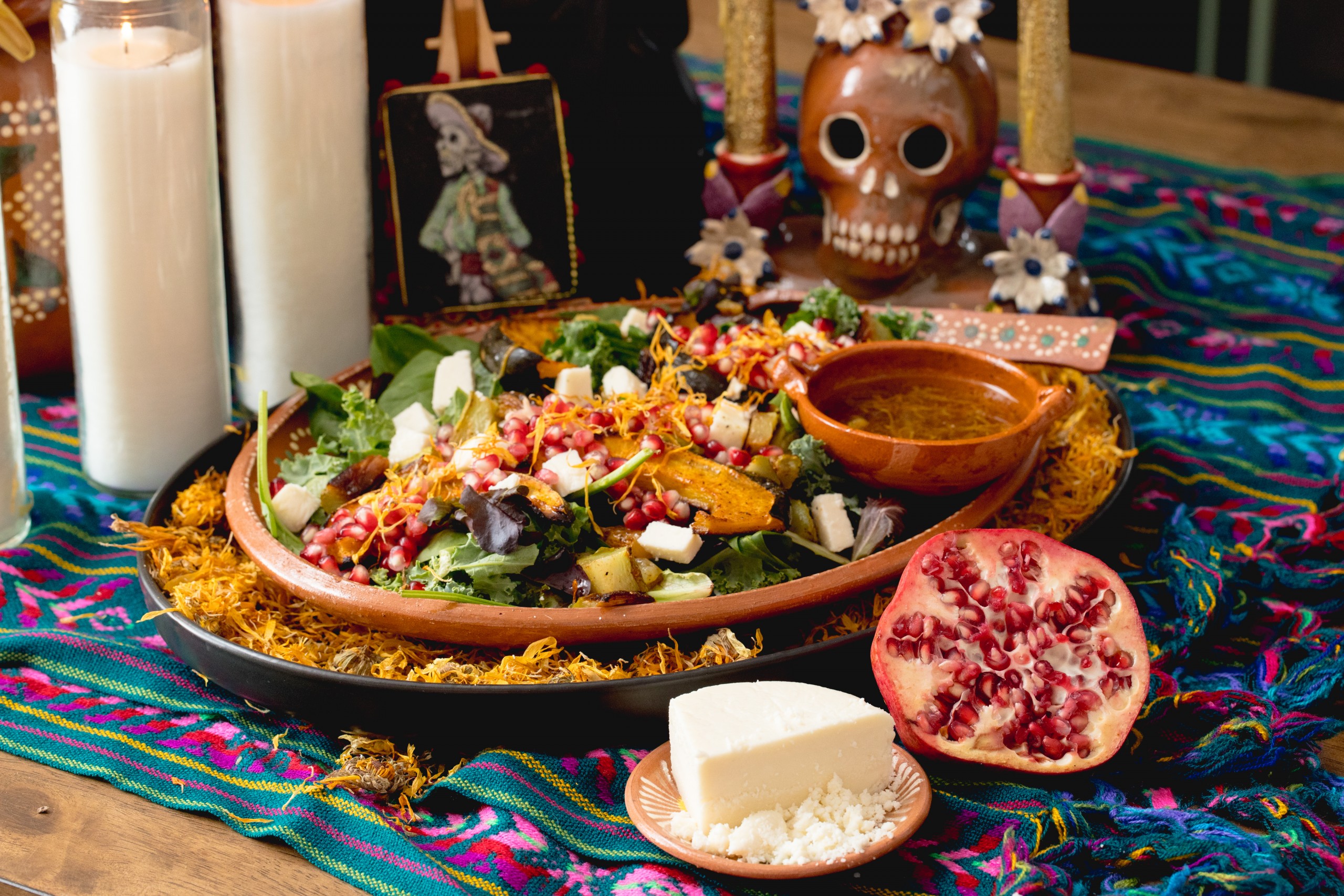 Acorn squash, chayotes, agave, pomegranate seeds, queso fresco come together to create a beautiful salad served with a marigold vinaigrette.
I know my Abuelita would have loved this salad, as she loved chayotes. She would have requested a warm corn tortilla and a Coca-Cola to complete her meal.
Today I share how to make this fall inspired salad to honor my Abuelita. Perfect for the fall, thanksgiving or served alongside beef or chicken.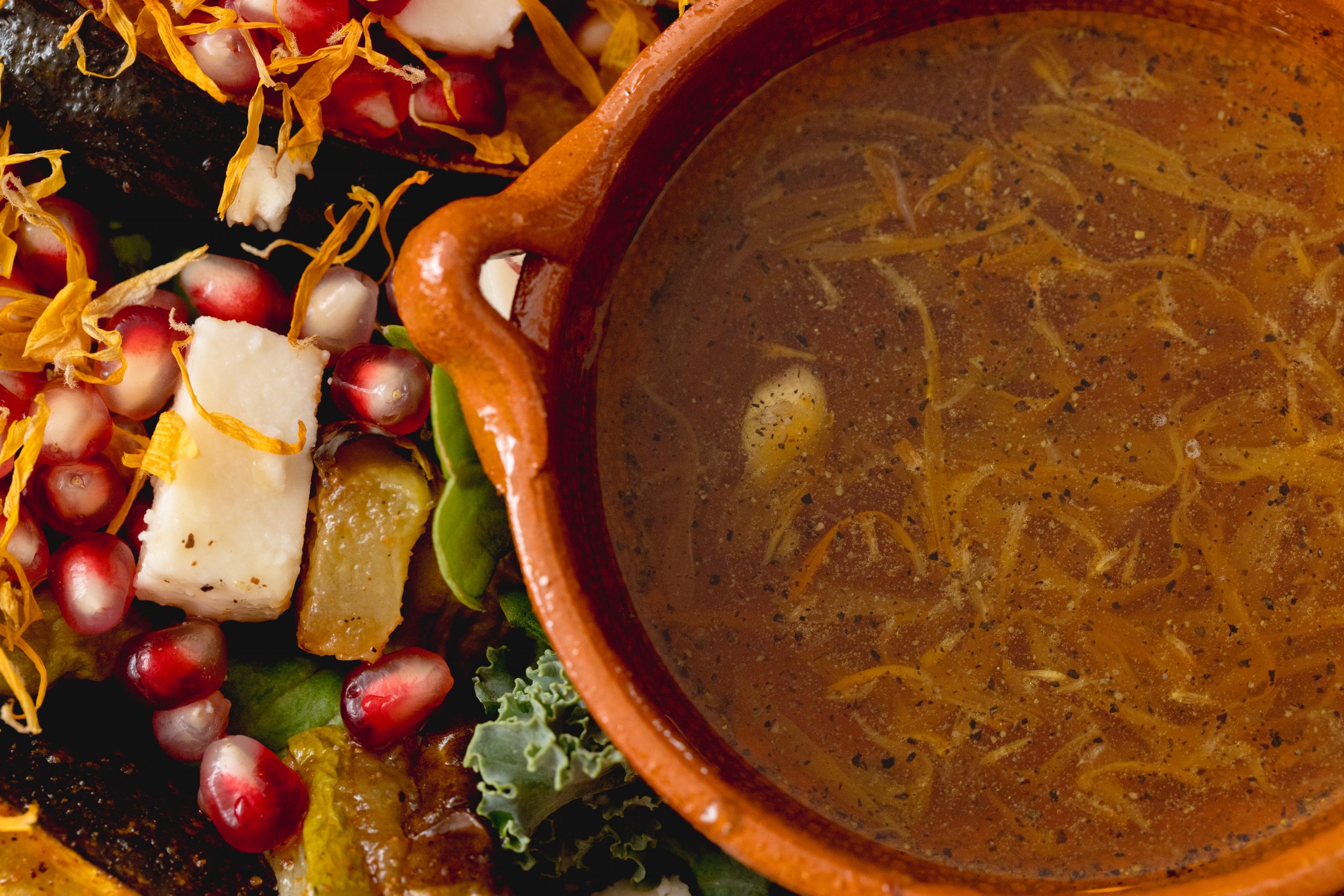 WHAT ARE MARIGOLDS
In Mexico marigold is known as Cempasuchil, where it is importance to the Mexican culture dates to pre-Hispanic times. Marigold is especially important in Mexico during the Day of The Dead celebrations.
Cempasuchil is called the flower of the Muertos, or dead and is present in the Día de los Muertos altars and ofrendas (or offerings). It is believed that marigold's pungent scent and vibrant color help lead the spirits of the dead back to Earth to visit their loved ones. Typically, marigold blossoms and petals are placed around the altar and on the ground leading up to the altar, as to form a path up to it.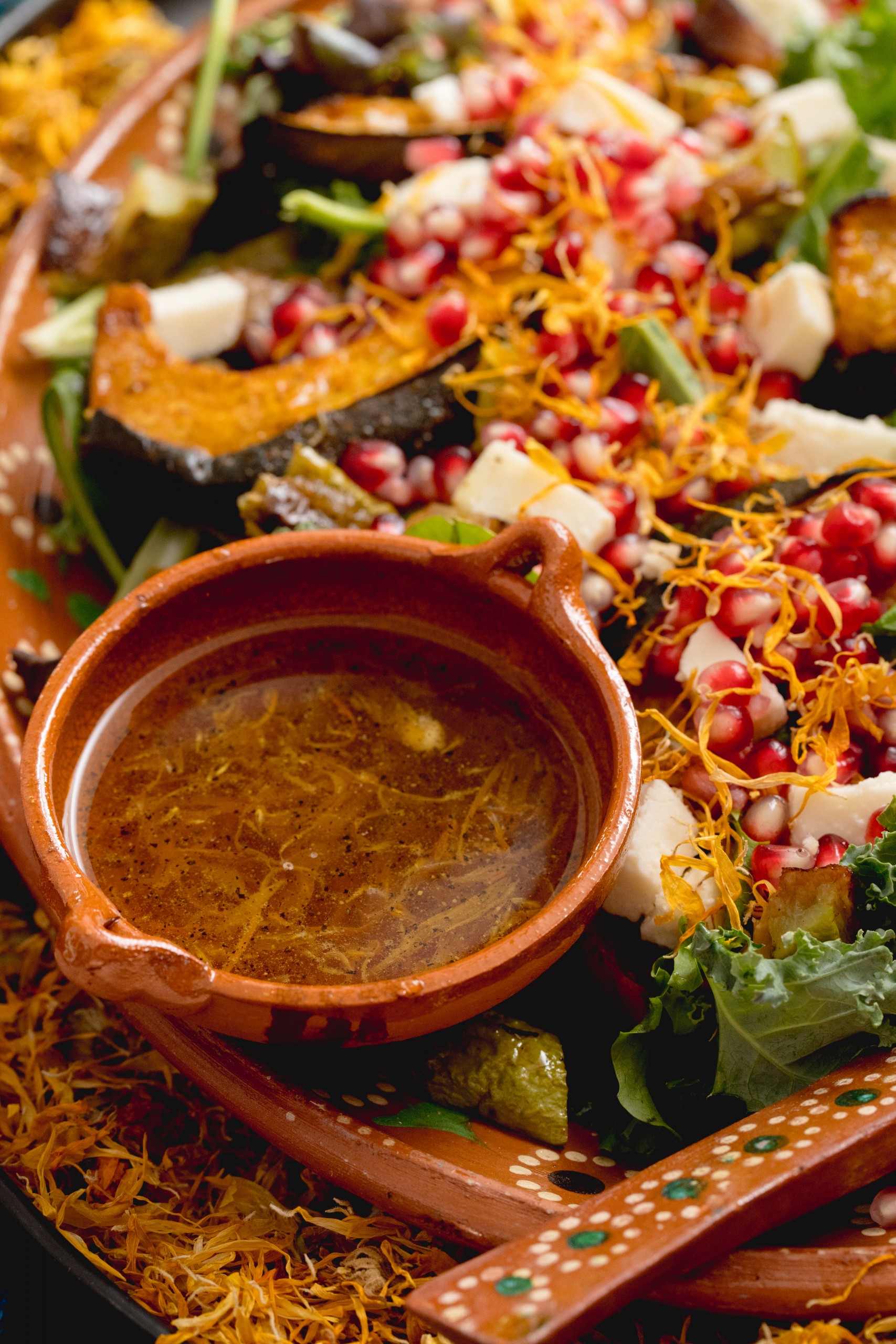 COOKING WITH MARIGOLDS
Did you know that marigold is edible too? Marigold extract is used as a food coloring for many different food items throughout Europe, and in the US, it is used in poultry feed *. Marigold petals, both fresh and dried, are also edible. They can be eaten raw or cooked and used in everything from teas, drinks, soups, desserts, and even savory dishes! Find more marigold recipes here.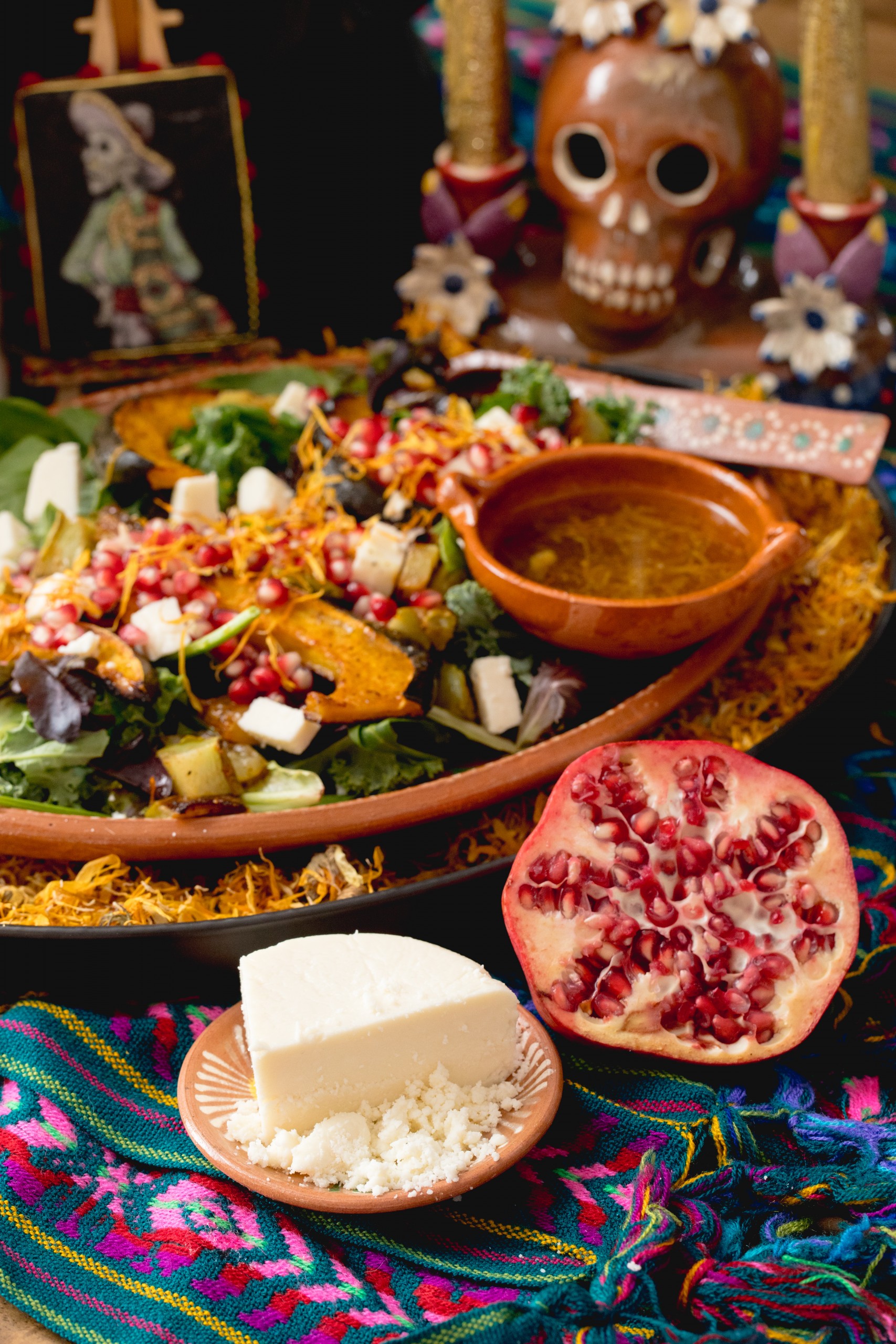 HOW TO EASILY REMOVE POMEGRANTE SEEDS USING WATER
Fill a large bow; with water
Slice pomegranate in half
Submerge pomegranate half into water and with hands gently nudge the seeds out of skin.
The pith will also come off the pomegranate and will rise to top of water. Remove with hands.
The pomegranate seeds will fall to bottom of bowl.
Strain water to retrieve pomegranate seeds.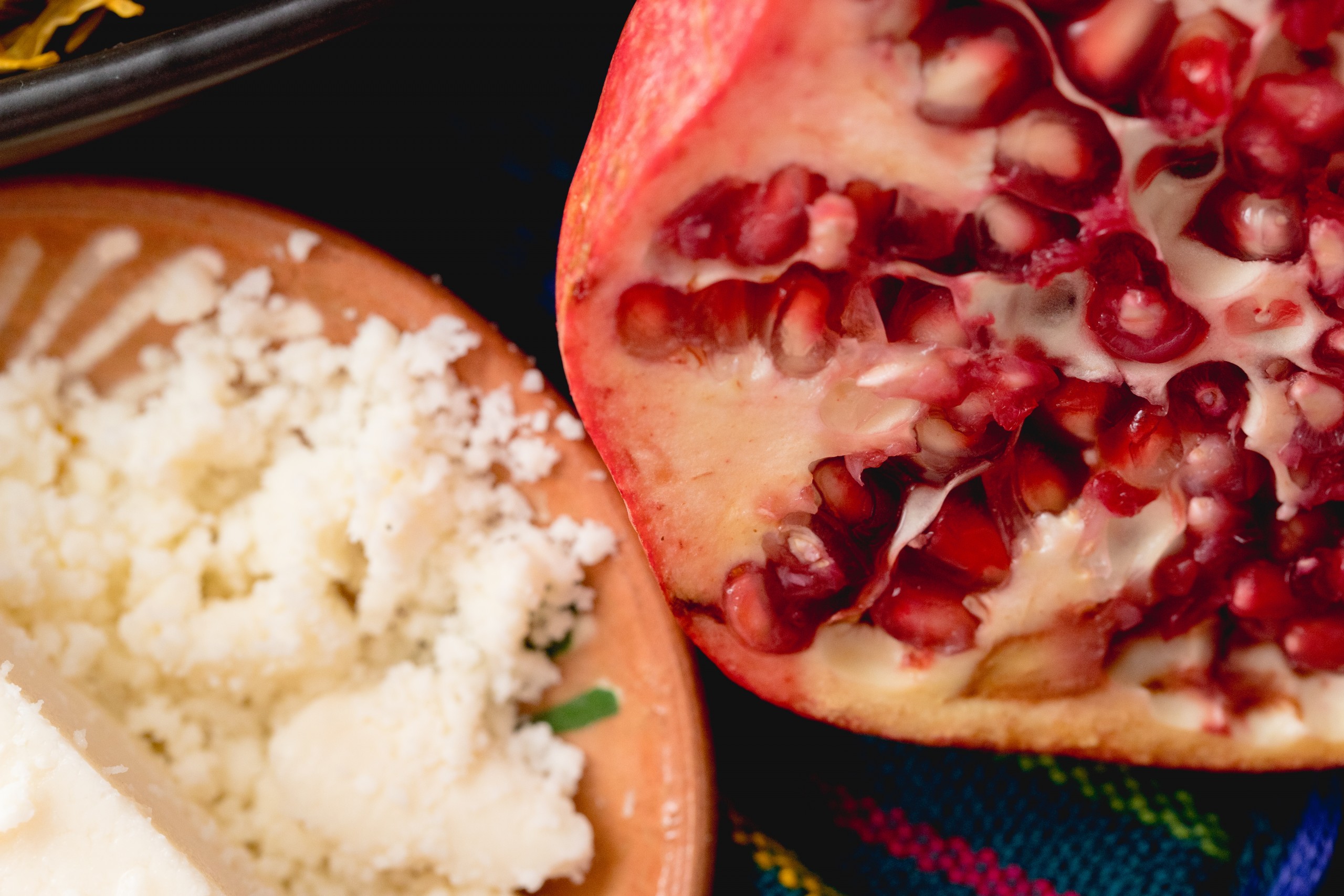 WHAT IS A CHAYOTE
Chayote [chah-YOH-teh] is a member of the squash family. Popular in Latin cuisine chayote can be eaten raw or cooked, often found in salads, soups, baked and even pickled. Mild in taste, a mix of apple and pear flavor chayotes can be found near the apples in the produce department.
When selecting a chayote look for smooth green skin free of bruises and firm to the touch. Folds at the tip of the chayote look like a puckered mouth. When peeled the chayote will sometimes excrete a sticky residue, but the result is well worth the bit of trouble.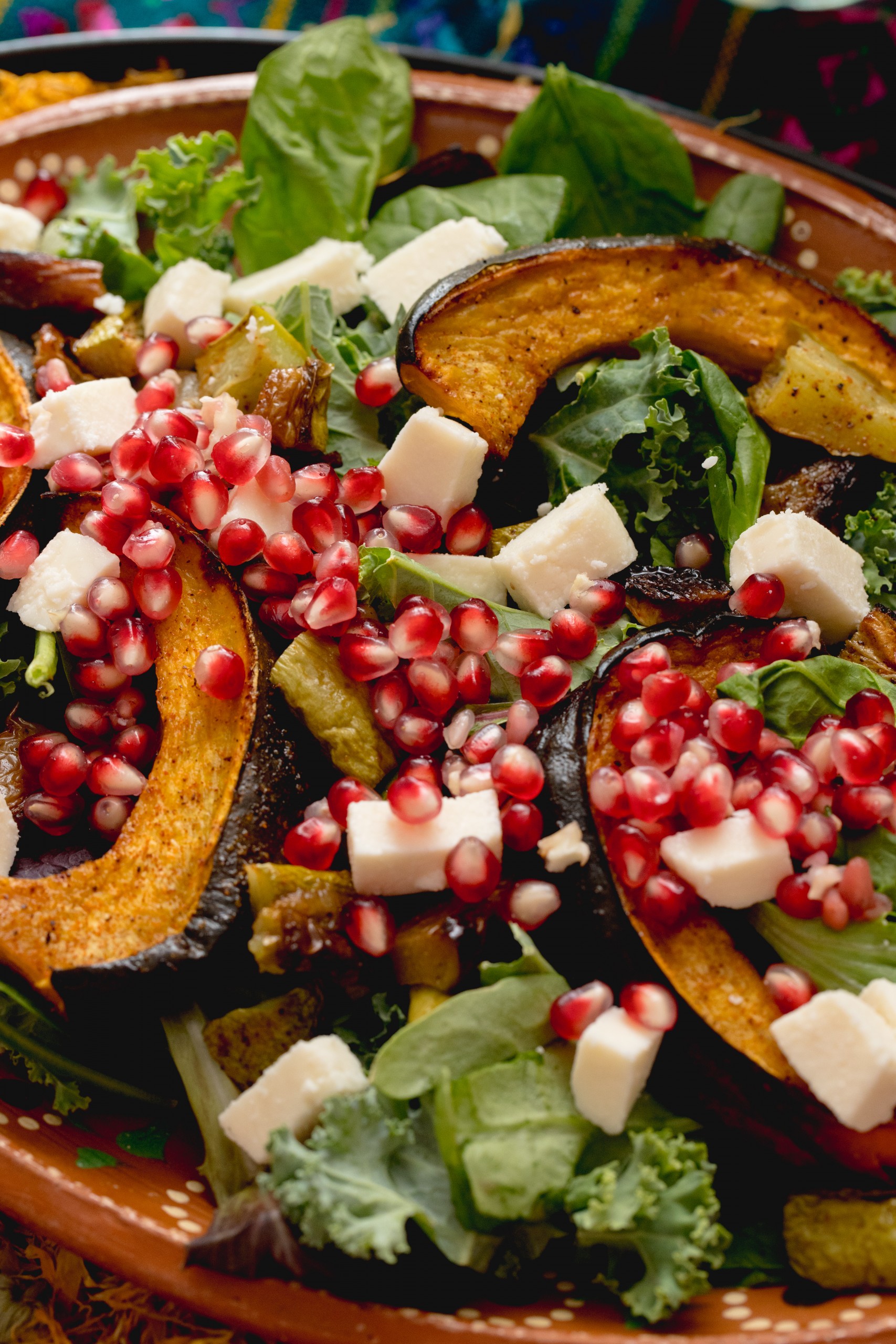 TIPS ON MAKING ROASTED ACORN & CHAYOTE SQUASH SALAD WITH MARIGOLD VINAIGRETTE
Make sure your knife is sharp before cutting into the acorn squash. The skin is thick, so a sharp knife is ideal. I place a kitchen towel underneath my cutting board when cutting thick vegetables, pumpkin, squash, or butternut squash. The towel provides additional traction for the cutting board, you do not want the cutting board to slide while cutting, ouch.
I use agave in this recipe as I love agave with winter squash. Feel free to use honey or maple syrup, both works well, but don't skip on the salt and pepper, it adds great flavor.
I use a spoon to scoop out seeds and strings from the acorn squash.
I peeled my chayote, but you can leave the peel on. I also use a spoon to remove the seed.
A canning jar works wonderful when mixing up quick vinaigrettes or dressings. Toss all ingredients into canning jar, seal with lid and shake vigorously.
After dinner, simply seal and place in fridge. Shake before each use.
This vinaigrette can easily be doubled or tripled.
I buy my dried marigolds online – find them here.
I used queso fresco for this recipe, but panela or asadero would also work well.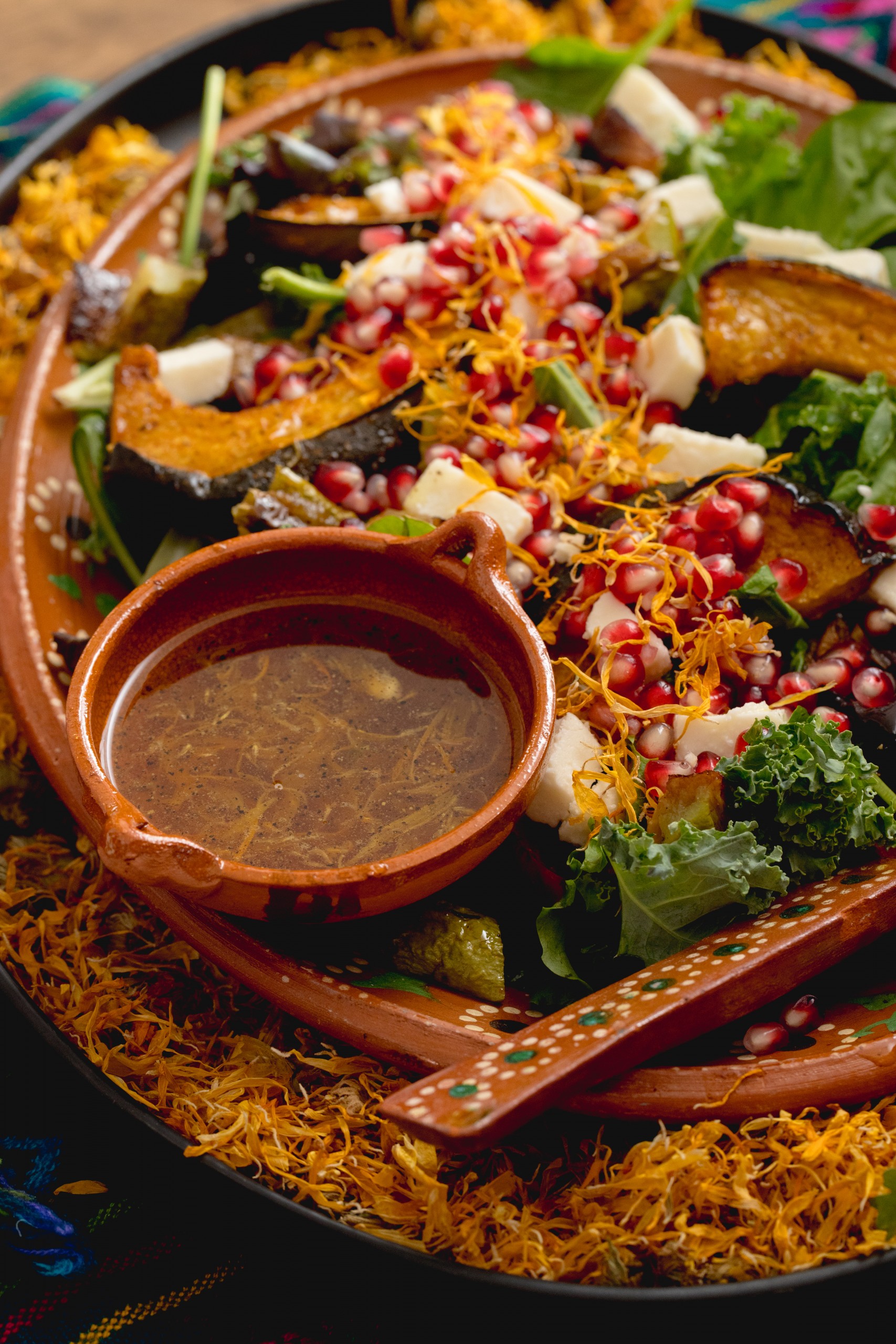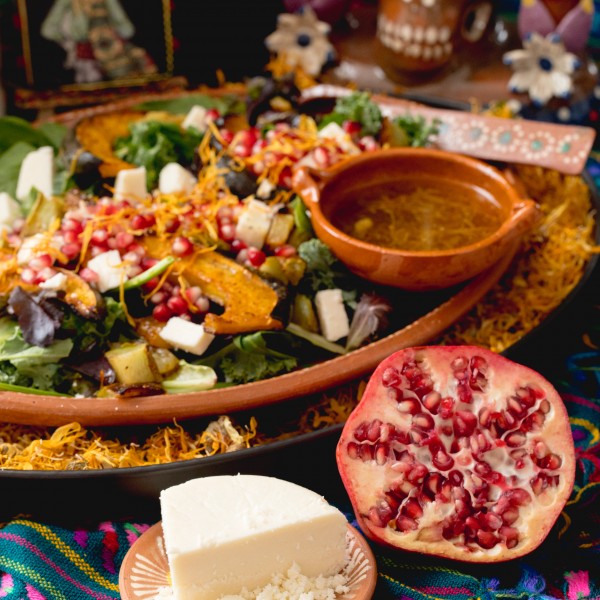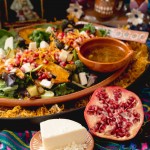 Roasted Acorn & Chayote Squash Salad with Marigold Vinaigrette
Acorn and chayote seasoned with agave, resting atop a bed of green, topped with pomegranate seeds, queso fresco dressed with a marigold vinaigrette. A delicious fall salad to pay homage to my Abuelita.
Ingredients
For Salad:

1

acorn squash

small

2

chayotes peeled and pitted and cut into ¾-inch chunks

4

tablespoons

agave

Salt and pepper

1/2

pomegranate

seeds removed

4

cups

Arugula or Mixed greens

Queso fresco

diced

Dried marigolds

optional

For Marigold Vinaigrette:

1/3

cup

extra virgin olive oil

1/3

cup

red wine vinegar

1

tablespoon

agave

2

teaspoons

Dijon mustard

1 1/2

teaspoons

garlic powder

2

teaspoons

dried marigolds

1

teaspoon

salt

1/2

teaspoon

ground black pepper
Instructions
Preheat oven to 400 degrees. Using a sharp knife, carefully slice the acorn squash in half. With spoon scoop out seeds and scrape clean. Slice into ¾ inch thick rounds. Place on a parchment paper lined rimmed baking sheet. Peel and pit chayotes and cut into ¾-inch chunks, place on baking sheet.

Using a pastry brush, brush acorn and chayote. Sprinkle with salt and pepper. Bake for 10-15 minutes until the bottom side of squash is nice and golden brown. Flip and bake for another 10-15 minutes. Remove baking sheet from pan, allow to cool.

While acorn and chayote squash are baking, prepare the dressing. Add ingredients to a canning jar with a lid, or any small sealable container. Seal and shake until well combined. Store in the refrigerator until ready to serve, shake before using.

Spread arugula or mixed greens over a large serving platter. Arrange acorn and chayote squash over greens, top with pomegranate seeds and diced queso fresco. Garnish with dried marigolds, optional. Serve with prepared vinaigrette.