Roasted Poblano Cheddar Cheese Burger
It's May, which means it's time to celebrate National Burger Month! Big juicy burgers  topped with ooey gooey cheese, loaded with toppings and served on toasted buns.  Always toasted buns, please.
I can't think of a better way to lead -up to Memorial Day and the official start of the summer grilling season than with a tasty burger.  Nationwide, burger joints are celebrating with promotions and specialty burgers, but c'mon y'all burgers were meant to be made at home.  To be enjoyed around dinner table in all its messy glory and take it from this former Whataburger employee homemade burgers kick burger joint burgers butt any day!
When Tillamook asked this Texan to join their All-Natural Burger Grillabration I was all over this fun cooking celebration.  We Texans love our burgers!  I decided to go big and bold with roasted poblanos, thick slices of red onions and Tillamook's World Famous Mild Cheddar.  This juicy burger was a winner.
And to get you into the celebration Tillamook is offering my readers a sweet coupon for their famous cheese.  Click the link below to download and get grilling!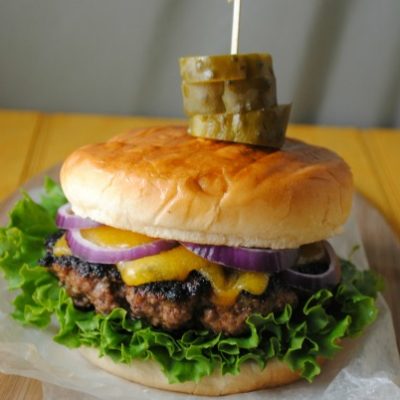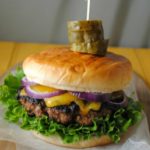 Roasted Poblano Cheddar Cheese Burger
Ingredients
2

poblano peppers

2

pounds

ground beef

1

garlic clove

finely minced

Salt

Freshly ground pepper

Cheddar Jack cheese slices or American cheese slices

Lettuce

Red onion slices

Pickles

4

hamburger buns

grilled or toasted
Instructions
Preheat your broiler. Place poblanos on sheet pan and broil until poblanos are charred on all sides. Remove from broiler cover with dish towel and allow to steam for about 5 minutes. Remove charred skin, stem and seeds. Dice the poblanos.

Combine the ground beef with the poblanos and minced garlic. Shape into 4 burgers (about 6 ounces each) and sprinkle with salt and pepper. Grill the burgers until done, turning to sear both sides.

Top the burgers with slices of cheddar cheese and continue grilling for a minute or two, just until the cheese is melted. Spread the toasted buns with your favorite condiments. Place a burger on a bun and top with lettuce, red onion and pickles.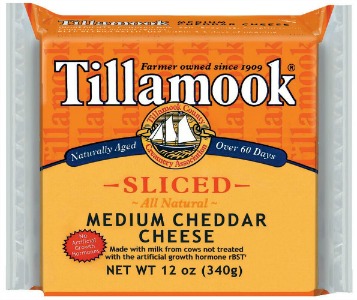 The Tillamook $1 off Natural Slices coupon will be available until March 21, 2013. It will expire within 30 days of printing, so don't forget to use it soon!
Please reach out to Tillamook directly with any questions, comments, or concerns about the coupon: Contact Tillamook
Sweet Life: This is a sponsored post.