Sweet Life Disclosure: This is a paid product endorsement for the NFL. Thank you for supporting the companies I collaborate with to bring you exciting new recipes.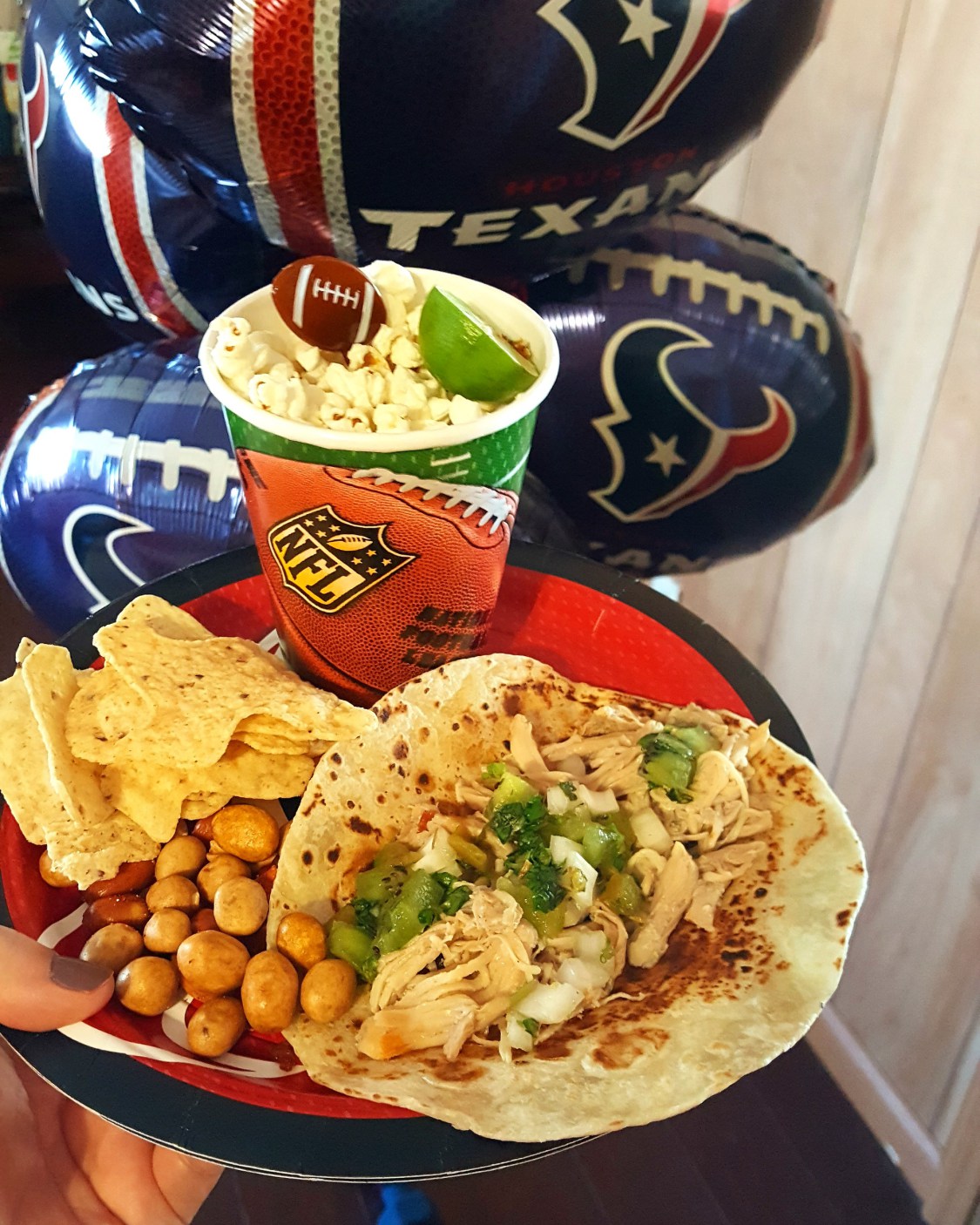 Throwing a Texas-Style Football Party
There's nothing better than a Texas-Style football party. No matter where you live, you can enjoy the delicious flavors of South Texas at home. Most football parties are filled with sandwiches and dips, but today, I'm going to share a fun twist on the usual buffet lineup…the taco bar!
Take your party a step further by serving up some delicious make-it-yourself tacos with the variety of fresh, vibrant salsa paired with some of your favorite taco toppings. Now, I'm so thrilled that my first Facebook Live video is about football. I'm a Texas girl and football is a huge part of our culture down here. Did you know that Texas boasts some of the largest high school stadiums in the country? We do our football right!
And football is such a big part of our family too. My sister and I even played in our high school band at weekly games. Every Friday night during football season, you can guess where we were! Now, with my own family, I throw special football parties at home so I can set out all of our favorite foods, get comfortable and kick back to enjoy the game.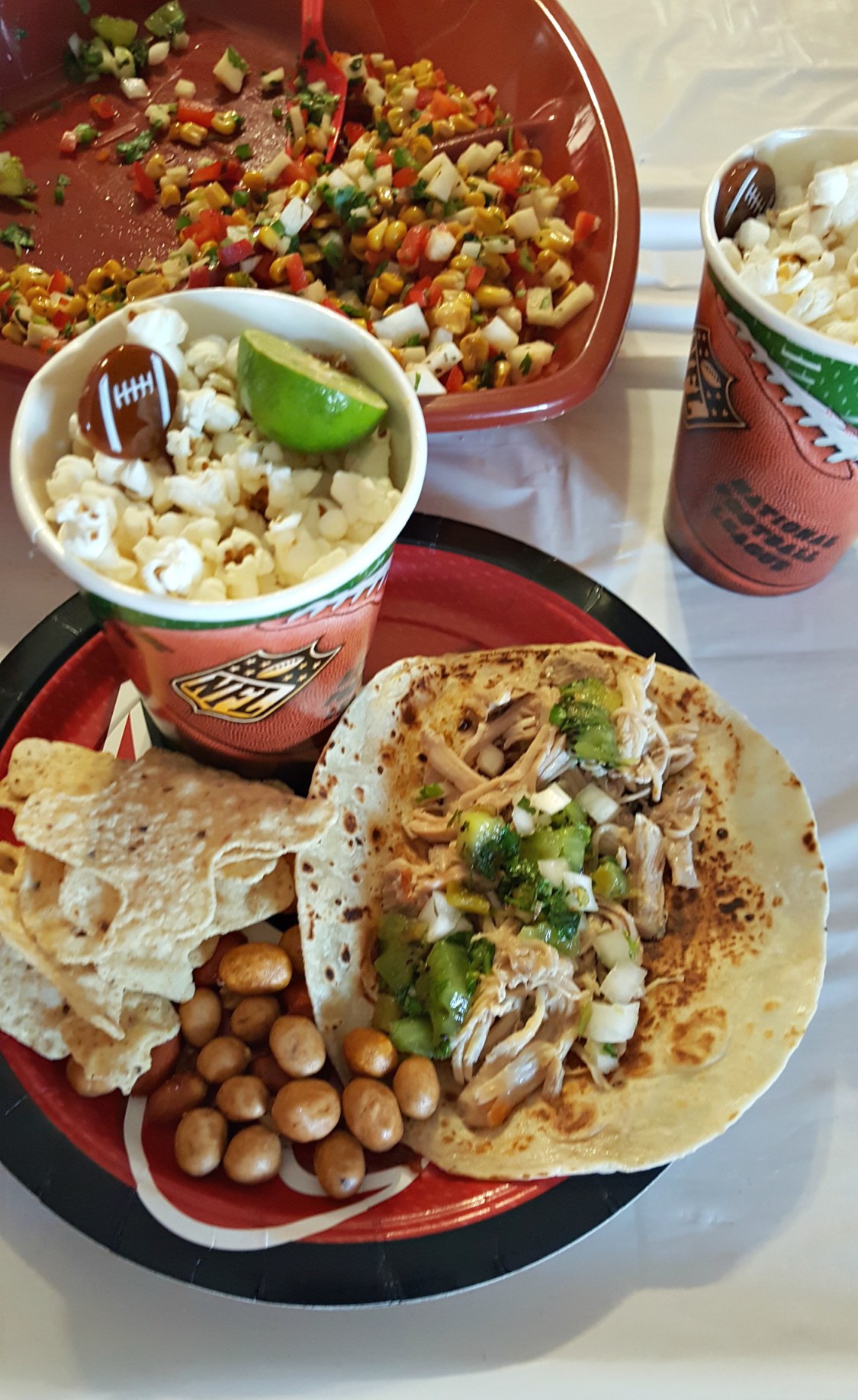 Setting up Your Taco Bar
The first thing I want to show you how to do is how to set up a table. I like to set up the table buffet-style, featuring all of our favorite toppings and ingredients. What I really like about setting up a buffet or bar-style table is the fact that you don't have to do a lot of work while your guests are over. Just lay out your ingredients on the table and then everyone is free to serve themselves.
You can also put out plastic and paperware (cups, plates and utensils) to help make cleanup easier. This way you're not stuck in the kitchen cooking, serving or cleaning and you're free to enjoy the game and be present for all the fun with your guests.
Another great thing about setting up a buffet or bar-style table is that you can pretty much do whatever you want! You simply pick a theme and add all of the toppings of your choice. It's that simple. We've done taco bars, tostada bars, hamburger bars, baked potato bars. The choices are limitless.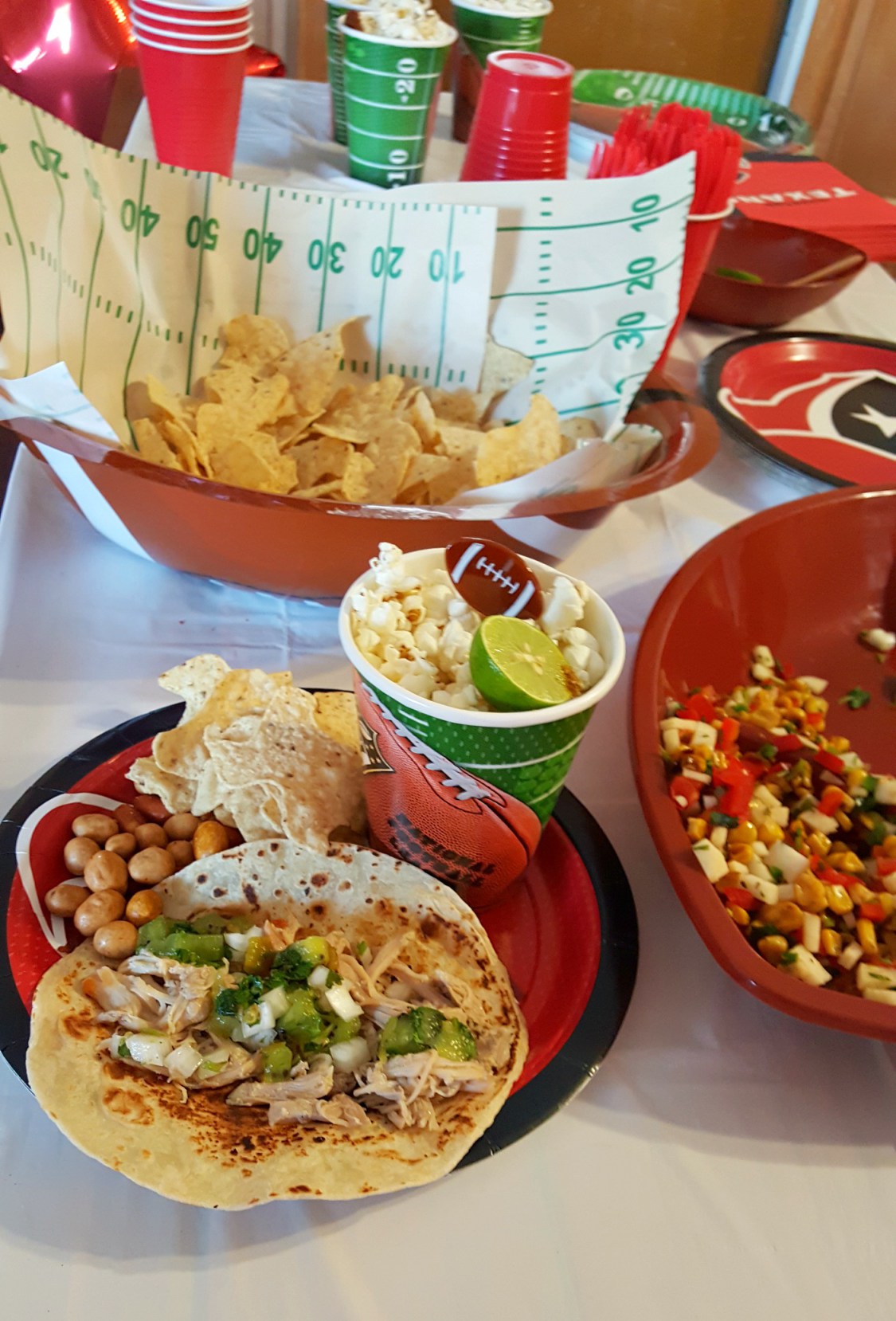 To make setup even easier, use an easy fold up table for your bar, which you can bring out for parties and easily store away when not in use. You can also keep your tortillas warm and fresh by covering them in cloth or a paper towel. This will keep them from getting hard or dry.
To reheat your tortillas, wrap up to 10-12 tortillas in aluminum foil and put them into a pre-heated oven at 350° for about 8-10 minutes. Once they're warmed through, reduce the oven temperature to 200° and they'll keep warm so that guests can have hot, fresh tortillas as needed.
Also be sure to have both corn and flour tortillas for your guests can create their tacos with the tortillas they like best. To assemble their tacos, guests can simply grab a plate and a tortilla, add shredded chicken or any meat of their choice and load up their tacos with all of their favorite delicious toppings.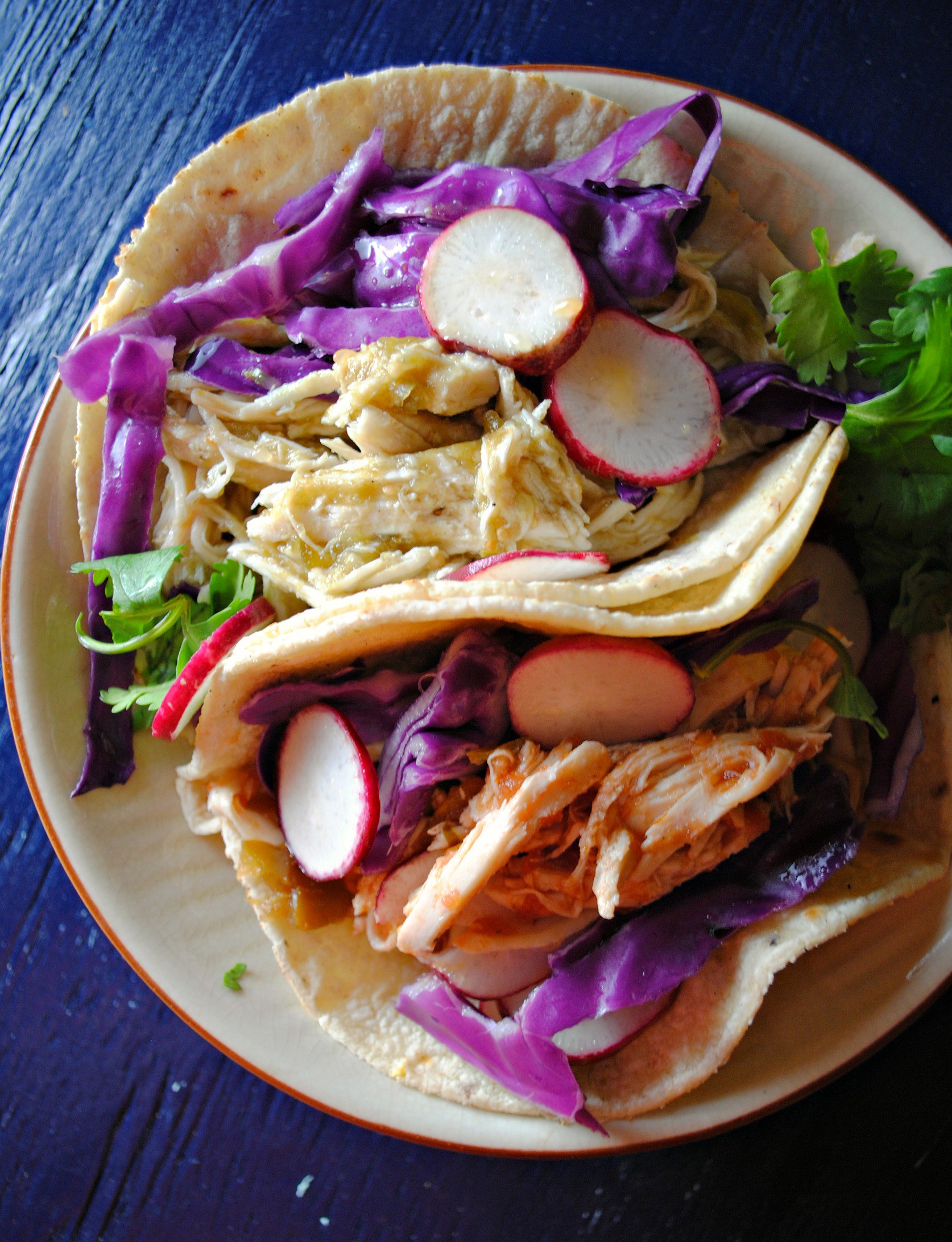 Recipes to Try at Your Next Football Party
Chicken Tacos Two Ways (Green and Red Sauces)
Two sauces, two completely different flavors and two distinct colors; what's not to love? A rich tomato sauce flecked with chipotles and a warm tomatillo-based sauce perked up with cilantro were the options for the evening. Get the recipe >>>
Slow Cooker Shredded Chicken Tacos
This slow cooker shredded chicken not only tastes amazing but is very versatile as it can be used to create several dishes. Use this shredded chicken for burritos, tacos, enchiladas, nachos or tortas. Get the recipe >>>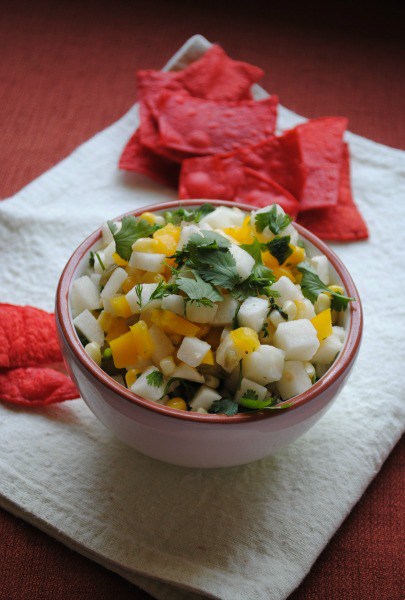 Jicama and Roasted Corn Salsa
Jicama is a delicious, starchy vegetable that has a similar flavor to a pear or apple. This recipe includes jicama, roasted corn kernels, bell pepper, cilantro, jalapeño, cumin and lime juice. Delicious!  Get the recipe >>>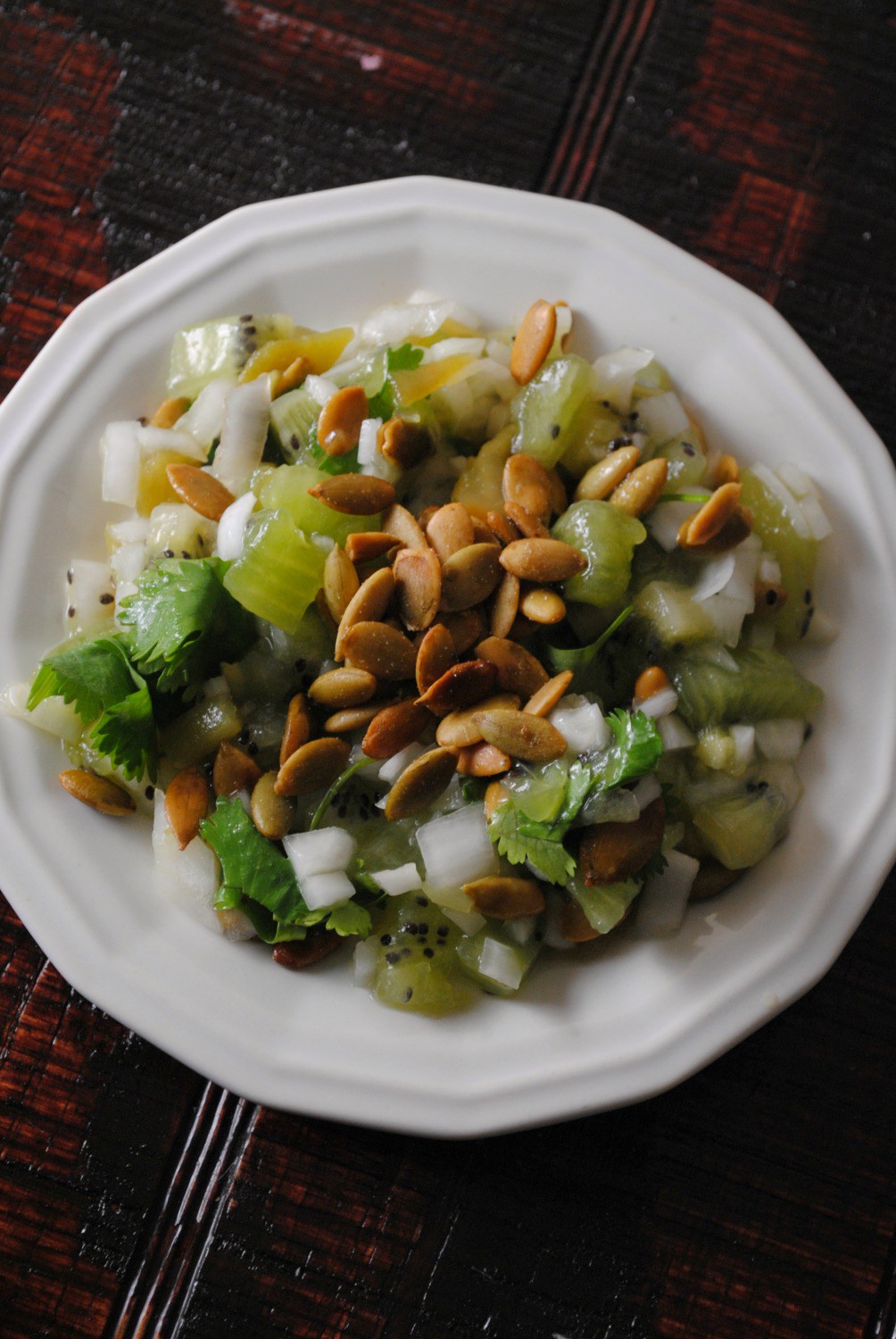 Kiwi and Green Chile Salsa
This salsa brings a vibrant sweet and spicy kick to any table. Over chips or on a taco, this kiwi and green chile salsa is fantastic. This recipe includes kiwi fruit, onions, roasted hatch chiles, cilantro, oregano and fresh lime juice. Super delicious over a yummy shredded chicken taco! Get the recipe >>>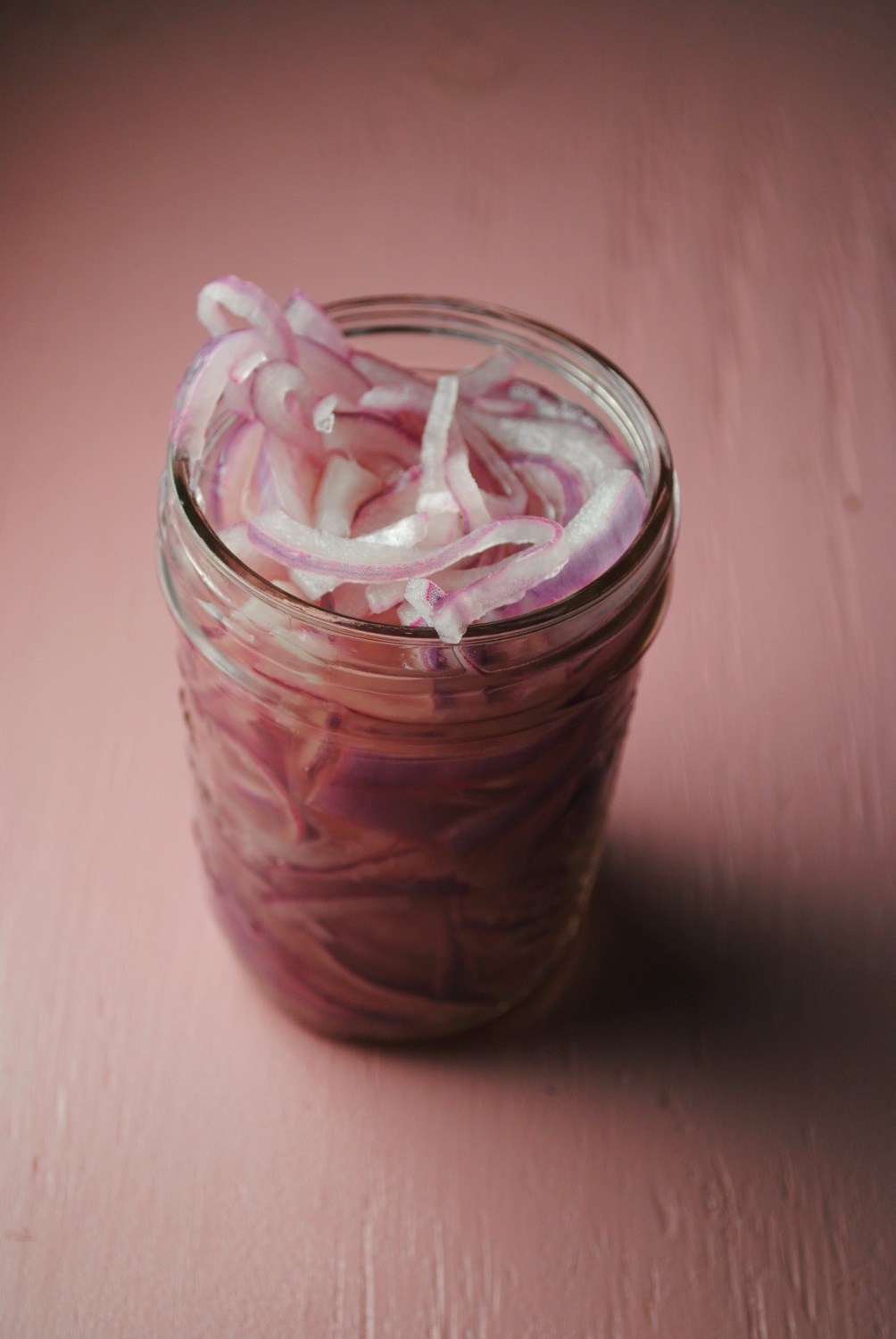 Pickled Red Onions
I love pickled onions! These onions make everything from tacos to nachos to tostadas even more delicious. I suggest you make a double batch, store them in the fridge and enjoy them all week.
Other Foods to Try at your Taco Bar:
Pickled Carrots
Sliced Radishes
Cacahuates Japones (dry roasted peanuts with a delicious crunchy shell)
Spanish Peanuts with Chile and Lime
More Delicious Football Party Recipes from Sweet Life: 
Unique Entertaining Ideas for Your Next Football Party:
Celebrate Football Season and Hispanic Heritage Month with the NFL 
Are you watching the games with your familia?
Keep yourself up-to-date on the latest news, stats and analysis from the NFL at www.NFL.com. For updates in Spanish, visit www.NFL.com/espanol or follow @NFLEspanol on Twitter.
The NFL is Proud to Celebrate Hispanic Heritage Month! 
Visit http://bit.ly/FeelTheOrgullo for a look at the personal stories of the players, coaches and staff, past and present, who share their Hispanic Heritage and are an important part of the NFL legacy.