A twist on a Texas favorite, made with succulent shrimp, spicy jalapeños and rice, my Shrimp Pico Rice Skillet is a homage to my South Texas roots. This one-skillet dish starts off on the stove-top and is completed in the oven, served warm with plenty of fresh lime juice. Today I am excited to partner with Mahatma Rice to share with you a recipe for shrimp pico rice skillet that is sure to be your go-to summer meal.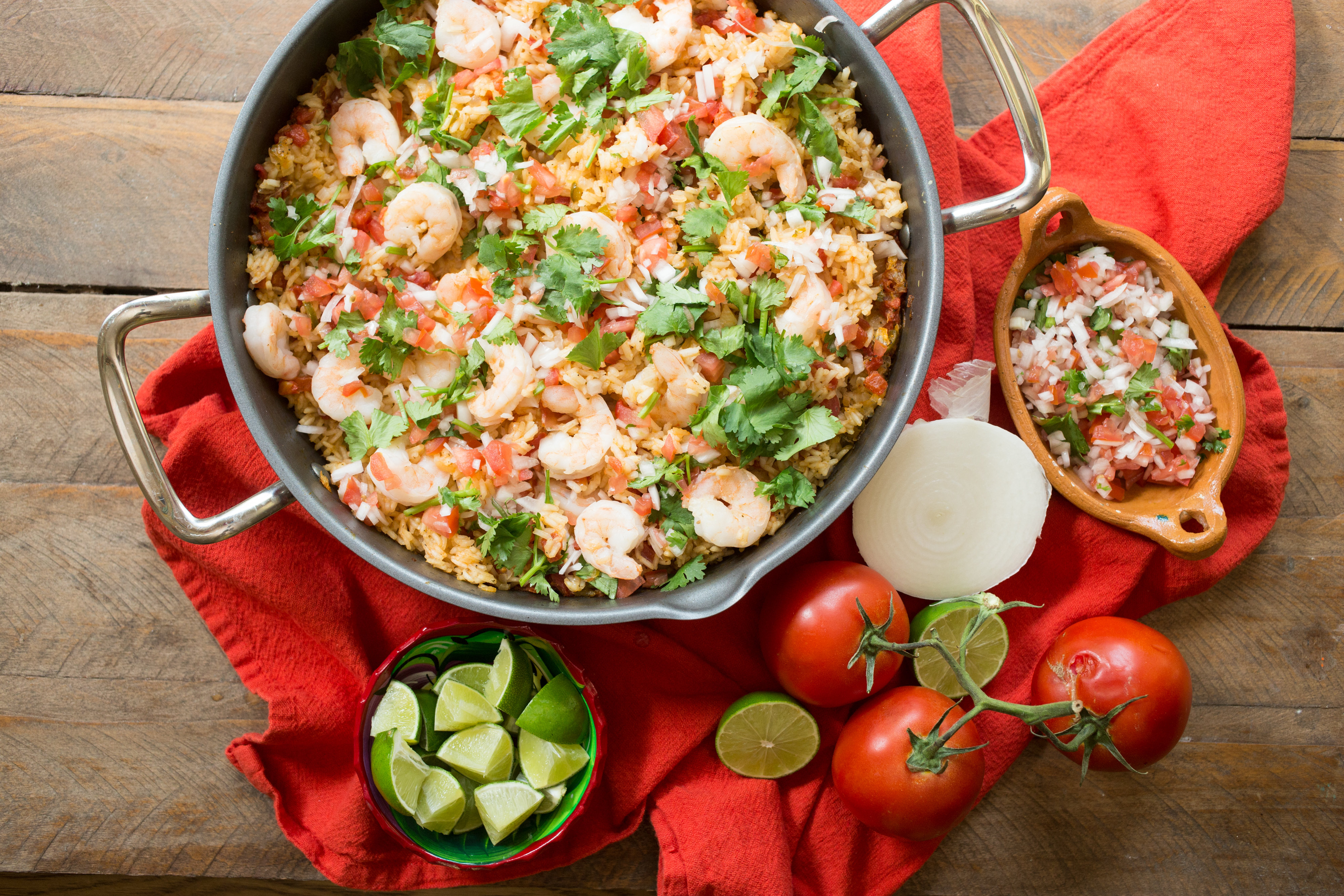 Rice is one of my go-to essential pantry ingredients. Not only is it budget-friendly, it can be used in countless ways to create fancy dishes for dinner parties or comfort dishes for daily family dinners—the options are endless. You can make it creamy or crispy, spicy or sweet—there's just no end to its versatility. Everyone loves rice.
My Shrimp Pico Skillet Rice is a nod to my South Texas roots. Growing up in Aransas Pass, the shrimp capital of Texas, we enjoyed the freshest shrimp, delivered by the shrimp boats daily. Fresh from the Gulf Coast, we grilled, fried and sautéed shrimp in countless marinades and spices, and always with plenty of fresh pico de gallo and fresh lime juice.
Pico de gallo is a fresh salsa, traditionally made from chopped tomatoes, chopped onions, jalapeño or serrano chiles, cilantro and fresh lime juice. It is served with anything from tacos to nachos.
My shrimp pico rice skillet begins on the stove-top and is finished in the oven. Look for peeled and deveined shrimp in your fresh seafood market or in the freezer aisle for easier prep. I also used canned diced tomatoes in this recipe, so I can enjoy it year-round when summer tomatoes are out of season, but feel free to dice up fresh tomatoes for this recipe. You would need two large tomatoes to make this shrimp pico rice skillet.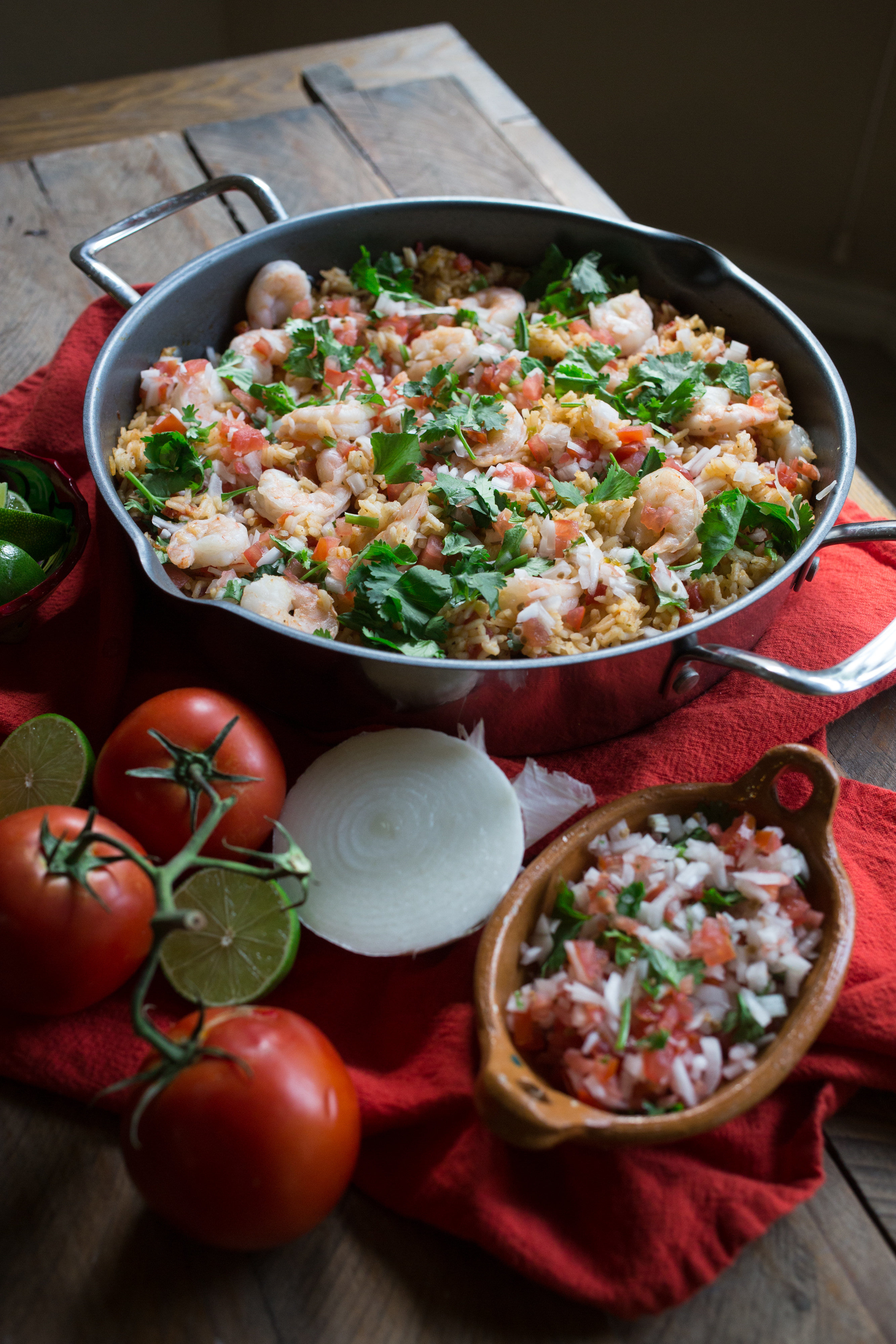 I'm excited to be partnering with Mahatma Rice this year to be a brand ambassador and share all the yummy possibilities of rice. Stay tuned for more tasty rice recipes every month featuring Mahatma Rice.
Mahatma is America's favorite long grain rice. For over 93 years, Riviana Foods Inc. has been packaging and marketing rice for the U.S. consumer. Known for its consistent high quality, Mahatma Rice is the preferred brand among many families. Mahatma Rice is available in a variety of sizes from 1lb. to 20lb. bags. It's easy to prepare, economical, versatile, and a healthy complement to any meal.
Mahatma Rice is grown in the U.S.A. and is kosher-approved. Families can trust Mahatma to cook into fluffy white rice. Mahatma Rice is naturally sodium-free, cholesterol-free, and fat-free.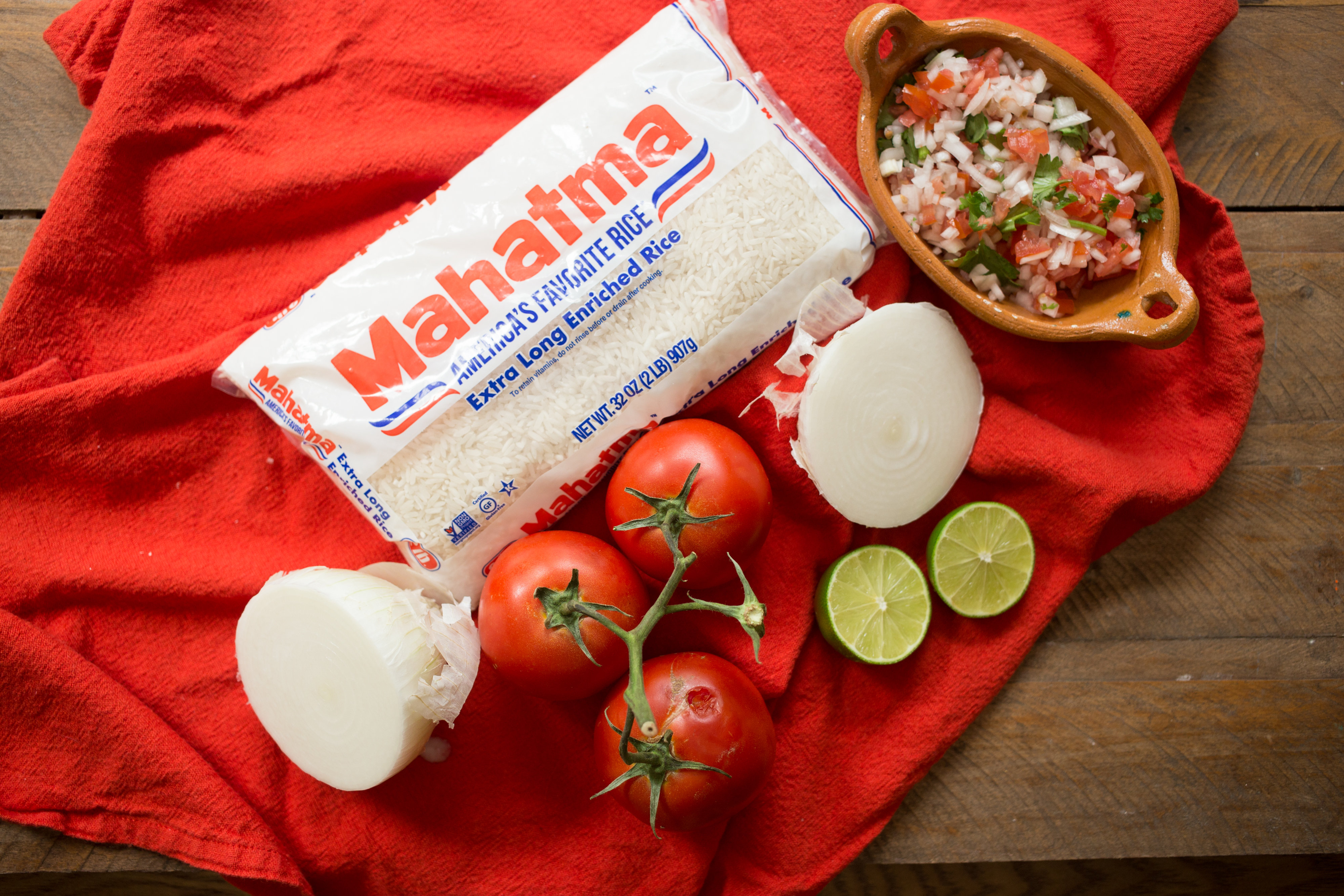 The Mahatma brand of rice was introduced in 1932. Having many of the table characteristics of the Indian Patna variety, it was named "Mahatma," which means "outstanding" or "superior" in character.
Find more tasty recipes at https://www.mahatmarice.com/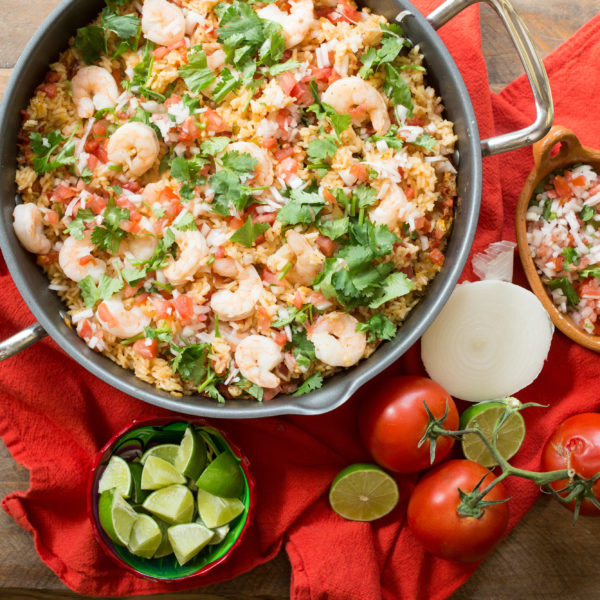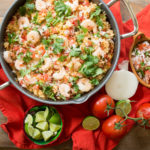 Shrimp Pico Rice Skillet
A twist on a Texas favorite, made with succulent shrimp, spicy jalapeños and rice, my Shrimp Pico Rice Skillet is a homage to my South Texas roots.
Ingredients
2

tablespoons

olive oil

1

small onion

3 oz., chopped

3

cloves

garlic

chopped

1

jalapeño pepper

seeded and diced

2

cups

of Mahatma White Rice

1

14.5 oz. can diced tomatoes

3

cups

chicken or vegetable broth

1

teaspoon

cumin

1

teaspoon

salt

½

teaspoon

pepper

1

lb.

shrimp

peeled and deveined

½

cup

cilantro

chopped

Lime wedges
Instructions
Preheat oven to 350 degrees. In a cast iron skillet or ovenproof skillet, heat olive oil over medium-high heat. Add onion, garlic and jalapeno to skillet and cook until onions are translucent and jalapenos are softened, stirring often, about 3-4 minutes. Add rice, stir and continue to cook for 2 minutes. Stir in tomatoes, broth, cumin, salt and pepper. Bring to a boil.

Carefully transfer skillet to oven; bake for 15-20 minutes. Carefully remove skillet from oven, place shrimp over rice, and return to oven. Bake for 5-7 minutes, or until shrimp are opaque.

Sprinkle with cilantro and serve with lime wedges.