Delicious oxtail tacos in salsa verde made in the slow cooker are the perfect weeknight meal for those busy days.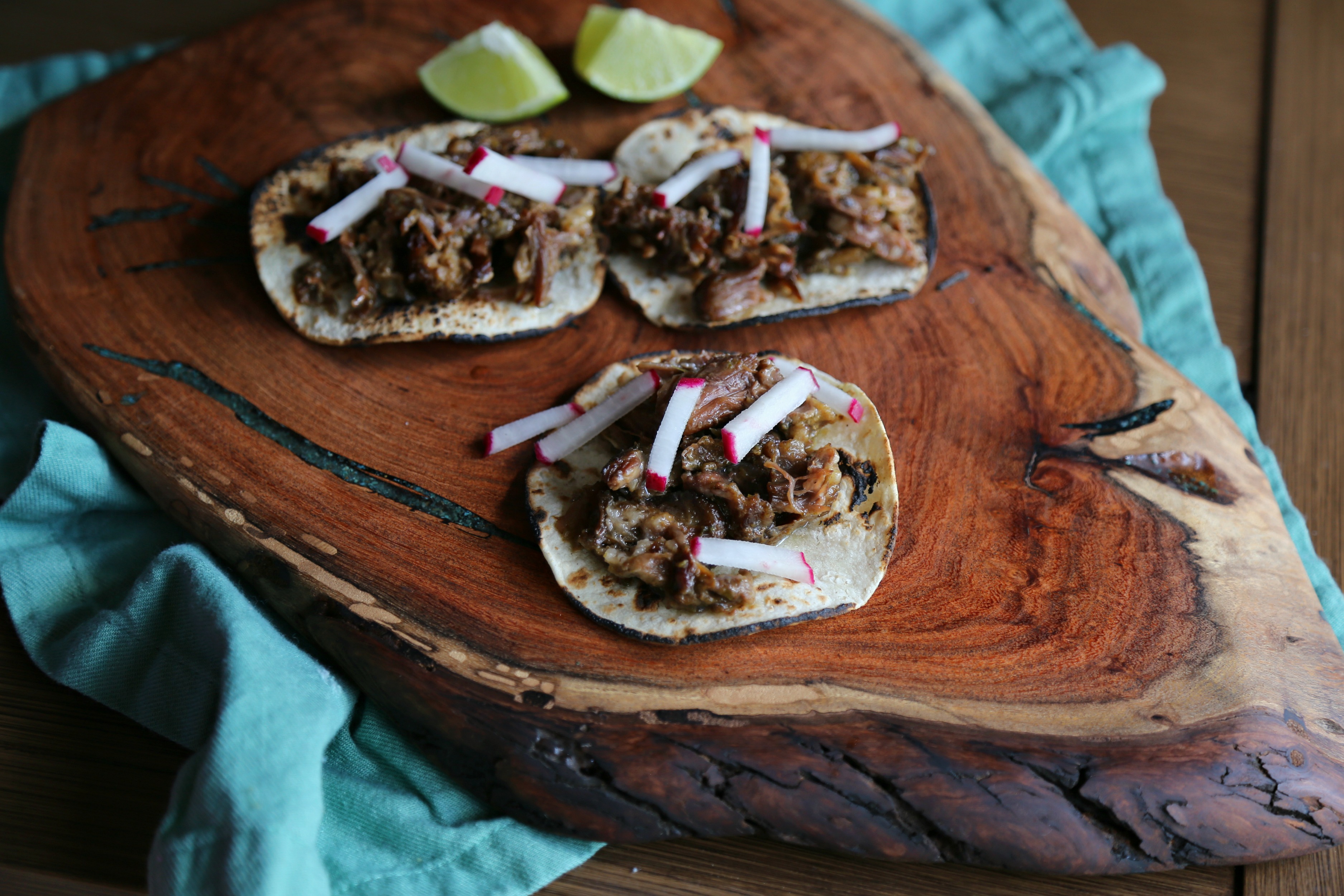 Slow Cooker Oxtails in Salsa Verde
I recently hosted a fun Facebook live with Melanie from Que Means What and Rumba meats. I had a great time chatting with Melanie about family, food, and culture. Melanie focuses on sharing her passion for diversity in entertainment, education and spending time outdoors.
Melanie is also on a mission to reconnect with her heritage so that she may pass her love of her culture to her sons. She is also a huge supporter of the Tejano culture, which makes me happy. I love mi Talented Tejanos who inspire me daily.
A busy homeschool mom of two boys I knew Melanie would appreciate a meal that she could quickly pull together in the slow cooker. I'm currently putting the final touches on my next cookbook which is all devoted to preparing meals in the slow cooker, so I knew this was a great opportunity ti share a few tips with Melanie that I knew she could use during her busy weekdays.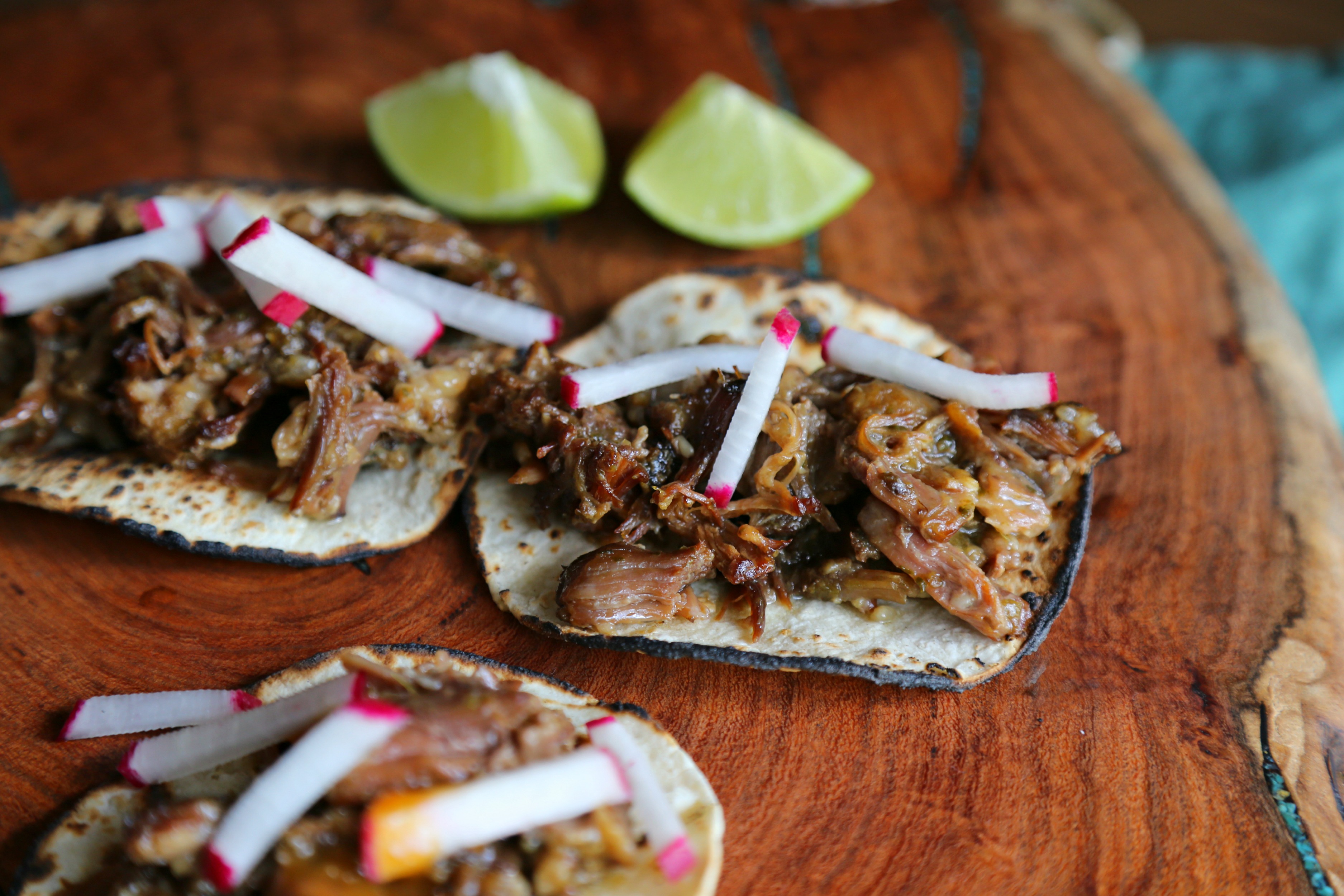 Cooking Oxtails with Rumba Meats
I was thrilled when Rumba meats reached out to me to partner with me on this Facebook live. Rumba meats sells the freshest, highest-quality variety meats for Hispanics who hold traditional cooking close to their hearts. With their colorful packaging that jumps out at the meat case, I knew they would be the perfect partner for this Facebook live.
For this recipe, we're using oxtails. Oxtails are one of the most flavorful cuts of beef which are ideal for slow cooking and create a delicious, rich stock. My mami adds oxtails to her caldo de rez or would use them to make calditos for us when we were younger. I still make these calditos for my girls.
I began my browning the oxtails before adding them to the slow cooker. I also made a fresh salsa verde, blender style which would be the sauce for our dish. A quick simmer of tomatillos, onion, and garlic then placed in the blender along with cilantro, which we forgot to add during our facebook live. These moments are exactly why I enjoy hosting Facebook lives you never know what will happen. It was a funny moment.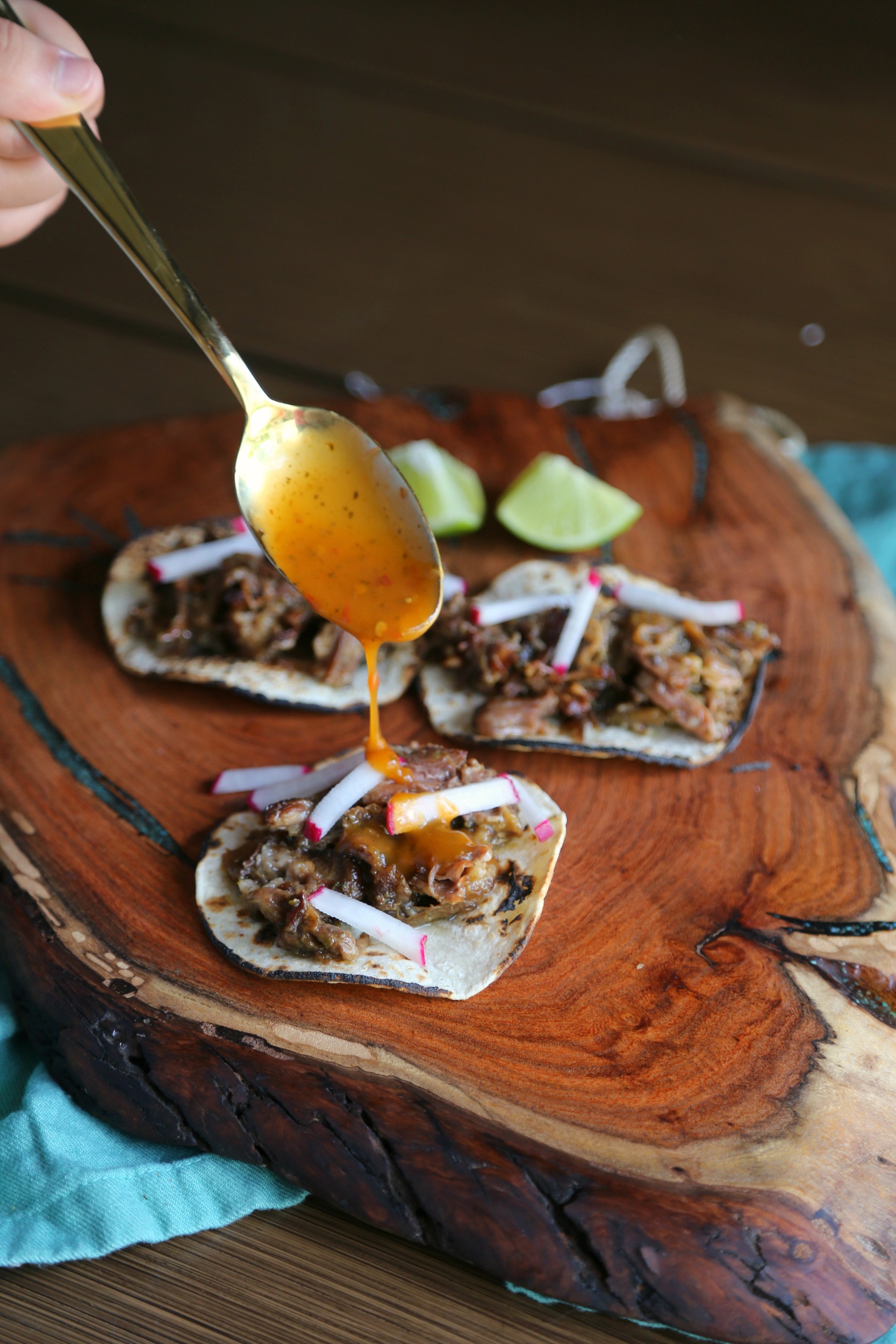 Once the browned the oxtails are added to the slow cooker, pour your salsa verde over the oxtails cover and cook on low for up to 8 hours. The oxtails will be fall off the bone tender and the salsa verde creates a delicious sauce. Shred the meat with a fork and serve in warm tortillas garnished with a few radishes slices and additional salsa if you like.
These tacos were a hit with Melanie's family and with mine also. I'd like to thank Melanie for joining me on my Cooking with Sweet Life Facebook live and Rumba meats in partnering with me to bring you a tasty new recipe. Watch the complete recipe from beginning below and follow along as Melanie continues her journey to re-connect with her roots on Instagram.
Rumba Meats is committed to bringing you the freshest specialty cuts to celebrate diversity and cultural traditions. Ther hope is to ignite creativity in the kitchen, spark the imagination in meal creation and help make dinner time special for you and your family. Learn more about rumba meat here.
You can visit any Kroger store in the state of Texas to find Rumba Meats products. They also carry beef cheek, skirt steak, sweetbreads, beef tongue, tripe and many more cuts of meat for traditional Mexican cooking. Also be sure to pick up a coupon for oxtails on their homepage to make this tasty recipe and follow along on Instagram for more recipe ideas.
Slow Cooker Oxtails in Salsa Verde
Yield 6 Serves
Delicious oxtail tacos in salsa verde made in the slow cooker are the perfect weeknight meal for those busy days.
Ingredients
For Oxtails: 
4 pounds Rumba Meats oxtails
Salt
pepper
1 tablespoon olive oil
For Salsa Verde: 
2 pounds tomatillos, husks, and stems removed
1 to 2 jalapeños, stem and seeds removed (optional)
1 white onion, skin removed, sliced in half
1 bunch cilantro, washed and stems removed
Instructions
For the Oxtails: 
In a Dutch, heat olive oil over medium-high heat. Season oxtails with salt and pepper. Working in batches, brown oxtails in the hot pan on all sides, adding additional olive oil if needed.
Place in slow cooker, make salsa verde.
For the Salsa Verde: 
In a saucepan combine tomatillos, jalapenos (if using) and onion; cover with water. Bring to a boil over high heat then reduce to a simmer. Simmer until vegetables are completely softened, about 10 minutes, stirring occasionally to make sure all sides are softened.
Drain, all but 1 cup of water, transfer to a blender, add cilantro and blend, until smooth. Season to taste with salt.
To complete Oxtails: 
Pour salsa verde over oxtails, cover, cook on low for up to 8 hours.
After 8 hours, remove oxtail from slow cooker, shred and serve with warm corn tortillas garnished with sliced radishes, pickled red onion.
Notes
Salsa Verde can me made a day in advance.  
Courses Dinner
Cuisine Mexican
This is a sponsored post with Rumba Meats. Thank you for supporting the companies I collaborate with to bring you exciting, new recipes.