This recipe was previously published over at The Latin Kitchen. 
Spicy Shrimp over Pureed Hominy
Celebrating Lent season in South Texas means only one thing, Shrimp!  Wild-caught straight from the   blue water in the gulf Texas shrimp are well known world-wide for their great flavor.  South Texans take their feasting for Lent to a whole new level and every year I find myself tweaking a recipe from a fellow Texan to feature on my Lenten table.
I enjoyed this recipe at a local shrimp shack where the menu changes daily, the shrimp is always fresh and every dish is served with a cold beer.  It is one of my favorite date night spots.  A bed of buttery pureed cauliflower was served on a warm plate and topped with a heap of freshly friend shrimp.  A quick drizzle of hot sauce and it was presented at our table, it was love at first bite.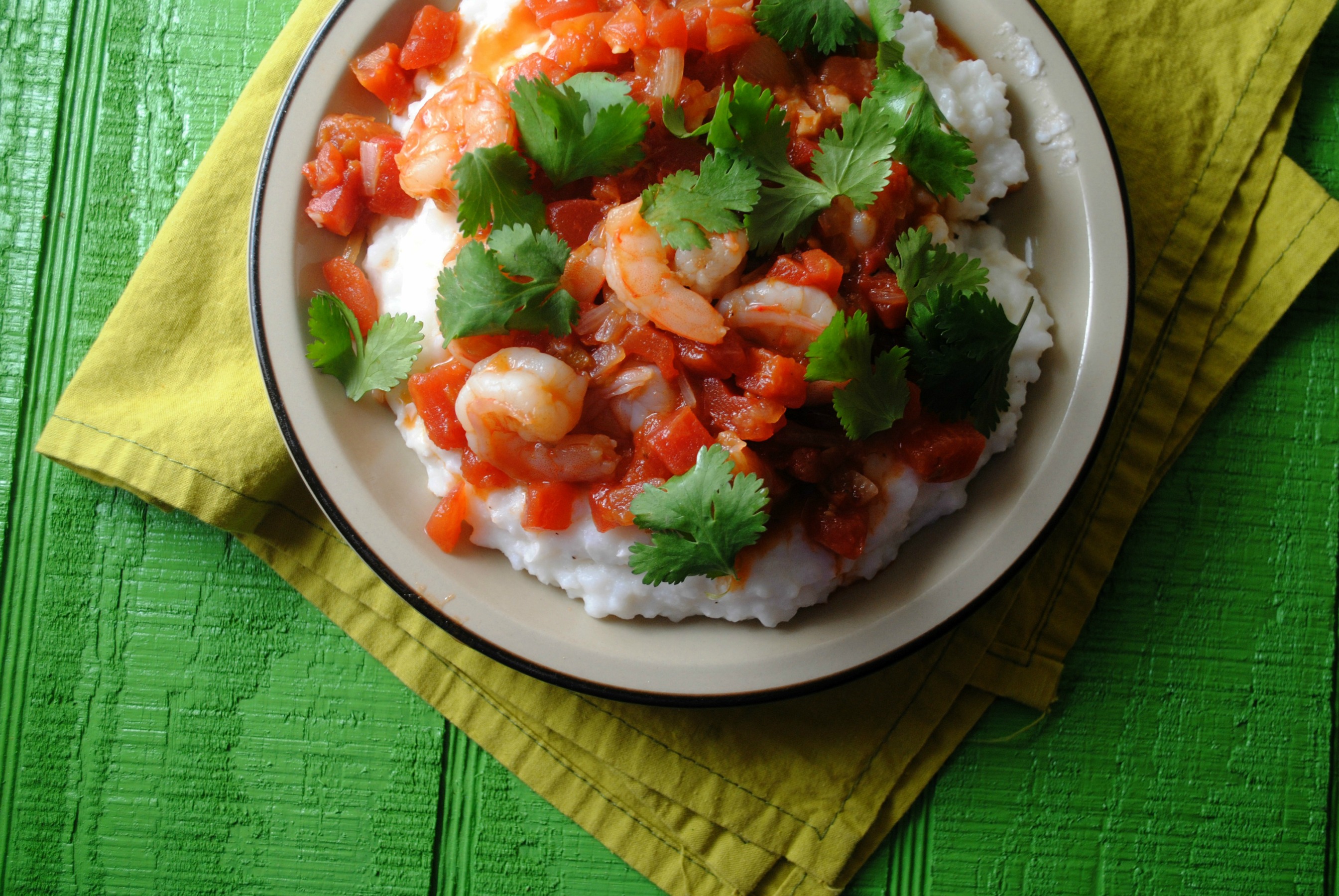 I smiled at my husband as we ate, he nodded and said "You have to make this for us at home," I agreed, but wanted to add my own twist on the dish. And I did.  I went against adding the fried shrimp for pure reason of time constraints. I wanted to enjoy the dish, but made quicker so that I could pull it off even on weekdays.
I settled for quickly sautéed shrimp in a rich, spicy tomato sauce that mimicked the hot sauce drizzled over the fried shrimp.  Instead of using cauliflower I went with hominy which paired well with the shrimp.  Like grits the hominy stood up to the spice and paired wonderful with the shrimp.  A re-make, a tweak, a spin on a delicious Lenten meal that you can enjoy with your family mid-week or for Sunday dinner.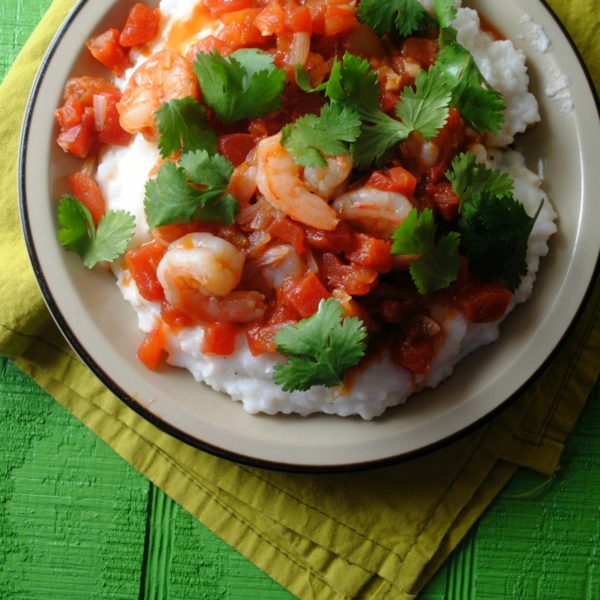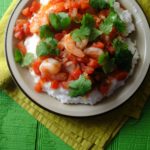 Spicy Shrimp over Pureed Hominy

Ingredients
For spicy Shrimp:
1 tablespoon olive oil
1 medium onion sliced
3 garlic cloves minced
1 tsp ground cumin
1 tsp salt
1 tsp freshly ground pepper
1 pound large shrimp peeled and deveined
1 tablespoon chipotles diced from can
1 15 oz can diced tomatoes with green chiles
½ cup cilantro
For Hominy Puree:
1 30 oz can of hominy, drained and rinsed
2 cups milk
1 tsp salt
2 tsp freshly ground pepper
1 tablespoon unsalted butter
Instructions
In a saucepan over medium high heat simmer hominy and milk until warm. With a potato smasher or using a blender mash or puree hominy until smooth. Reduce heat to low stir in salt, pepper and butter. Taste and adjust seasoning; keep warm.

Heat oil in a large nonstick skillet over medium heat. Add sliced onion and sauté until tender and translucent, about 4 minutes. Add garlic, cumin, salt and pepper and cook additional 2 minutes. Add shrimp, stirring frequently and cook until shrimp are pink, about 3 minutes. Reduce heat add diced chipotles and tomatoes and simmer for 5 minutes until sauce thickens a bit. Serve warm over pureed hominy.