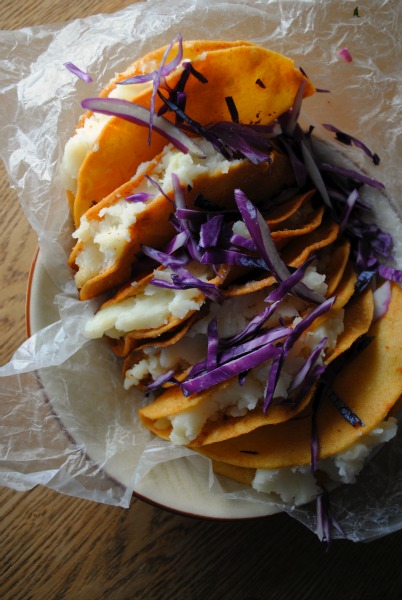 Tacos de Papa
Two thanksgiving meals, two batches of mashed potatoes, Tacos de papa.
Upon marrying me, mi carino has had to adapt many of his eating habits.  His childhood table was night and day compared to mine.  My mom moved here when she was 17 and carried with her into our home the same plates from her childhood. Mi carinos's mom was born in Texas and they had adapted to Texas fare much more quickly than my mom.
Our first Thanksgiving was quite a shock to him. His mom serves stuffing from a box and her cranberry sauce was in the shape of a can. Not that there is anything wrong with the boxed stuffing( I happen to love it!) it's just not what we serve, but lucky for me he loved everything we eagerly put on his plate. And year after year he has come to look forward to Thanksgiving, even asking my mom to make an extra batch of cranberry sauce that he can slather on turkey tostadas the following week.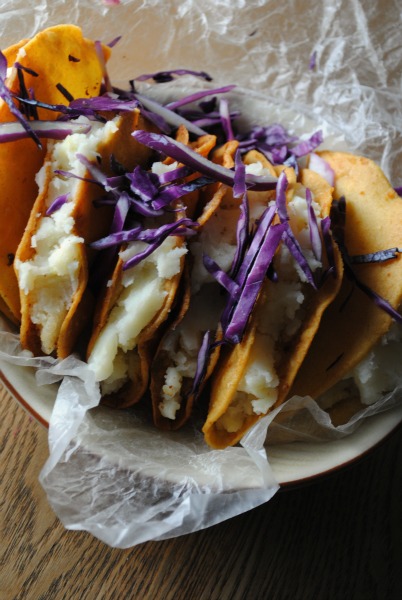 But come June, like clockwork he will lovingly suggest that I throw in a box of stuffing when I head to the store or why not buy a can of cranberry for our dinner he will say.  Do you think they sell those rolls that my mom makes for Thanksgiving?  He missed his Thanksgiving and who was I to deny him that.  So for the last 8 years every June we have a mini Thanksgiving just for him, with all his favorite dishes.  Stove top stuffing, canned cranberry, green bean casserole, heat and serve rolls, mashed potatoes, gravy and a small turkey. My kids actually look forward to each year as they know it excites their dad and they enjoy his funny childhood  stories he shares as we eat.  Who knew a can of cranberry could make a man so happy?
The leftover mashed potatoes always make their way into tacos de papa.  My grandmother made them the following day after Thanksgiving, my mom made them and now I make them. Served with shredded cabbage and lime, doused in salsa leftover potatoes never tasted this great!  My kids love them and mi carnio happily stuffs cranberry into them.
Two Thanksgivings…. One big happy family and tacos de papa…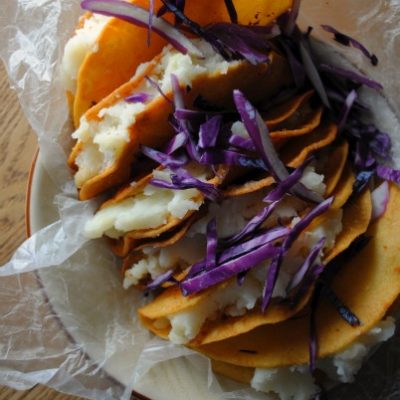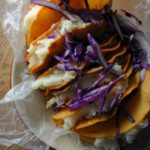 Tacos de Papa (Potato Tacos)
Ingredients
Mash potatoes

Corn tortillas

Oil for frying

Shredded Cabbage for garnish

Lime

Salsa
Instructions
Heat oil in a large skillet over medium-high heat.

Spread 1 heaping spoonful of mashed potatoes over half of each tortilla, and fold over to form a taco.

Add tacos to oil in batches and fry, turning once, until golden brown and crisp, about 3 minutes.

Shred cabbage and add lime juice and salt to taste.

Stuff with cabbage and drizzle with salsa before serving.
FoodNetwork has teamed up with a few tasty bloggers to spolight Summer produce at it's best!
Today we spotlight the mighty potato ~ Check out these great recipes!
Jeanette's Healthy Living: Crock-Pot Stuffed Baked Sweet Potatoes
Feed Me Phoebe: Roasted Potato and Green Bean Salad With Almond-Chive Pesto
Dishin & Dishes: Roasted Potato Salad
Big Girls Small Kitchen: Shakin' Hash Browns
Made By Michelle: Sweet Potato Macaroni and Cheese
Napa Farmhouse 1885: Red Chile Breakfast Potatoes
Virtually Homemade: Potato Onion Bread With Poppy Seeds
From My Corner of Saratoga: Easy Crispy Fried Potatoes
FN Dish: The Multipurpose Potato
Thursday Night Dinner: Mashed Sweet Potatoes and Coconut Oil