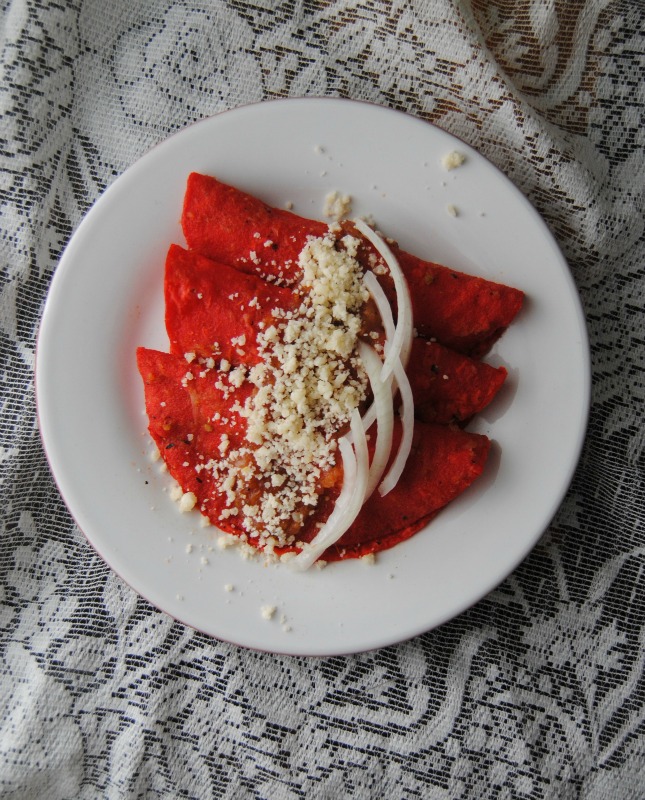 Enchiladas en Salsa Roja
Today kicks off Hispanic Heritage Month.  From September 15 to October 15 Hispanics celebrate their history, culture, life, family, and future.  Naturally when I celebrate this holiday I think of the food. My heritage, past and future all tie into plates, dishes and steamy bowls of wonderful comida cooked by my grandparents, mother and family. Food is an extension of culture, an extension of a family's love passed from one generation to another.  A memory captured on a fork, a smell that instantly transports you to your childhood or a taste that reminds you of a special time, day or place.
This month to celebrate my heritage, my culture, my family I would like to share the plates of my life. Plates that have held a grip on my heart since as long as I can remember, and some that have transformed themselves over time to be a mix of my  past and the present with my children.  Granted many of these dishes are humble in comparison to some of the recipes I have featured in this space, but simple ingredients mixed with love often provide the best dishes wouldn't you agree?  I'm not sure why I have never  thought to share these recipes before, but I hope you enjoy these plates, this tiny piece of my culture as much as I have grown to love, appreciate and understand that this remarkable heritage is what makes me the women, mom and wife I am today. Enjoy!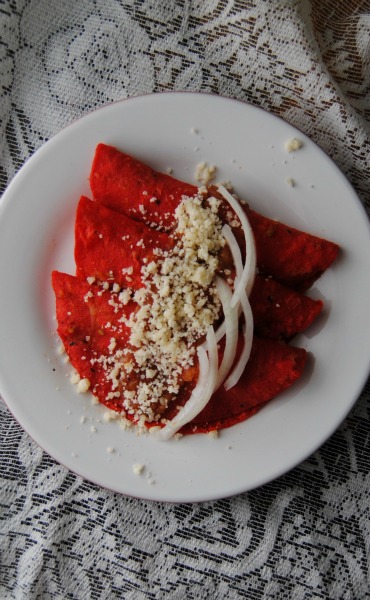 We begin this celebration with Enchiladas en Salsa Roja.  One of the simplest, tastiest meals that has ever graced my lips.  Warm tortillas dipped in a rich tomato salsa and sprinkled with queso.  A meal easily pulled together by my mom on a busy week night, served to family members when they would arrive for a visit or even presented on a huge platter for a fiesta, enchiladas en salsa roja have always been one of my favorite meals.  Did she love them as much as I did? Or was this budget friendly meal a great alternative to a large family, who knows, who cares they are amazing!  I sometimes like to mix tomatoes and tomatillos to make the sauce and even add an extra chile when I'm feeling the need for a little bit of extra spice in my day.  Served with a spoon of steamy frijoles de olla  I would happily consume plate after plate.  I made these last night for dinner and my mom said "I really like the sauce."   She's sweet.  La adoro!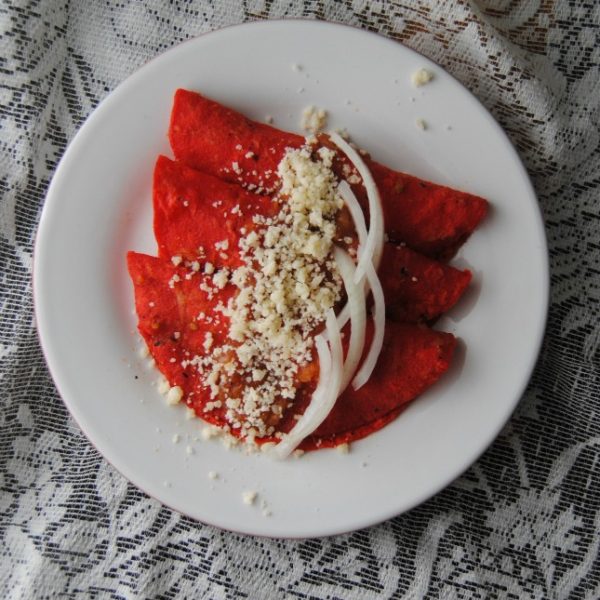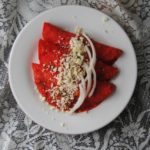 Enchiladas en Salsa Roja
Ingredients
1

pound

ripe tomatoes or ½ pound tomatoes and ½ pound tomatillos

1

large onion

halved

2

garlic cloves

skin on

1

jalapeño

remove seeds for less heat

Salt and freshly ground pepper

12

corn tortillas

Oil for frying

queso fresco

crumbled
Instructions
On a baking sheet place tomatoes, garlic, 1 half of onion and jalapeno. Place under broiler and roast until charred (skin slightly blackened). About 5-10 minutes, turning once, to char evenly. Be sure to watch the garlic as it will char before the rest of ingredients.

Remove garlic skin. Add tomatoes, garlic, onion and chile to blender and puree until smooth. Season with salt and pepper, set aside. Slice remaining half of onion for garish.

Over medium heat in a skillet add enough oil to reach 1/2-inch deep. Lightly fry each tortilla; they should be soft, but still pliable. Drain on paper towels.

Dip each tortilla through the tomato sauce. Fold and arrange on plate or platter. When all tortillas are arrange spoon more sauce over the top, garnish with queso and sliced onions.
Each year, Americans observe National Hispanic Heritage Month from September 15 to October 15, by celebrating the histories, cultures and contributions of American citizens whose ancestors came from Spain, Mexico, the Caribbean and Central and South America.
The observation started in 1968 as Hispanic Heritage Week under President Lyndon Johnson and was expanded by President Ronald Reagan in 1988 to cover a 30-day period starting on September 15 and ending on October 15. It was enacted into law on August 17, 1988, on the approval of Public Law 100-402.
The day of September 15 is significant because it is the anniversary of independence for Latin American countries Costa Rica, El Salvador, Guatemala, Honduras and Nicaragua. In addition, Mexico and Chile celebrate their independence days on September 16 and September18, respectively. Also, Columbus Day or Día de la Raza, which is October 12, falls within this 30 day period.
from HispanicHeritageMonth.gov