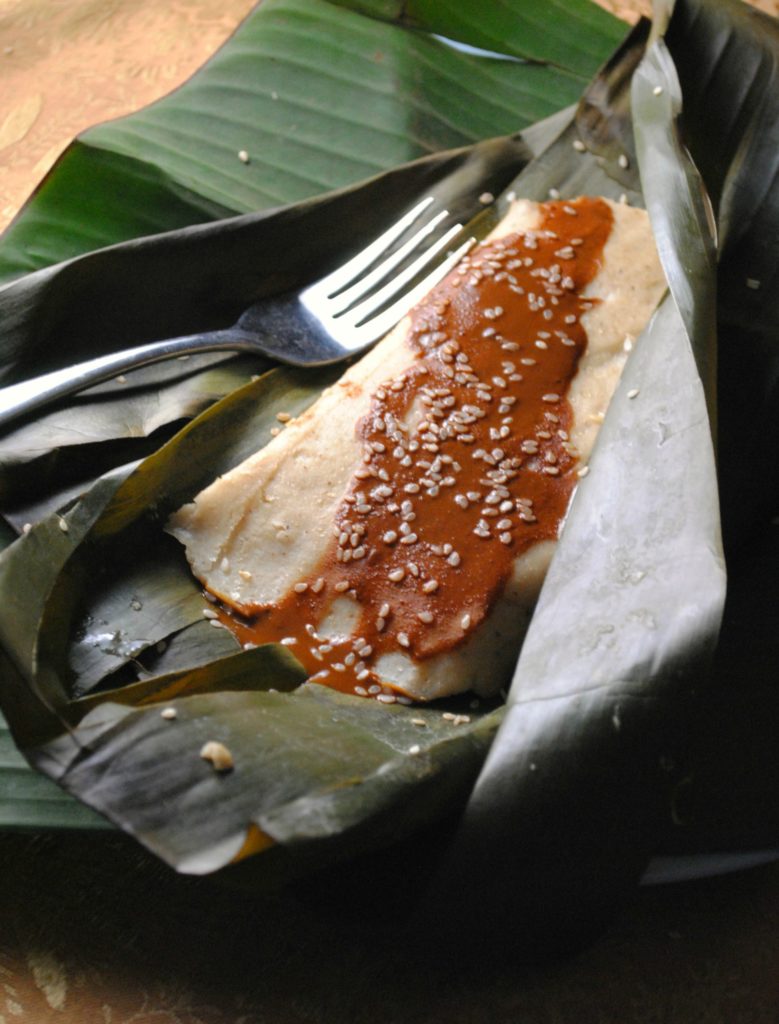 I recently visited Oaxaca with Eat.Drink.Cook.Mexico. It was a magical trip filled with amazing food, daily market tours and plenty of mezcal tastings. I was in a group with fellow food lovers who made the trip even more memorable by sharing their love of food with me. The highlight of the trip for me was that I was able to travel to Oaxaca with my daughter. Visiting Oaxaca for the first time with her made the trip truly special. To see her excitement as we cooked, shopped at the local markets and climbed the stairs of the ruins warmed my heart.
On one of the trip excursions we visited San Miguel de Valle with Fundacíon En Vía a non-profit organization located in Oaxaca, Mexico. They help fund small local women artisans who support their family by selling their goods. We met a group of ladies who shared with us how to make Oaxacan tamales de mole con pollo. First, they flatten the masa in a tortilla press, place the masa over a banana leaf, spread the masa with mole, add shredded chicken and fold. On my trip, I shared a short video on how they prepared them. Find that video here.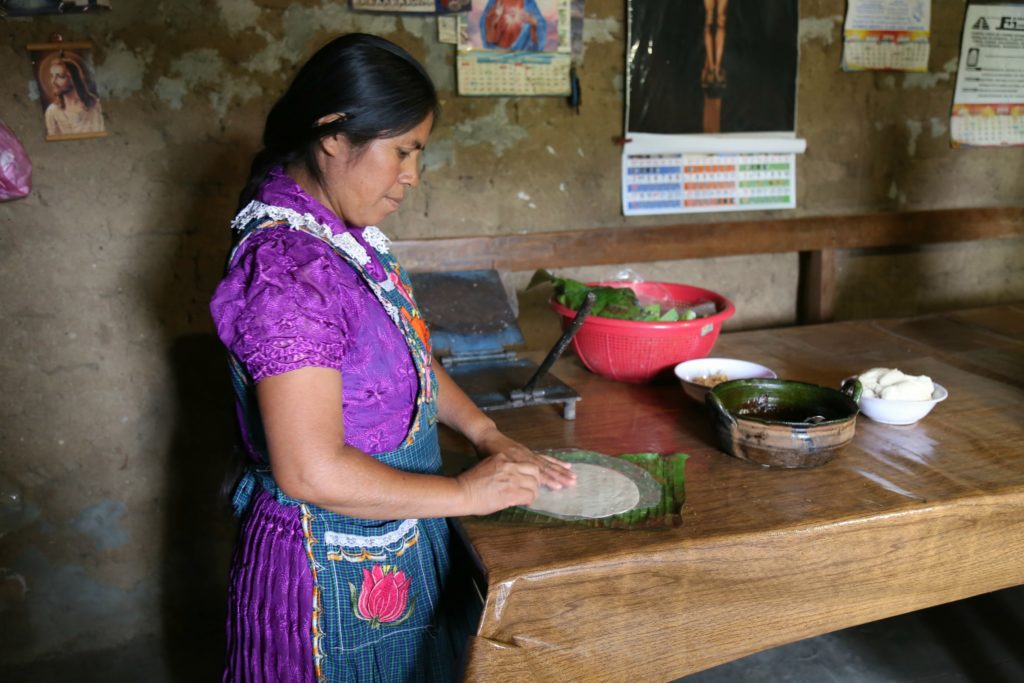 Fundacíon En Vía is a non-profit organization which works to alleviate poverty through economic empowerment. The funds generated through responsible tourism provide interest-free microloans and educational programs to entrepreneurial women in 6 communities in the Tlacolula Valley of Oaxaca, Mexico.
Fundacíon En Vía is committed to supporting social and community development through the combination of three main programs: microfinance, responsible tourism, and education.
Responsible Tourism they lead weekly tours into Oaxacan communities where visitors get the chance to meet the borrowers to see what impact the program has had on their lives.
Microfinance The large majority of the tour fee flows into the microloan program, so they are able to provide small, interest-free microcredits to women living in poverty.
Education In addition to interest-free microcredits, they provide borrowers with relevant educational training so that they have the skills to make the most out of their new financial tools.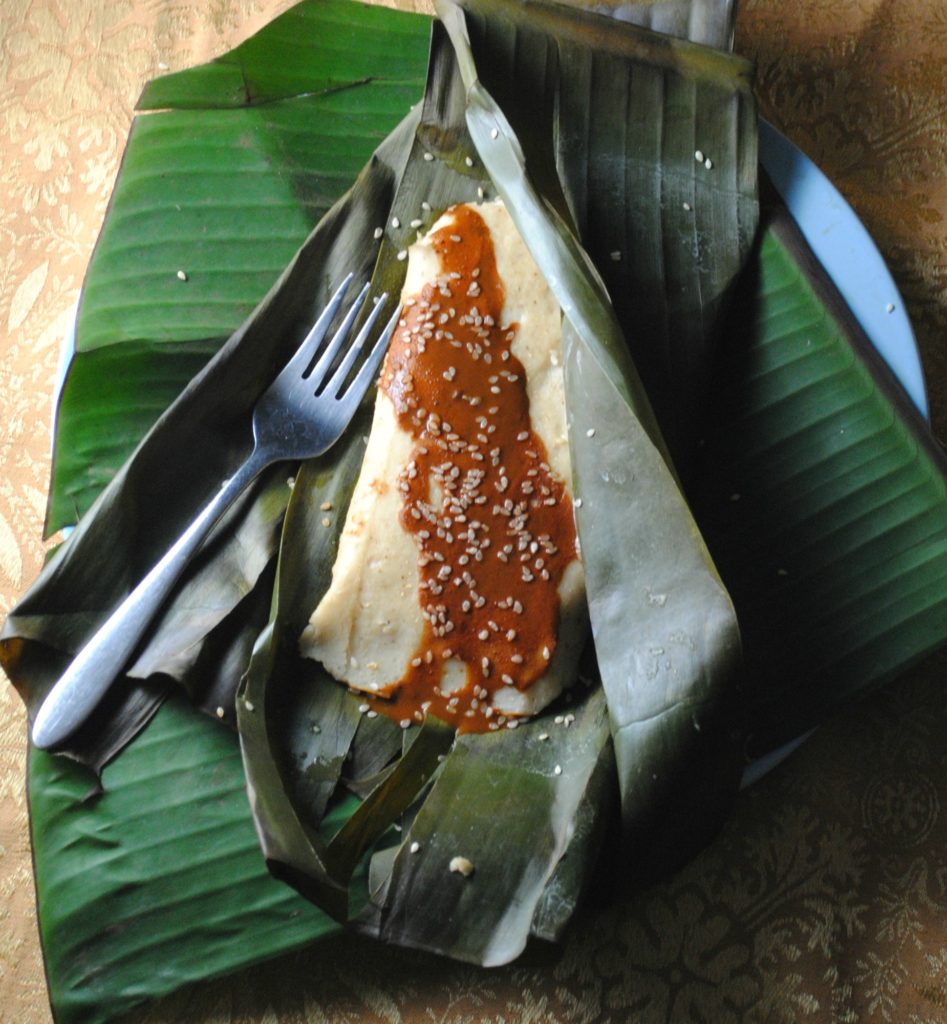 With the business of the holiday season I have been missing Mexico with its vibrant colors, friendly people and delicious food. I decided to step into the kitchen to recreate the tamales I had in Oaxaca.
To make these tamales you will need banana leaves. You can find banana leaves in your local Latin grocery store, via the internet or in some Asian stores. A few local grocery stores here carry both fresh and frozen. I find I get a better deal purchasing the frozen leaves, plus I can use what I need and return the remaining leaves to the freezer for a later use. If buying fresh look for leaves free of bruises, the leaves should be deep green and soft. If buying frozen avoid leaves that contain ice crystals, this happens when leaves are thawed and refrozen. You can store leaves in the freezer for up to three months, fresh leaves should be used within a week.
These tamales are a slight adaption to the tamales I enjoyed in Oaxaca. The locals spread the mole sauce over the masa, topped with chicken and folded. I serve mine with drizzled with warm mole sauce over the warm tamale. I had mole sauce in my freezer, a quick thaw and I was ready to top these tamales. Feel free to use ready made mole sauce or the next time you make mole, double the recipe and stash some sauce in the freezer.
[amd-zlrecipe-recipe:587]