Pico de Gallo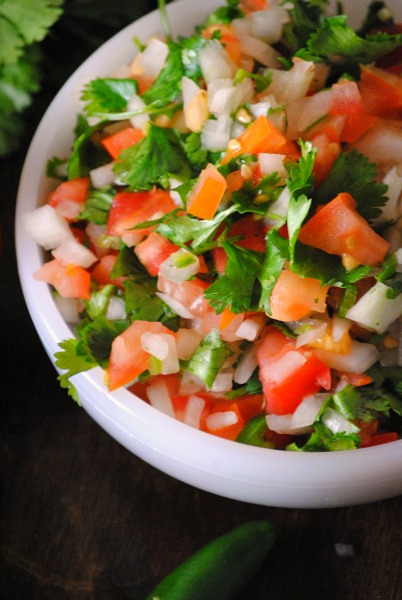 Pico de Gallo
I have been eating pico de gallo for as long as I can remember.  A heavy dose on my bowl of piping frijoles de olla, over a plate of enchiladas, with my morning eggs or on a plate of carne guisada this salsa fresca is a childhood favorite.
Pico de gallo means  beak of the rooster
A fresh salsa made from tomatoes, onions, cilantro, serranos and a splash of lime juice pico de gallo is widely popular here in Texas.  Some home cooks use diced canned tomatoes in their pico de gallo, but this makes it too watery for my taste.  Other use jalapenos in their pico de gallo I use Serrano since I enjoy a bit more heat. Feel free to remove the seeds for less heat.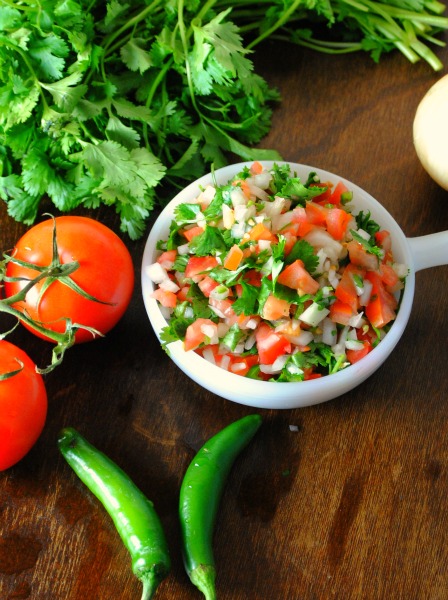 Ingredients
4 medium tomatoes, diced
1 small onion, diced
1/4 cup cilantro, chopped
2 jalapenos, diced (remove seeds for less heat)
1 lime, juiced
Salt and fresh pepper to taste
Instructions
Combine all the ingredients, season with salt and pepper to taste.
Place in fridge until ready to serve.
http://sweetlifebake.com/2012/07/31/pico-de-gallo/
Salsa Love:
It's Summer Fest with Food Network! Today we celebrate Tomatoes!! Check out what these amazing bloggers featured,

Cooking With Elise: Fresh Tomato Sauce
Jeanette's Healthy Living: Tomato Gazpacho Salsa
Napa Farmhouse 1885: Tomato Cobbler Anyone?
Virtually Homemade: Spaghetti With Tomatoes, Prosciutto and Fresh Corn
What's Gaby Cooking: Chicken Kebabs With Romesco Sauce
Big Girls, Small Kitchen: Salmon Spaghetti With Plum Tomatoes and Avocado
Feed Me Phoebe: Roasted Fresh Tomato Puttanesca Sauce
Chez Us: Easy Tomato Tart
Made By Michelle: Tomato and Pesto Pizza
Ingredients, Inc.: Lighter Fried Green Tomatoes
Delicious Lean: Creamy Light Tuna Salad Stuffed Tomatoes
Daily*Dishin: Spicy Tomato-Tomatillo Chicken Tenders
From My Corner of Saratoga: Tomato Jam
Dishin & Dishes: Tomato Zucchini Frittata
And Love It Too: Roasted Garlic, Basil and Tomato Paleo Tart
Healthy Eats: The Fresh-for-Once Tomato
Sweet Life Bake: Pico de Gallo
Zaika Zabardast: Grilled Tofu and Sun-Dried Tomato Pesto Sandwich
Thursday Night Dinner: Tomato and Watermelon Salad
Cooking Channel: How to Prepare Summer Tomatoes
FN Dish: Tomatoes Go Beyond Salads
© 2012, Sweet Life. All rights reserved. Please contact us to request written approval for reproduction of images and recipes.