Rajas de Poblano con Elote y Crema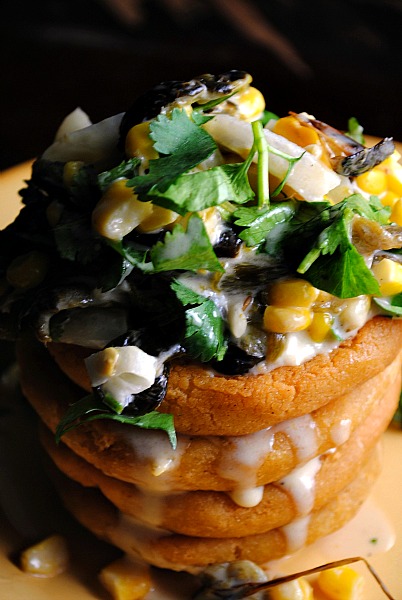 Rajas de Poblano con Elote y Crema
I used to order tacos de rajas de poblano every chance I had when dining out or if we hit up a late night taco stand.  Little did I know how easy they were to make.  Now I make them at home all the time as my kids have grown to love them also. Some days I add mushrooms or chayote to my rajas, but today I went with fresh corn and a handful of cilantro.  Over a piping hot sope fresh from the comal, pure heaven.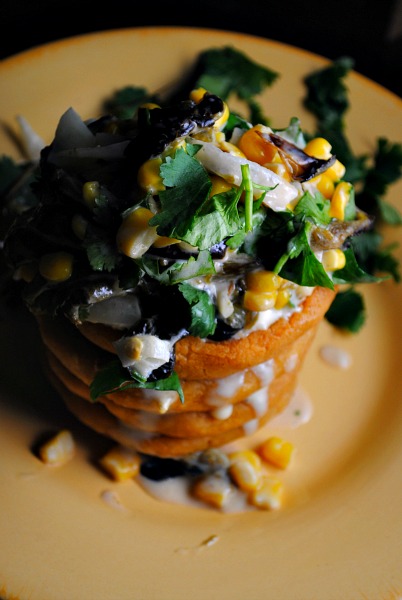 Rajas de poblano are roasted poblano cut into strips swimming in crema, onions and a bit of cheese.  Rajas can be served with rice, in a taco or over eggs. Heck add them everywhere… they are really that great!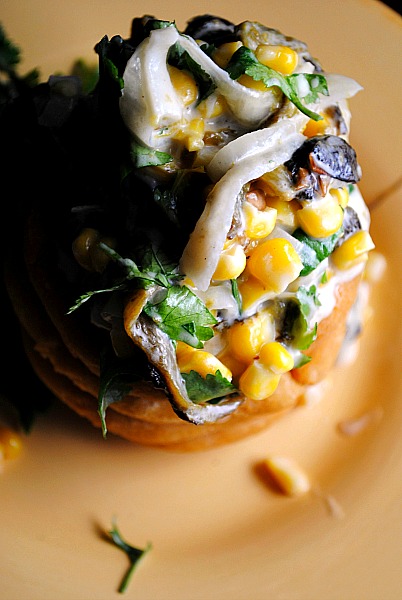 Rajas de Poblano con Elote y Crema
Ingredients
2 tbsp olive oil
1 garlic clove
1 onion, sliced
6 poblanos chiles, roasted, seeded, and cut into strips
2 cups corn
2 cups Mexican cream or sour cream
1 cup queso Oaxaca, queso Chihuahua or queso quesadilla (any good melting cheese)
Instructions
In a large skillet heat the oil over medium high heat.
Add the garlic and cook until fragrant, 1 to 2 minutes.
Reduce the heat to medium-high and add the onion and cook until softened, 2 to 3 minutes.
Add the chiles and corn and cook an additional 3 to 4 minutes.
Add cheese, reduce the heat and stir in crema.
Cook stirring until cheese has melted.
Serve immediately.
http://sweetlifebake.com/2012/08/07/rajas-de-poblano-con-elote-y-crema/
Jeanette's Healthy Living: Stuffed Peppers With Quinoa Grilled Vegetables and Pesto Sauce
Cooking With Elise: Roasted Red Pepper Hummus
What's Gaby Cooking: Oven-Roasted Peppers With Herbed Breadcrumbs
And Love It Too: Roasted Red Pepper Paleo Hummus
Feed Me Phoebe: Grilled Flank Steak With Gazpacho Sauce
Big Girls Small Kitchen: Seared Pepper Tacos With Pintos and Avocado Crema
Delicious Lean: Peppery Kung Pao
Daily*Dishin: Shrimp and Chorizo With Red Pepper Chermoula Sauce
Napa Farmhouse 1885: Spicy Roasted Red Pepper Dip With Baked Corn Tortillas
Thursday Night Dinner: Black Bean and Sweet Pepper Salad
Cooking Channel: 5 Stuffed Pepper Favorites
HGTV Gardens: Garden to Table: Peppers
Sweet Life Bake: Rajas de Poblano con Elote y Crema
Dishin & Dishes: Bacon, Onion and Green Chile "Jam"
Healthy Eats: Peppers for Breakfast, Lunch and Dinner
FN Dish: Meat and Peppers
© 2012, Sweet Life. All rights reserved.