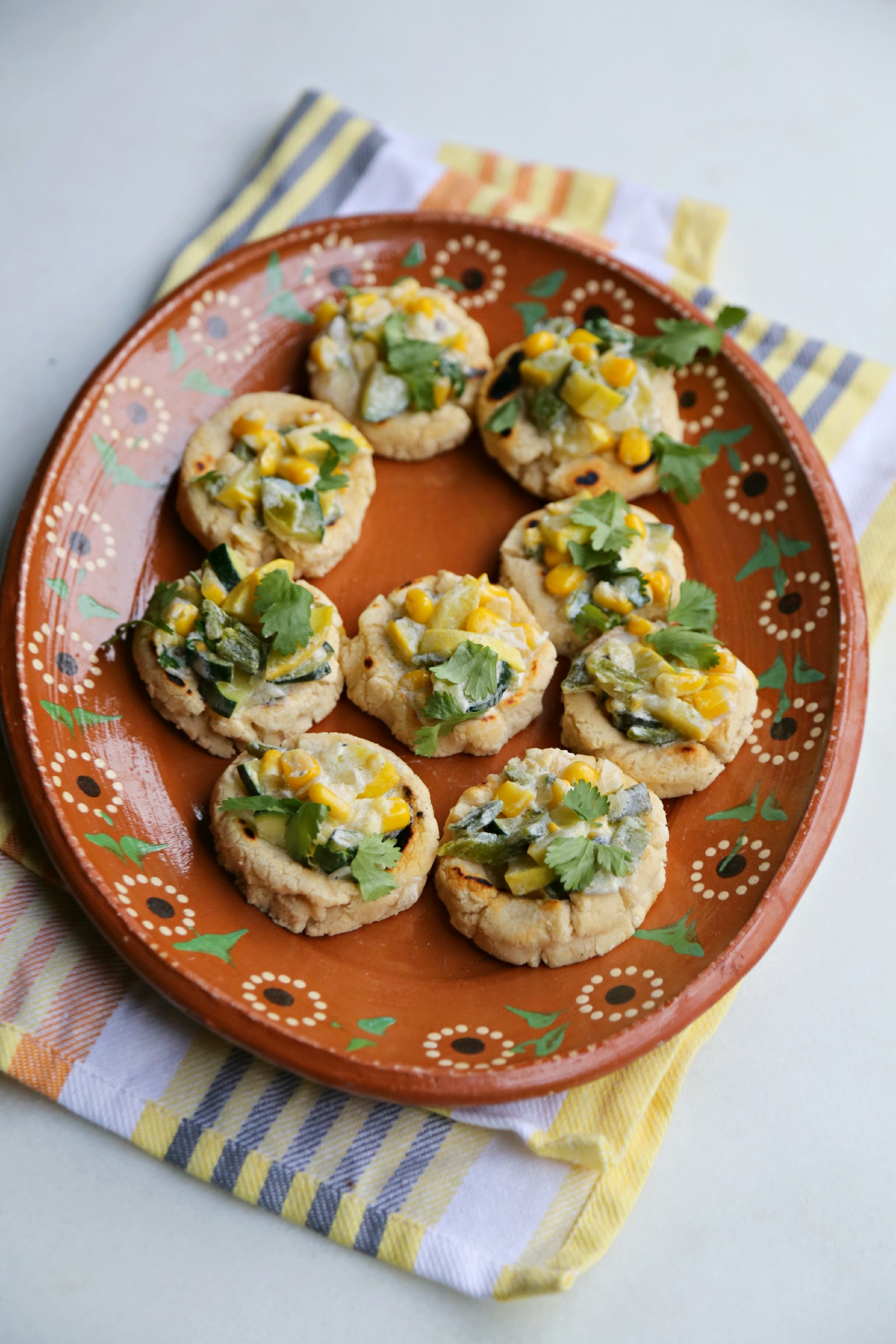 Calabacitas en Crema Mini Sopes 
My earliest memories of Christmas revolve around watching my mamí cook delicious meals in the kitchen.  She could usually be found dicing, stirring, and adding a pinch of cumin and oregano to her pots, simmering away on the stove. The house smelled wonderful with aromas of roasted chiles, stewed beans and ponche navideño.
She always expected a house full of people at Christmas time and there would be lots of hungry bellies to feed. Papí (my dad) would often remind her, "Don't overwork yourself."
"You are making too much food." he would tell her.  But mamí would smile and shoo him away.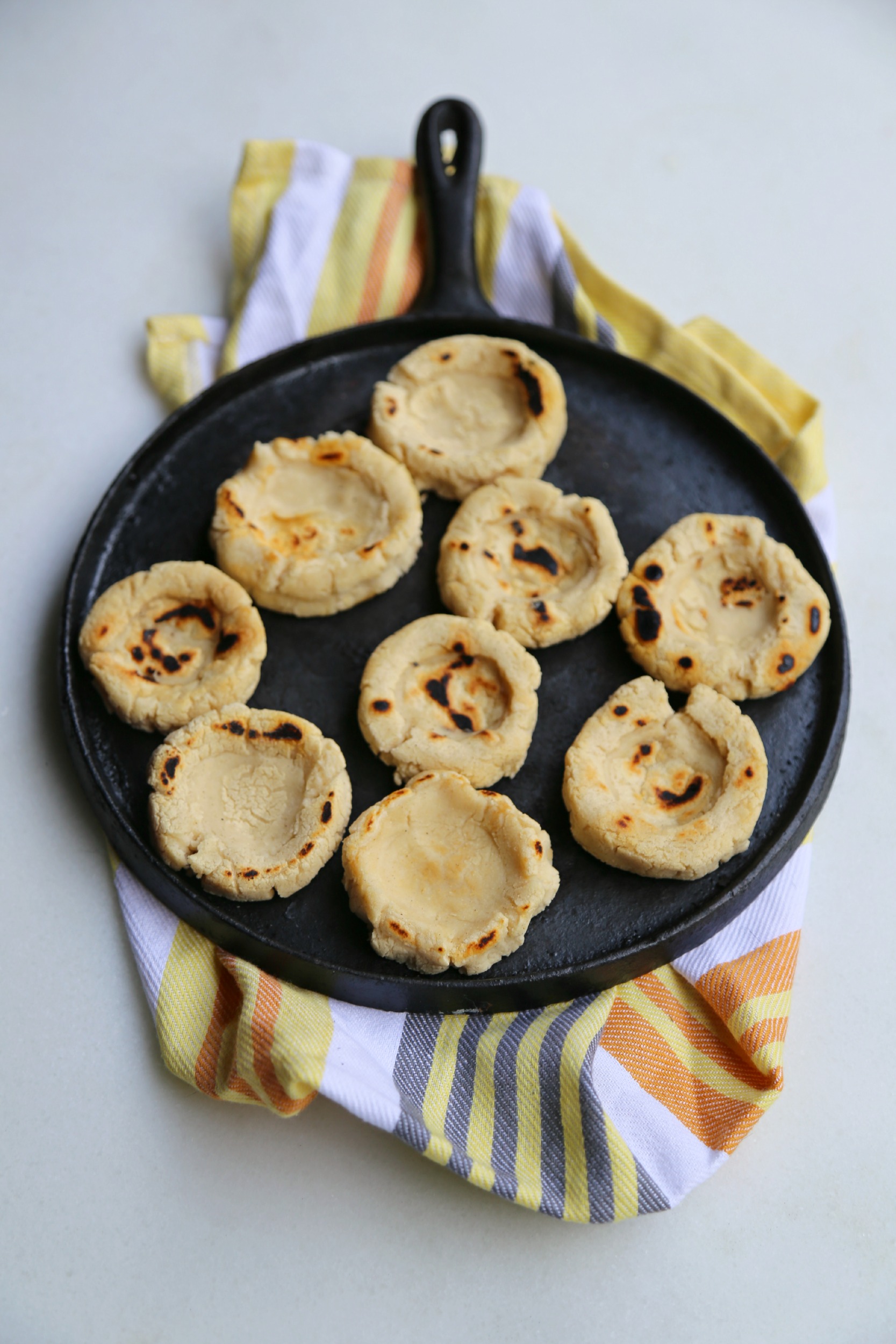 Spending time in the kitchen cooking for the holidays made her happy. She loved having everyone settled in around the dinner table, enjoying a meal together. Kids running in the backyard, the laughter after mi abuelito told his funny jokes, plates of food, followed by plates of sweet desserts.  Those days filled her heart with joy. "This is what the holidays are all about," she would tell me as I helped her re-fill the punch bowl…family, delicious food and laughter. 
Now, with a family of my own, I find myself as excited as my mamí when the holidays roll around. I often find myself searching through old family recipes to create my own spin on her amazing dishes that everyone loved. As I head into the kitchen for the holidays, I invite my children to cook along with me as I share my mamí's love of cooking with them.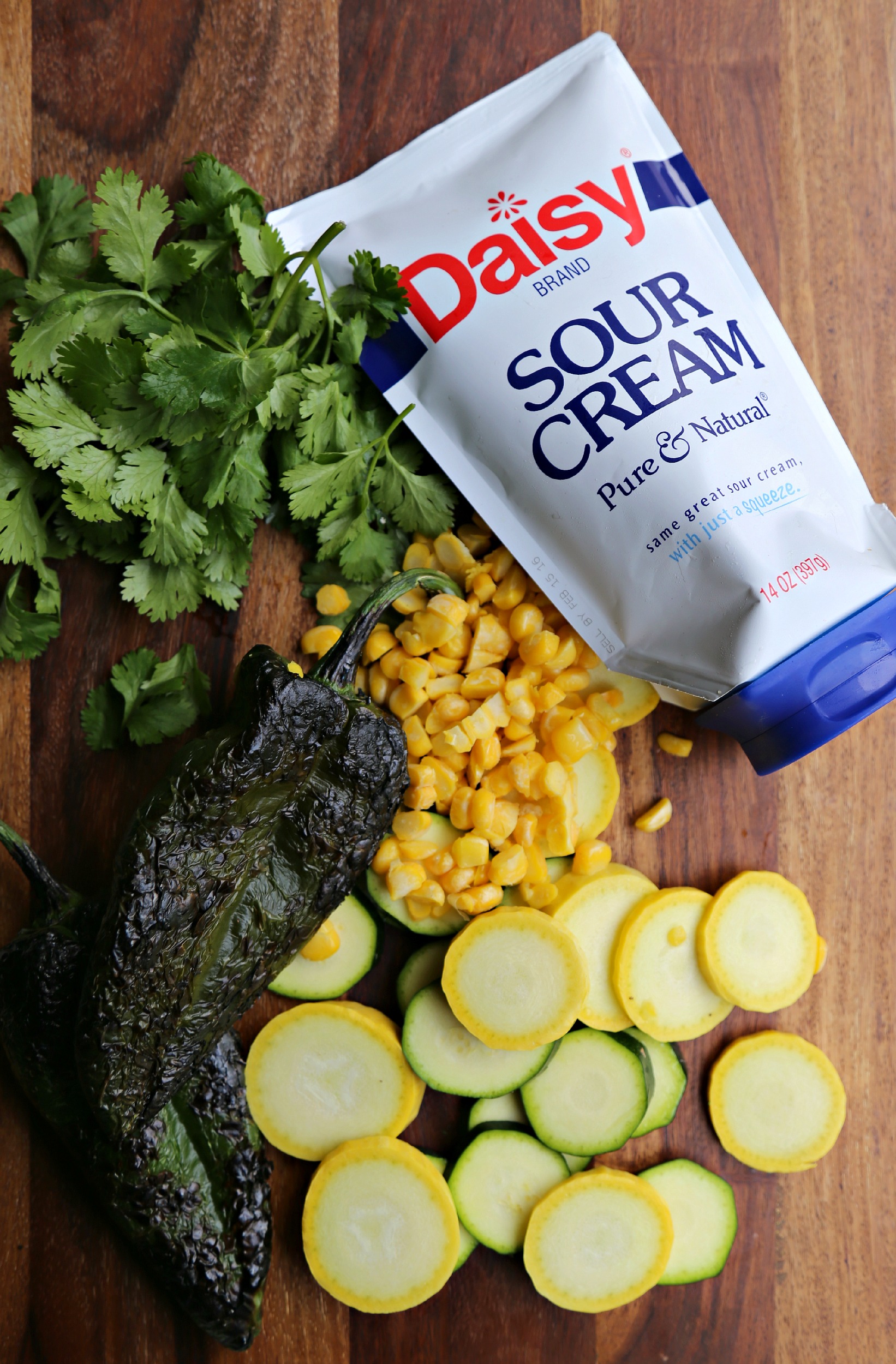 My youngest enjoys helping me gather the ingredients and with chopping vegetables. My oldest likes to focus on the desserts.  She's the baker of the family.
When Daisy Sour Cream asked me to share a few of my favorite holiday dishes, I knew I had to share some of my mamí's most requested holiday recipes.
And to kick off this Daisy Sour Cream fiesta today, I want to share with you a truly comforting appetizer that is creamy, packed with flavor, and perfect for service a big crowd.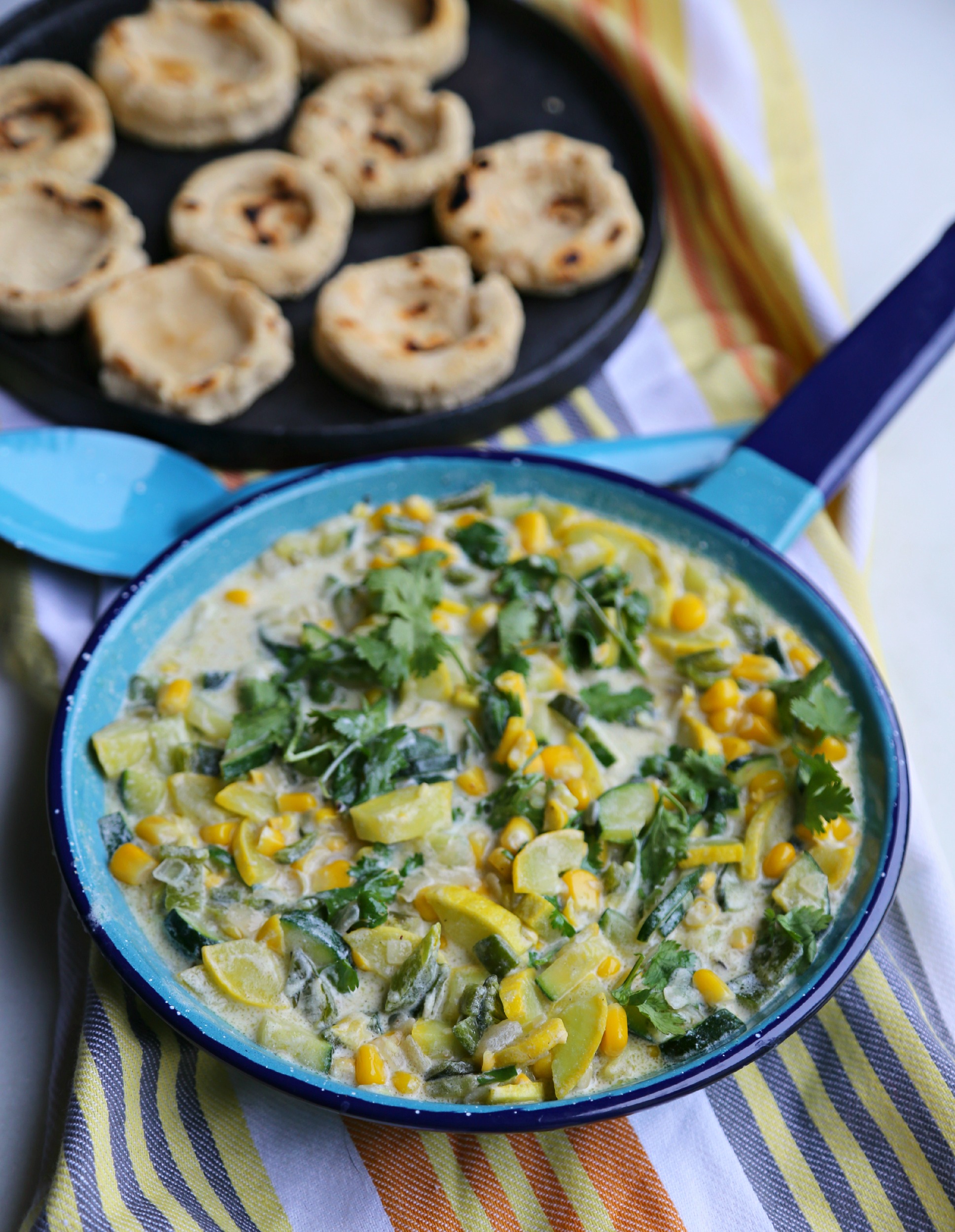 Zucchini squash, poblano chiles and sweet corn swimming in a pot of creamy sauce is showstopper. Served as an appetizer, calabacitas con crema can also be used as a taco filling or for tostadas. The addition of Daisy Sour Cream adds a rich, tangy flavor that pairs perfectly with the sautéed zucchini and roasted poblanos.  My mamí often served this dish with warm corn tortillas.
Today I want to share with you a bite-sized version of this dish, by topping a mini sope with the calabacitas con crema. Adults love them and kids love anything mini.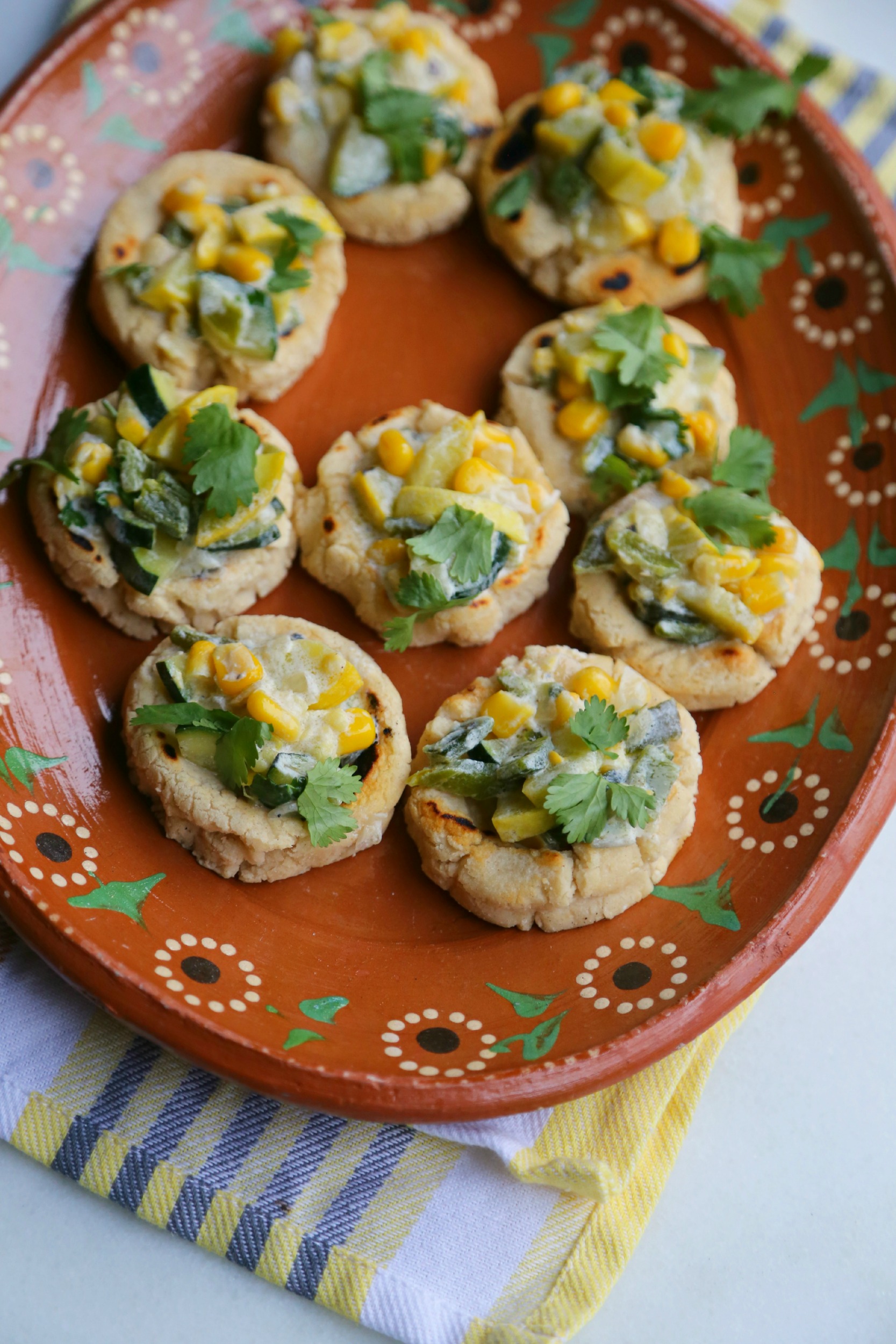 Even with the busy holiday season, I hope you try this recipe and take time to celebrate the holidays with your family and friends. Invite the kiddos into the kitchen to help you prepare for the festivities. Whether you are entertaining for four or for 20 guests, calabacitas con crema is sure to be hit.
The calabacitas con crema can be made up to two days in advance and warmed through before your guests arrive.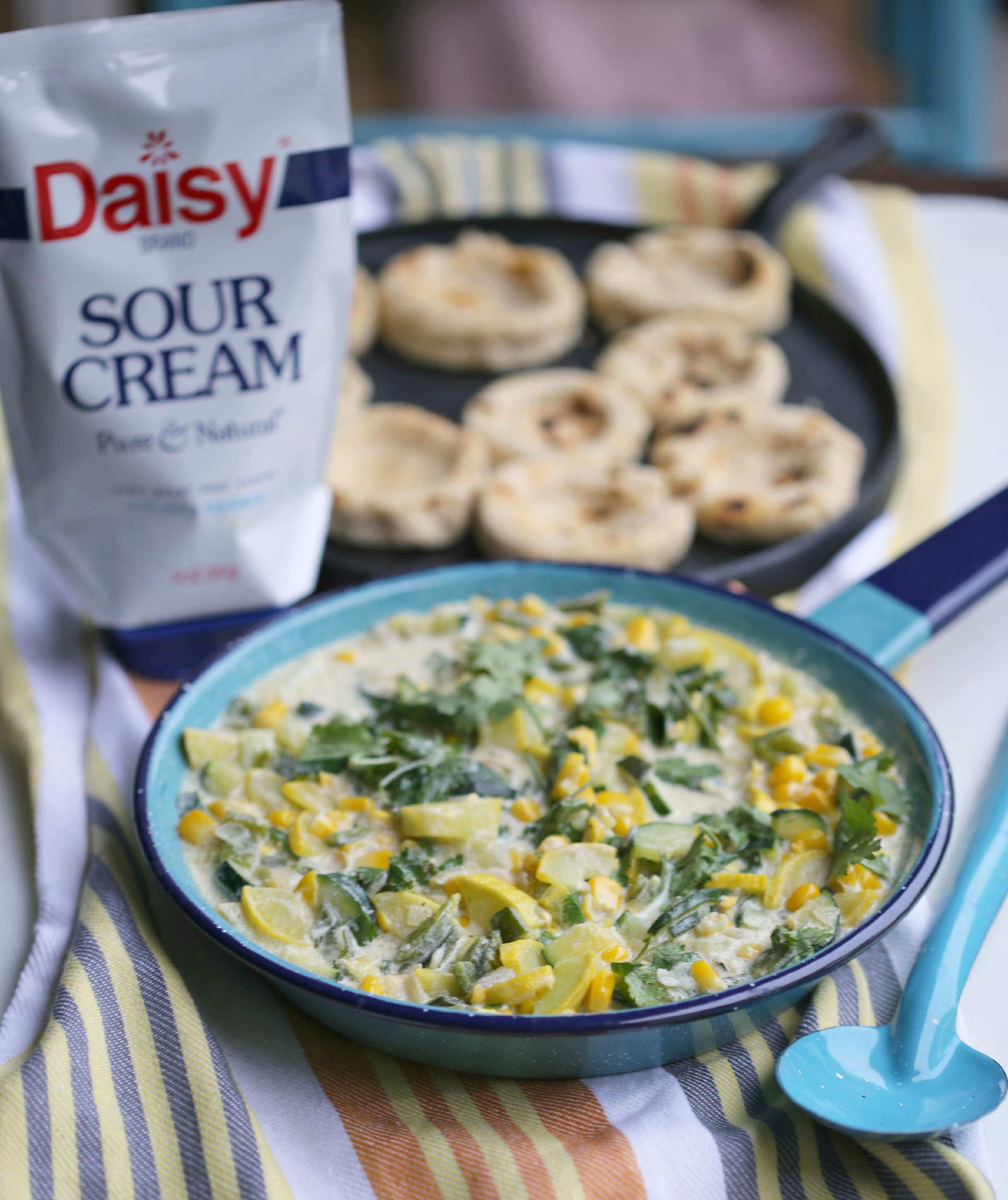 A sope is a fluffy shell made from masa. Warm from the comal the edges are pinched to create an edible wall to encase the topping of your choice. Sopes can easily be made at home and freeze well, but you can often find them pre-made in the Latin section of the grocery store.
For more holiday recipe ideas head over to the Daisy Sour Cream website.
This post is brought to you by Daisy Squeeze Sour Cream. Squeeze more out of the holidays with a #DollopOfDaisy.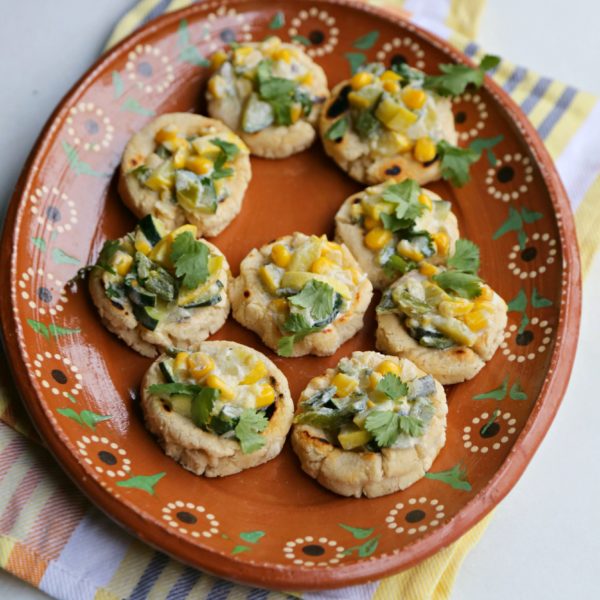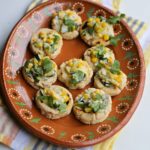 Calabacitas en Crema Mini Sopes
Ingredients
For Sopes:

2

cups

instant corn flour mix

(Maseca)

½

tsp

salt

2

cups

warm water

For Calabacitas con Crema:

1

tablespoons

olive oil

2

tablespoon

butter

1/2

cup

diced onion

2

garlic cloves

minced

1

teaspoon

dried oregano

1

teaspoon

cumin

2

pounds

squash

cut into 1/2-inch-thick pieces

1

teaspoon

salt

1 ½

cup

corn

frozen, thawed or canned

3

poblano chiles

roasted, peeled and diced

1

cup

sour cream

recommend Daisy Sour Cream

¼

cup

chicken broth

½

cup

cilantro

washed and chopped finely
Instructions
For Sopes: In a larger bowl combine instant corn flour mix with warm water and knead for five minutes or until masa is no longer sticky and is a soft, smooth dough. Divide into small balls, about two tablespoons each. Flatten into tiny thick tortillas. On a hot skillet or griddle, cook each sope for one minute then flip; cook until golden. Remove from skillet or griddle and with kitchen towel hold each sope with side cooked first facing up and cinch edges to make a border begin carefully as sopes are hot. Cover with a cloth to keep sopes warm and moist and repeat with this process with remaining masa. Serve warm with calbacaitas de crema

For Calabacitas con Crema: In a large skillet over medium heat the olive oil and butter. Add the onion, garlic, oregano and cumin cook, stirring once or twice, until light and translucent, about five minutes. Stir in the squash, salt, and continue to cook, stirring often, for three additional minutes. Stir in the poblano chiles, corn and cook another three minutes, or until the squash is slightly tender. Stir in the crema and chicken broth, reduce heat and continue to cook, stirring once or twice, until the sauce has thickened, about 3 minutes. Adjust the seasoning and serve immediately on mini sopes.
Daisy Sour Cream">Daisy Sour Cream

This post is brought to you by Daisy Squeeze Sour Cream. Squeeze more out of the holidays with a #DollopOfDaisy.