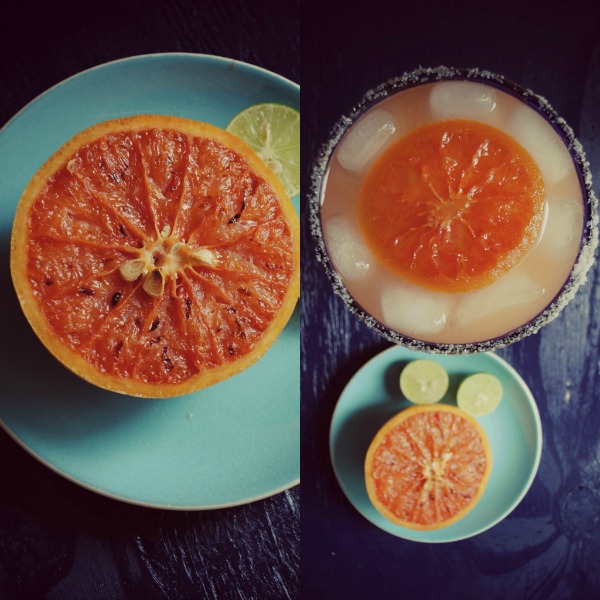 Broiled Grapefruit Margarita with Candied Grapefruit Slices
Heads up my tequila loving, margarita making, salt rim dippers….
Today we celebrate everything Margaritas!!
Margaritas brimming with the flavor of grapefruit, sweet!
I think broiled grapefruit often gets a bad rap. Often considered boring, bland and only for breakfast.
Sad.  I love it!
Well today we are throwing caution to the wind and serving up this breakfast treat with a splash of tequila, heck ya!
Big juicy grapefruits topped with brown sugar and broiled until plump, golden and sticky good.
Add tequila, lime juice and Cointreau, can it get any better? Oh ya, we're topping this Rita off with a thin slice of candied grapefruit (remember to save the leftover candied grapefruit syrup for the margaritas).
Are you excited yet?
This margarita taste like South Texas: Warm, Comforting, Homey
Broiled Grapefruit Margarita with Candied Grapefruit Slices
Ingredients
Salt
Lime wedges
1 cup tequila
Juice of 1 medium broiled grapefruit
1/4 cup fresh lime juice
1/2 cup Cointreau
1 to 2 tsp candied grapefruit syrup (optional)
Ice cubes
Instructions
On a small plate spread salt.
With lime wedges moisten rim of 6 ounce glasses.
Dip glasses into salt.
Place glasses into freezer to chill.
In a pitcher combine tequila, broiled grapefruit juice, lime juice and Cointreau and candied grapefruit syrup (if using)
Remove glasses from freezer and serve margarita mixture over ice.
Garnish with candied grapefruit slices.
http://sweetlifebake.com/2013/02/22/broiled-grapefruit-margarita-with-candied-grapefruit-slices-giveaway/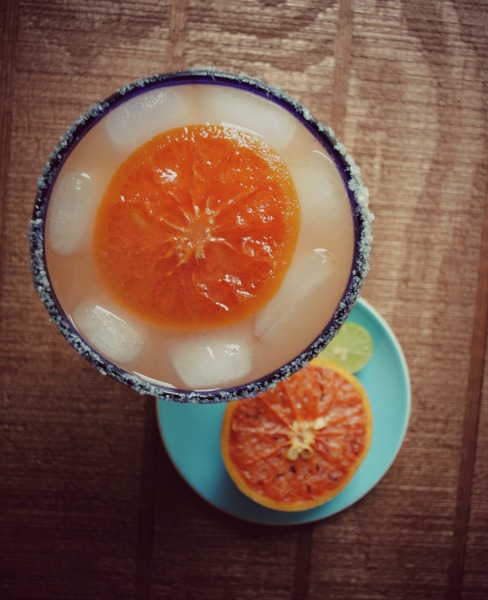 And to help me celebrate everything Texas I've teamed up with Texas Citrus to GIVEAWAY boxes of South Texas goodness.
Grapefruit! We are giving away Grapefruits, Grapefruits, Grapefruits!
3 lucky winners will get a box of Texas Grapefruits shipped directly to them!How to Enter:
Like Texas Citrus on Facebook
Follow Sweet Life on Twitter
Follow Sweet Life on Pinterest
Like Sweet Life on Facebook
Subscribe to Sweet Life email or feed
Tweet this Post (button above)
Pin this Margarita (button above)
Open only to US residents, Sorry no PO Boxes
Giveaway ends March 1, 2013 winner will be chosen via   random.org  and contacted via email
Prize will be shipped by sponsor.
Good Luck!!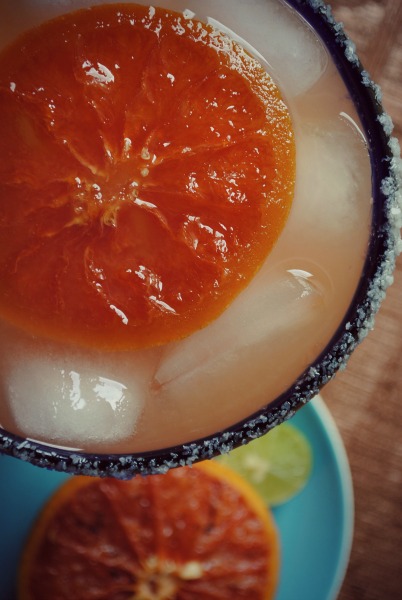 Candied Grapefruit Slices
Ingredients
1 cup water
1 cup sugar
½ medium grapefruit, sliced thinly
Instructions
In a large skillet, add water, sugar and bring to a boil.
Add the grapefruit slices and cook over moderate heat, turning occasionally, until the liquid is reduced to thin syrup and the orange slices are translucent, about 20 minutes.
Reduce the heat to moderately low and simmer until the syrup is thick and the slices are tender but still intact, turning occasionally, about 10 minutes.
Transfer the grapefruit slices to a rack to cool.
Notes
Make Ahead: candied grapefruit slices can be refrigerated for up to 2 weeks.
Adapted from Food and Wine
http://sweetlifebake.com/2013/02/22/broiled-grapefruit-margarita-with-candied-grapefruit-slices-giveaway/
I wanted to leave you with plenty of inspiration to celebrate this joyous occasion.
An entire page devoted for my love of the margarita! Margarita Love
Sweet Life: This is a sponsored post with Texas Citrus.