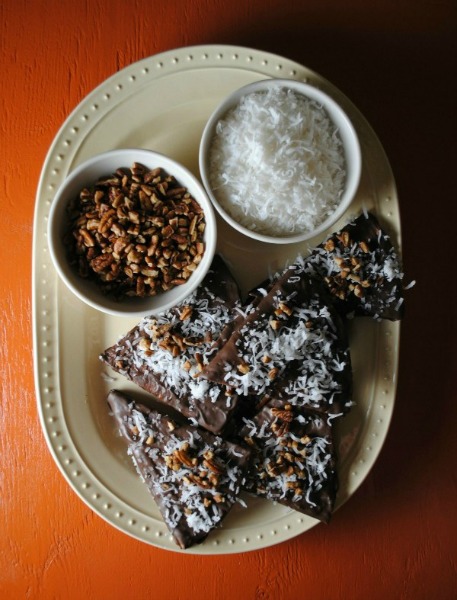 Coconut Pecan Chocolate Quesadillas
Oh sweet chocolate madness!  I don't think there is any more suitable way to end the weekend without a bit of chocolate.
Don't you agree?
A nibble, a bite or even a spoonful of silky sweet chocolate makes the bitter end of the weekend bearable.
We're not a Monday loving family.  Who is?
The family had been requesting quesadillas since Tuesday, but I turned a deaf ear.  Everyone once in awhile I do this, it's my small way of rebelling.  Doesn't happen much.
The weekend came, we set about our business and I heard the same request.
Niños tercos (stubborn kids)
Sunday evening came; dinner plates were being cleared, the table was getting a much needed scrubbing when I decided we could all use a Chocolate treat.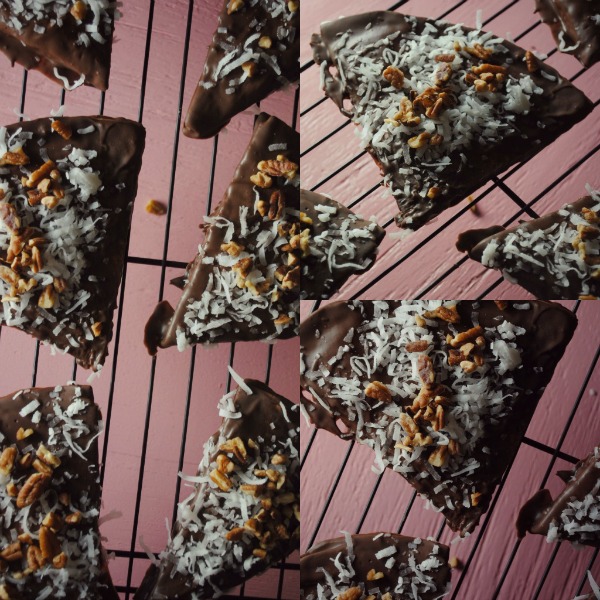 Chocolate Quesadillas, ohh sweet chocolate madness!
Oversized burrito sized tortillas loaded with cream cheese, shredded coconut and pecans are cooked until crispy.
Cut into wedges and dipped into warm melted chocolate, pretty cool, right?
A few more sprinkles of coconut and pecans, allow to set and BOOM!
Quesadilla request filled!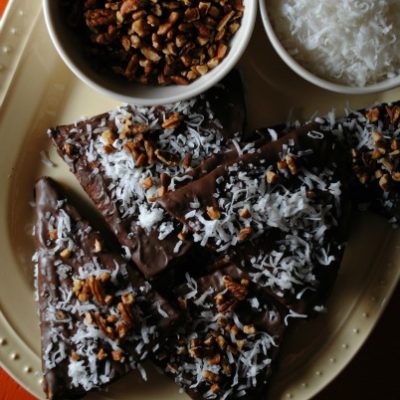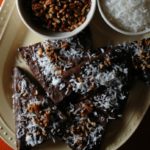 Coconut Pecan Chocolate Quesadillas
Ingredients
1

8oz pkg cream cheese, softened

¼

cup

powdered sugar

1

tsp

vanilla

½

cup

sweetened shredded coconut

¼

cup

chopped pecans

4

mission large burrito super soft tortillas

1

cup

melted chocolate

Parchment or wax paper
Instructions
In a medium bowl, cream together the cream cheese until creamy. Mix in the vanilla, and then gradually stir in the confectioners' sugar. Add coconut and pecan stir to combine.

Heat a cast iron pan, griddle, or frying pan on medium heat.

Lay tortillas on a work surface and evenly spread one half of each tortilla evenly with cream cheese.

Fold each tortilla in half. (think Omelette)

Cook each quesadilla about 2 minutes on each side until lightly crisp.

Remove to a cutting board, cut into 3 equal wedges.

Dip each quesadilla wedge into melted chocolate, flip with fork to coat both sides.

Place on parchment or wax paper; sprinkle with extra coconut and pecan.

Place in fridge or set aside until chocolate sets.