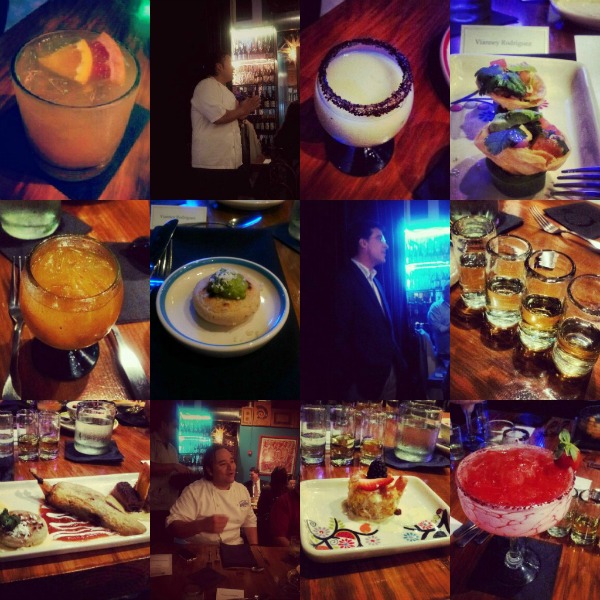 Chef Johnny Hernandaez The Frutería – Botanero
I was recently invited to the Grand Opening of Chef Johnny Hernandez's The Frutería – Botanero in San Antonio for a Dinner with Tequila Pairing. Umm if you know anything about me, know that I ADORE tequila and couldn't pass up the chance to sip on tequila, nibble on great food and finally meet Chef Johnny.
Here's a small recap of the event.
As the guests arrived we enjoyed a Passed Cocktail ~ Jarrito cocktail, fresh grapefruit, orange and lime juice shaken with tequila.  South Texas in a glass, fresh grapefruit juice.
Chef Johnny gives us his vision with  The Frutería – Botanero.
First course
~ Picante cocktail, fresh citrus juice, pineapple and creamy avocado shaken with tequila.  This was one of my favorite cocktails of the evening.  Smooth, creamy and bursting with avocado flavor.
~ Chilapita de Ceviche Rojo
Second Course
~Mangosito cocktail, fresh mango, orange and grapefruit juice shaken with tequila and chile ancho. The rim of chile ancho really made the mango juice pop.
~gorditas de guacamole con queso fresco
Tequila Tasting
Ruben Aceves de Casa Herradura talks tequila!
We were presented with 4 shot glasses of tequila.  Blanco, Silver, Anejo y Reposado
Ruben explains the process of each tequila, what we should look for in a quality tequila and walks us through the sipping process.
I'm not sure what I am more excited about the tequila or the fact that Chef Johnny sits across the table from me the entire evening. What a treat.  He is a warm, loving passionate Chef.
Third Course
~Strawberry Infused Margarita Strawberry infused tequila is made days before the event. (genius)
~Puerco en Mole Blanco , tender pork bathed in a silky smooth mole sauce.
~Chile Rellano de Jaiba, a chile is brimming with fresh crab.
~Huitlacoche Gorditas con crema de Helote , the corn cream sauce is light, airy and the Huitlacoche is divine!
Fourth Course
~fruited Bread Pudding with vanilla sauce and berries , licked the plate!
What a evening.  Great company, amazing food, a tequila showcase and a truly talented Chef with a passion for his craft.  I drove in with mi carino not knowing what to expect and it turned out to be a the perfect date night. Thanks Chef Johnny!
Sweet Life Disclosure ~ I am participating in the Verizon Wireless Ambassador program and have  been   provided  with a wireless device and three months of  service in  exchange  for my honest  opinions about the product.  All pictures take with the Verizon Windows phone