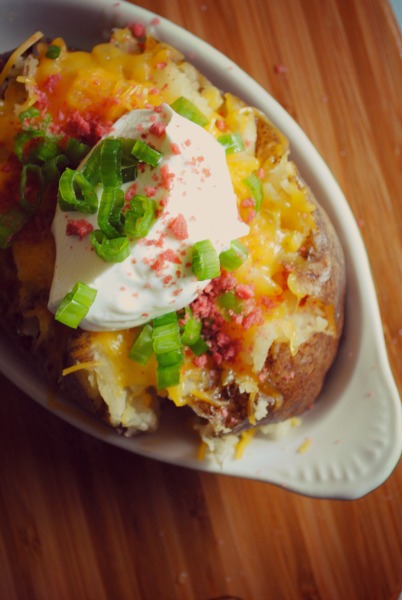 Loaded Baked Potato
I've been missing Edinburg, Texas big time lately.  The people, the small tienditas I used to frequent and the food.
It's always about the food, que no?
The first day we moved in mi carino drove out to a nearby spot to pick up dinner.  He came back with greasy stained brown sacks loaded with hand tossed gorditas, sopes with frijoles y queso fresco and papas.
Every combo meal in the area came with a Texas sized papa, loaded with cheddar cheese, sour cream, gobs of bacon bits and green onions.
I was accustomed to the tiny containers of beans or rice on the side, but never a papa.
Tired from moving, cleaning and unpacking we set up on the dining room floor to eat.  The girls dug into the gorditas and I reached for the papa.  Big enough to be a meal itself the papa was fluffy, buttery with a salty skin. I ate the entire thing.
And in those 2 years we lived there I ate my way through at least 2 dozen of those hearty papas.
I finally worked up the courage to ask the waitress one day why the meals were served with papas.
She looked at me like I was crazy.
¿quiere algo más?  (Do you want something else?)
No estoy bien gracias (no, I'm good thank you)
Why mess with a good thing…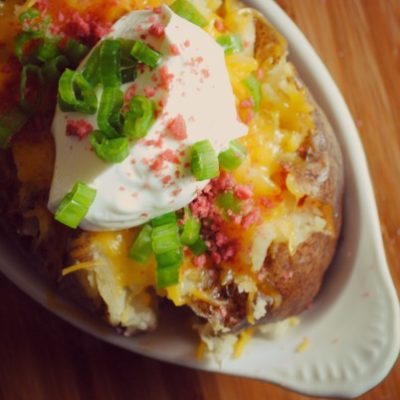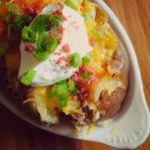 Loaded Baked Potato
Ingredients
4

large potatoes

Butter

Cheddar cheese

Sour cream

Bacon bits

Chopped green onions
Instructions
Heat the Oven to 425°F

Wash, scrub, and dry the potatoes.

With hands rub olive oil to cover the entire potato, season with salt and pepper.

Poke holes on all sides with the point of a sharp knife or fork.

Place the potatoes on baking sheet and bake for 45-50 minutes.

Potatoes are done when interior is soft when pierced and skin is dry.

Slice potato: top with butter, cheddar cheese, sour cream, bacon bits and green onions.
A lenten recipe up~ Join in