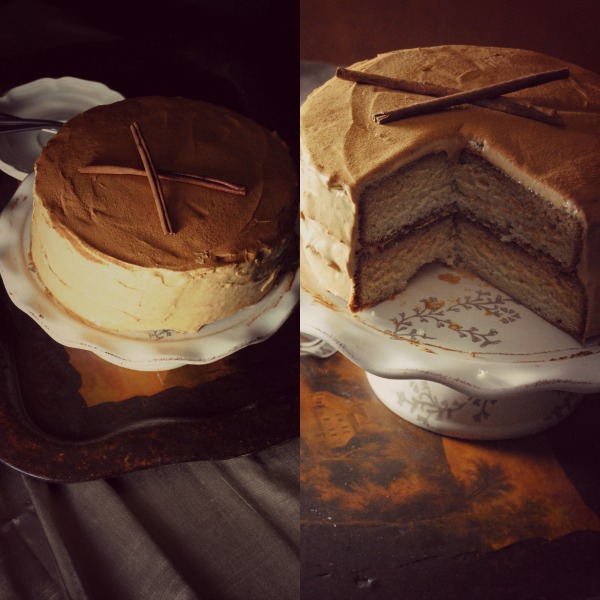 Cinnamon Cake withCajeta Cream Cheese Frosting
I used to dread birthdays. The mere thought of getting older frightened me.  Another year, another month another week, where did the time go? My time was gone; hours sped by into days, days quickly into weeks and weeks swirled into months and by the time I realized another birthday was here.
I was moving with the noise, with the daily motions of life and it was consuming my days.  I realized this a few years ago as I lay in bed and thought about my day. Where had it gone?  Had I smiled enough, laughed with my girls, kissed my husband?
Maybe this is why I dreaded birthdays.  They came so suddenly and I was still catching up from the year before.  This had to stop and I would have to learn to let go of a few things along the way.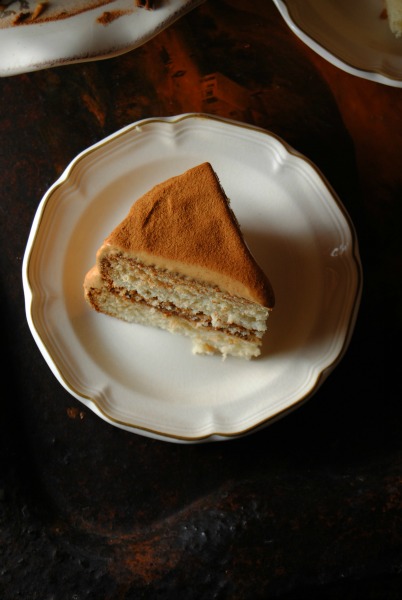 This is my 4th birthday since I forced myself to slow down and it has been one of the best.  I have learned to really focus on the smaller moments in life, tiny moments that really make a difference in my well being.  Slowing down to spend a few extra minutes lounging in bed talking to my husband, cuddling on the couch to read a book with my girls instead of rushing to do the dishes, long conversations in comfy patio chairs with my little sister and mom as the kids play.  Slowing down.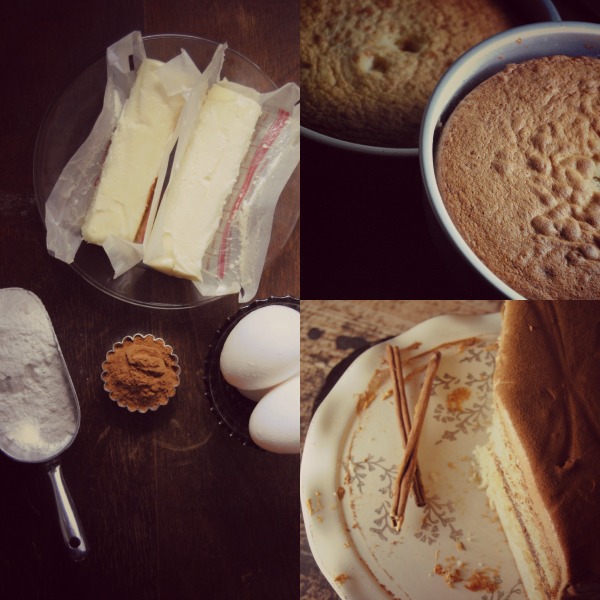 Over the weekend we celebrated my birthday on the beach.  We walked looking for sea shells, giggling and talked about the future.   I snapped pictures, held my girls hands and took in the moment.
We ate burgers, shrimp and fries at a local brewery and not once did I think of all that missed that past year. I hadn't missed a beat… I'd been present every moment ever since I slowed down and it felt good, really good.
Later in the evening we dived into this cake.  Thick slices with heaping scoops of vanilla ice cream on the side.  37 candles lit this cinnamon dusted cake and I was happy, happy it was my birthday.
As I blew them out I looked forward to my next birthday.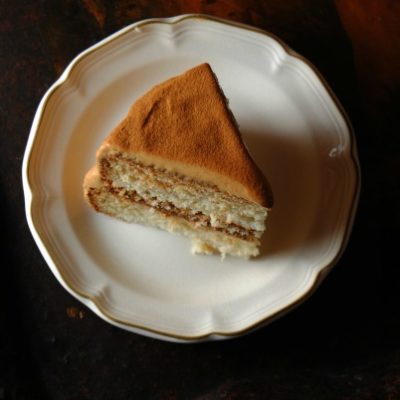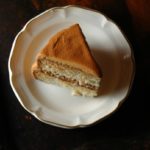 Cinnamon Cake with Cajeta Cream Cheese Frosting
Ingredients
For Cake:

2 ¼

cups

flour

1

tsp

salt

3 ½

tsp

baking powder

1 ½

cups

sugar

½

cup

butter

softened

2

tbsp

vegetable oil

1 ¼

cups

milk

3

eggs

at room temperature

1

tsp

vanilla

1

tsp

canela or cinnamon

For Frosting:

1

10oz jar of cajeta

1

8oz package cream cheese, softened

1 ½

tsp

Mexican canela or cinnamon

½

cup

heavy whipping cream
Instructions
For Cake: Pre heat oven to 350 degrees. Grease 2-9 inch round cake pans, set aside.

Beat butter and sugar until light and fluffy. Add the eggs one at a time and beat until well incorporated.

On low speed add flour, salt, baking powder, canela or cinnamon. Add milk and vanilla.

Beat on high for 2 minutes and pour into prepared baking pans. Bake for 25-30 minutes or until golden brown.

Cool on wire racks for 10 minutes. Remove from pans, allow to cool completely and frost.

For Frosting: In a mixing bowl, beat cajeta and softened cream cheese on high speed until blended and smooth.

Scrape down side of bowl, add canela and blend until incorporated.

Beat in heavy whipping cream until stiff peaks form.
Recipe Notes
substitute dulce de leche if cajeta is unavailable