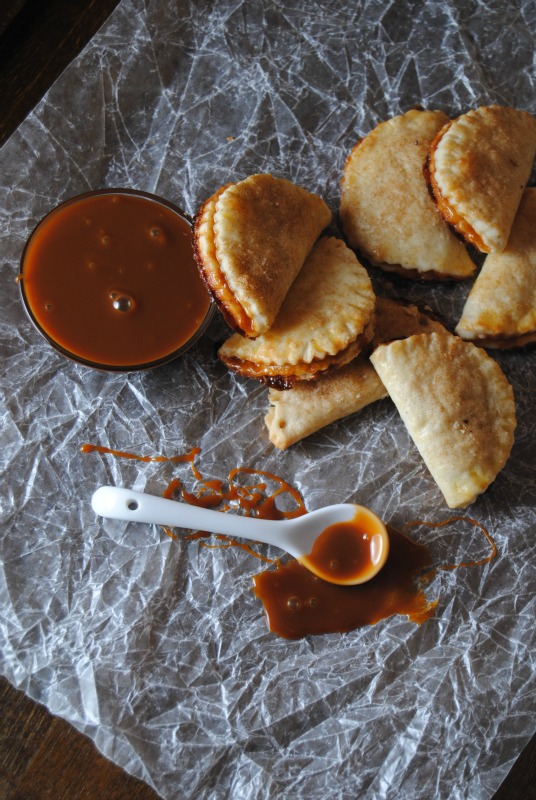 Empanadas de Cajeta
Two weeks ago my girls asked if we could make empanadas. I said sure why not; gathered the ingredients and hurriedly rushed through the process.  Thoughts of my to do list, my laundry load and gutting the garage whizzed in my head as I shaped the dough.  My hands moved in a mechanical motion as I arranged the circles and handed the girls the filling.  I have gotten better or should I say I am making small steps toward slowly down  and relishing in the moments since our move home.  I placed the baking sheet in the pan, hit the timer and started the clean up process.  Ding.  Out of the oven, slid onto a plate, glasses of milk were poured and I was done
Thanks mom.  And then it hit me.
I had missed a pristine opportunity to connect with my kids.  Was the freaking junk in the garage that important?  Were the piles of laundry ever really going to go away?  I called my sister and informed her I was the worst mom in the world and she laughed.  Don't be so hard on yourself we all do it, we are all guilty of rushing, all guilty of placing importance on things that in the long run are never really going to matter.  She was right, but I still felt like crap.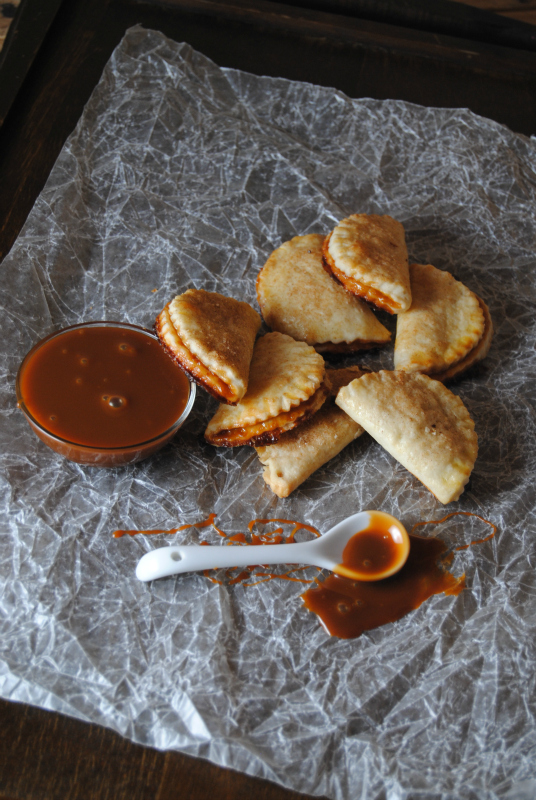 Sunday we left early to cheer on my nephew at his soccer game and it was hot, very hot.  After the game we stopped at the grocery store to pick up a few things and headed home.  I had the worst headache. A throbbing headache where even the slightest glimmer of daylight makes you just want to scream.  The girls headed to their room and I ran to the medicine cabinet in attempt to calm my headache.  My oldest walked in and asked if we should bake.  Bake? My head was killing me.  Then I remembered my last baking session with them, okay let's make empanadas again.
This was my Do Over moment and heck if I was letting a headache stand in my way.  I headed in the kitchen determined to take every opportunity given to me to immerse myself in the time I have with my children.  And I did. We baked, we talked, we talked and we talked.
And my headache quietly faded.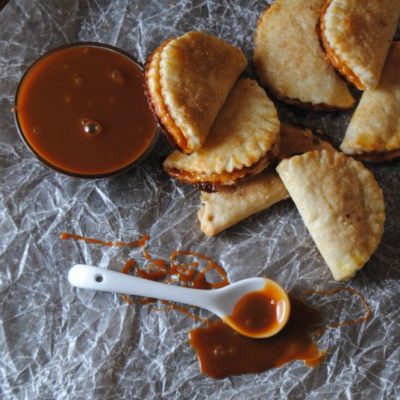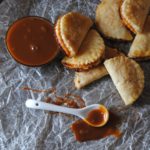 Empanadas de Cajeta
Ingredients
8

ounces

of cream cheese

at room temperature

1

cup

unsalted butter

at room temperature

2 1/2

cups

all purpose flour

1/2

tsp

sea salt

1

egg lightly beaten with 1 tsp water

1

tbsp

cinnamon

1

tbsp

sugar

1/2

cup

cajeta
Instructions
Preheat oven to 375 degrees and lightly grease a baking sheet.

In a mixer bowl combine cream cheese and butter until well blended.

Scrap down sides to fully incorporate.

Add the flour and salt. Mix well.

Turn the dough out onto a lightly floured surface and gently knead for about 1 minute.

Wrap in plastic wrap and refrigerate for at least 20 minutes.

On a lighlty floured surface, roll out dough to 1/4 inch thick.

Divide dough and roll out each piece to 1/8 inch thick.

Using a glass, circle cookie cutter or knife cut desired rounds.

Larger for empanadas or smaller circles for empanaditas.

Add cajeta with spoon.

Fold over dough and seal or crimp tightly with fingers or fork.

Arrange on baking sheet and place in fridge for 20 minutes (helps to prevent cajeta from seeping)

Brush tops with egg wash.

Combine sugar and cinnamon and sprinkle over empanadas.

Bake 12- 17 minutes for larger empanadas/ 10-13 for empanditas, rotate pan
I have made these empanadas quite a few times.  They are easy, reliable and the dough is a dream.  I'm aware that adding cream cheese to an empanada dough is not classified as authentic, so I will leave you with another empanada dough that I really enjoy for fruit fillings.  My empanada dough that I used for empandas de fresa is another of my favorites. Another quick tip: you can find cajeta sold either in glass spoonable jars or plastic squeezable containers. Go for the spoonable jar version, it is thicker, which helps in baking. No seeping for the edges.  I also place my empandas in the fridge to firm up a bit before baking. Enjoy!