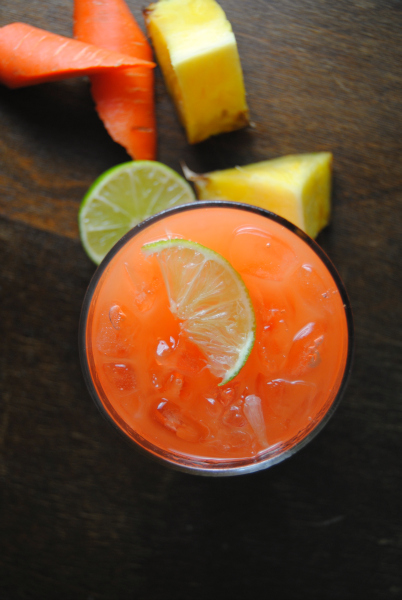 Agua de Zanahoria y Piña
I first had this agua when I was visiting my little brother in California.  My mom and I along with my girls had arrived for a two week visit.  When we arrived my little brother took me on a quick street tour to familiarize myself with his new place.  Since,  he had no time off we were to be left on our own until the evening, so he figured he'd better show us a few spots. The grocery store, a few parks, the dreaded wally mart and a few nurseries (my mom cannot travel anywhere without toting home a new plant, this trip a pink lemonade tree).  Early the next morning, we had breakfast together and he left for work (Marine). My mom and the girls were quietly sleeping and I decided to slip away to the grocery store to pick up a few items.
My brother not married at the time explained that he would stop at this particular store to pick up a few items or grab a bite to eat.  I've never been too keen about eating at my local grocery store, especially when one half of the heating table is fried chicken the other half Chinese food.  No thank you.  But, he was single and single guys do what they do.  I did not know what to expect as I pulled into the parking lot.
Gasp….  Swoon…. Heaven….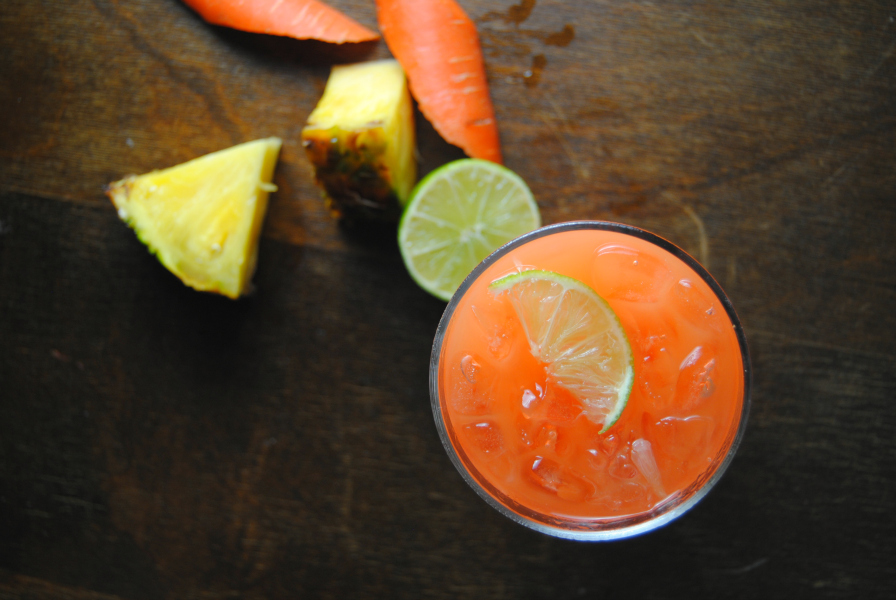 Wow, this place freaking rocked!!  A scent of freshly baked bolillos laced my face (those went in the basket) as I walked through the front door, homemade huaraches were being made to order, a gigantic juicer was churning our fresh juices and a man was walking by with fresh made dulces.
I almost moved to CA in that instant if it had been for my undying love of Texas.
I spent 4 hours at that store, slowly walking down each aisle and sipping on this agua.  I made it countless time after that trip three years ago, but somehow it slowly left my weekly routine with new agua flavors I was toying with.  Two weeks ago my brother called and said he was moving, to New York.  He was sad to go; CA had become part of his life now married with 2 kids.  I suddenly craved agua, this agua.  Funny how quickly life can change, in this instance I think it's for the best.  Now with a family of his own, this is a exciting change.
And we shall see what new agua I encounter when I visit him.  How exciting! Enjoy!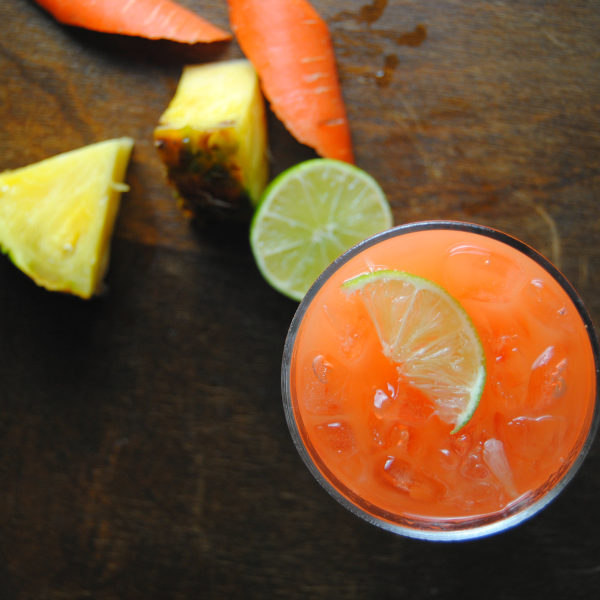 Agua de Zanahoria y Piña
Ingredients
1

lb

carrots – washed

peeled and diced

2

cups

diced pineapple

Juice from 2 limes

2

cups

water

Sugar

agave or sweetener of your choice (optional)
Instructions
Add carrots and pineapple to your juicer. Pour into a large pitcher add water, lime juice.

Sweeten to taste.

Serve over ice with lime wedges.

If using a blender, strain
Agua Love ~