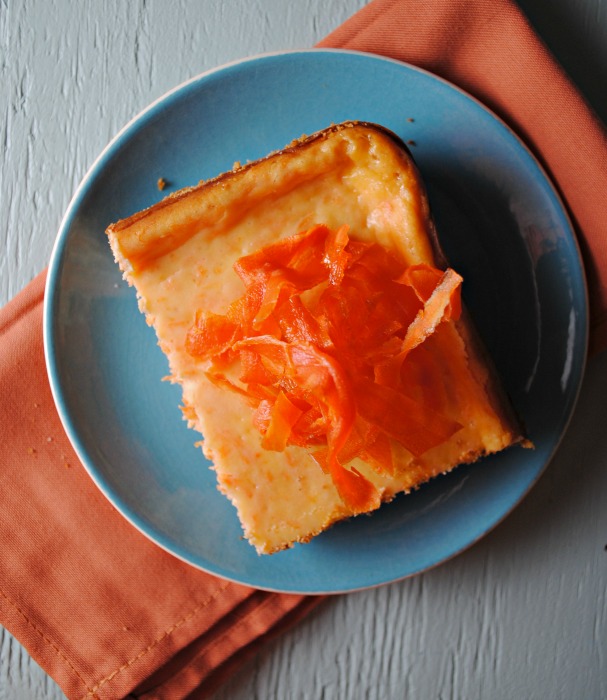 Carrot Cheesecake with Candied Carrots
My dad (papi) is addicted or shall we say obsesses with cheesecake, he thinks it is the ultimate dessert.  This conversation happens every year a few days before Easter.  This year papi will be happy to see this stunning Carrot Cheesecake with candied Carrots at the table.
"¿Y el Cheesecake?"
My mom laughs, points her finger and says "No va a haber pastel de queso."  Papi laughs, shrugs his shoulders and walks away.
Sometimes I think he asks simply to poke fun at her (my mom was never keen on cheesecake). A few years ago I had my family over for the Easter Holiday and I made Papi a cheesecake.
A big over-the-top cheesecake bursting with blueberries and lemon zest. His eyes lit up with excitement and he rushed through his dinner plate. He ate two huge slices that evening and made sure to remind me three times if I had packed him a slice to go.
This was five years ago and the tradition of making Papi his own very special Easter treat has become a fun quest. With three daughters, he never knows which flavor he will have that year. Once it was chocolate then orange and even mango one year.
Well, this year Papi is getting these carrot cheesecake bars. Grated carrots with a pinch of ginger give these bars a touch of spring. And to make him even happier, I'm topping it off with strips of candied carrots, he is going to be super happy this year! I can't wait to surprise him.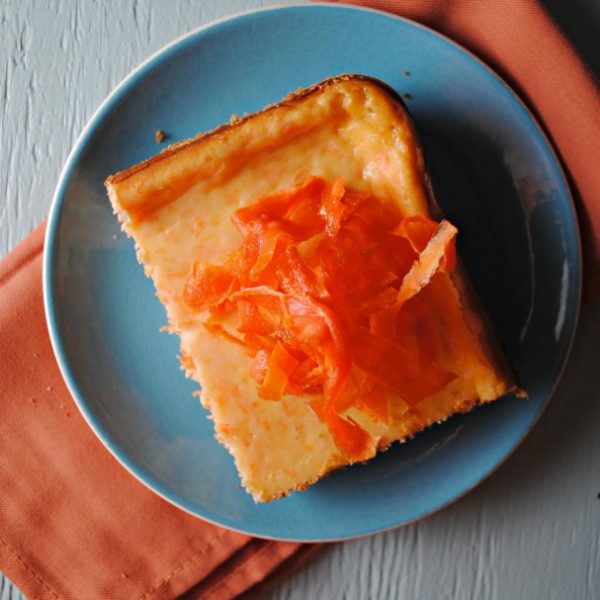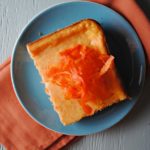 Carrot Cheesecake with Candied Carrots
Ingredients
For Crust

Ingredients

1½

cup

graham cracker crumbs or 18 graham cracker cookies

crushed

½

stick of butter

melted

¼

cup

sugar

For Filling:

Ingredients

2

pkg.

8 oz. each Cream Cheese, softened

1

TSP

vanilla

1

cup

sugar

¾

cup

sour cream

3

eggs

1

TSP

ground ginger

¾

cup

finely shredded carrots

about 2 medium carrots

For Candied Carrots:

Ingredients

2

medium peeled carrots

1

cup

water

1

cup

sugar
Instructions
For Crust

Instructions

Preheat oven to 325ºF. In bowl combine butter, crumbs, sugar; press onto bottom of 13×9 inch pan. Bake 10 minutes.

For Filling

Instructions

Beat cream cheese, vanilla and sugar with mixer until blended.

Add sour cream; mix well.

Add eggs 1 at a time; beating after each just until blended.

Stir in carrots and ginger.

Pour over crust.

Bake 45 to 50 minutes or center is set.

Cool completely. Refrigerate 4 hours or overnight.

Top with candied carrots.

For Candied Carrots

Instructions

Using a zester, zest carrots strips.

In a medium saucepan combine water and sugar; bring to a boil to dissolve sugar.

Add carrots strips; reduce heat and cook strips for 15 minutes.

Remove carrots strip to a baking sheet lined with parchment paper.

Cool and use to garnish carrot bars, cupcakes or cakes.
This recipe was featured on Mamiverse.