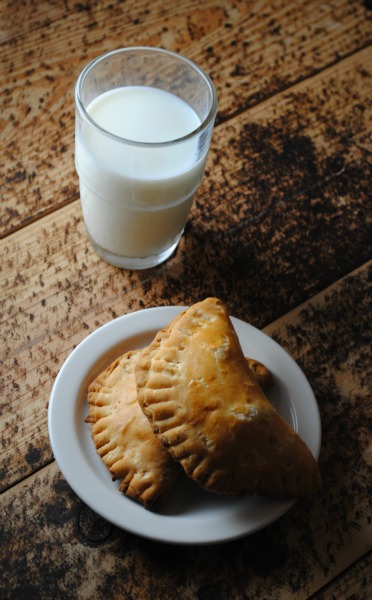 Pumpkin Cheesecake Empanadas
When my mom began working her second job at our local grocery store many things at our house changed.  We were lovingly given the tasks of taking care of our own laundry, the dishes and dinner. As an 11 year old I used to scowl at the thought of all the extra work each day, as an adult now I know these are the events that made me who I am. Watching my mom quickly change out of her day job attire and pull on her evening uniform engrained in my heart that a job, work ethic and family pride is not to be taken lightly.  
On days she had an evening off she would cook enough to feed a small army.  I guess she figured we could live off the leftovers for a few days (and we did).  Some days she would pick up an order of fried chicken on her lunch break and stash it in the fridge before she left for the evening.  Other days we were left to figure it out ourselves.  And we did. My older sister quickly learned to make killer grilled cheese sandwiches and I would dive head first into the baking world making oatmeal lace cookies from an old cookbook I found on my mom's kitchen shelf.
When the Holiday season came around each year the grocery store would ask if she wanted to pick up a few extra shifts, since she was on leave from her day job.  Without hesitation she would agree. Longer days left her drained, tired and with little will to cook.  This is how a few of my favorite foods worked their way into my 11 year old heart.  Frozen waffles, extra sugary cereal and canned biscuits, where were these items all my short life? A can with a seal that you would slowly peel and POP~ there was biscuits.
It was almost too much for this girl. I grew up on fresh homemade tortillas for breakfast with chorizo and salsa, never frozen waffles or biscuits.  I came to dread the end of the holiday season when I knew these little gems would soon be gone from our pantry and the norm would return.  These days I continue to buy a few rolls of canned biscuits every year to enjoy with my Thanksgiving leftovers.  As with the turkey tostadas I try to avoid the crowded grocery store exactly where my mom spent her evenings, funny.
When I think about these food items today I believe my love for them stems from the memory they represent, a period of my life and the link that bonds them to my mom.  This is what makes them so tasty~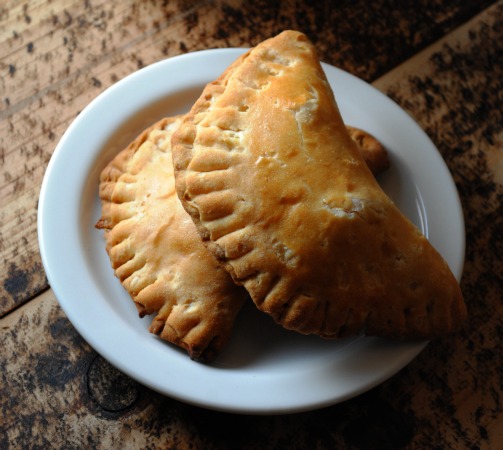 When H-E-B asked if I wanted to share a recipe from their new promotion Holiday Meal Pin to Win I thought sure, why not?  As I scanned the recipes featured I fell upon these babies. Empanadas, made with canned biscuits, my 11 year old self squealed with joy!  Yes I did feel a little guilty as I pressed together the edges of my empanadas, what would my grandmother say? This is not how empanadas are typically made, but you know what? It's the Holiday season and this 11 year at heart wants to eat biscuits, filled with a creamy pumpkin cheesecake filling. Enjoy~
Head on over to the H-E-B's Holiday Meal Pin to Win Sweepstakes for your chance to win one of five $1,000 H-E-B gift cards.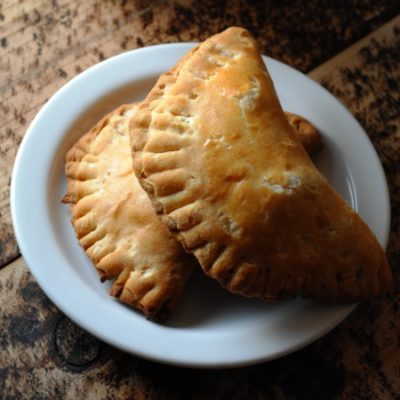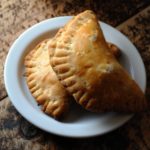 Pumpkin Cheesecake Empanadas
Ingredients
2

8 ounce packages Philadelphia Cream Cheese,

1 1/4

cups

brown sugar

1 1/2

teaspoons

cinnamon

1/2

teaspoon

ground ginger

3

medium eggs

1

15 ounce can pumpkin pie filling,

1

16.3 ounce can refrigerator buttermilk biscuits,

2

egg whites
Instructions
Preheat oven to 350 degrees F. In large bowl, beat Philadelphia® Cream Cheese and brown sugar. Gradually add cinammon, ginger and eggs; beat until smooth. Add pumpkin and beat until very smooth and creamy.

2 Separate biscuit dough into eight individual biscuits. Using a serrated knife, cut each biscuit in half horizontally to create 16 rounds. Press or roll each round to form a 4-inch circle.

3 Spoon pumpkin cheesecake filling onto each round. Fold dough in half over filling, pressing edges with a fork to seal. Brush empanadas with beaten egg.

4 Bake 15 to 20 minutes, or until golden brown. Remove to wire rack and allow to cool at least 30 minutes.
Recipe Notes
recipe from H-E-B
Sweet Life Disclosure ~ This is a sponsored post