Sweet Life Disclosure: This is a sponsored post with Latina Bloggers Connect and Cacique. Thank you for supporting the companies Sweet Life collaborates with and allows me to create fun and unique recipes that feature their products.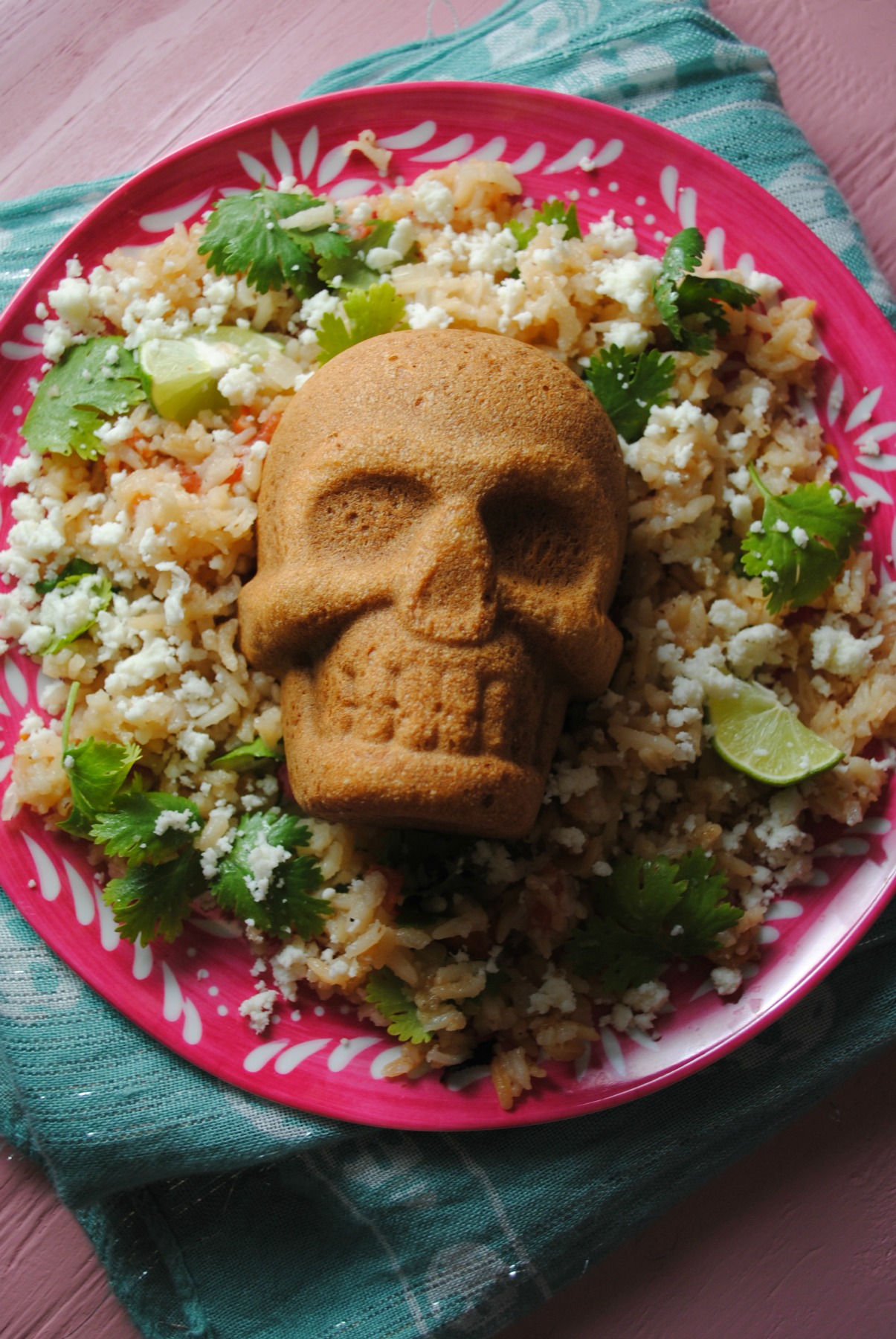 Día de Muertos Los Empanadas
I find spending time in the kitchen with my children is when I am more at ease to address a topic or open the doors of communication with a subject that can be difficult. The importance of exposing my children to their culture in sharing the tradition of Día de Los Muertos  (Day of the Dead) began with a few hiccups.  Death is never an easy topic to discuss and I found myself stumbling over words or becoming emotional.  Being in the kitchen kneading, chopping or stirring – working with my hands I find that I can better control my emotions and introduce a new topic or allow my children to freely ask any questions or voice any concerns they may have. The kitchen has become our safe zone, our place openly share our feelings.
My children look forward to this celebration every year. Together as a family we create an altar that honors our dead, from their favorite dulces (candy) or dishes along with photos, flowers and colorful sugar skulls.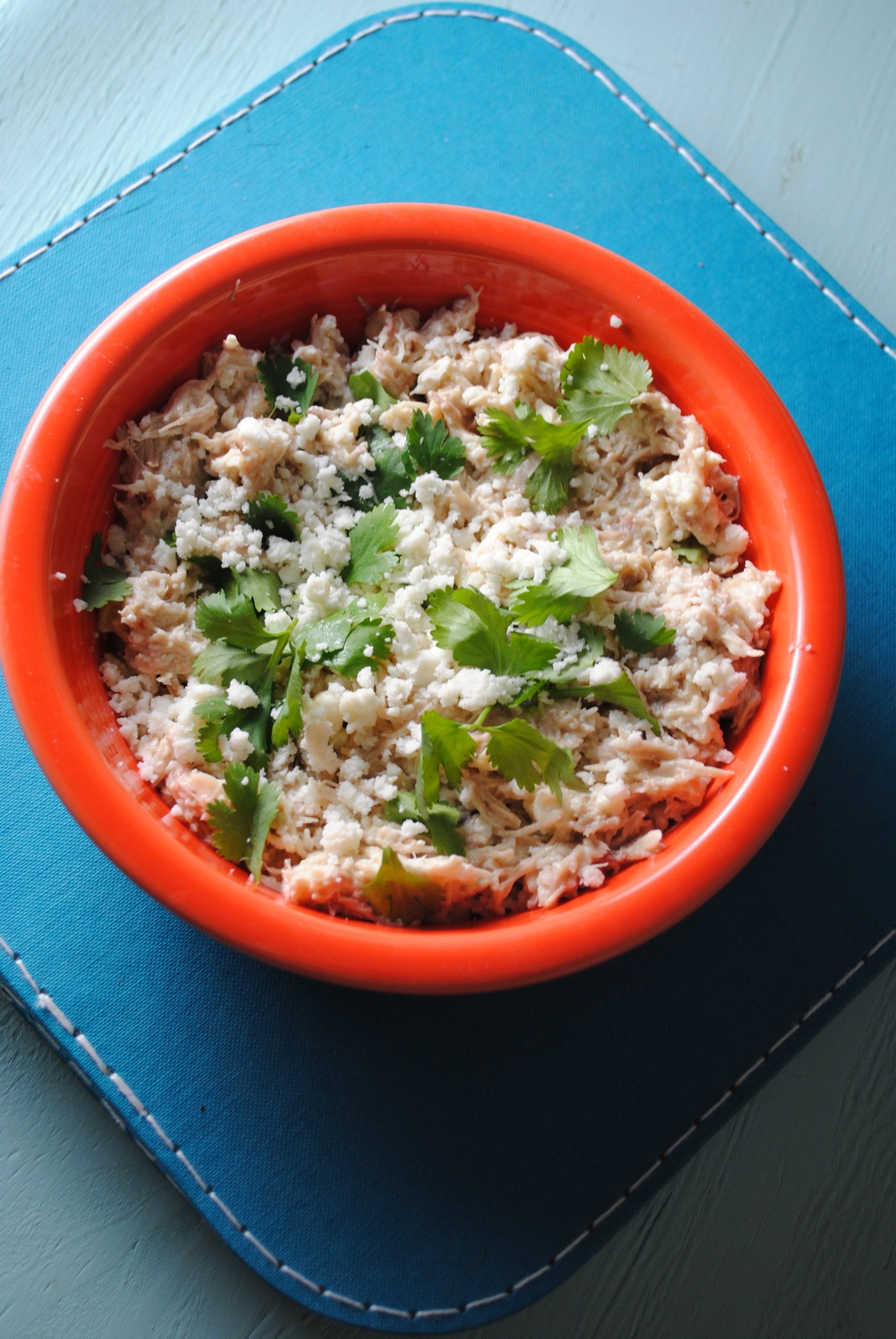 Over the years we have come together in the kitchen to bake delicious treats to celebrate Día de Los Muertos  – rice krispies, chocolate cake or brownies.  Creating recipes in which we honor our loved ones that have passed is one way to keep their spirit alive.  A joyful colorful celebration Dia de los Muertos is celebrated on November 1st and 2nd in which the cycle of life is reflected on and we remember the dead.
These Día de Los Muertos Empanadas Calaveras (skull) stuffed with a creamy tomatillo chicken filling would have been a hit with Tio Ruben who passed away last August. A gentle soul my children loved dearly was always willing and ready to play catch, enjoy tea parties and somehow always had a secret stash of cotton candy under his pillow when my girls came to visit.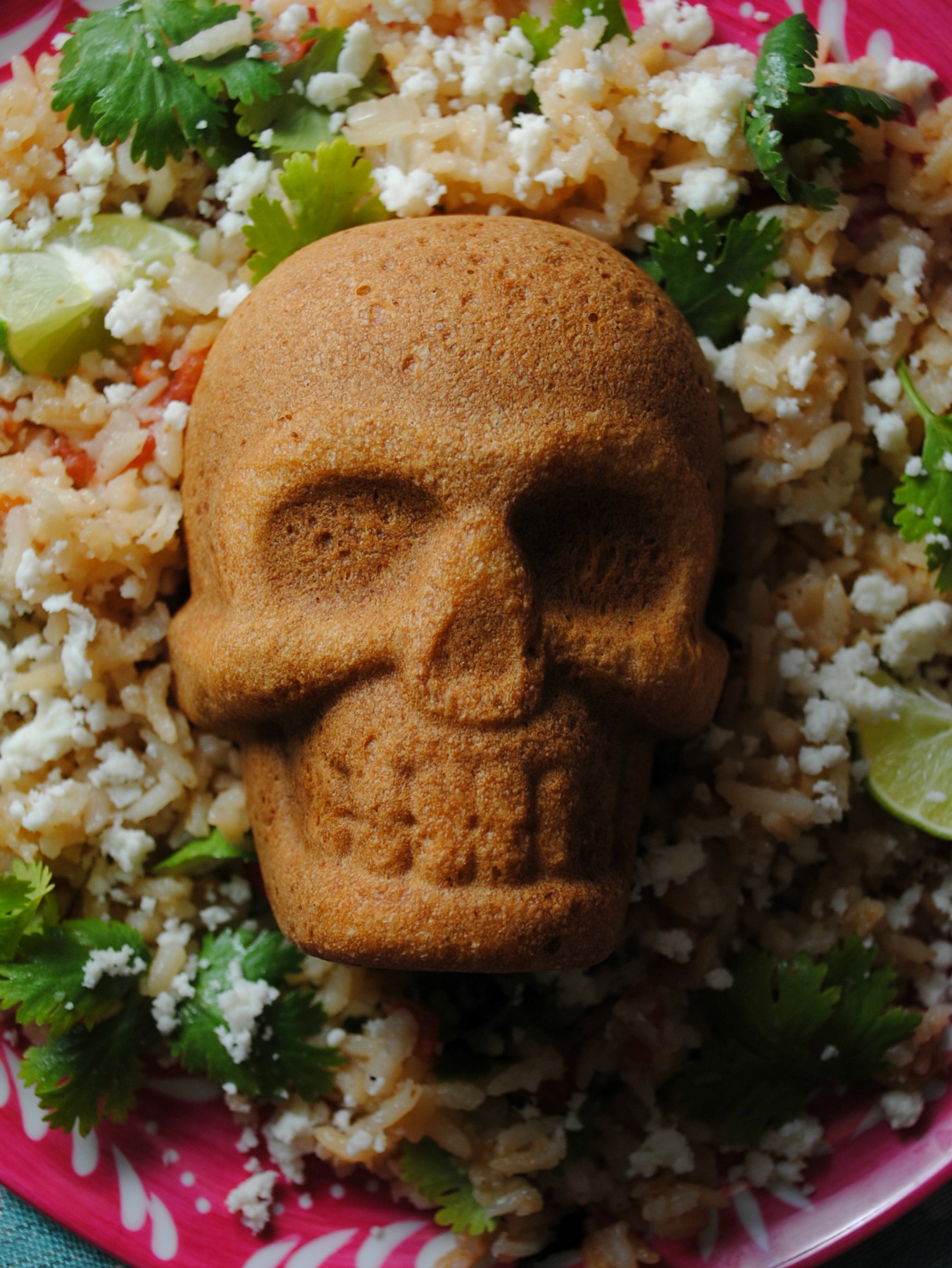 We created these Día de Los Muertos empandas shaped into skulls with delicious Mexican cheeses and crema from Cacique and using one of our favorite skull pans from Wilton, but you can easily pick up similar silicone molds or a cupcake skull pan. Find more fun recipes at Cacique's Dia de Los Muertos page.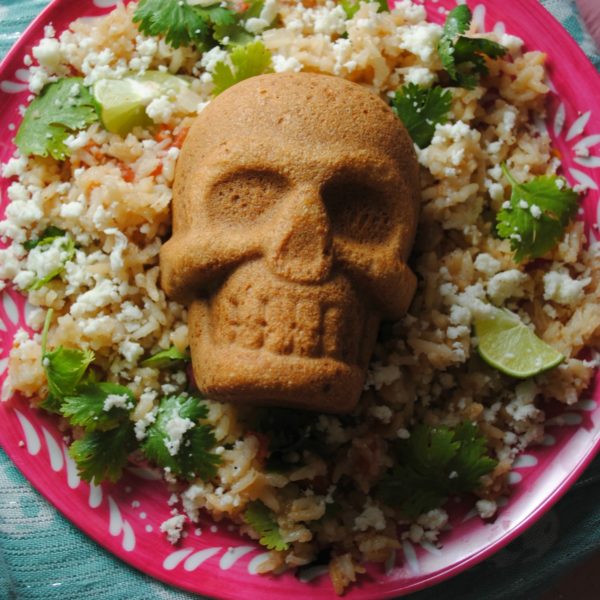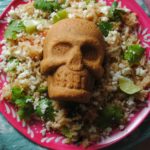 Día de Muertos Empanadas
Ingredients
For dough:

8

ounces

of cream cheese

at room temperature

1

cup

unsalted butter

at room temperature

2 1/2

cups

all purpose flour

1/2

tsp

sea salt

For tomatillo chicken filling:

8 to

matillos

husked and rinsed

1/2

medium onion

diced

1

cup

Cacique Crema Mexicana

1/4

cup

cilantro

washed and chopped

1

teaspoon

salt

1

teaspoon

ground pepper

1

cup

Cacique Queso Fresco

4

cups

cooked

shredded chicken
Instructions
For filling:

Place tomatillos in a saucepan and cover with water. Bring the pan to boil, reduce heat and cook for about 8 minutes. Drain the tomatillos, cool completely. Place cooled tomatillos in blender with onion, crema and cilantro. Blend until smooth. If mixture is thick add ¼ to ½ cup water. Season to taste with salt and pepper and stir in quest fresco. Combine tomatillo sauce with cooked, shredded chicken and use to fill empanadas.

For empanadas:

Preheat oven to 350 degrees and lightly spray a skull pan with cooking spray. Blend cream and butter until light and fluffy with an electric mixer, about 4 minutes; scraping down sides to fully incorporate. Add the flour and salt, mix well. Turn the dough out onto a lightly floured surface and gently knead for about 1 minute. Wrap in plastic wrap and refrigerate for at least 20 minutes. On a lightly floured surface, roll out dough and cut 4 (1/4 inch) thick squares. Place dough squares in skull cavity, pressing down softly to take shape, fill skull cavity completely with tomatillo chicken mixture and begin pinching end soft dough together to create a flat seal over filling, trimming off any excess dough. Bake until golden 15-20 minutes. Remove from oven and carefully remove skulls and serve warm over a bed of rice.

Note: to make empanadas, on a lightly floured surface, roll out dough to 1/4 inch thick.

Divide dough and roll out each piece to 1/8 inch thick. Using a glass, circle cookie cutter or knife cut desired rounds. Add filling with spoon. Fold over dough and seal or crimp tightly with fingers or fork.

Arrange on baking sheet and place in fridge for 20 minutes. Brush tops with egg wash.

Bake 12- 17 minutes.