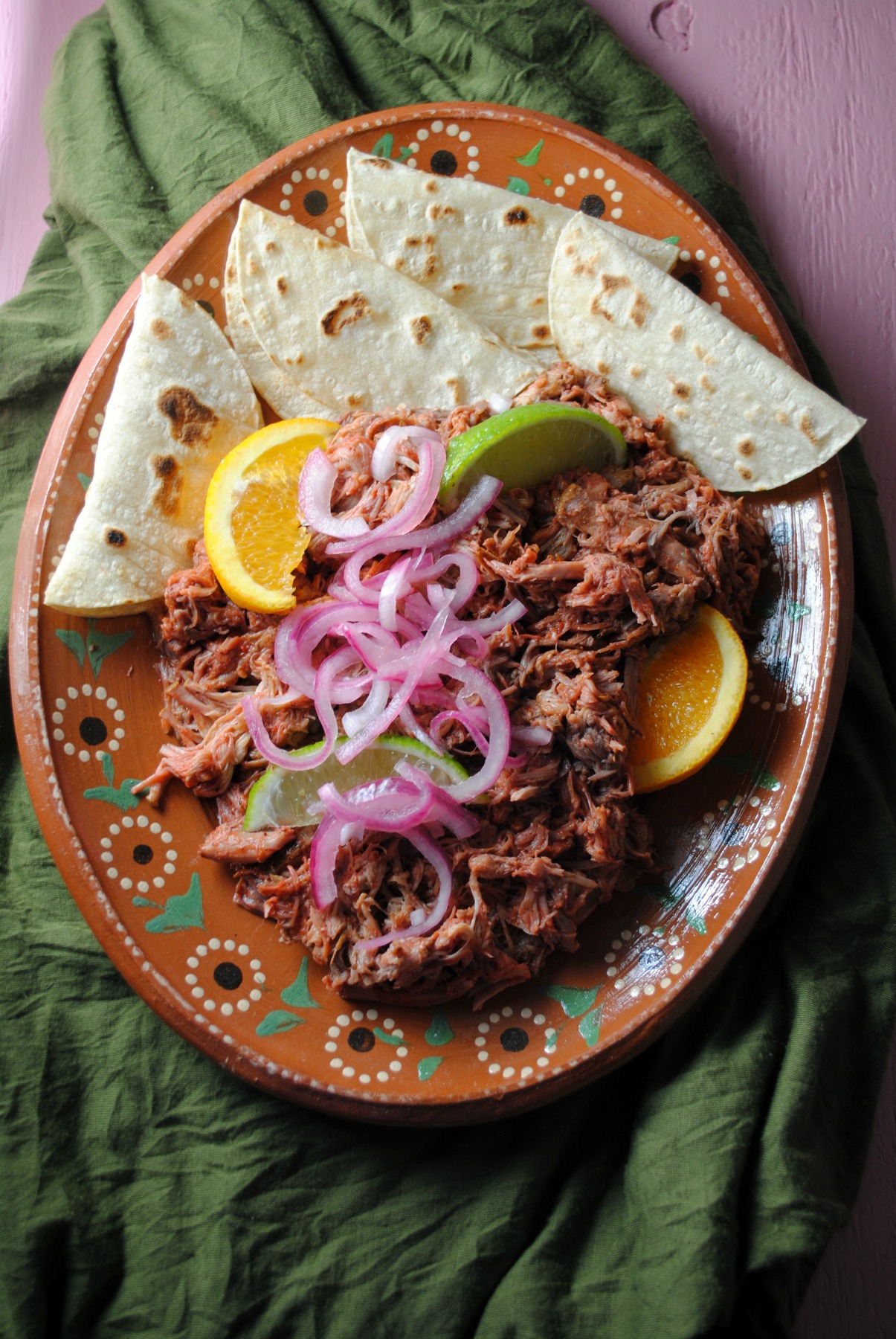 Cochinita Pibil
I'm in the midst of panning our annual tamalada.  A tamalada is where an entire family comes together to tackle the task of making tamales, an enormous amount of tamales.  As anyone who has ever made tamales knows it can a painstaking all day event that will leave you mentally and physically drained if attempted alone.  Yes, it yields delectable rewards, but I advise you invite a few friends over, make a steaming pot of something delicious and put those guys to work. This year for our annual tamalada I plan to make Cochinita pibil.
Cochinita Pibil is a dish that hails from Yucatan in Mexico. Traditionally cooked in a fire pit a whole sucking pig is wrapped in banana leaves and slow roasted until tender. Pibil is Mayan for buried and Cochinita is a baby pig, hence the name. This braised dish is flavored with citrus juices, a variety of spices and annatto seeds, which give the dish its distinctive taste.  Annatto seeds are finely ground and made into a paste called achiote. Moist, tender, earthy this dish is one dish I hope you give a try.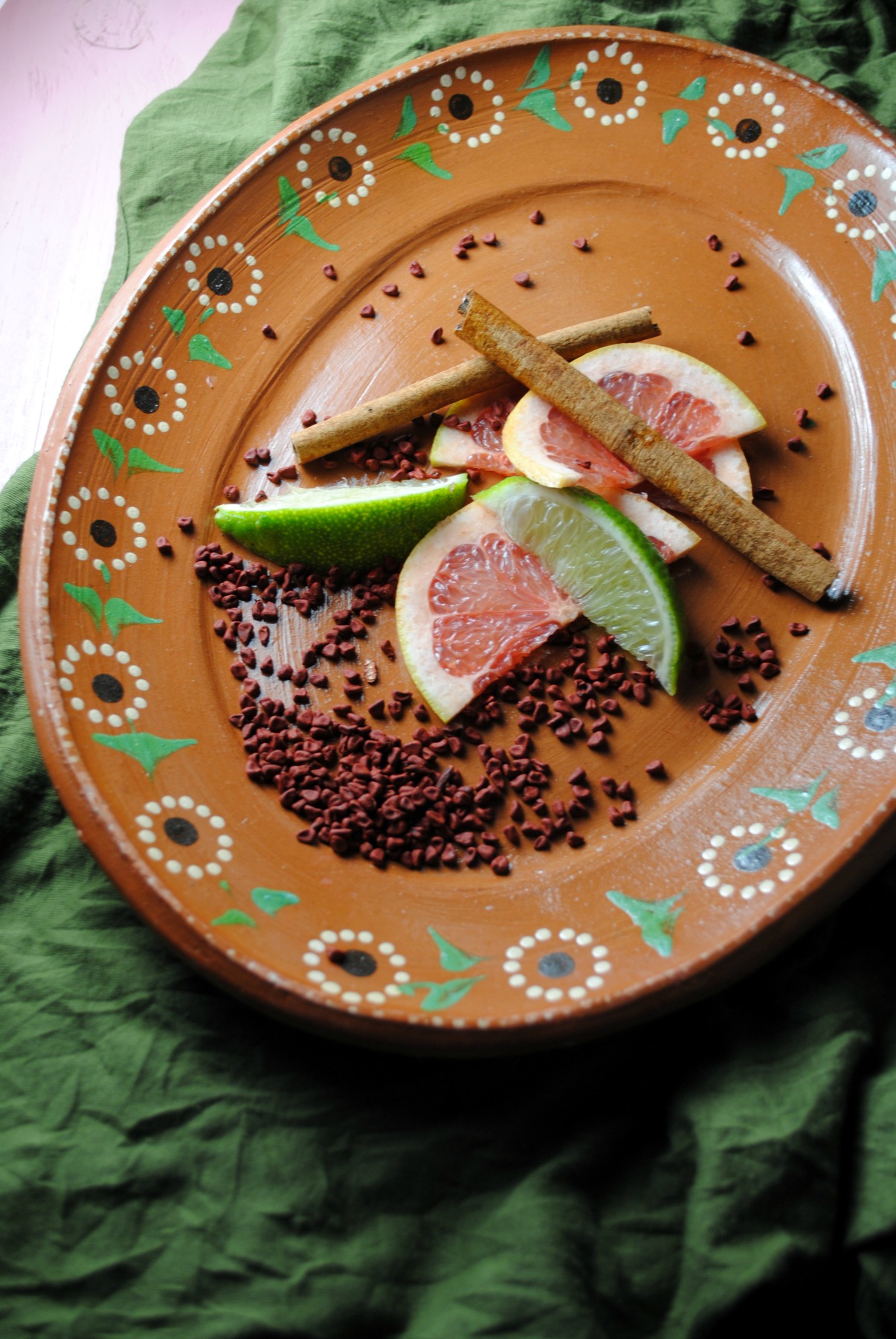 I'm scaling down the preparation by skipping the fire pit and banana leaves from this recipe. By cooking the pork in a slow cooker I can concentrate on the preparations for our tamalada and this method also allows me to enjoy this dish any day of the week. Traditionally made with sour oranges I use a mix of orange, grapefruit and lime juice in the marinade and toast the cinnamon sticks to enhance their flavor.
I've teamed up with the National Pork Board to create, inspire and share my love for traditional pork recipes. For more pork recipes and inspiration be sure to visit porkteinspira.com.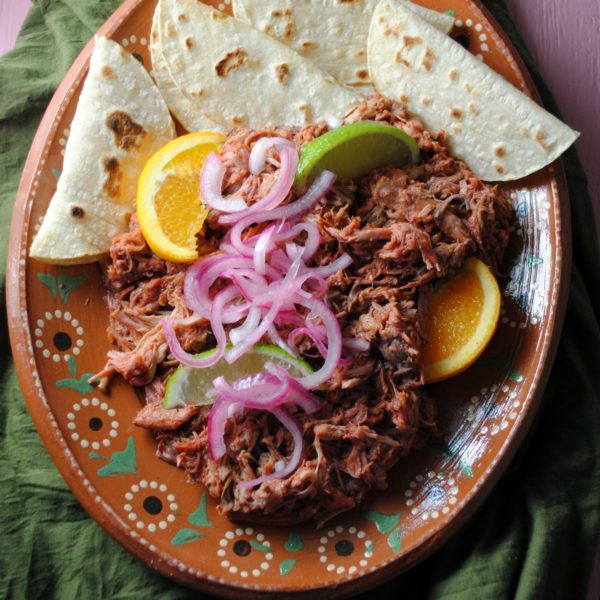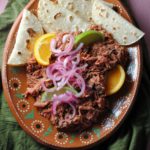 Cochinita Pibil
Ingredients
6

tablespoons

annatto seeds

1

teaspoon

salt

1

teaspoon

pepper

2

teaspoons

dried oregano

1/2

teaspoon

ground cumin

1/4

teaspoon

ground allspice

1

3 pound boneless pork shoulder roast

2

cinnamon sticks

4

cloves

garlic

minced

2

cups

grapefruit juice

2

cups

orange juice

1/2

cup

lime juice

1

bay leaf
Instructions
Using a coffee grinder or mortar and pestle finely grind annatto seeds. Combine ground annatto seeds with salt, pepper, oregano, cumin and allspice in a bowl. Rub the spice mixture into the pork, place in a large resealable plastic bag and refrigerate overnight. The following day in a skillet or comal toast the cinnamon sticks over medium-high heat 2 minutes on each side, place in a 4-5 slow cooker along with pork, garlic, grapefruit juice, orange juice, lime juice and bay leaf. Cover and cook on low for 6-8 hours, until meat is tender. Remove pork from slow cooker, shred, and drizzle with juice and serve warm with tortillas, use for tortas or sopes.
Sweet Life Disclosure: This is a sponsored post with The National Pork Board. Thank you for supporting the companies Sweet Life collaborates with and allows me to create fun and unique recipes.