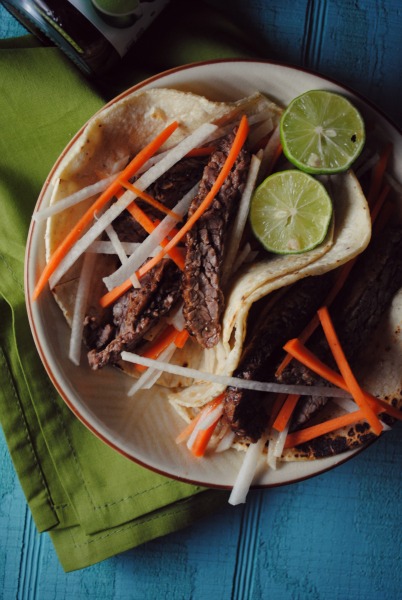 Ponzu Fajita Tacos
Banh mi.. Pho Dal.. Garam.. Marsala.. Goulash.. Apfelkraut..  Kolaches..  Stuffed Cabbage
In Texas?  Yes. Texas truly is a Multicultural State.  Best known for chicken fried steak and Tex-Mex there is much more spice to this state.  Whether it be West Texas, East Texas or South Texas early immigrants found their way to Texas and we have been licking our fingers ever since.
In my kitchen we enjoy taking these dishes and giving them a Mexican or Tex-mex twist.  Our goulash's tomato sauce if often infused with chile guajillo or our Pho broth will be tomatillo based.
Flavoring our life with the tastes of the world, lucky us.
Today I want to take my beloved Texas fajitas and "kikk up their flavor" with Kikkonman Ponzu sauce.  A grilling must have South-of-the-border vaqueros have been serving up fajitas for generations. Marinades are often made from citrus, cola or chile to flavor and tenderize the meat, but today we take a tasty shortcut using Ponzu sauce.
Ponzu sauce, minced garlic flavors our fajitas. Grilled and served with a warm tortilla stuffed with carrots and jicama this meal will satisfy any vaquero, big or small.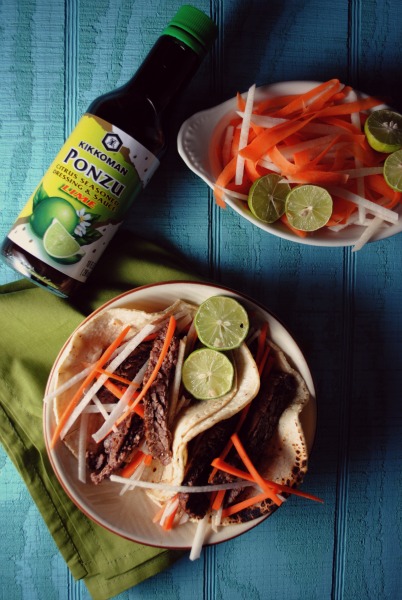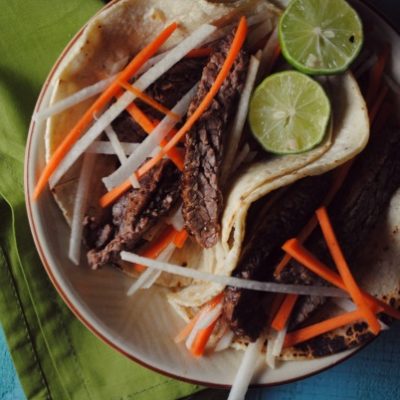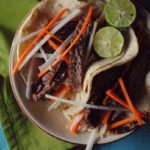 Ponzu Fajita Tacos
Ingredients
2

lbs

skirt steak

fajitas

4

cloves

of garlic

minced

6

tablespoons

of Kikkoman Ponzu Lime sauce

1

medium jicama

4

medium carrots

Corn tortillas
Instructions
In a large plastic bag or shallow baking dish add skirt steak, garlic and ponzu sauce

Marinate in the refrigerator for 40 minutes.

While meat marinates thinly slice or grate jicama and carrots, set aside.

Drain the marinade from the meat and remove garlic.

Grill for approximately 6 minutes on each side. optional: Baste meat with additional ponzu sauce.

Remove it from the grill and let it rest for 5 or 10 minutes while you heat the tortillas.

Cut skirt steak across the grain and diagonally into finger-length strips, serve with warm tortillas along with jicama and carrot.
Sweet Life: This post is in collaboration with Latina Bloggers Connect and Kikkoman. All opinions are 100% my own.