Flour tortillas
Snowflake cookie cutter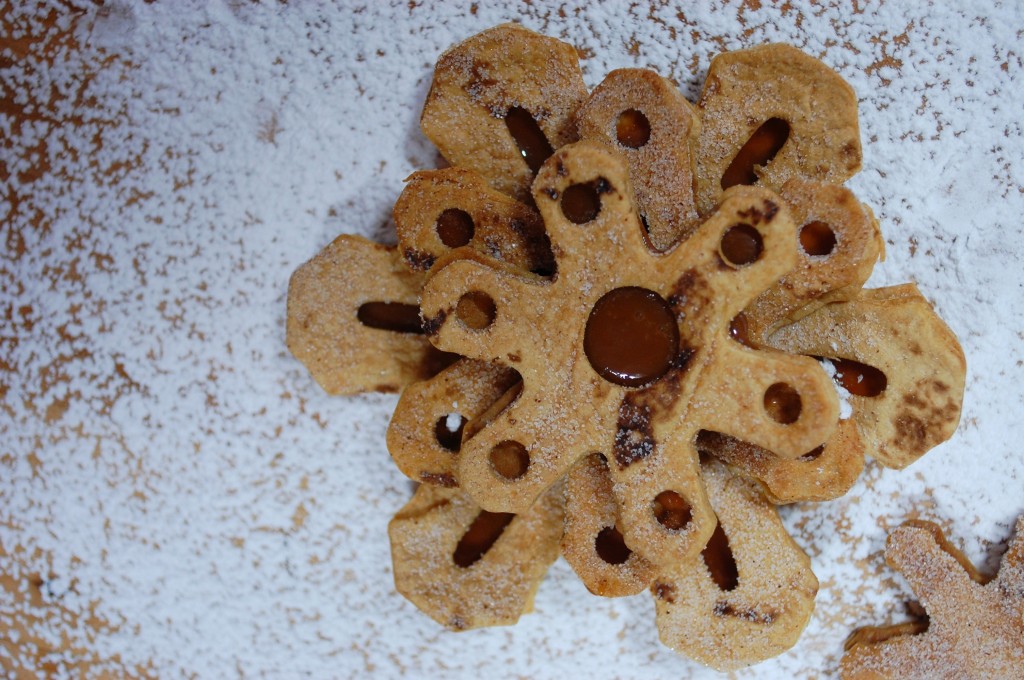 Lightly brushed with oil
Baked until crisp
Dusted with cinnamon sugar
Allowed to cool
Spread with cajeta
Sandwich together
Coffee or warm milk!  Enjoy!  Sweet Life!
Cajeta is a thick sweet sauce made from goat's milk, the sweetened milk is boiled down until it reaches a deep caramel color.  Cajeta can also be sold flavored with vanilla, nuts, coconut or wine.  Drizzle it over ice cream, crepes, pancakes or use to sweeten your coffee.
———————
Cajeta Snowflakes
by Sweet Life
by Vianney Rodriguez
flour tortillas (cooked)
cookie cutters (snowflake)
canola oil
1/4 cup sugar
2 tsp cinnamon
cajeta
Preheat your oven to 350 degrees
Place tortillas on cutting board and cut into preferred shapes (snowflake).  You will need to cut two of each shape.  The bottoms are left whole, this is your base to spread the cajeta. Decorate top half as you desire.   Lightly brush the cut tortillas with canola oil and place on cookie sheet.  Bake until crisp, 4 to 6 minutes. Watch carefully as the smaller shapes (snowflake) will crisp quickly.
Combine sugar and cinnamon, set aside.  Remove from oven and dredge in cinnamon sugar while still warm.  Allow to cool.  Spread cajeta on bottom half of shape (snowflake) and sandwich together.