Sweet Life Disclosure: I'm excited to partner with H-E-B to throw a Holiday Virtual Progressive Dinner Party to celebrate their Cheer Dinner Party Sweepstakes where you could win gift cards and prize packs of holiday goodies. See details here.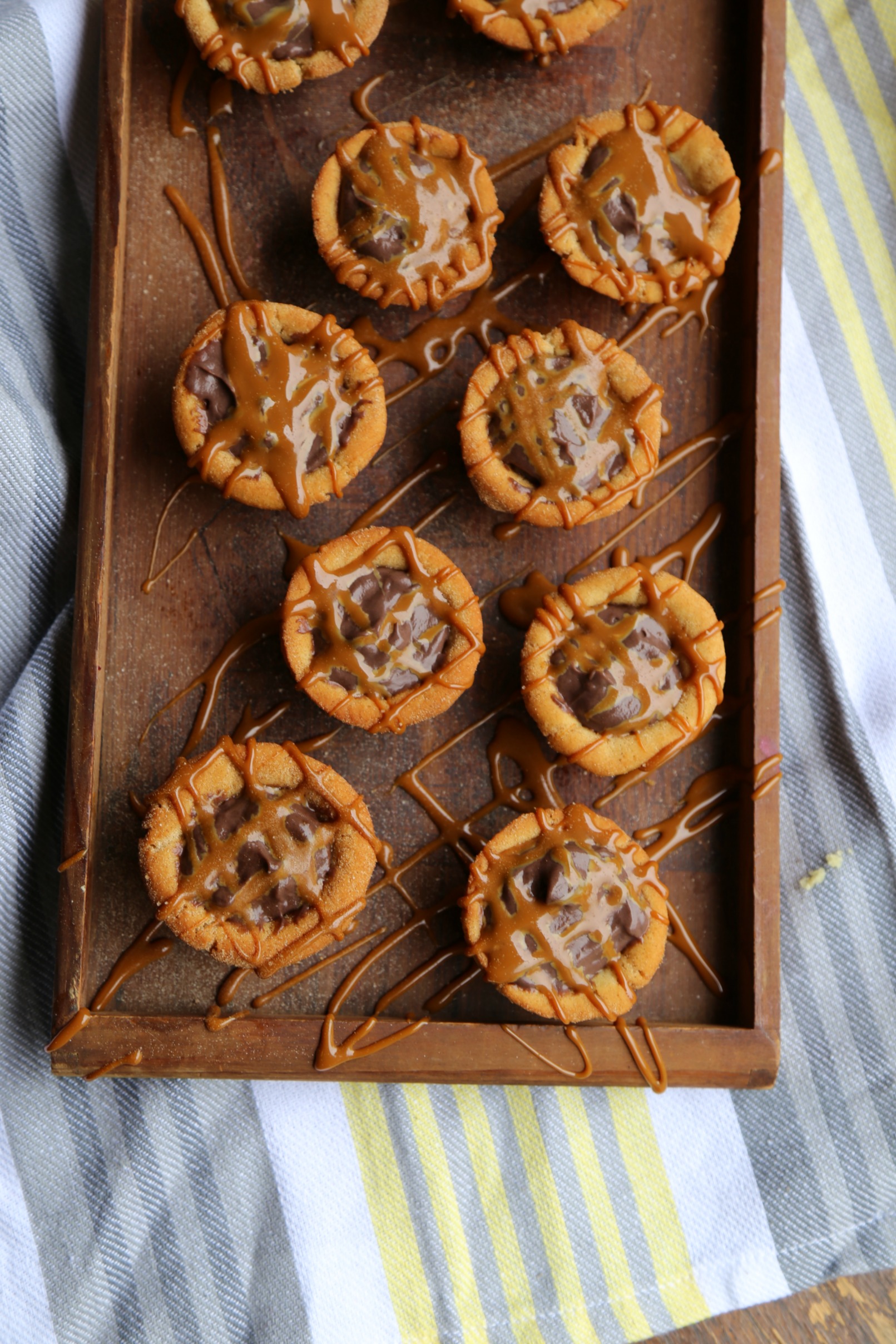 Chocolate Churro Cookie Cups
Guys! How fun is the H-E-B Virtual Holiday Progressive Party? I am having a blast sharing sweet treats to end our virtual party. Yesterday, I shared an easy recipe for pecan saltine toffee, which is addicting, delicious, and always a hit at my holiday parties.
Today, I want to share with you a show-stopping dessert that showcases three of my favorite flavors in one—churros, dulce de leche and chocolate! By now you can tell I am obsessed with dulce de leche, since it's featured often on my blog. Remember those amazing dulce de leche marshmallows I made last year? Or what about these chocolate chip dulce de leche cookies?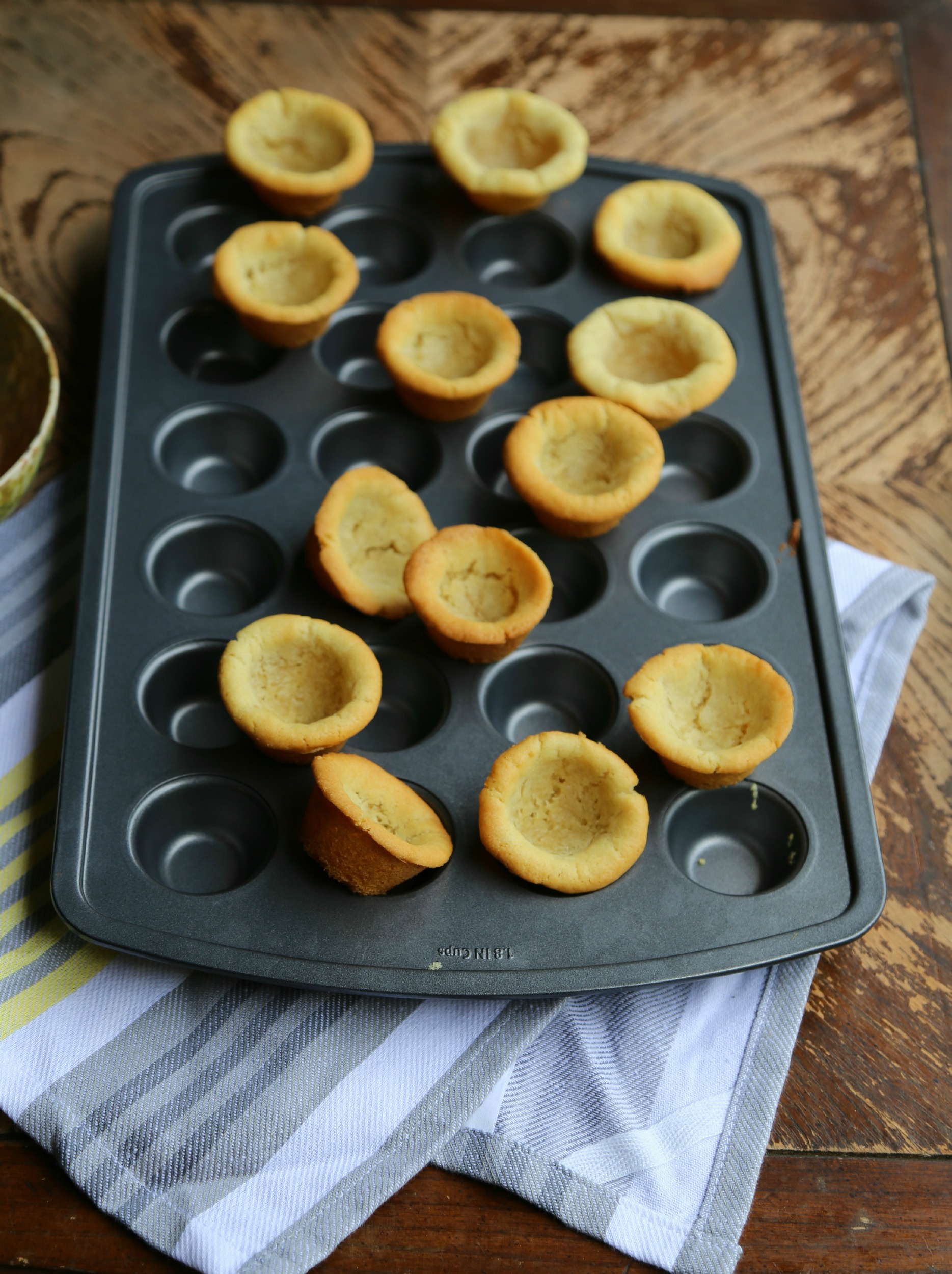 Dulce de lehce makes everything better, but add a layer of churro goodness and fill it with chocolate and we're talking about a major, major HIT!
These churro cookie cups are filled with a creamy, dreamy chocolate filling that can be made a few days ahead, then we add a drizzle of dulce de leche and there you have it…sweet goodness!
I headed to H-E-B to pick up a few ingredients to make these cute cookie cups. For the cups I used premade H-E-B sugar cookie dough. I pressed the dough into a mini muffin pan and baked them until just lightly golden brown. The sugar cookie cups will puff slightly so I used the back of a spoon to lightly press them back into shape and tossed them in a cinnamon-sugar mixture while still warm.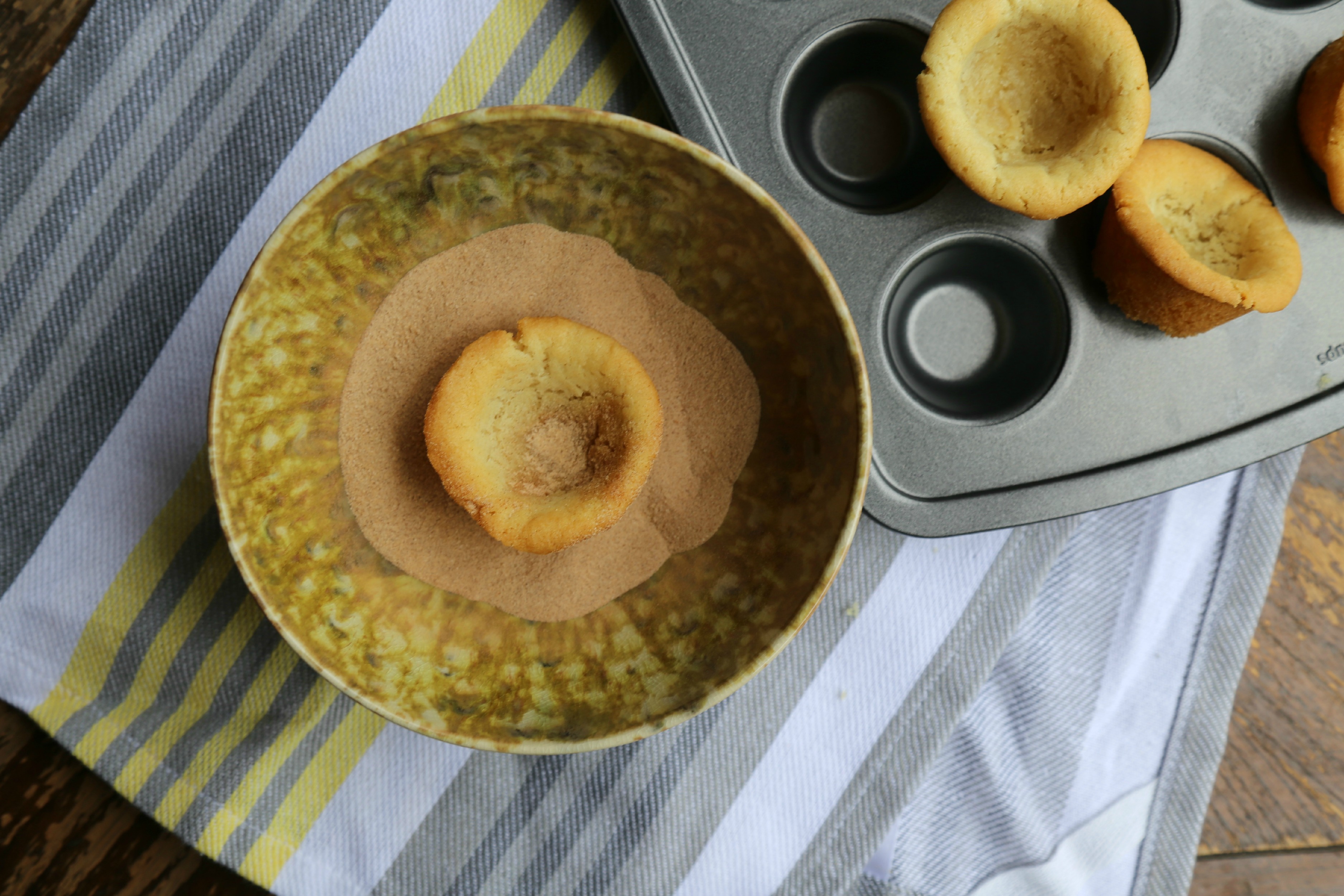 The cinnamon-sugar adds a crunch and another layer of sweetness. Once cooled, I filled my churro cookie cups with chocolate filling, but you can also fill them with a no-bake cheesecake filling, ice cream or fruit.    
The chocolate filling comes together quickly in a saucepan. Whisked together until smooth, the mixture will thicken after it cools. When prepping this recipe for a party, I like to make it the night before for easier assembly the next day.
Serve them on a pretty serving tray and top with a drizzle of dulce de leche to DAZZLE your guest with these amazing churro cookie cups!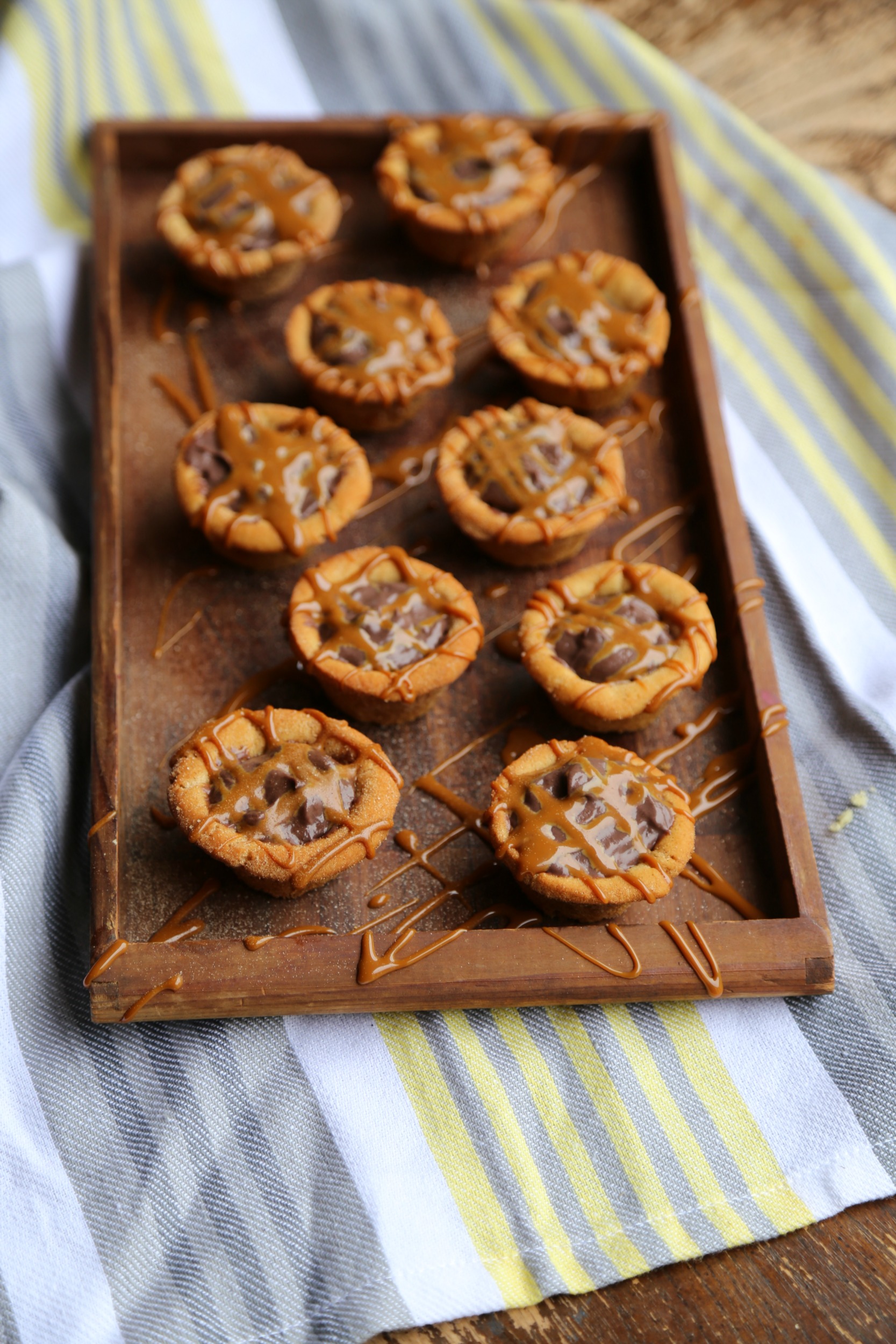 Koko kicked off the holiday virtual progressive party by showcasing two appetizers. I almost licked the screen when I saw them! She made slow cooker mozzarella stuffed meatballs and baked brie with wine soaked berries. I can't wait to make these.
Then Kylie joined in on the fun and shared two great main dish ideas. She made turmeric chicken chili with coconut oil biscuits and white pizza with pulled pork and balsamic blackberry sauce.  Wow, I am loving the combo of balsamic and blackberries.  My family would love these dishes!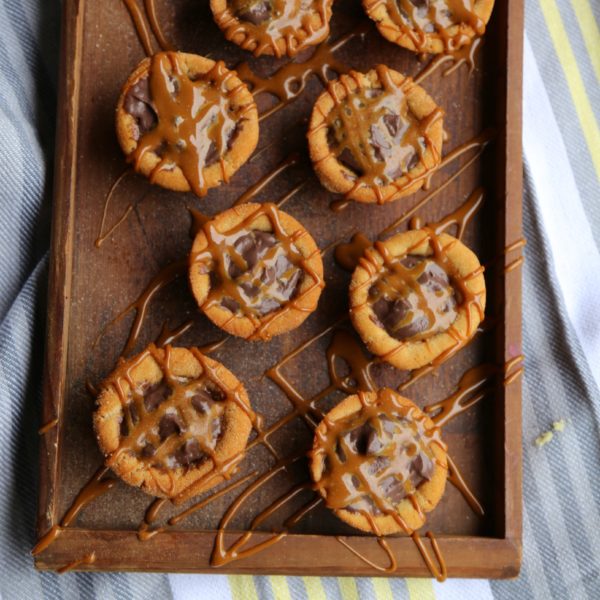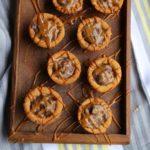 Chocolate Churro Cookie Cups
Ingredients
1

cup

heavy cream

¾

cup

HEB Natural Cocoa unsweetened

½

cup

sugar

1

teaspoon

brewed coffee

½

teaspoon

vanilla

1

Hill Country Sugar Cookie prepackage dough

½

cup

sugar

2

tablespoons

ground cinnamon

Dulce de leche for serving
Instructions
Preheat oven to 350 degrees and liberally spray a mini muffin tin with nonstick cooking spray; set aside. In a saucepan heat heavy cream over medium-high heat until it begins to simmer, but do not allow to boil, about four minutes. Remove from heat and whisk in cocoa powder, sugar, coffee and vanilla until smooth. Allow the chocolate filling to cool completely and place in fridge until ready to assemble. To make churro cookie cups pinch off 1 inch sugar cookie dough and shape into small ball. Press dough into muffin tin to form a cookie cup then bake for 10 minutes or until light golden brown. Remove from oven and with back of spoon press dough (it will slightly puff in oven) to keep cookie shape and allow to cool completely in pan. In a small bowl mix together sugar and ground cinnamon. Carefully remove cookie cups, lightly toss in sugar-cinnamon mixture and place on serving tray. When ready to serve fill churro cookie cups with chocolate filling and drizzle with dulce de leche.
TO ENTER: Share a picture of your favorite holiday appetizers, main dishes, and desserts, along with a favorite holiday memory or tradition on Instagram using the hashtag #HEBCheerSweepstakes through December 19th!
Two (2) winners will be chosen from each category (appetizers, main dishes, and desserts).
Contest will be for the duration of the virtual dinner December 14–19.
The prize is a $100 gift card and holiday themed gift basket (a total of 6 will be awarded).
Read more at https://sweetlifebake.com/2015/12/18/pecan-saltine-toffee/#ixzz3ukVEBN4N