This post is brought to you by Daisy Squeeze Sour Cream. Squeeze more out of the holidays with a #DollopOfDaisy.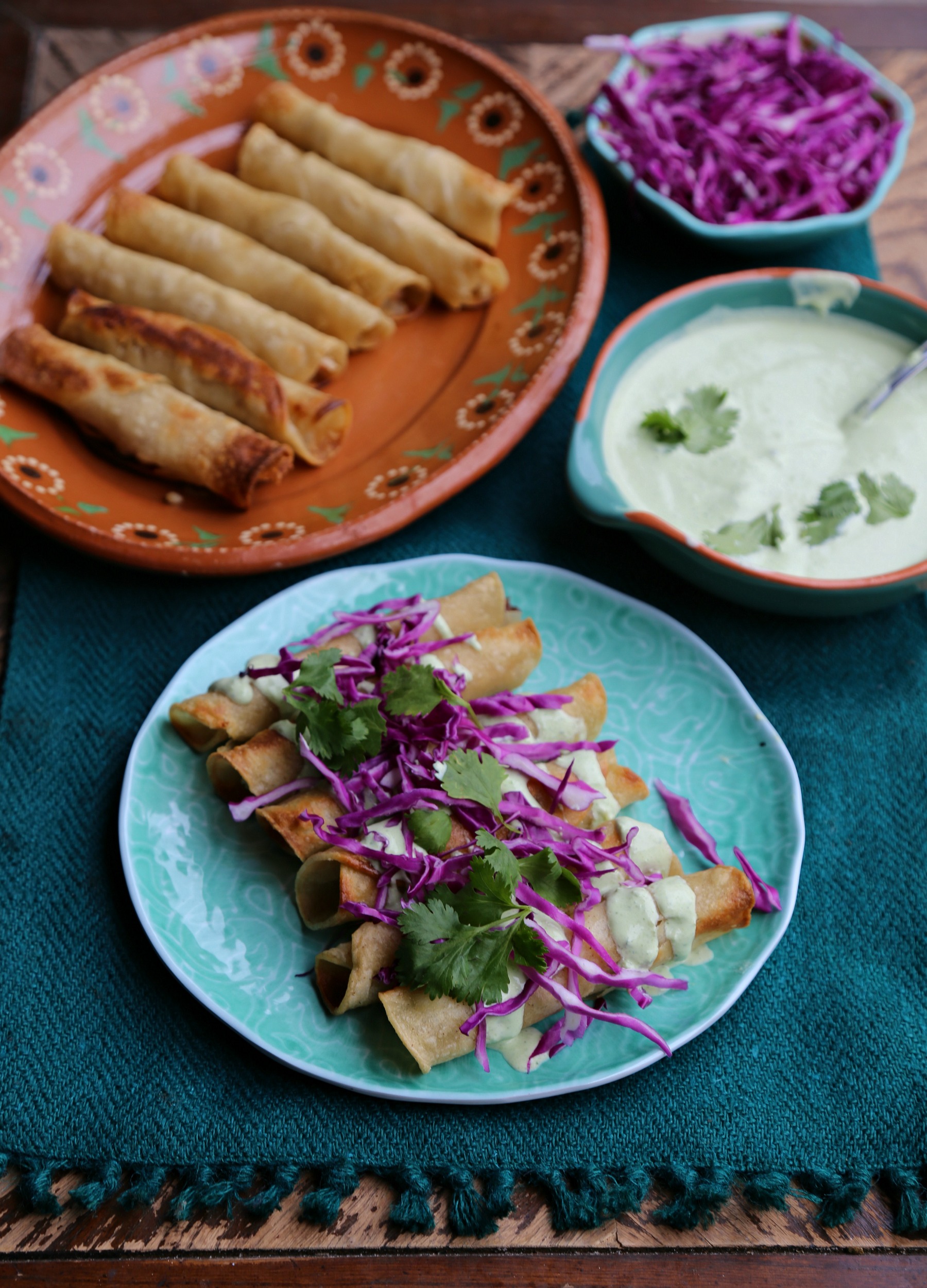 Chicken Taquitos with Creamy Poblano Sauce
The holidays en mi casita (in my home) is all about gathering with family and friends. Making time to really slow down and really enjoy the moments spent together. With an active family, hectic schedule and those endless piles of laundry, I'm always on the lookout for ways to save myself time in the kitchen.  That way, I can squeeze in a little more time with my familia during the holidays.
I'm blessed to live in South Texas, where we are able to grill year-round, so when mi carino grilled last weekend, I kindly asked him to grill a few extra chicken breasts that I could use on Friday for a casual holiday fiesta with my sisters and nieces. They all requested my mami's famous chicken taquitos…and who was I to deny them?  😉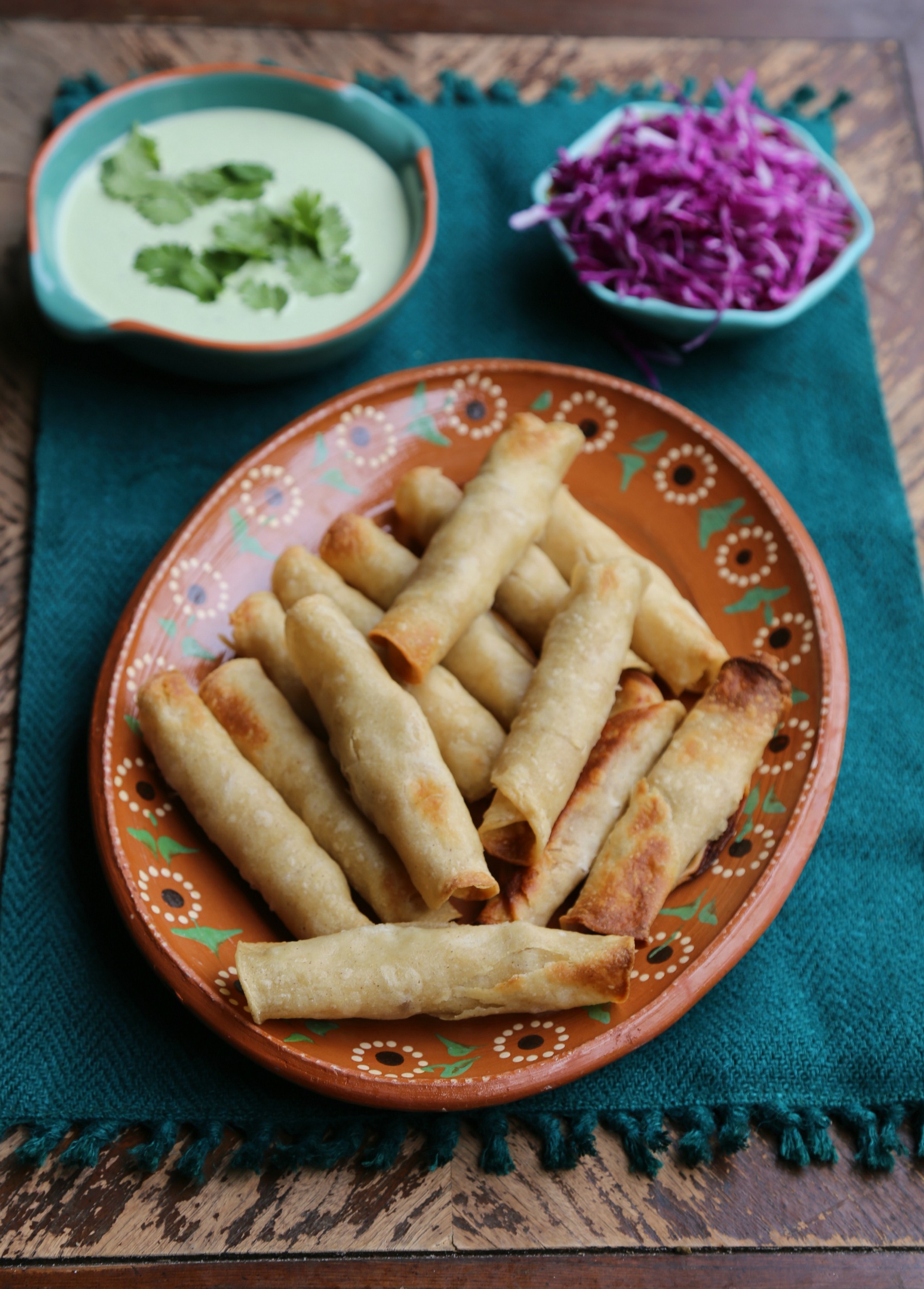 Daisy Sour Cream asked me to share a few of my favorite holiday dishes, and I'm excited to share some of my mami's most requested holiday recipes with you. Previously, I share a delicious appetizer…mini sopes topped with calabacitas con crema that were a hit with my guests. Today I want to share crispy, crunchy chicken taquitos topped with a creamy poblano crema made with Daisy Sour Cream.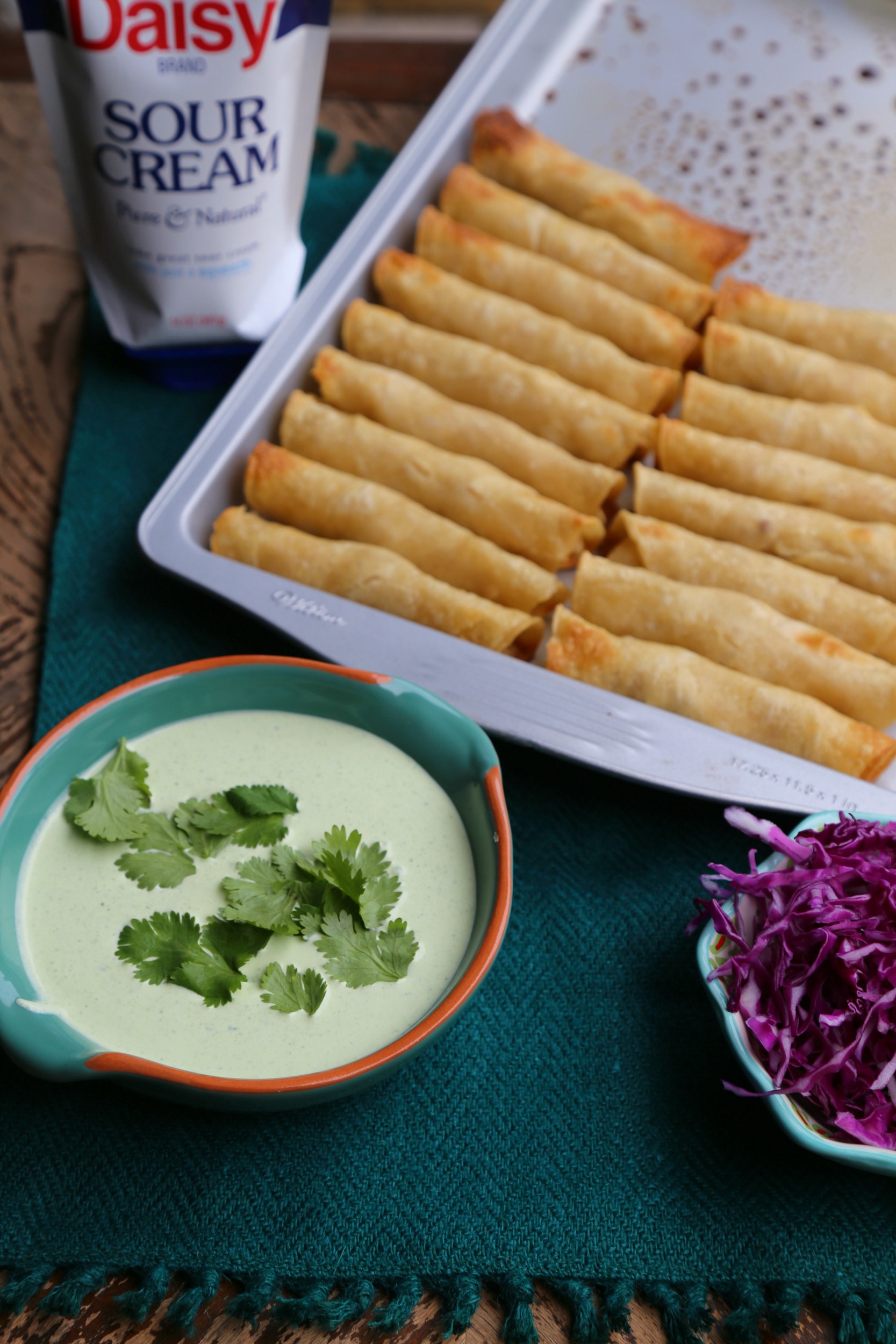 My kiddos love the new squeeze bottle, which allows tiny hands to help out with kitchen prep, plus no messy spoons in the tub or splatters all over the mesa (table). These taquitos can be prepared fairly quickly, and are baked instead of fried (less mess), plus they freeze beautifully, so be sure to make an extra batch to save for another meal or fiesta.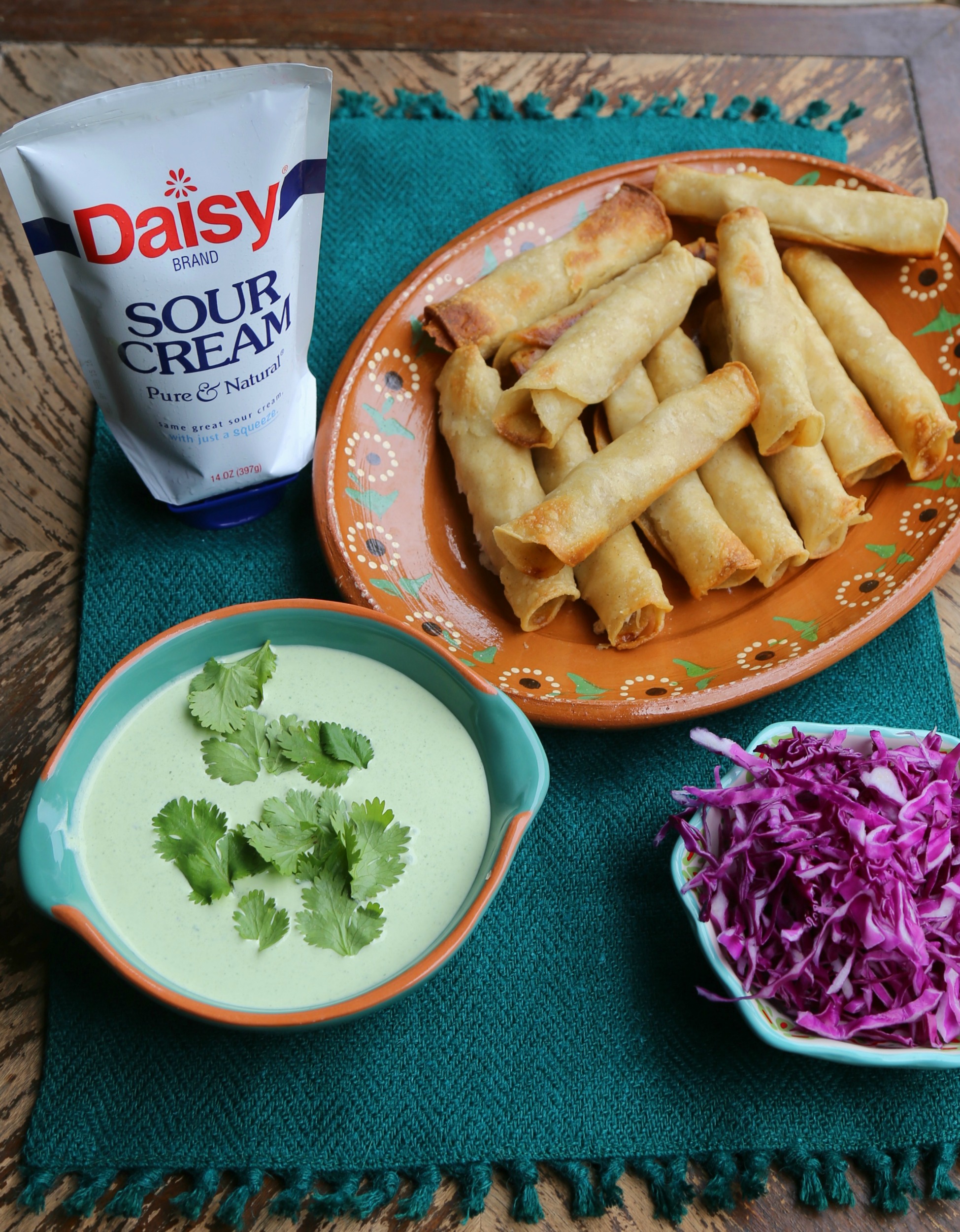 Shredded chicken wrapped in corn tortillas, baked and served with a creamy poblano sauce is nothing short of deliciousness (and make for amazing leftovers). No time to grill, no problem, just pick up a rotisserie chicken on the way home.  These taquitos can be also be made with pulled pork or brisket.  
I like to invite my kids into the kitchen to help me roll taquitos. While the taquitos bake whip up the poblano sauce to serve with your taquitos. Feel free to serve the sauce on the side as a dipping sauce or drizzle it over the taquitos, top with cilantro and shredded red cabbage and an extra drizzle of Daisy Sour Cream for a festive presentation.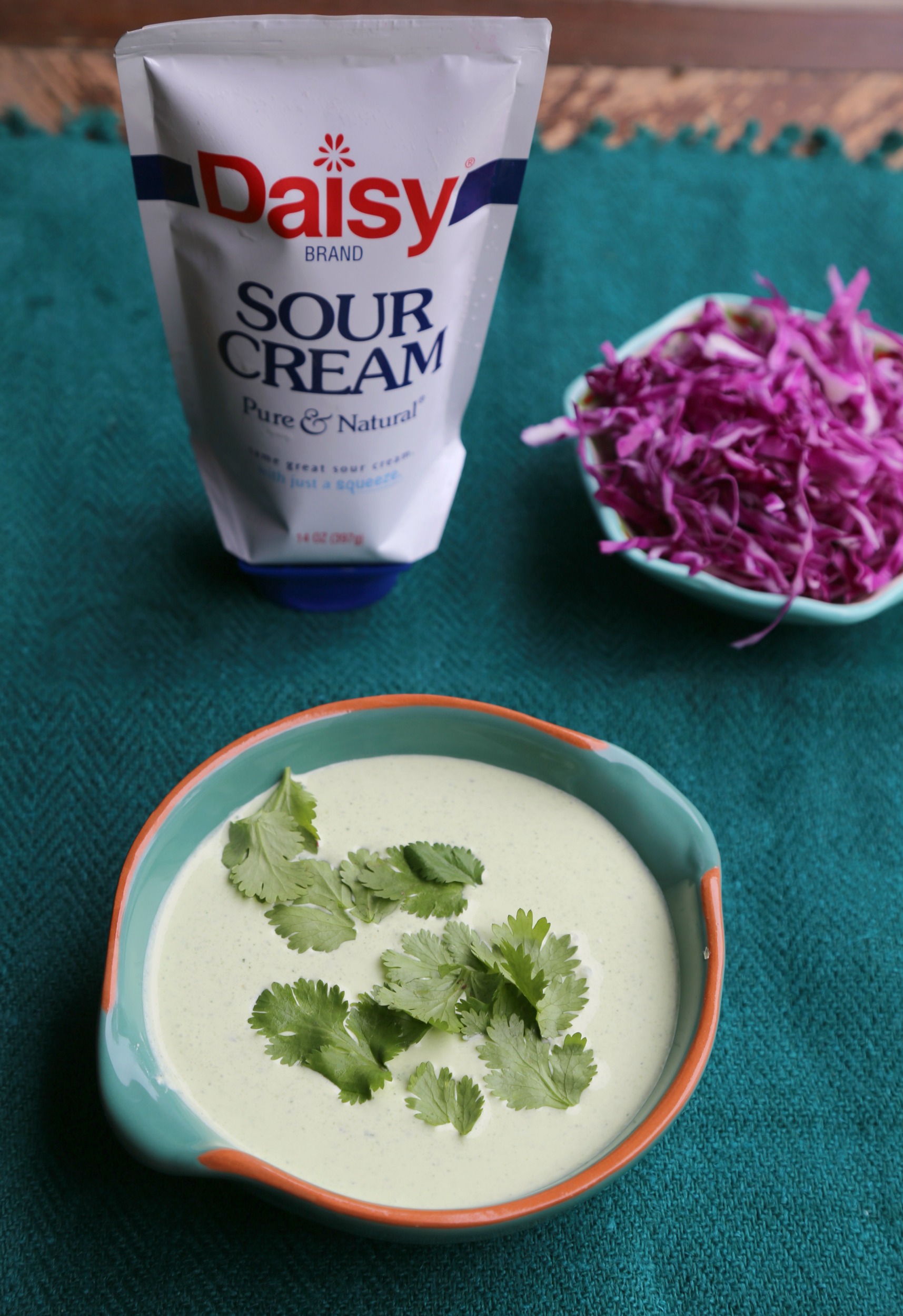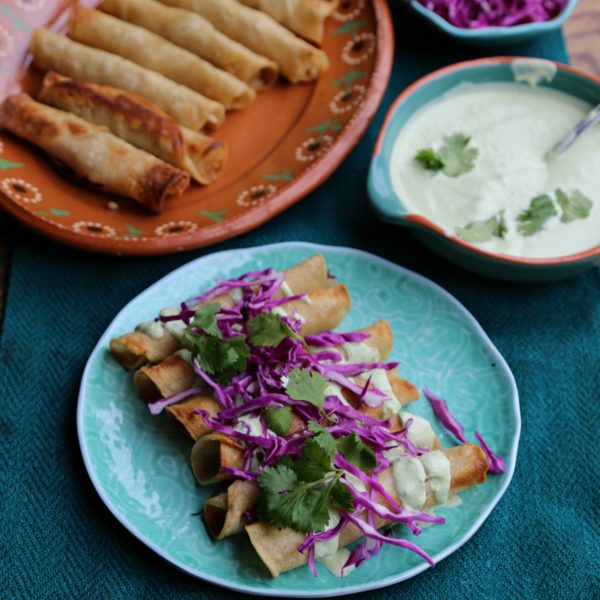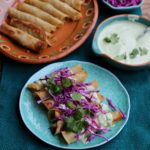 Chicken Taquitos with Creamy Poblano Sauce
Ingredients
For Taquitos:

1

tablespoon

olive oil

plus more for brushing tortillas

1

cup

chopped onion

1

teaspoon

cumin

½

teaspoon

salt

2

cups

shredded chicken

½

cup

chicken broth

12

corn tortillas

Finely shredded cabbage

optional

For Poblano Cream Sauce:

2

poblano

chiles

1

cup

daisy sour cream

1/2

cup

cilantro

washed and stems removed

Juice from 1/2 lime

½

cup

chicken broth

Salt

Pepper
Instructions
For Taquitos: Heat olive oil in a skillet over medium-high heat. Add onion and sauté until light and translucent, about 3 minutes, add cumin and salt, stir to combine. Stir in shredded chicken, chicken broth, reduce heat and simmer until heated through. Remove from heat. Preheat oven to 425 degrees. Brush a baking sheet with olive oil. Warm tortillas in microwave until pliable. Place two tablespoons of chicken on each tortilla roll tightly, place on baking sheet seam side down. Repeat until all taquitos are made. Brush lightly with olive oil. Bake 15-20 minutes until golden and crispy. Remove from oven, season with salt and serve warm with roasted poblano avocado sauce and shredded cabbage.

For Poblano Cream Sauce:

Preheat broiler. Place poblano on a baking sheet; broil until skin is charred, about 7-10 minutes.

Remove from baking sheet, place in bowl and cover with a towel to steam and cool 10 minutes, then peel off charred skin and remove stem and seeds. Place roasted poblano, sour cream, cilantro, lime juice and chicken broth into a food processor. Puree until smooth. Season to taste with salt and pepper, serve with warm taquitos.