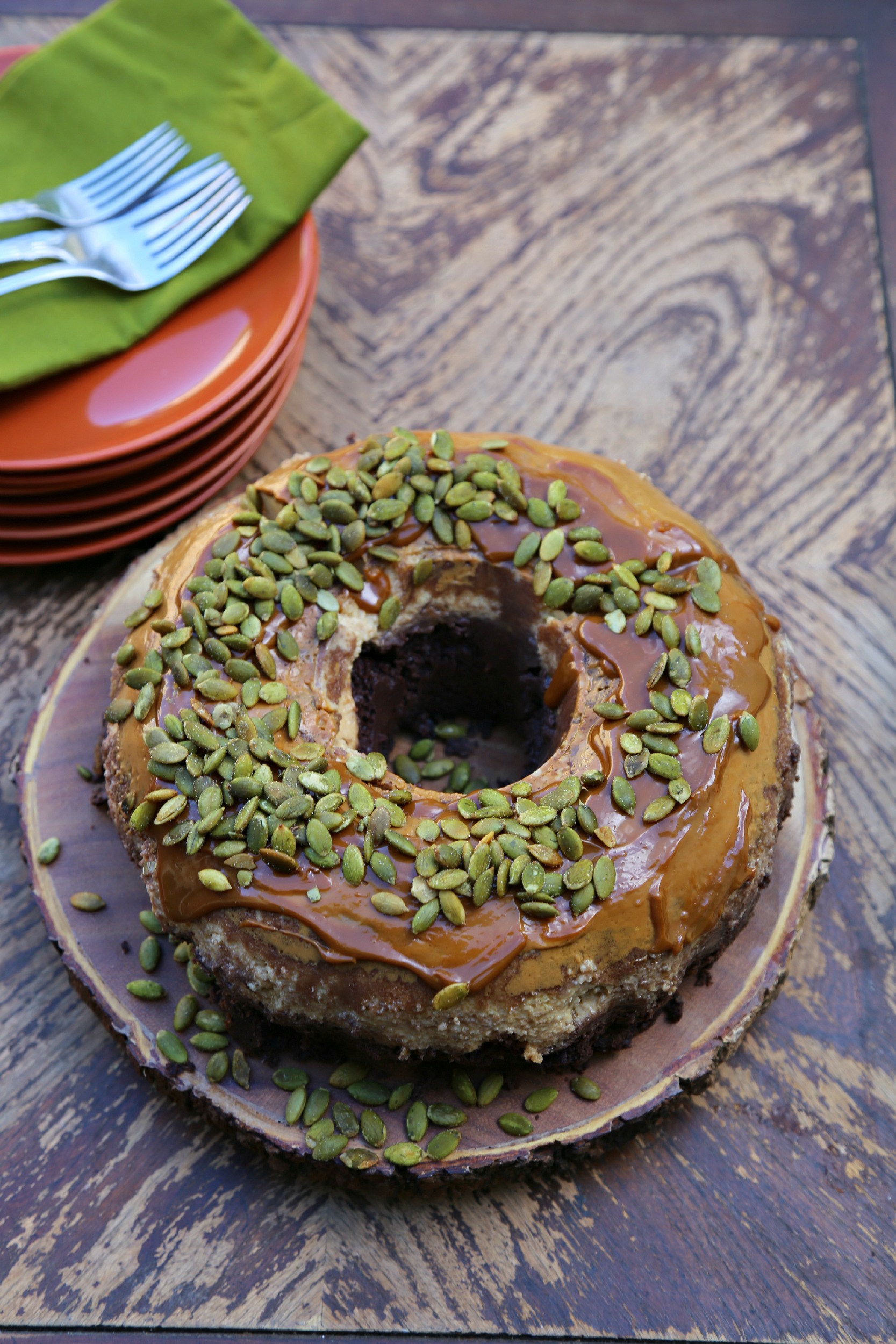 Pumpkin Chocoflan
Thanksgiving is here, and I cannot think of anything yummier to serve my familia on this special day than a delicious pumpkin chocoflan.  
Although Thanksgiving is not traditionally celebrated in Mexico, our family has embraced this holiday as a time to gather as a family and give thanks for another wonderful year. We make an effort to slow down, spend quality time with each other, and simply enjoy our time in the kitchen as a family.
In celebrating Thanksgiving, we find ourselves serving traditional dishes, but we also enjoy adding a touch of our beloved Latin flavors. We add a twist with sliced jalapenos in the stuffing, chipotles added to the mashed potatoes, and we even showcase our Latin roots in our Thanksgiving dessert! 
Thanksgiving preparation over the years has become quite the family affair. In my familia, food is an extremely important part of our culture. Mami, along with us children and even her grandkids, helps in planning the menu, grocery shopping, setting the table, dicing, chopping, stirring and of course our favorite part – baking.  
Baking together as a family warms my heart.  It's a time, when we, as mamis, are given the opportunity to share our memories of cooking with our abuelita and mami. Recipes, tips and tricks are passed down while we make new memories.  
The smells in my home may not be traditional, but the flavor and essence of the holiday remains the same – we are thankful for familia, friends and a wonderful year.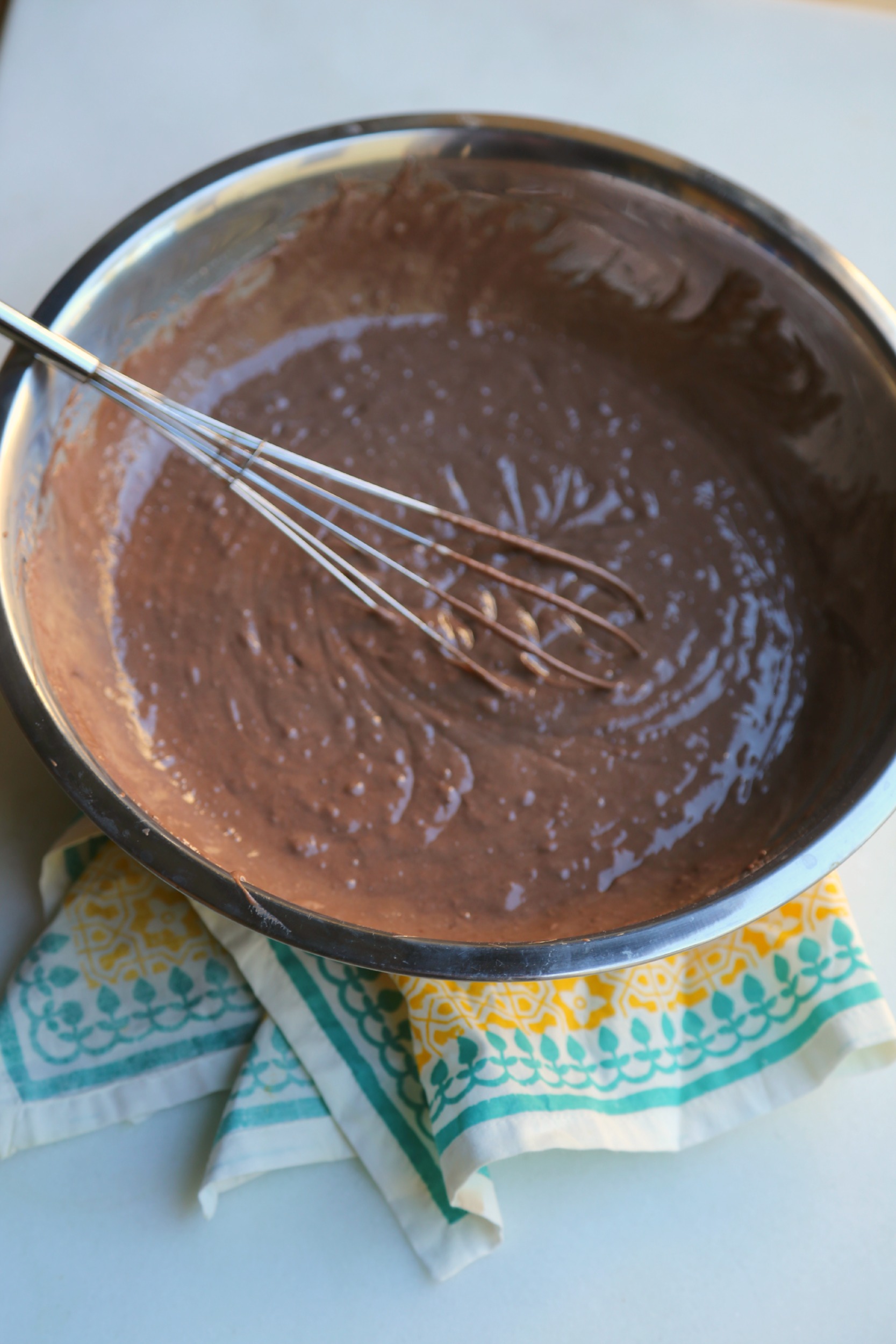 A chocoflan, also known as Impossible Cake, gets its name from the magic that happens while this desserts bakes. A three in one amazing dessert that includes a layer of cajeta, a layer of chocolate, topped with a creamy layer of flan. When assembled, the chocolate layer cake is added to the pan over the layer of cajeta, then topped with the flan mixture.  As it bakes, the layers swap and when revealed the flan layer is now on top. I tell you, this dessert, from start to finish, is a sweet family affair!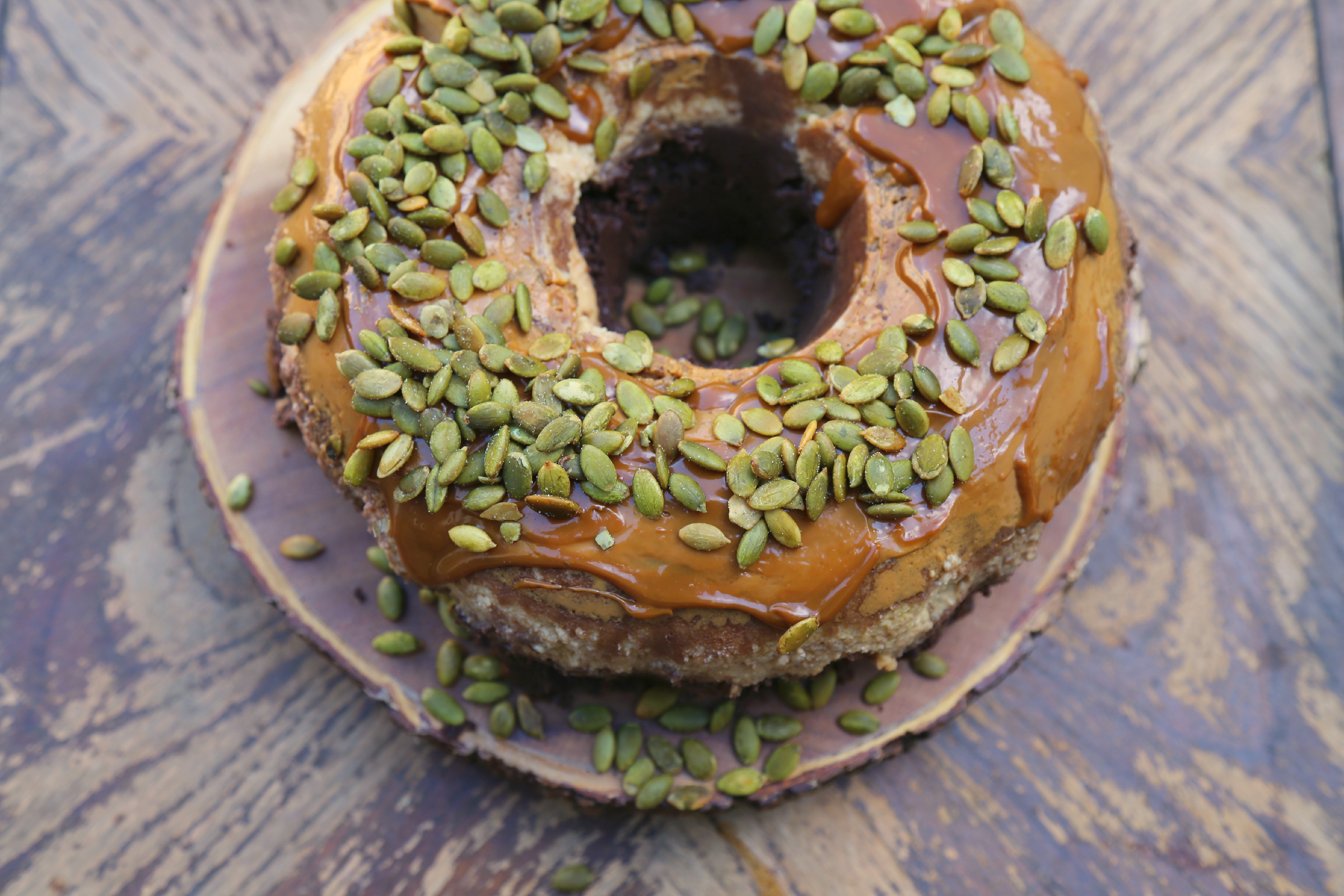 My kids enjoy helping me bake, but they really get excited to make chocoflan. When I told them we would be putting a Thanksgiving twist on our original chocoflan, they were even more excited to head into the kitchen and start baking.
Blending sweet memories with new traditions, baking with my children makes me happy. I am thankful for these memories.
The secret to making this impossible flan, possible, is using a few tricks and tips, relax it's easy to make. And today, I will share with you how doctoring up a cake mix can make preparation easy and take this traditional chocoflan to the next level, with only a few pantry staples and shortcuts.   
We begin by adding a creamy layer of cajeta to our Bundt pan. Using a nonstick Bundt pan adds presentation, plus ensures our pumpkin chocoflan easily slides off to our serving platter.
Besides its beautiful presentation, this pumpkin chocoflan makes plenty to serve all of your Thanksgiving guests. Rich, creamy, and topped with pepitas, a small slice is plenty to satisfy the belly.
For the cake mix, use your favorite brand; we add sour cream to give this cake a tang that pairs wonderfully with the pumpkin flan layer. To make the flan mixture, simply pull out your blender and add all ingredients.  A few whirls and your ready to add your flan mixture to the pan.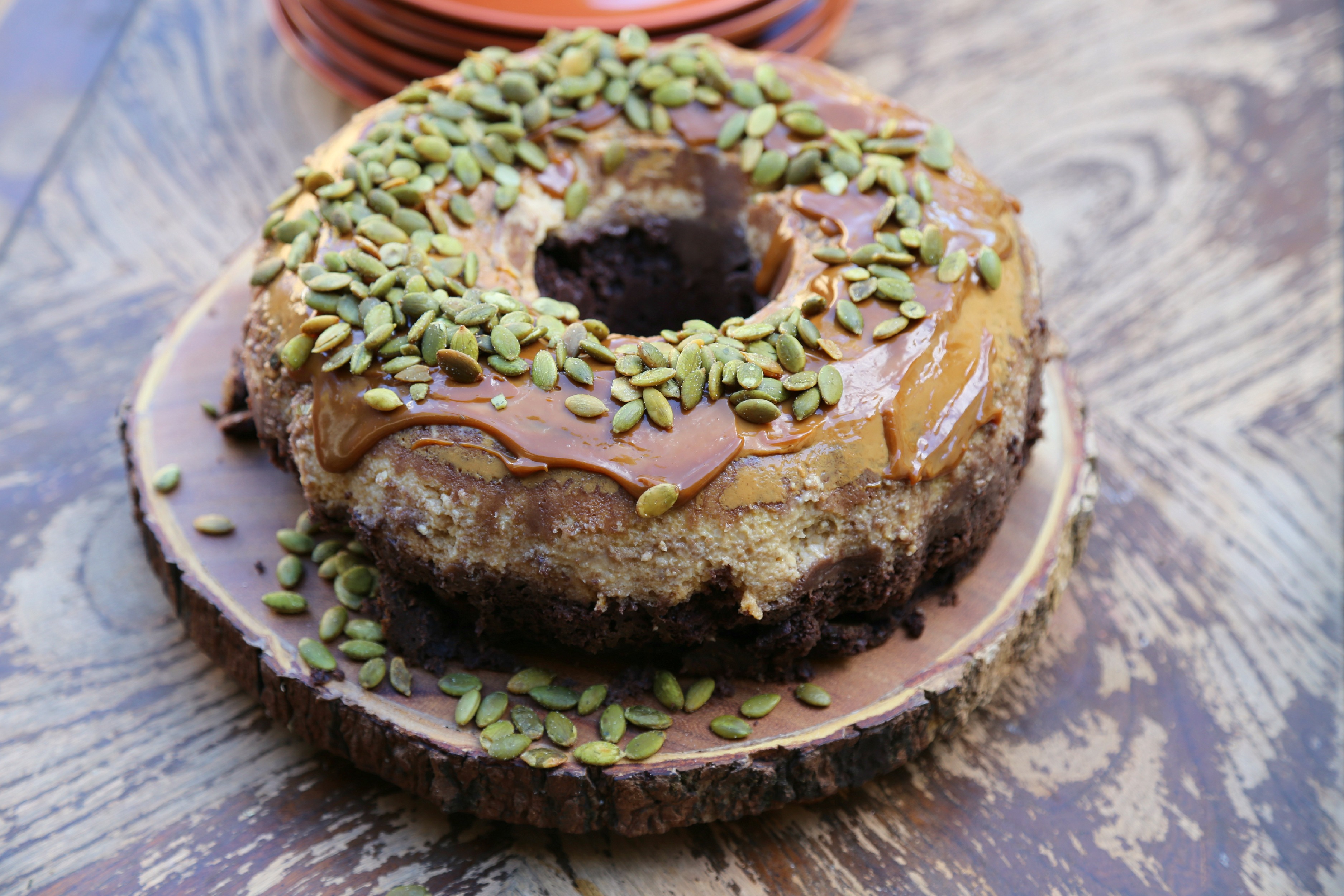 Pop the pumpkin chocoflan in the oven, allow to cool, unmold and see it in all its glory! This pumpkin chocoflan is a sticky, rich, sweet Thanksgiving dessert that the entire family will love. This delicious pumpkin chocoflan recipe is inspired by the flans my abuelita used to make for us.  I hope you will make this thanksgiving delight with your family this holiday. Think of the quality time you will spend in the kitchen with the kiddos, not only creating a showstopping dessert, but also sharing a bit of yourself with them too.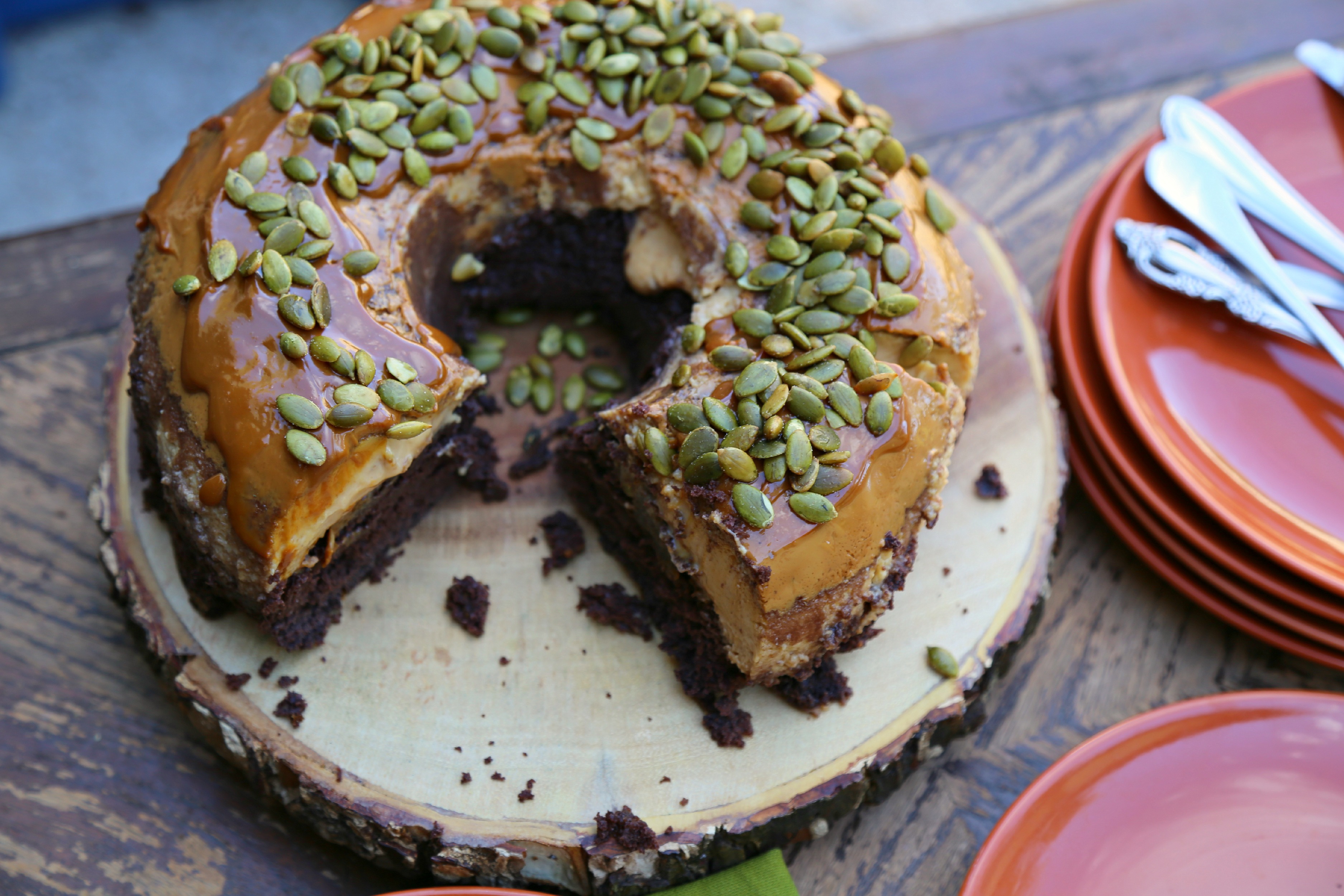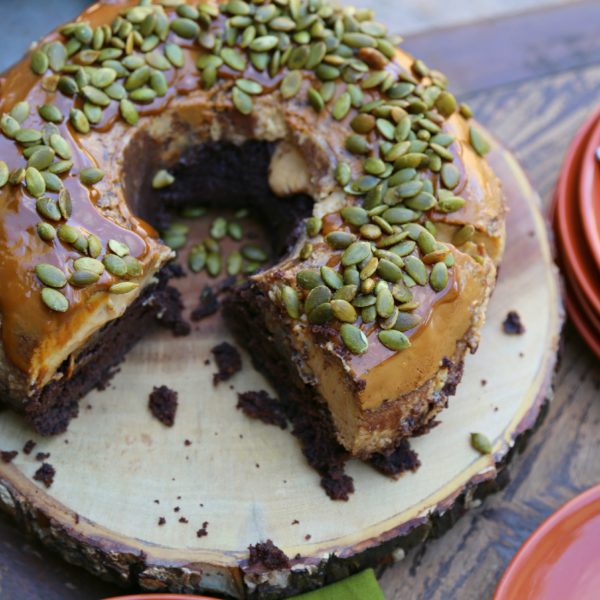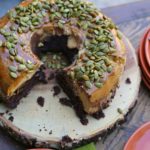 Pumpkin Chocoflan
Ingredients
1

cup

cajeta

1

box chocolate cake mix

1 1/4

cup

water

1

stick butter

melted

6

eggs

1/2

cup

sour cream

1

12 ounce can evaporated milk

1

14 ounce can sweetened condensed milk

1

teaspoon

vanilla

1/2

cup

pumpkin puree

1/4

teaspoon

pumpkin pie spice

1/8

cup

brown sugar

Pepitas

pumpkin seeds
Instructions
Preheat oven to 375ºF. Liberally spray a non-stick Bundt pan. Pour cajeta into pan, set aside. In a large bowl whisk together cake mix, water, melted butter and two eggs until well blended. Add sour cream and mix until well blended. Pour cake batter over cajeta. In a blender add evaporated milk, sweetened condensed milk, vanilla, pumpkin puree, pumpkin spice, 4 eggs and brown sugar; blend until smooth. Slowly pour flan mixture over cake batter. Cover with foil and place Bundt pan in a larger roasting pan. Add enough boiling water (between 6-8 cups) to reach halfway up the side of the Bundt pan. Bake for 1-1/2 hours or until a toothpick inserted comes out clean. Carefully remove from oven and allow to cool completely in pan. Once the pumpkin chocoflan has cooled completely, place in fridge to chill for 4 hours or overnight. To serve run a knife around side of pan to loosen edges. Invert onto cake stand or serving platter and garnish with pepitas.