Sweet Life Disclosure: This is a sponsored post with La Lechera.  As a member of the La Lechera Team I am happily spreading the word about La Lechera. Thank you for supporting the brands I collaborate with to bring you exciting new recipes.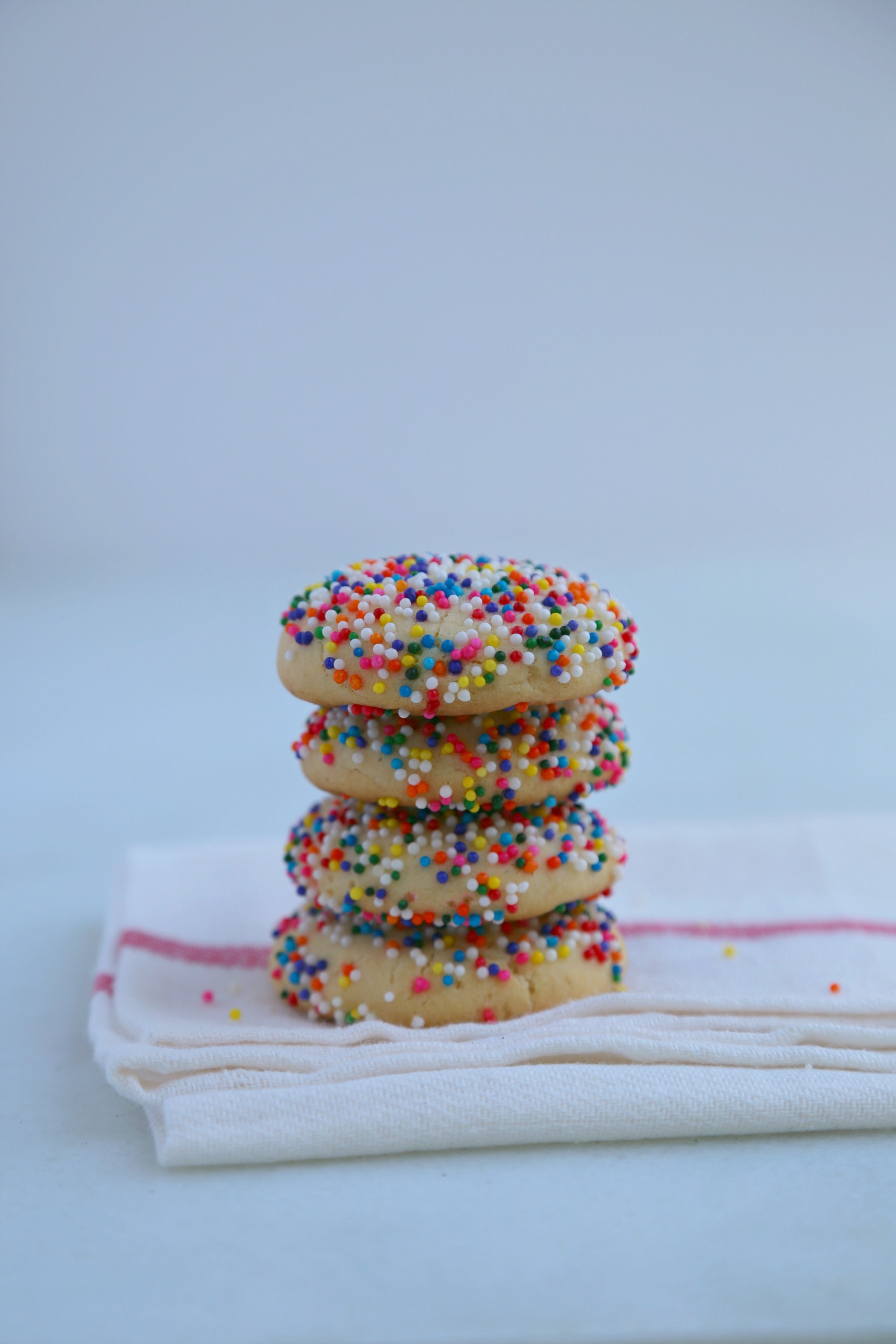 Confetti Cookies Inspired by Cascarones
Cascarones are a huge part of our Easter traditions here in South Texas. Much like American Easter eggs, cascarones are eggs that are dyed in vibrant colors and decorated in a variety of styles.
While American Easter eggs are boiled, cooled, decorated, and then eaten fully cooked, Cascarones are made using only the egg shells. It starts with a small hole at the top or bottom of the egg. The contents of the egg are emptied out and saved for later use. Then the egg shells are cleaned and ready for decorating!
The egg shells are often dipped in dye, much like American Easter eggs, but they may also be decorated with tissue paper, glitter and other embellishments. Sometimes the decorations are simple, and other times they are very elaborate, like the popular luchador cascarones.
Once dyed, the eggs are filled with colorful confetti and the holes are covered to keep the contents safely inside.
I remember making cascarones every Easter with my mami and chasing my cousins through the backyard to smash these brightly colored eggs on top of their heads. Each egg would explode with vibrant confetti and glitter, creating a huge mess for parents and a ton of fun for the kiddos!
If you love piñatas at birthday parties, you'll love cascarones at Easter!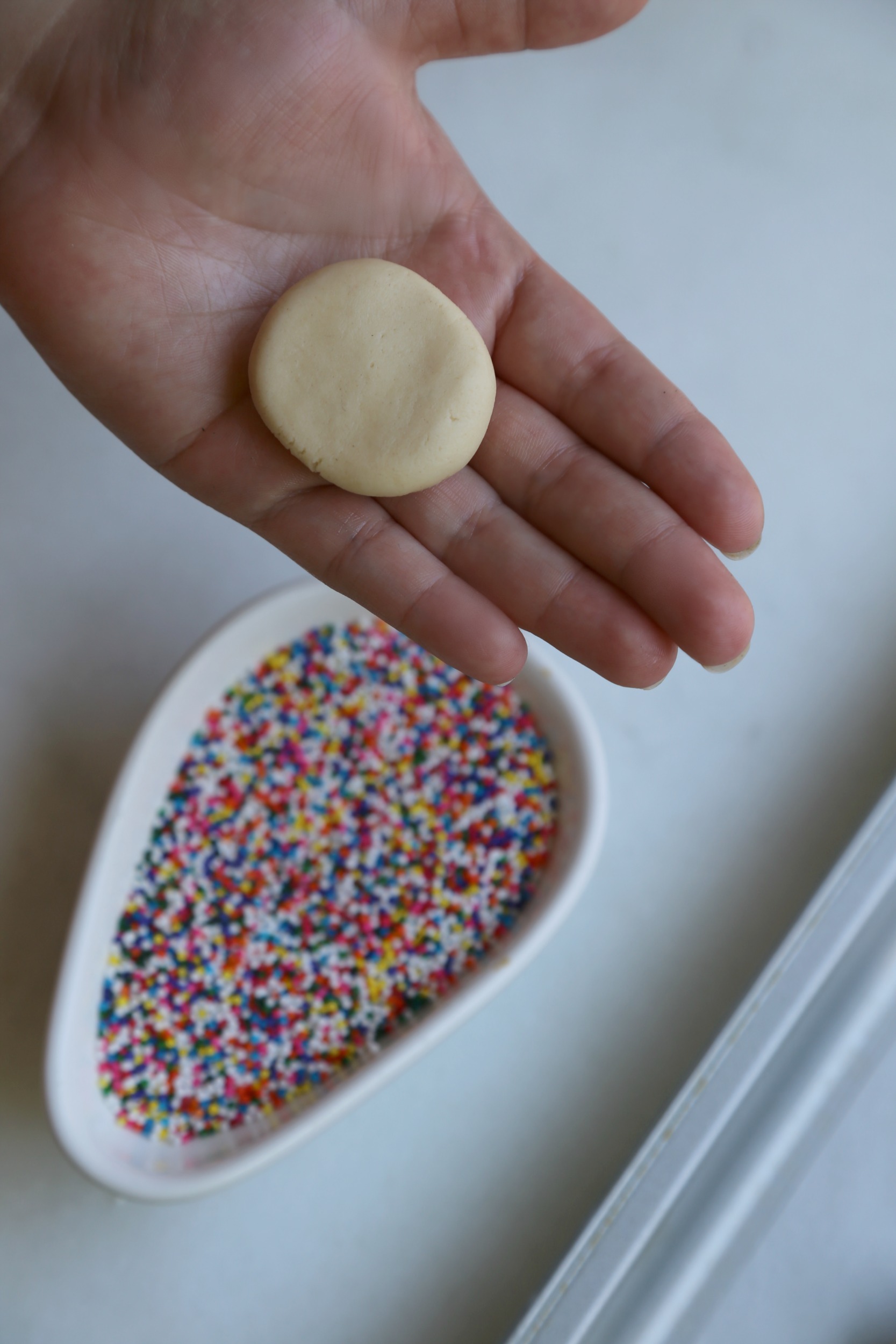 Confetti Cookies Made with La Lechera
Today, I'm going to show you how to make sweet and delicious Confetti Cookies with the rich and creamy flavor of La Lechera Sweetened Condensed Milk.
This super simple recipe requires less than five ingredients and they're a snap to make! Not to mention, fun and easy for the little ones to get involved in the kitchen. Whipping up a batch of Confetti Cookies is a great way to share the tradition of Mexican cascarones with your family.
These colorful cookies are crisp and buttery, and they melt in your mouth. The sweetened condensed milk adds an extra special touch of richness and smoothness that gives these cookies their distinct texture and flavor.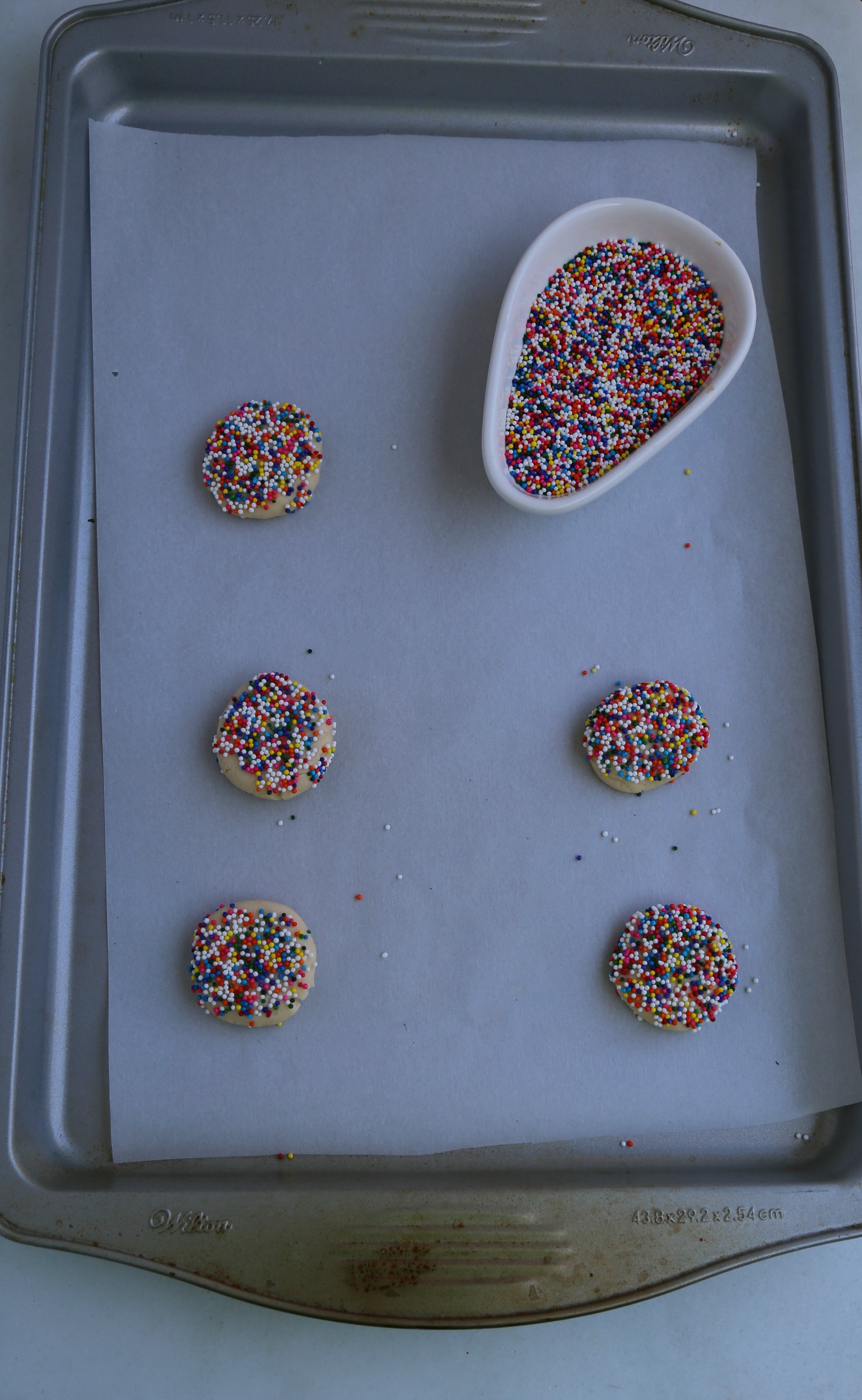 Baking Fun with the Familia & La Lechera
To get started, all you'll need is butter, flour, La Lechera Sweetened Condensed Milk and of course, sprinkles!
To start, you'll cream the butter together with the sweetened condensed milk until you have a fluffy consistency. Then add the flour and mix until the dough becomes firm.
This is a great kid-friendly recipe. With so few ingredients, there is very little room for error and tons of opportunities for fun and creativity!
Ask your little ones to help you roll the cookie dough into balls and press them down slightly with a fork. Once flattened, the kiddos can add sprinkles or another favorite topping to their cookies.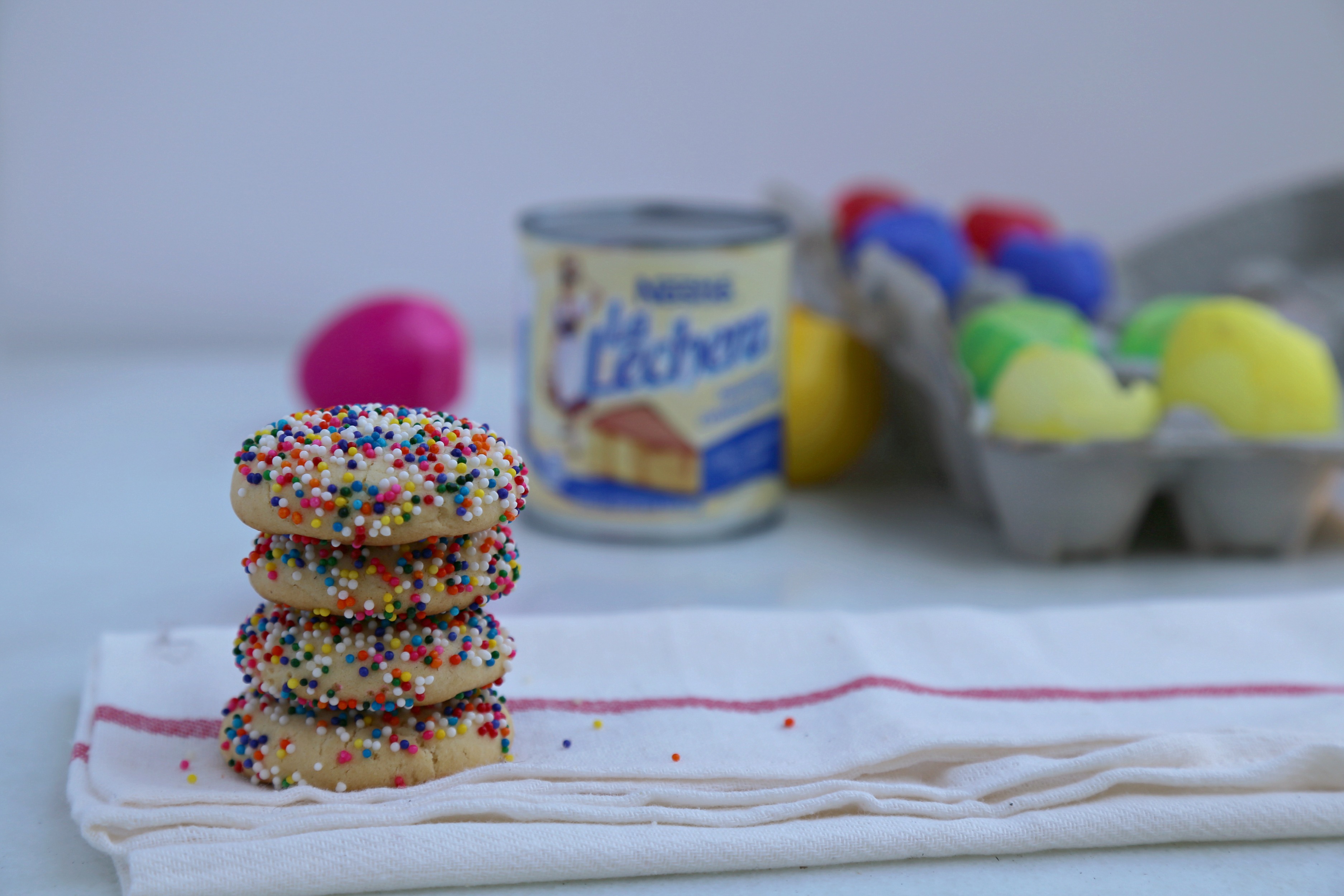 If they really want to get creative, you can even help them add extra ingredients like white chocolate chips or nuts to the mixing bowl before the rolling begins. Feel free to customize this recipe with any extra ingredients as you see fit.
Once your cookies are in the oven, you'll have the irresistible aroma of La Lechera Sweetened Condensed Milk Confetti Cookies in the air and you won't be able to wait until they're done to try them!
Keep these ingredients on hand, because this is a delicious Treat that is sure to become a family favorite!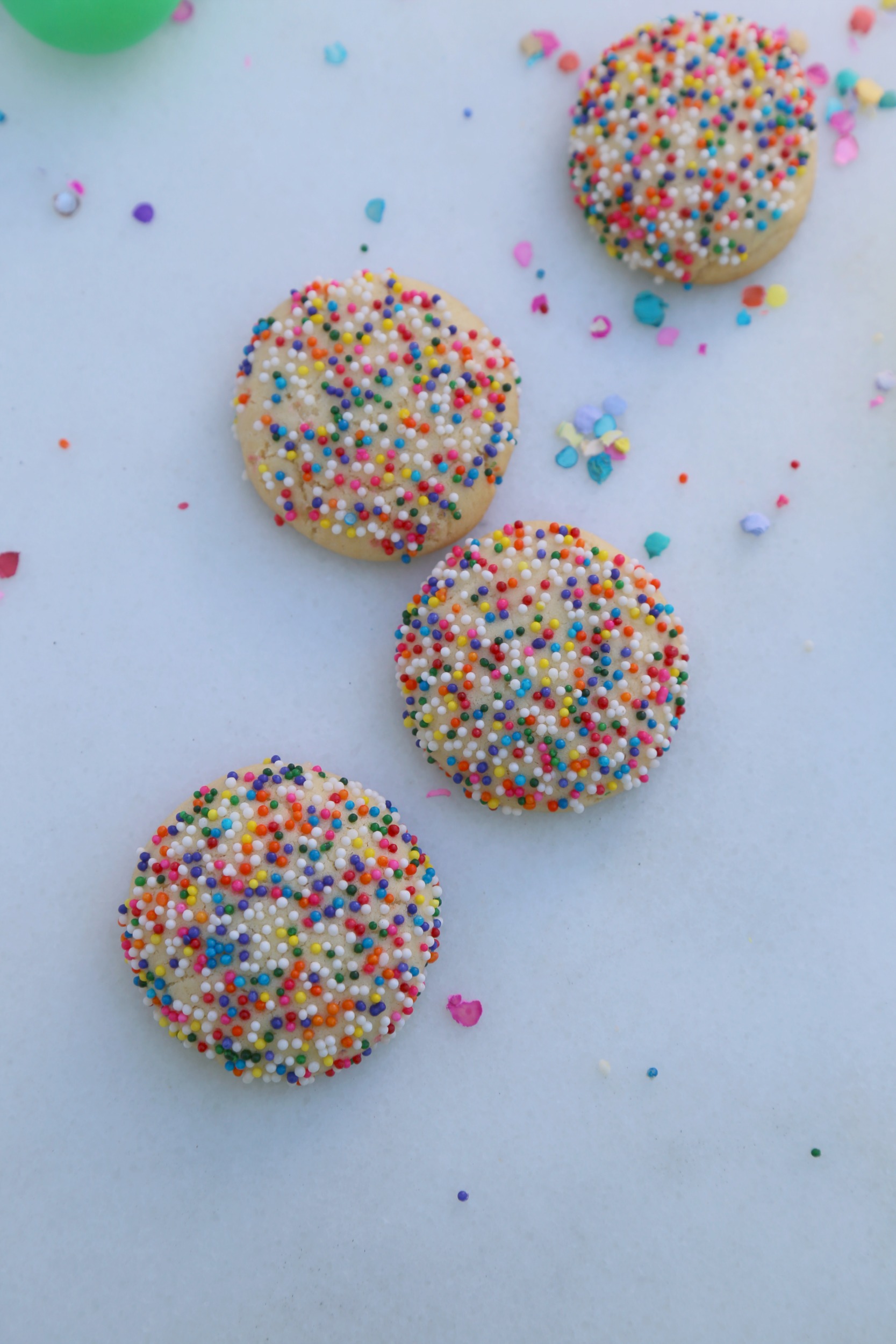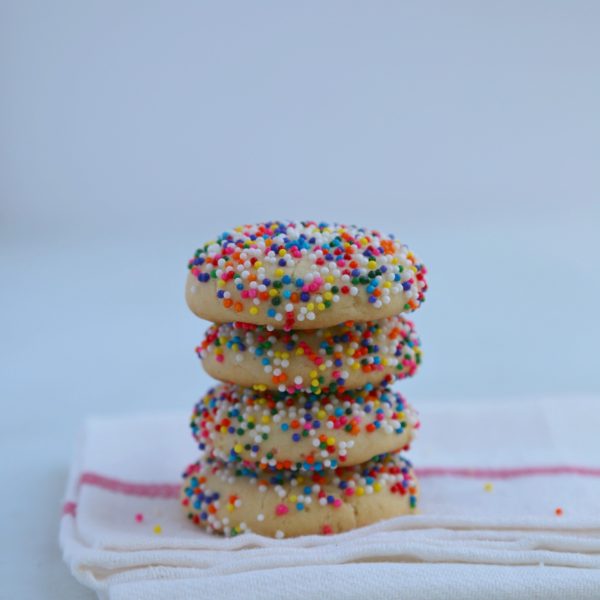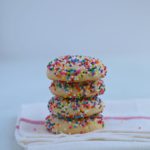 Confetti Cookies
Ingredients
1

cup

butter

softened

½

cup

La Lechera sweetened condensed milk

2

cups

all-purpose flour

3

tsp.

baking powder

½

tsp.

salt

1

cup

sprinkles
Instructions
Preheat oven to 350 degrees.

Line baking sheet with parchment paper.

Cream butter and condensed milk until light and fluffy, scraping down sides as needed.

Add flour, baking powder and salt and mix just until combined.

With damp hands roll dough into 1-inch balls, lightly form into disks and press into sprinkles, place on a baking sheet and bake for 8-10 minutes.