Delicious Grapefruit Thyme Mocktail
Did you ever think you would see the day where I posted a mocktail recipe?  Me neither, LOL.
All joking aside, I always like to have an option for my non-alcoholic buddies.  That way, everyone can enjoy a delicious drink!
Simply put, a mocktail is a non-alcoholic drink, consisting of a mixture of fruit juice with a splash of bubbles from sparkling soda.   
This delightful grapefruit thyme mocktail is a wonderful drink to serve for brunch, baby showers and perfect for a lazy Sunday with family and friends. My mami and little sis both loved it!
Fresh grapefruit juice is a sip of Spring in a glass.  This mocktail is mixed with a homemade simple syrup, infused with thyme and a few slices of grapefruit.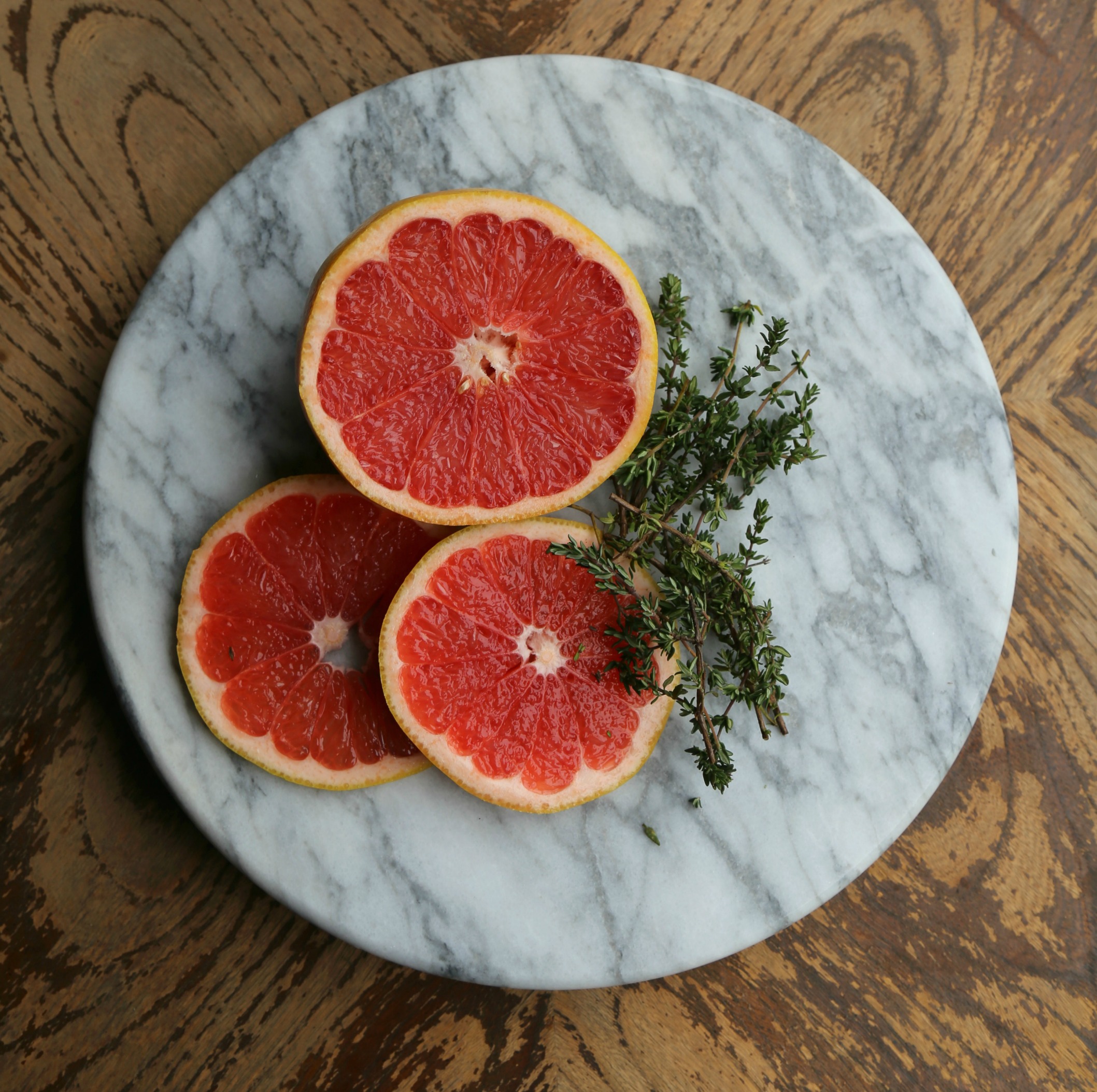 Refreshing Grapefruit Thyme Mocktail
To create this refreshing drink, you'll simply mix of sugar, water, thyme and grapefruit slices and simmer over low heat until all the sugar dissolves.
I like to use the back of my spoon to press the grapefruit slices and release their natural juices. but do this gently as you want to release only the juice.
Mashing the grapefruit slices can break the skin and release the fruits bitterness. This is why I always suggest a gentle muddle when making any cocktail. Your goal is to extract the essential oils from the fruit or herbs, not their accompanying bitterness.  
Once cool, you can store the syrup in the fridge for up to two weeks.  I highly suggest making a double batch of this thyme infused simple syrup so you can use it in other drinks and dressing.  It pairs well with so many different flavors!  You can add the thyme syrup to your tea, vinaigrettes or top it with champagne (my favorite).
I used ruby red grapefruits for this mocktail recipe, but feel free to use fresh orange juice, limes or fresh pineapple juice.  Any of these would be a great choice and add wonderful flavors to your drink.
Try this drink at your next family party and let your guests pick a fun fruit garnish for their drinks!  Delish!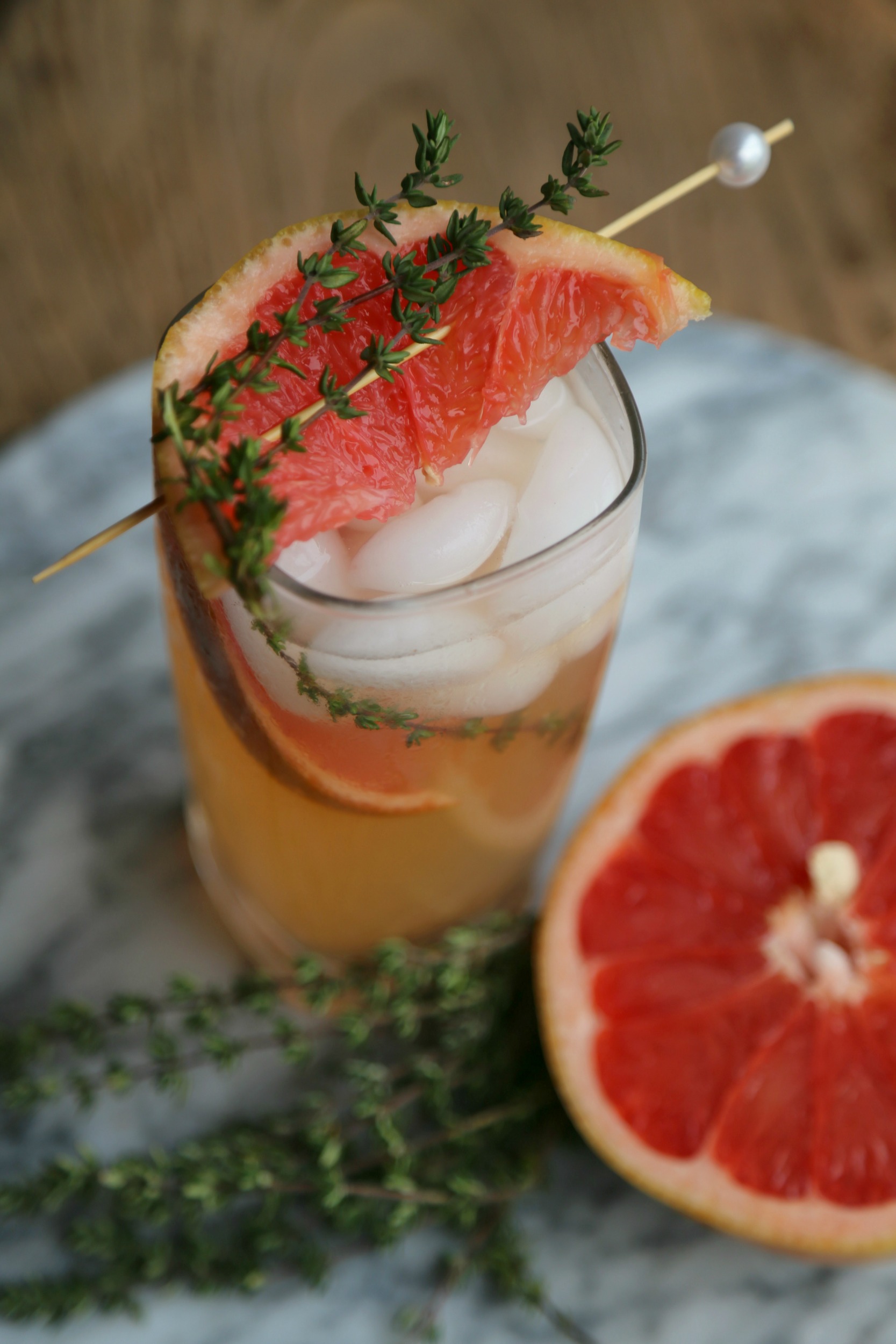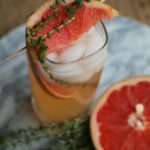 Grapefruit Thyme Mocktail
Ingredients
For Grapefruit thyme simple syrup:

1

cup

water

1

cup

sugar

4

thyme sprigs

3

grapefruit slices

For Grapefruit Thyme Mocktail:

1

cup

fresh grapefruit juice

4

ounces

grapefruit thyme syrup

Sparkling water

For garnish Thyme and grapefruit slices
Instructions
To Make Grapefruit thyme simple syrup:

Combine water, sugar, thyme and grapefruit slices in a saucepan and bring to a simmer.

Gently simmer until all sugar dissolves, cool completely and strain using back of spoon to release juice from grapefruit slices.

To Make Grapefruit Thyme Mocktail:

Fill 4 cocktail glasses with ice. To each glass add ¼ cup grapefruit juice and 1 ounce grapefruit thyme syrup.

Stir to combine and top each glass with sparkling water.

Garnish with thyme and grapefruit slice.