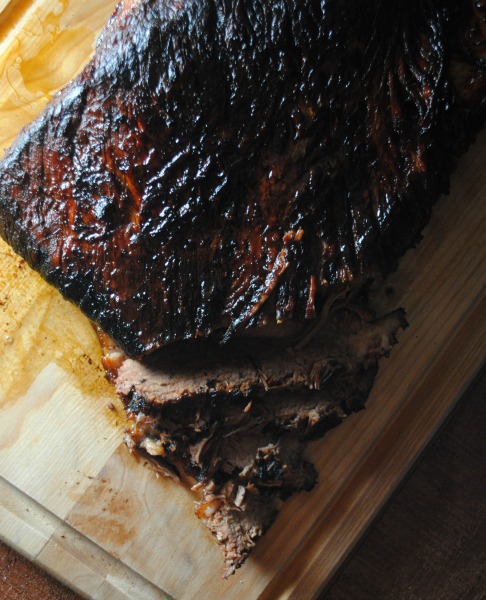 Beer Braised Brisket – Brisket Estofada en Cerveza
Football in Texas – screams, requires, must have, and goes hand in hand WITH Brisket.  You just have to serve brisket, even though our team was a bust this year – a major bust.  I mean hey we got the number one draft pick, that says it all.  But it would be unsportsmanlike to not watch the Super Bowl, so we are and we're serving Brisket.
Beer Braised Brisket – fork tender, brisket braised in beer.   This brisket requires no babysitting, a few steps, place it in the oven and move about your day.  The family will love it, football fans will adore it!
Ingredients
5-8 lb. beef brisket, trimmed
4 tbsp vegetable oil
1 large onion, sliced
4 garlic cloves, minced
1 - 24 oz Beer of choice – I used Modelo Especial
2 cups beef broth
Salt
Pepper
Instructions
Pre-heat oven to 325 degrees F. Place a large roasting pan over two burners, add vegetable oil and heat over medium heat. Season brisket liberally with salt and pepper.
Sear brisket until brown on all sides, about 10 minutes. Remove brisket to a baking sheet. Add the onions and garlic to pan and cook over medium heat until the onions are golden, about 10 minutes. Return brisket to pan and add the beer and beef broth to pan. Cover with foil, place in oven and bake 4- 6 hours, until brisket is tender. Optional - Remove foil and bake an additional 30 minutes to reach a deep brown color.
Remove brisket from pan and place on cutting board, allow brisket to rest for 10 minutes; slice against the grain and serve.
http://sweetlifebake.com/2014/01/27/beer-braised-brisket-brisket-estofada-en-cerveza/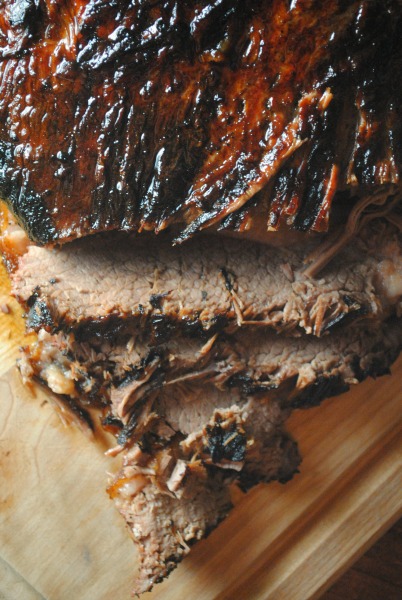 Fútbol en Texas – grita, exige, debe tener, y va de la mano con Brisket.  Lo tienes que server, a pesar de que nuestro el equipo fue un fracaso este año – un disater.  Y hasta conseguimos el número uno del draft, eso lo dice todo. Pero sería antideportiva al no ver el Super Bowl, so lo vamos a ver y vamos a sirvir brisket.
Brisket Estofada en Cerveza – Este brisket no requiere niñera, unos pocos pasos, colóquelo en el horno y se siga con su día. Su familia le encantará, los aficionados de fútbol lo adorarán!
Brisket Estofada en Cerveza
Ingredients
5-8 lb Brikset (pecho de res), recortado
4 cucharadas aceite de vegetal
1 cebolla grande, en rodajas
4 dientes de ajo, picados
1-24 oz cerveza de elección – Yo utilicé - Modelo Especial
2 tazas caldo de carne
sal
pimienta
Instructions
Precalentar el horno a 325 grados F. Coloque una asadera grande sobre dos quemadores, agregue el aceite vegetal y calentar a fuego medio. Sazonar el Brisket generosamente con sal y pimienta.
Dorar el Brisket hasta que se dore por todos los lados, unos 10 minutos. Retire el brisket hay una bandeja para hornear. Añadir la cebolla y el ajo a la sartén y cocine a fuego medio hasta que la cebolla esté dorada, unos 10 minutos. Regresa el brisket a el asadera grande y añadir la cerveza y el caldo de carne a el asadero. Cubra con papel aluminio, coloque en el horno y hornear 4-6 horas, hasta que el brisket es tierna. Opcional - Retire el papel aluminio y hornear additonal 30 minutos para llegar a un color marrón oscuro.
Retire el brisket de el asadero y coloque en la tabla de cortar, permite que reposo 10 minutos; rebanada contra la corriente y servir.
http://sweetlifebake.com/2014/01/27/beer-braised-brisket-brisket-estofada-en-cerveza/