The baking season is here, and I couldn't be more excited! I along with three talented ladies recently partnered with World Market to share 12 delicious cookie recipes.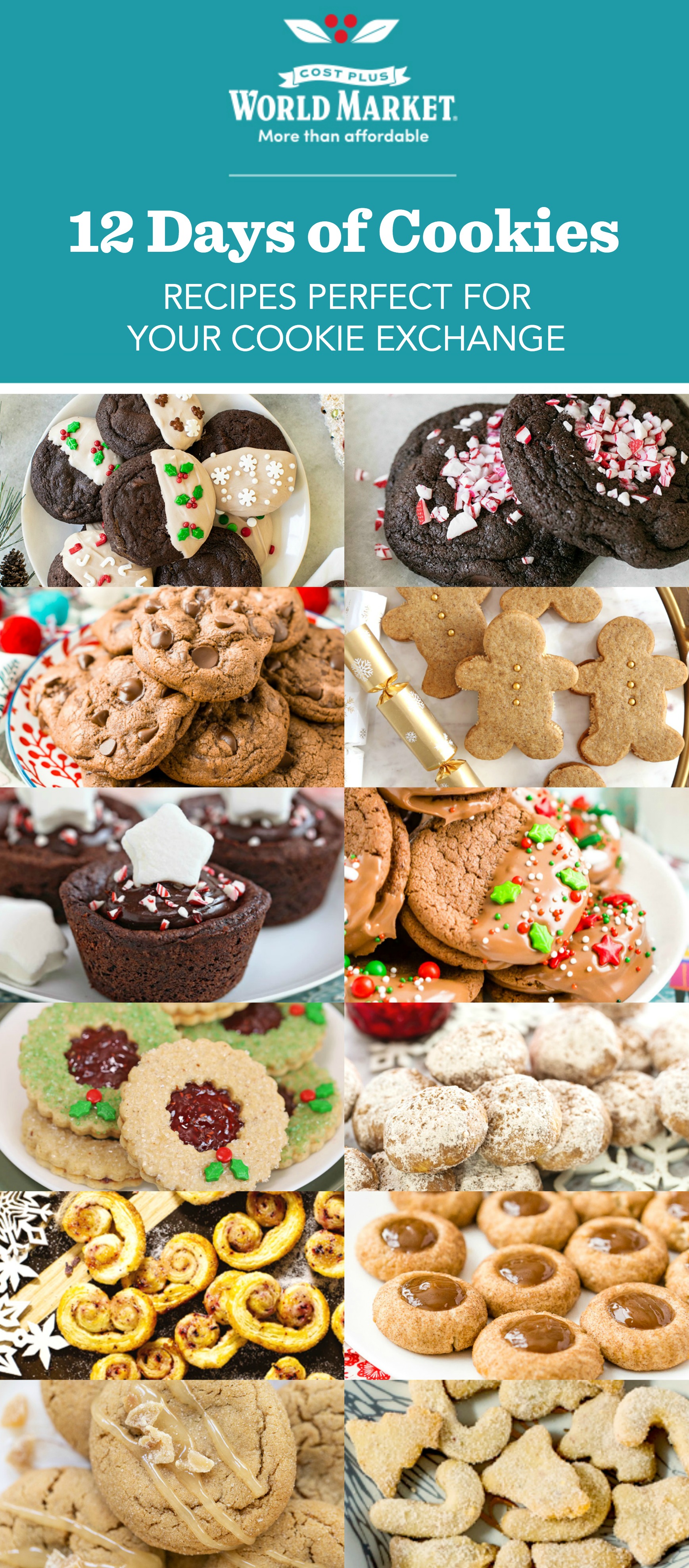 Today I want to share a roundup of ALL the yumminess that we created. Whether you're looking for the very best cookies for a Christmas cookie exchange, baking to share with friends and neighbors, or just baking for your family – we've got you covered. These recipes are not only delicious but also feature beautiful World Market products.
In this roundup of holiday cookie recipes, you'll find things like Gingerbread men sandwich cookies, chewy ginger cookies, caramel apple thumbprints cookies, hibiscus orejas and so much more!  There's bound to be a new favorite in this round-up that you'll want to bake for the Holiday season, along with a few baking tips, step-by-step photos and a few ideas on how to decorate for the Holidays with World Market.
Let's kick-off our roundup with the talented Elizabeth LaBau, from Sugar Hero.
GINGERBREAD MEN SANDWICH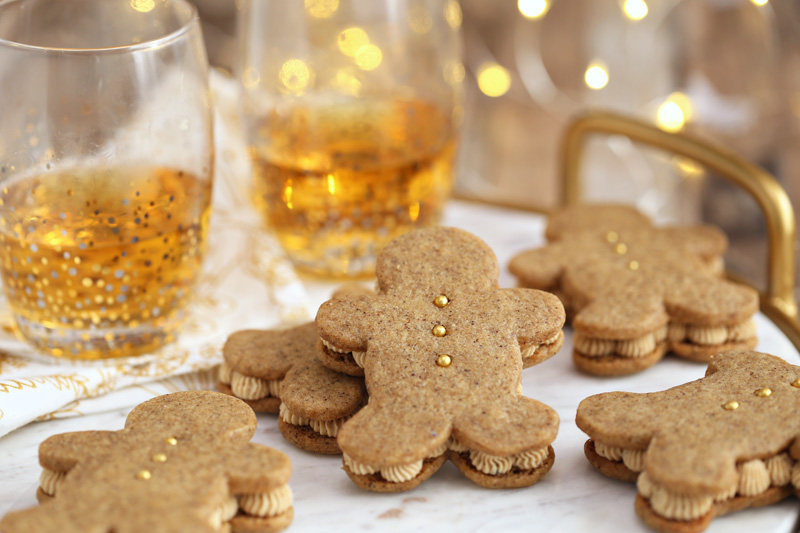 These Gingerbread men sandwich cookies have a soft texture with slightly crispy edges, and are flavored with a delicious blend of spices, including ginger, molasses, cinnamon, nutmeg, and more. They're sandwiched around a sweet-and-salty cream filling that's good enough to eat with a spoon. As a final touch, gleaming gold sprinkles are used as buttons, to give them a little bit of holiday sparkle.
HOT COCOA BROWNIE CUPS
Rich, chewy brownies are formed into cup shapes that hold a soft, supple ganache flavored with hot cocoa mix. Topped with a sprinkle of candy cane pieces, for some seasonal flair, and the cutest marshmallow stars.
LINZER COOKIES
A fluted cookie cutter, a bit of sparkling sugar, and some decorative leaf and berry sprinkles are all it took to transform these cookies into cute Christmas treats. The cookies have a double dose of almond flavor, from both ground toasted almonds and marzipan mixed into the dough. These cookies are made with a cookie dough mix, most of the other work is already done for you, so they still come together quite easily.
Next, we have Eden Passante from Sugar & Charm.
CHEWY GINGER COOKIES
These ginger cookies are soft, chewy and the best part is they're full of that holiday ginger flavor! It's a triple ginger cookie recipe using ground ginger, ginger syrup and ginger chips.
CHOCOLATE CARAMEL NUTELLA STUFFED COOKIES
Yes, you read the title right! These Nutella stuffed cookies take holiday cookies to the next level! A chocolate cookie filled with Nutella and caramel, then dipped in caramel chips and decorated with holiday sprinkles! An over-the-top holiday cookie that all caramel and chocolate lovers would go crazy over, and these cookies do not disappoint.
CHOCOLATE PEPPERMINT COOKIES
A holiday favorite – chocolate and peppermint. This holiday cookie recipe uses quality ingredients and two types of peppermint to make them extra flavorful. Guittard unsweetened cocoa powder to give the cookies a rich and decadent chocolate flavor. Pair the powder with Guittard semi-sweet chocolate chips, and these cookies won't be lacking in the chocolate department!
Rebecca Hubbell is our next baking star from Sugar & Soul.
DOUBLE CHOCOLATE SANDWICH COOKIES
Chocoholics will go nuts over these decadent confections, which consist of two small chocolate cookies with a layer of Cadbury chocolate spread in between. The sandwiches are then dipped halfway in melted chocolate chips and decorated with holiday sprinkles for the finishing touch!
CARAMEL APPLE THUMBPRINT COOKIES
Apples don't need to take a back seat just because Thanksgiving is behind us, and these cookies make for a cozy treat around the fireplace at Christmas and beyond. These treats are laced with warm spices, coated in cinnamon and sugar, then filled with a dollop of apple butter. The finishing touch is a generous a drizzle of gooey caramel.
ESPRESSO CHIP COOKIES
These espresso chip cookies will certainly make a statement. They're the perfect cookie for the coffee lover in your life (plus, everyone could use a little extra caffeine around the holidays). Made with cocoa powder, espresso grounds, and loads of chocolate chips. Bring them to parties, cookie swaps, or add them to your own dessert table, and you'll have everyone happily buzzing'!
Guys, don't all these cookies look amazing?!? I'm set for my holiday baking.
Now I want to share with you my cookie recipes along with a few of my favorite items from World Market.
First up I made Hibiscus Orejas.
Orejas are a traditional treat found in Mexican bakeries. Made with puff pastry, orejas (ears) shaped cookies are crispy, sweet and are a family favorite during the holidays. I grinded the hibiscus in a beautiful molcajete from World Market. I rolled out my dough over a stunning acacia wood paddle cutting board (which has quickly become my new favorite entertaining piece).
MEXICAN WEDDING COOKIES
A South Texas favorite, the delicate, crumbly, beloved Mexican wedding cookie is perfect for the holidays. I'm adding a little spice to my cookies by using World Market Chipotle Lime Cashews. The dash of spice, plus the hint of lime work beautifully to elevate this traditional cookie – plus it pairs perfectly with wine. Traditionally these cookies are rolled in powdered sugar, but today we are mixing it up by adding a splash of chocolate to our powdered sugar. Presented on gold marble pedestal stands next to adorable wood wine boxes from World Market.
HOJARASCAS
Pronounced  oh-ha-rascas (the H is silent) these treats are crumbly shortbread cookies made with ground nuts, spices and cut into fun holiday shapes. I wanted to add a hint of the holidays to my hojarascas, so I picked up a bag of  World Market Whole Mulling Spice, which includes cinnamon, orange peel, star anise, allspice, cardamom and cloves. I used the mini holiday cookie cutters from World Market, and The warm spice blend added a wonderfully cozy flavor to the hojarascas cookies. I plan to gift these mini cookies with a holiday mug for my guest to enjoy thought the holiday season.
I hope this roundup inspires your holiday baking. I had the best time shopping online and at my local San Antonio store for this sweet evening. Head to your local World Market to find all your baking essentials ,  Christmas decor for the holiday and gift yourself a few new kitchen goodies.