When the temperatures drop us, Texans rejoice. Can you blame us?! Our summers are brutal so any drop in the temperatures make us super happy!
Outdoor meals with friends, caldito on the weekdays and chili on the weekends. Fall is a wonderful time of the year here in Texas.
I'm excited to team up with Red Gold Tomatoes® to share with you a smoky chili that is a true fall favorite at mi casita. Sundays for our family are all about family time and cooking. It's the day of the week where we can unwind and cook together as a family. But this doesn't mean we want to spend all day in the kitchen – hello Sunday football.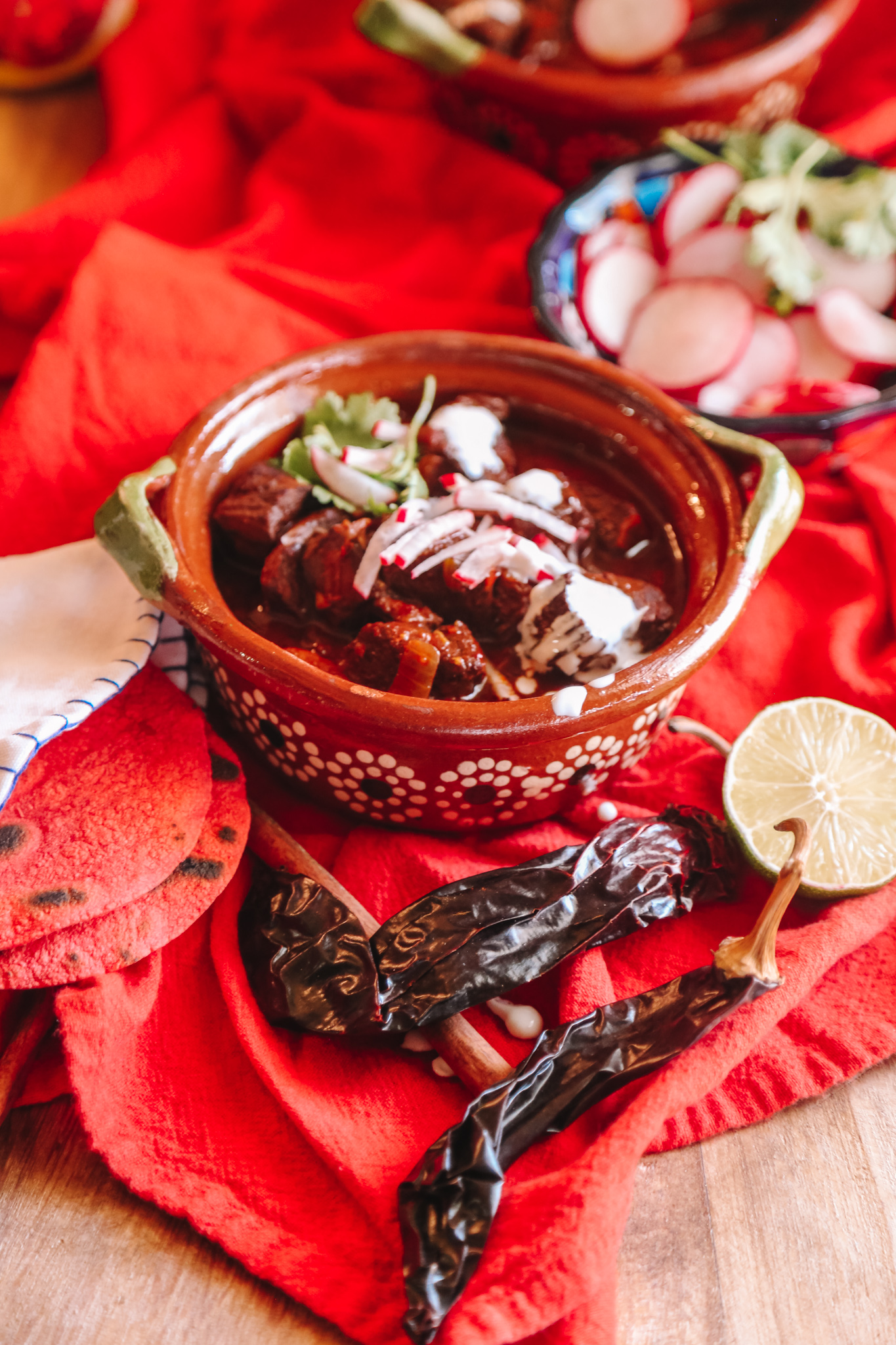 This is where my ancho-guajillo chili short rib chili comes into play. My girls love it, my hubby requests it throughout the football season, and I love it because it's a snap to make.
The smokiness comes from two of my favorite chiles to cook with – dried guajillo and ancho chiles.
Guajillo chiles is the dried form of mirasol chile and are the second-most commonly used dried chile in Mexican cuisine after poblanos. Guajillo chiles are used to make salsas, marinades, pastes and in stews.
Ancho Chiles are dried poblanos, they are dark, wrinkly and shiny. Ancho chiles are used to make moles, sauces, stews and grounded to be used in marinades.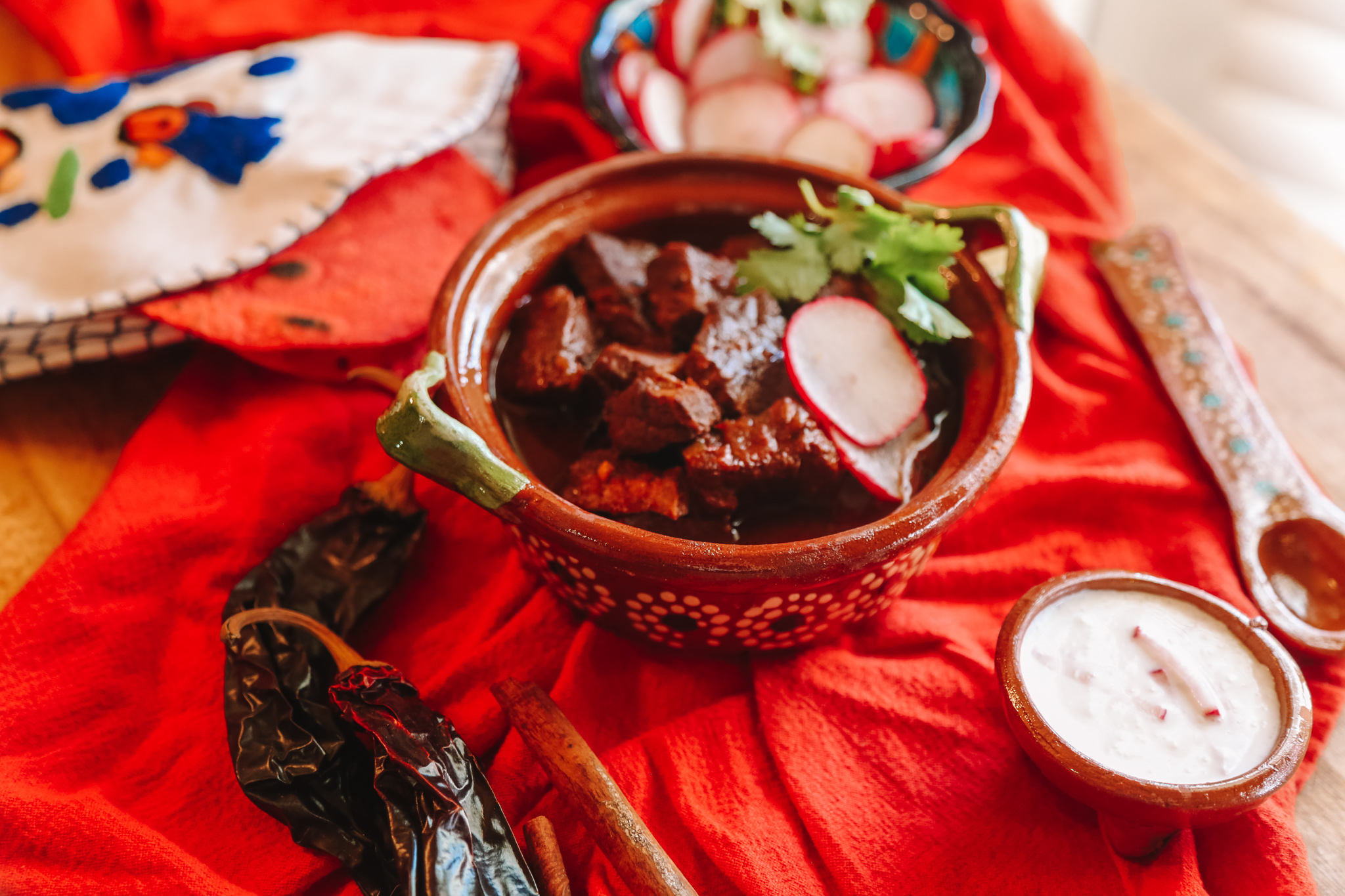 Both chiles can be found in the Latin aisle of your grocery store or near the produce section next to the dried fruit and nuts.
Dried chiles add a rich and hearty flavor to chili, but no need to worry about heat. We will remove the seeds when we rehydrate to create our paste, which is the base for our chili.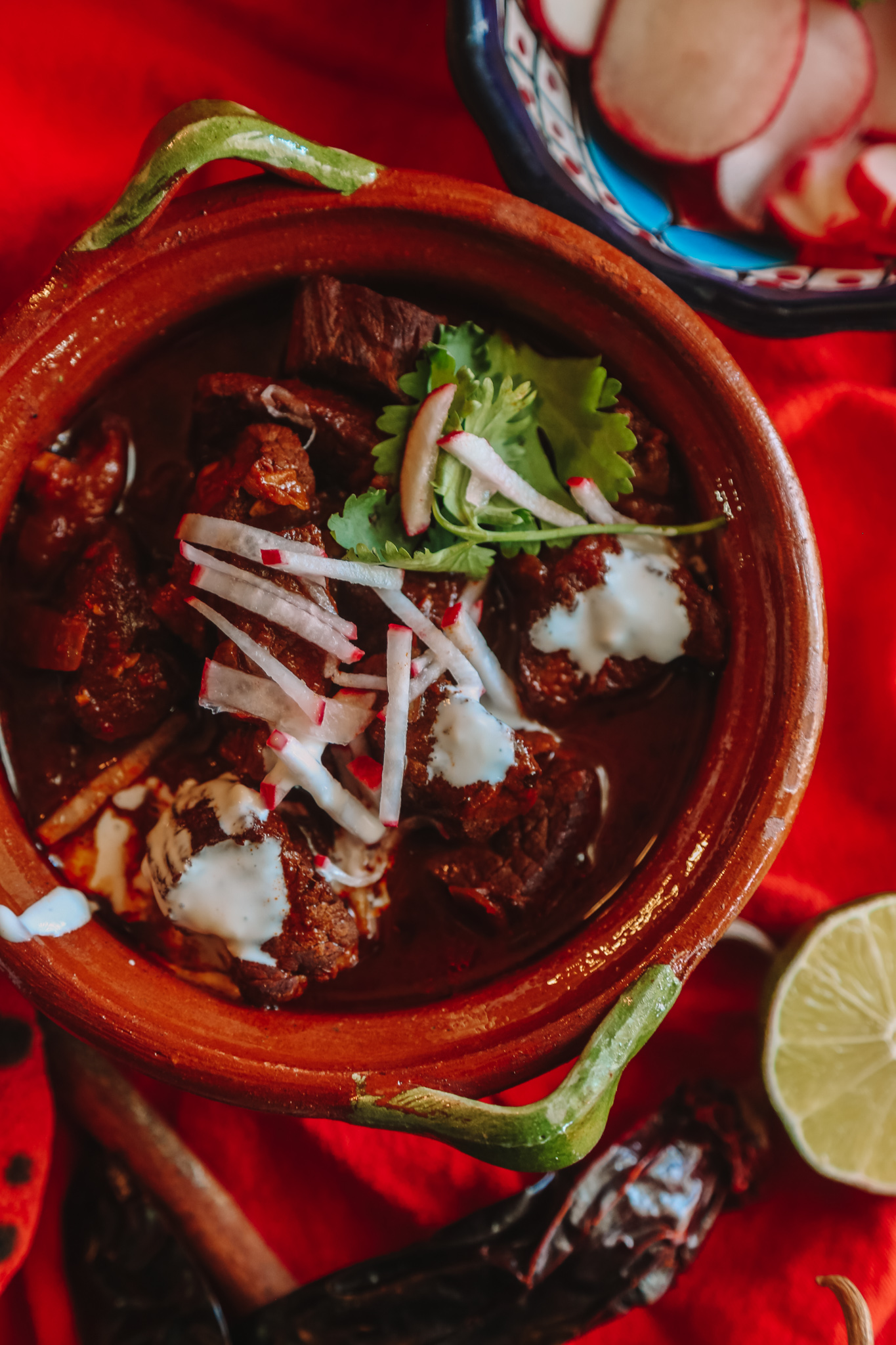 I want my chili to develop that all-day simmer flavor, so I'm adding Red Gold® Chili Ready Diced Tomatoes. Red Gold® Chili Ready Diced Tomatoes are made from Red Gold's fresh family-grown tomatoes and come perfectly seasoned with classic chili seasonings like chili powder, cumin, onion, and garlic powder.
Red Gold® Tomatoes aren't just family owned, they are family grown and sustainably grown on Midwest family farms. Their mission is to provide the best quality products so you can feel confident you're feeding your family ingredients you can trust.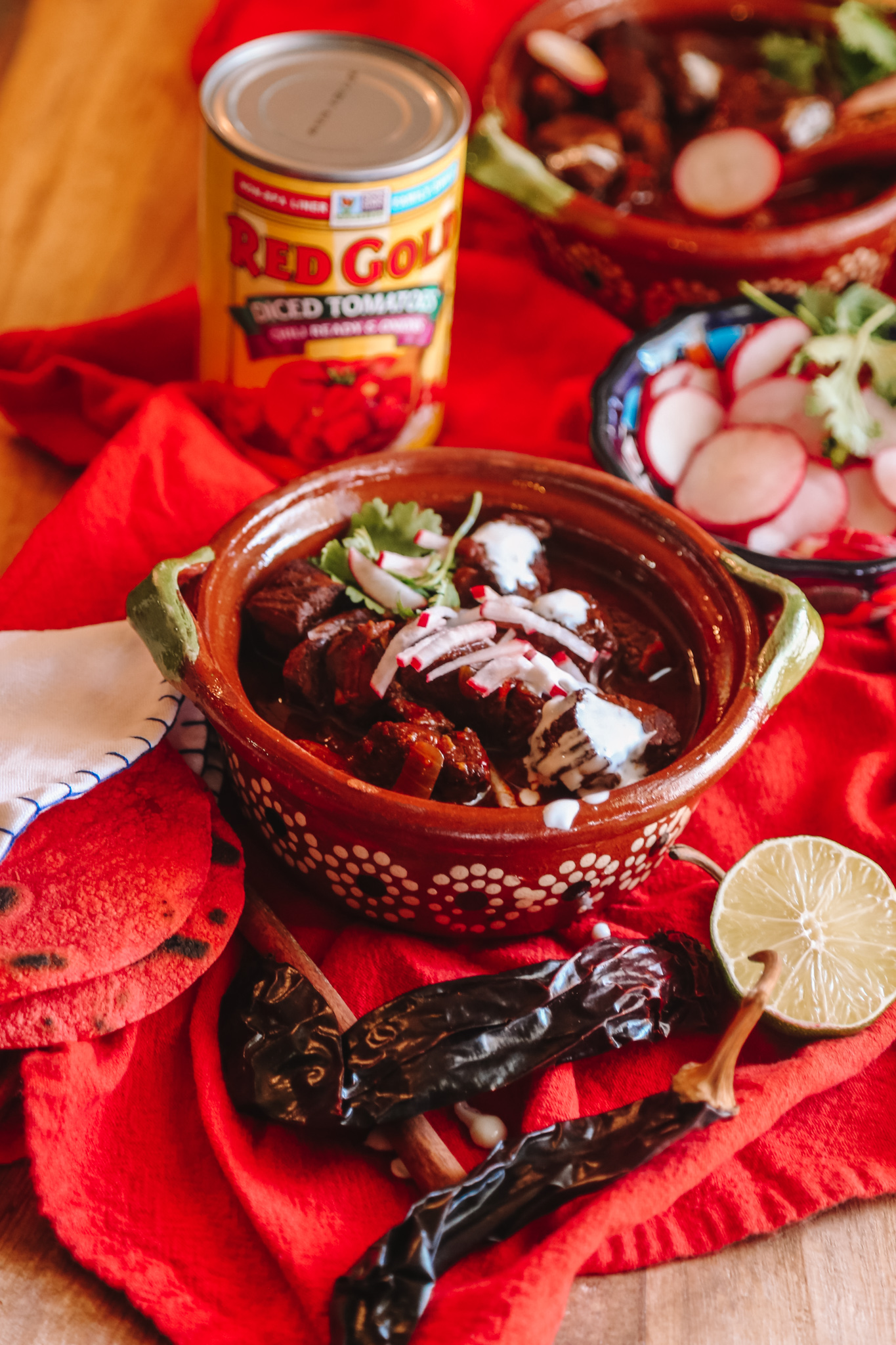 Red Gold® Tomatoes focus on producing the highest quality, freshest, best tasting tomato products so you can focus on what's really important –time with your family. Their tomatoes are picked when they are absolutely vine ripe red, eliminating the need to add artificial flavors, colors or preservatives.
To thicken our chili, I use masa harina, dried corn flour – as it thickens it also gives the chili a touch of richness from the ground corn.
The chile paste can be made up to a week in advance. Store in fridge covered, until ready to use.
I serve my chili topped with pickled radishes, for heat. Crema for creaminess and plenty of fresh cilantro for a pop of freshness. Served warmed with a few corn tortillas this chili is the ultimate fall dish.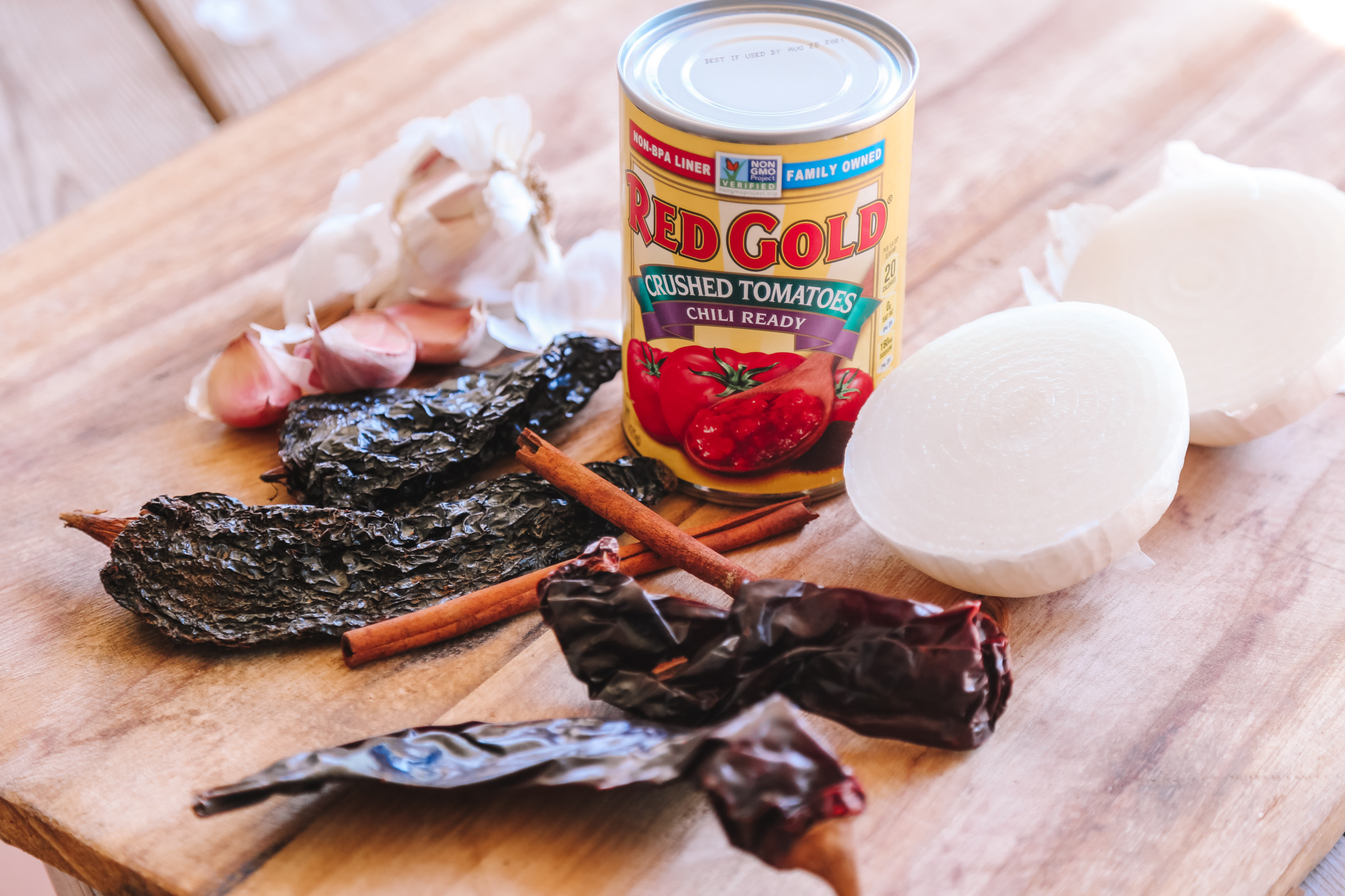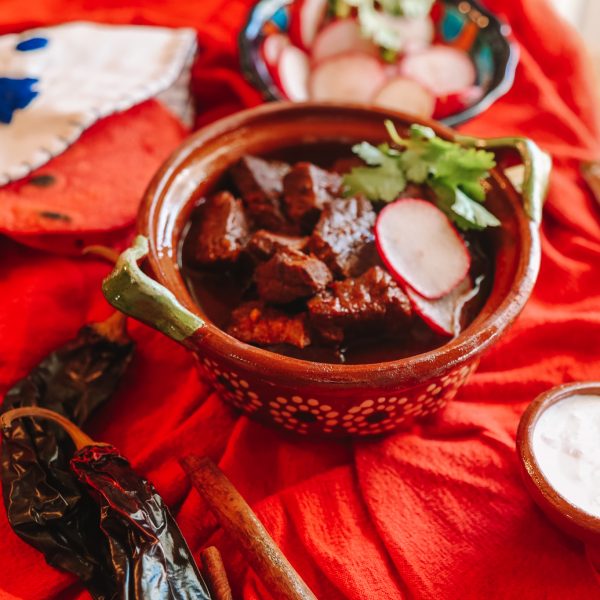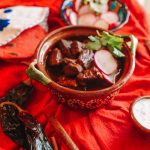 Ancho-Guajillo Short Rib Chili
Ingredients
Ingredients:

For the chile paste:

2

dried guajillo chilies

stems and seeds removed

2

dried ancho chilies

stems and seeds removed

2

cups

boiling water

For chili:

3

pounds

boneless short ribs

cut into 1-inch pieces

1

tablespoon

salt

1

tablespoon

pepper

2

tablespoons

extra-virgin olive oil

1

medium onion

diced

3

cloves

garlic

minced

1

tablespoon

paprika

½

teaspoon

oregano

¼

teaspoon

cinnamon

2

14.5 ounce cans Red Gold ® Chili Ready Diced Tomatoes

4

cups

beef stock

¼

cup

masa harina

For serving:

Pickled radishes

crema, cilantro
Instructions
INSTRUCTIONS FOR A DUTCH OVEN:

For the chile paste:

Heat a comal or large skillet over medium-low heat, place chiles on comal and toast, about 2 minutes on each side until chiles are soft and fragrant. Remove chiles from Comal and place in bowl, cover with boiling water and allow to sit until softened, about 20 minutes. After 20 minutes add chiles and water to a blender, blend until smooth, scraping down sides as needed.

For chili:

Season short ribs with salt and pepper. Heat a large Dutch oven over medium-high heat, add oil. In batches sear short ribs until browned on each side, about 4 minutes per side. Place on baking sheet and continue to sear short ribs in batches until all meat is browned. Once all meat is browned, add onion and sauté until light and translucent, about 4 minutes. Add garlic, cook an additional 1 minute, the stir in paprika, oregano and cinnamon. Add Red Gold® Chili Ready Tomatoes, ancho-guajillo paste, stir to combine and return short ribs to Dutch oven. Add beef broth, stir and bring to a boil.

Once mixture comes to a boil, reduce heat, cover Dutch oven and cook for 2 hours, or until short ribs are fork tender. Once short ribs are fork tender, ladle 1 cup of chili liquid into bowl, and whisk in masa harina until smooth. Once the masa harina mixture is smooth, return to Dutch oven, stir to combine. Continue to simmer until sauce thicken. Ladle chili into bowls, serve garnished with pickled radishes, cream, cilantro and warm tortillas.