Atole de Avena
Growing up when the days became shorter and the mornings were chilly my mother would make us Avena before we headed out for school.   Milky oatmeal laced with cinnamon and piloncillo served in a coffee mug was the perfect method to soothe us before a long day in class.   I always felt a bit more grown up sipping my avena from a coffee cup alongside my dad while he had his morning coffee.  The thick, steamy avena would hit your pancita and be just the thing needed to hold you over until lunch time.  Sometimes we would add slices of banana or a spoonful of Cal-C-Tose (Mexican breakfast drink mix).  My mom always made sure to make plenty to stash away in the fridge for our afternoon snack.  We would sit at the dinner table and eat it by the spoonful straight from the pot (mami hated this) before we headed off to do homework.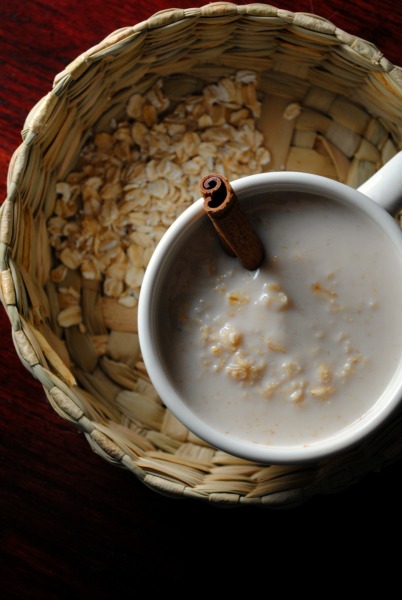 Ingredients
2 cups water

1 Mexican cinnamon stick

1½ cups oats

Pinch of salt
3 cups whole milk
Piloncillo or sugar to taste
Add water and cinnamon stick in a medium-sized saucepan and bring to a boil.
Lower heat and simmer for about 4 minutes.
Add oats, stirring frequently. When oats have absorbed most of the water, add in the milk and stir to combine well.
Simmer until atole reaches desired consistency. Atole is usually on the thinner side for sipping. Add more milk if needed.
Add piloncillo to taste. Remove cinnamon stick and serve.
In honor of National Oatmeal Day on October 29th, vote for my recipe and I have a chance to be featured in the Quaker® Oats newsletter.
When you vote you will be entered to win a $1,000 gift card! Yay Oats! Official Sweepstakes Rules
This is a sponsored conversation written by me on behalf of Quaker®. The opinions and text are all mine.