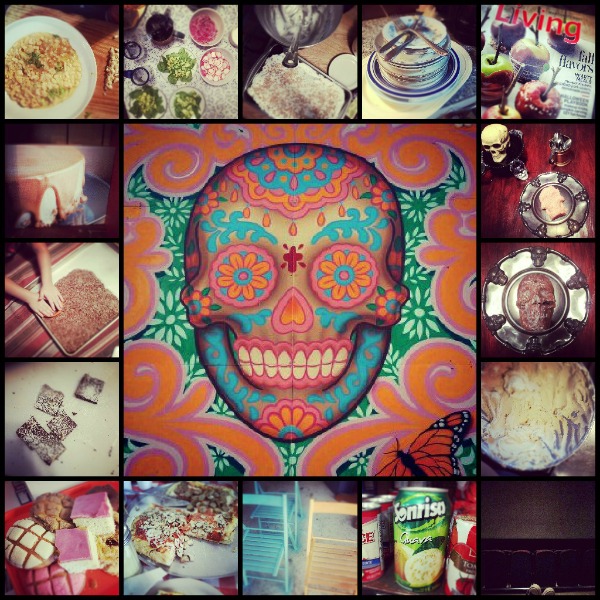 Happy Halloween!! I hope you have a wonderfully sweet day!!  Here's a little glimpse of what I have been up to this week, enjoy!
Pumpkin Pasta for dinner, loved it!!
We try to have a family dinner/ movie night every Tuesday.  My girls love them!!
Surprise Birthday dinner for my little sister, she loved her pumpkin chocolate cake.
Ahh dishes, there is always dishes to wash. They can wait I'd rather enjoy my family.
October isn't October without Martha.
I just had to make this Fany Gerson rice pudding cheesecake again, it's really that good.
My nieces and daughters spent the day creating rice krispy sugar skulls. We had a blast and sticky fingers are the best! Find the recipe over at Spaglishbaby.
My daughter has finally perfected her chocolate brownie recipe. One day I hope she will give me the recipe, LOL!
Our Sunday morning activities are in full swing with Choir, CCD and mass, so on the way home I pick up freshly baked pan dulce.  A Sunday morning must.
My sister recommended a new local pizza joint. We loved it!
My hubby gave my old chairs a sprucing up, think shiny turquoise.  They make me swoon.
Guava soda.
A sisterly tradition.. late night movies….with loads of buttery popcorn.
TAMALES~~
A chocolate skull cake…. Psst… I'm giving one away soon…
A rice krispy skull for our Walking Dead party.  My entire family is addicted to Zombies~ they all came over for a Walking Dead dinner themed party and to watch the first episode together, zombies rock!
Have a wonderful week!
Sweet Life Disclosure ~ I am participating in the Verizon Wireless Ambassador program and have been   provided  with a wireless device and three months of service in  exchange  for my honest  opinions about the product.
Read more at https://sweetlifebake.com/2012/10/09/my-week-in-pictures-2/#ixzz2At8WKzLF