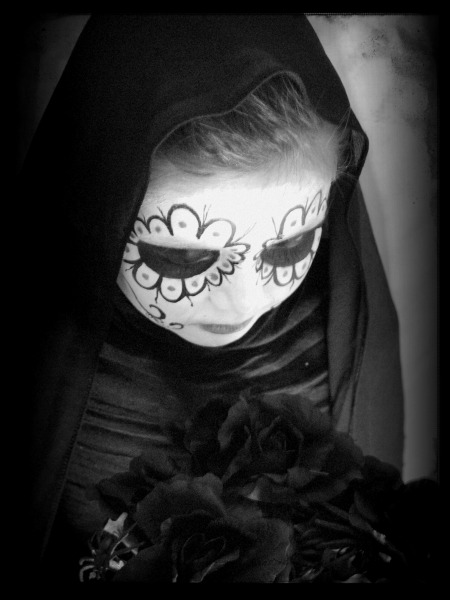 Dia de Los Muertos
On Dia de Los Muertos it is believed that the spirits of our dead come back from the afterlife to visit family and friends.  It is thought that a slight breeze, a beautiful butterfly or even a hummingbird can carry their spirit.
Families and friends gather to celebrate the return of their loved ones with delicious food, family visits to the grave sites and festive attire. A welcome home fiesta for the spirit of their loved ones, who when arrive can enjoy the altar, hear festive music and enjoy visiting all their family who has come to celebrate.
The Mexican is familiar with death, jokes about it, caresses it, sleeps with it, and celebrates it. It is one of his favorite playthings and his most steadfast love."
-Octavio Paz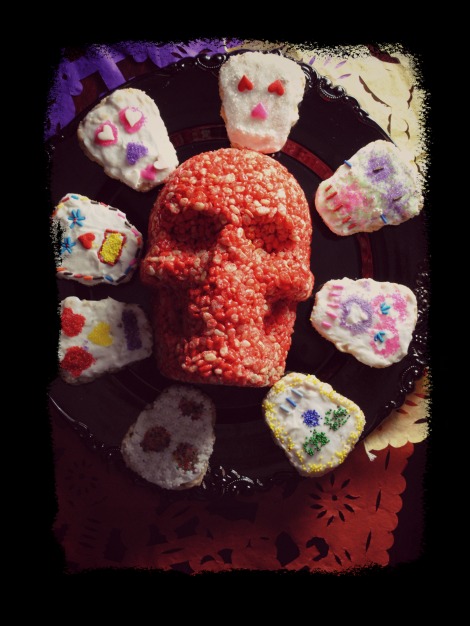 Sugar Skull Rice Krispies over at Spanglishbaby
Sugar skulls, also known as Calaveras or calaveritas de azucar, are among the most recognizable part of displays. Sugar skulls serve to remind us that death awaits us at any turn. Elaborately decorated with glitter, sequins, jewels they have become a symbol of the Day of the Dead and offer a festive way to honor death. Sugar skulls play an important role in this celebration as many families gift the children tiny skulls to enjoy at the fiesta.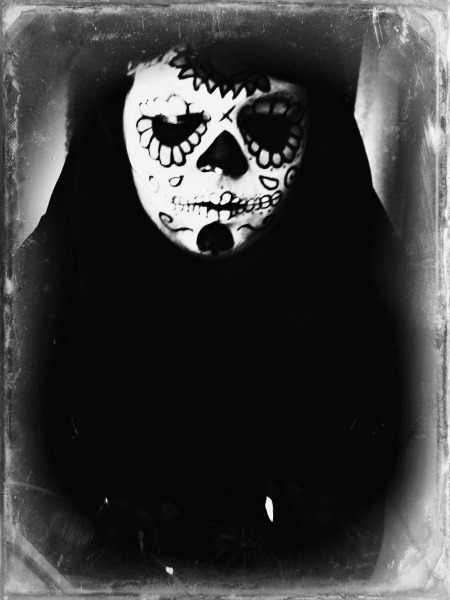 The ofrenda (the altar), traditionally includes the yellow marigolds (cempasuchitl) the sweet scent that leads the departed home toward their altar, water, photos and favorite foods and drinks.
All ofrendas feature four elements: Water, Wind, Fire and Earth.
Earth is represented with food
Fire is represented by a candle
Wind is represented by colorful paper ornaments
And there is always water for the journey
Ofrenda foods typically include bread, fruit, chocolate or sweets and a dish representative of that person or family's meals.
Tamales and Atole (porridge) are very typical of both ofrendas and graveside displays.
Pan de muerto, a special bread made with raisins, aniseed or orange blossom water are shaped into round shape topped with dough formed into "bones" or crosses, then topped with sugar.
Dia de los Muertos is celebrated differently depending on where you're from.  I like to incorporate oranges, grapefruit and lemons as they're representative of my South Texas heritage.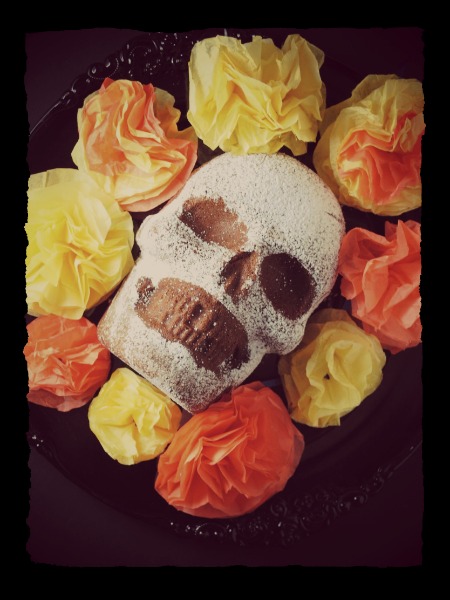 Dia de Los Muertos is an ancient Aztec celebration of death, the bittersweet companion to life. All life must come to an end, so why not celebrate death as we do life? When the Europeans arrived in Mexico, both the Catholic religion and the Aztec celebration intertwined. Dia de Los Muertos is celebrated on from October 31 to November 2.
In the United States families of Mexican descent are celebrating Dia de Los Muertos more and more each year, making for Dia de Los Muertos in becoming a widely popular holiday. 
I would personally love to thank Alyssa Garza a local Texas A&M graphic art design student who took time from her busy schedule to paint my daughter's faces. We were amazed at the results and my girls will never forget the experience. Thanks Alyssa for helping us to preserve our culture in this Dia de Los Muertos Celebration!!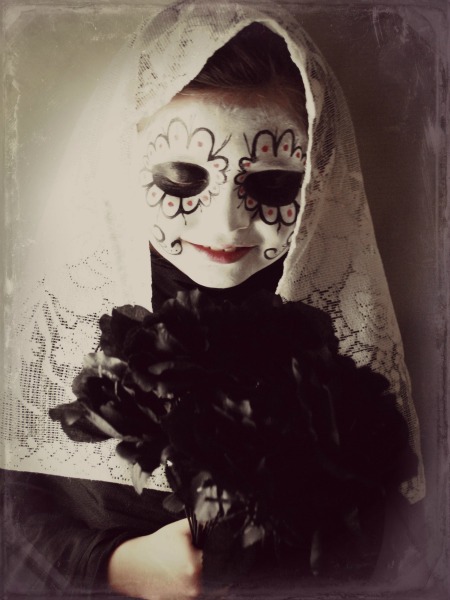 To help us celebrate Dia de Los Muertos Wilton has graciously offered to giveaway one Wilton 3D Skull Cake Pan to one of my readers!  Very cool, now you can easily recreate theses recipes and celebrate along with us next year!!
How to Enter: Please leave one comment for each action taken~Four chances to enter!
Like Sweet Life on Facebook
Follow Sweet Life on Twitter
Follow Sweet Life on Pinterest
Tweet  Amazing #diadelosmuertos giveaway with @WiltonCakes and @sweetlifebake enter here (use twitter button above)
Giveaway ends Monday November 5, 2012. Winner will be contacted by email, Good Luck!!
Sponsor will ship prize.
Contest is open only to legal residents of the 50 United States of America, Washington, D.C. (excluding US territories and possessions) or Canada (excluding Quebec), who are are eighteen (18) years of age or older. Void where prohibited by law
Sweet Life Disclosure ~ Wilton has graciously offered to provide my readers a skull pan for this celebration. I only endorse products that I use and love.