'Tis the season for family, friends, Christmas lights, tamales and pozole y'all! Today I'm excited to collaborate with Beef Loving Texans on behalf of the Beef Checkoff to share with you an amazing recipe for Beef Pozole Rojo.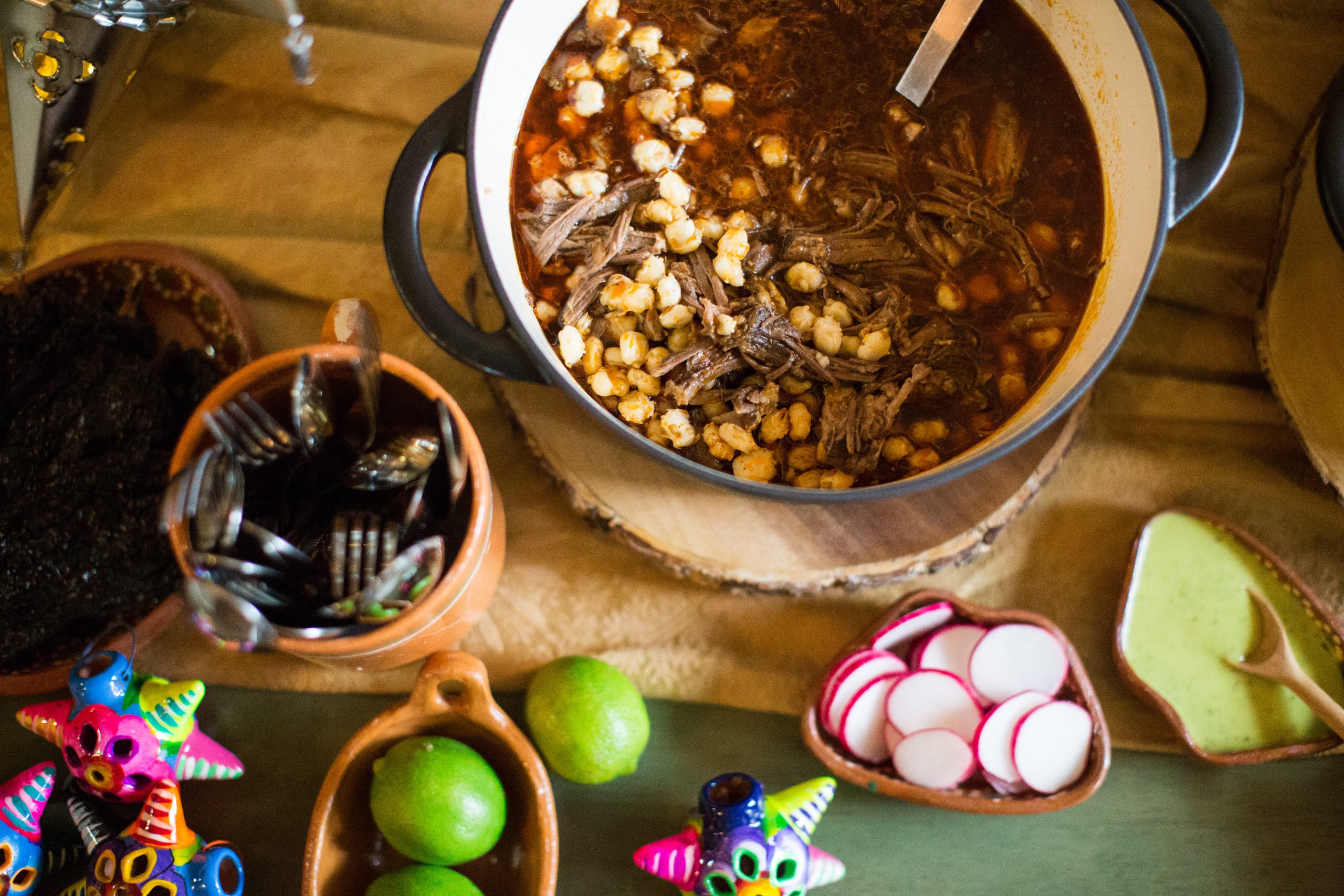 I'm gearing up for my annual tamalada. A tamalada is a tamale-making party where family and friends gather to make dozens and dozens of tamales for the holiday season. My Abuelita hosted us growing up, then my mami took over the event and now I have the honor to host this fun event.
From start to finish, a tamalada can take anywhere from 10-12 hours, depending on how many you make. A tamalada is an all-day event, so I like to make sure my tamale-making crew is well-fed.
Bring on the POZOLE! Pozole has always been a part of our tamalada and I plan to carry on this tasty tradition as everyone loves pozole. Pozole is comfort in a bowl, plus it's so,so easy to make.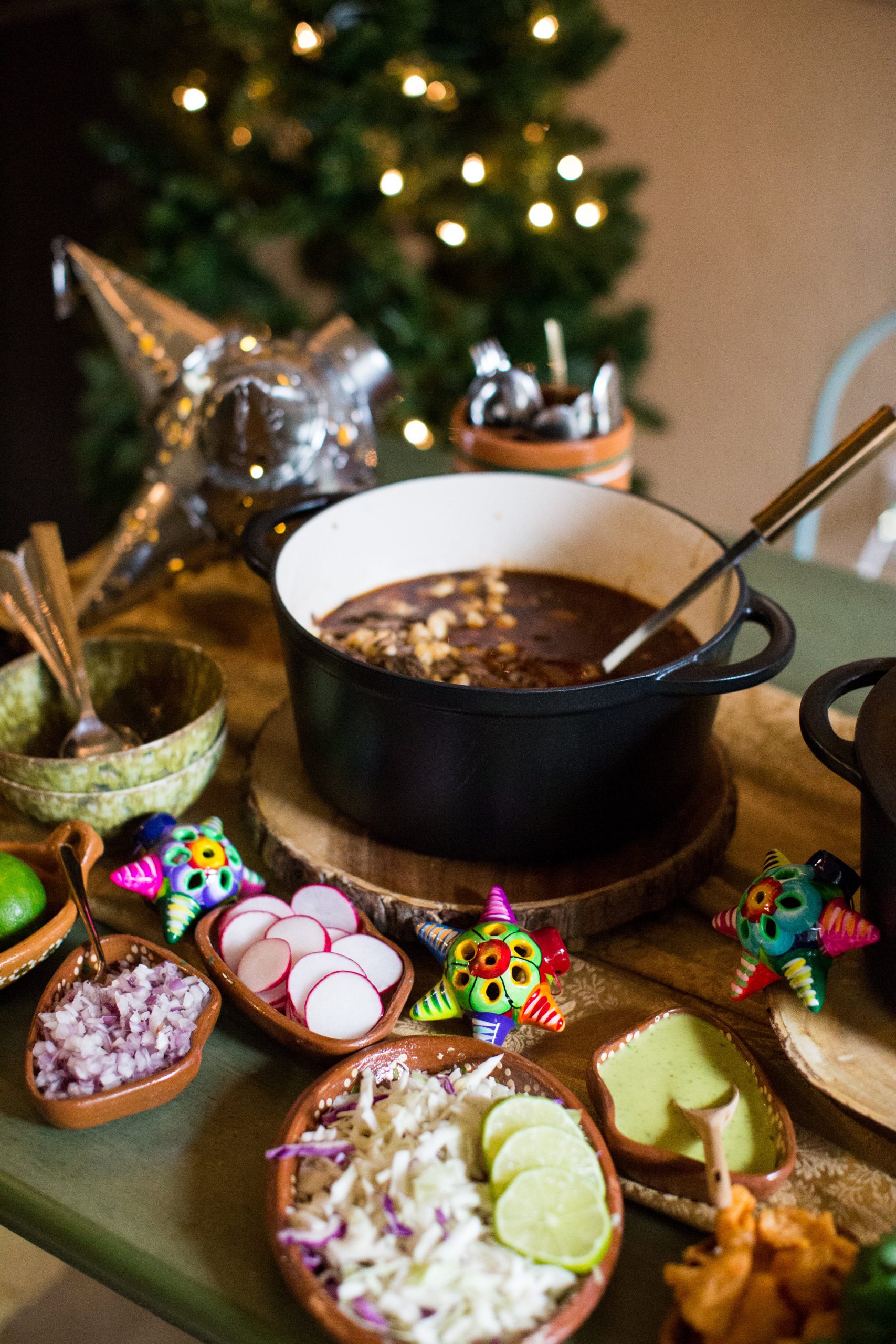 A hearty Mexican soup, pozole (which translates to "hominy") is a traditional soup that can be made with chicken, beef or pork. Pozole Rojo is made from dried chiles while Pozole Verde is made from tomatillos.
I like to set up a pozole bar for our tamalada. Growing up my mami always made pozole rojo when she hosted her tamalada, so it has become a family tradition.
It is nice to have a variety for your guests – pozole rojo, verde, chicken, beef, pork or a meatless version of pozole made from frijoles. One mild, one spicy I like to give my guests options, after all a full belly will give your guest the strength to work all day assembling tamales.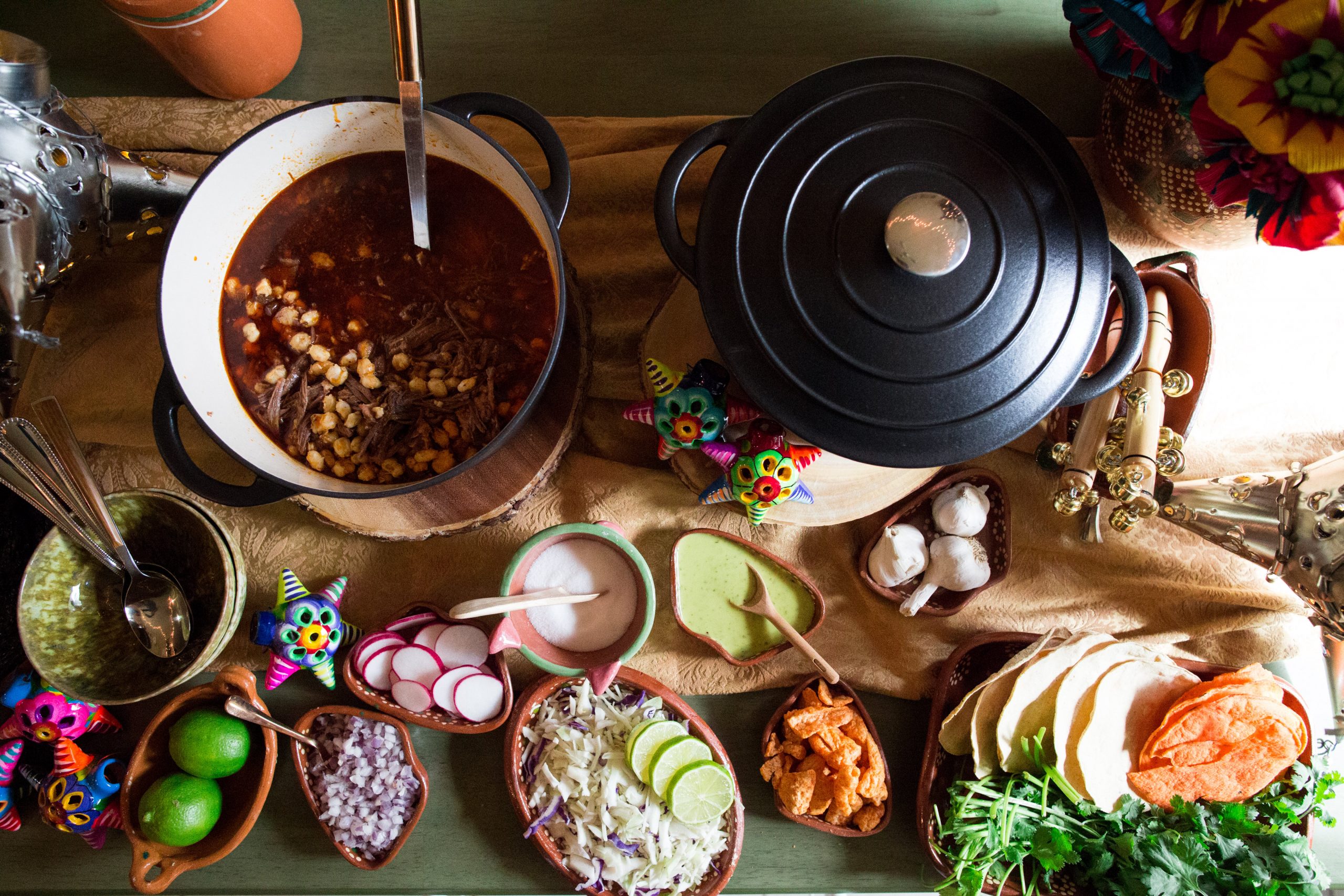 Today I am sharing with you how easy it to make Beef Pozole Rojo that is always a family favorite. A rich chile sauce is made with dried chiles that is blended until smooth, then added to broth. The chile sauce gives the broth a deep earthy flavor. Now let's talk about the star of our pozole – the beef!
Texas beef is a big part of my weekly meal planning. Not only is Beef budget-friendly, but beef can also be part of a balanced meal, beef is versatile – from burgers to brisket to tamales, tacos, to pozole beef is a huge part of my cocina. There are so many ways to cook beef for a satisfying meal.
Beef can also be part of a balanced meal – did you know? Among the powerful package of 10 essential nutrients, beef is known for, protein may be one of the most notable. In fact, one 3 oz cooked serving of beef provides 50% of your Daily Value (25 grams) of this important nutrient—making it an excellent source!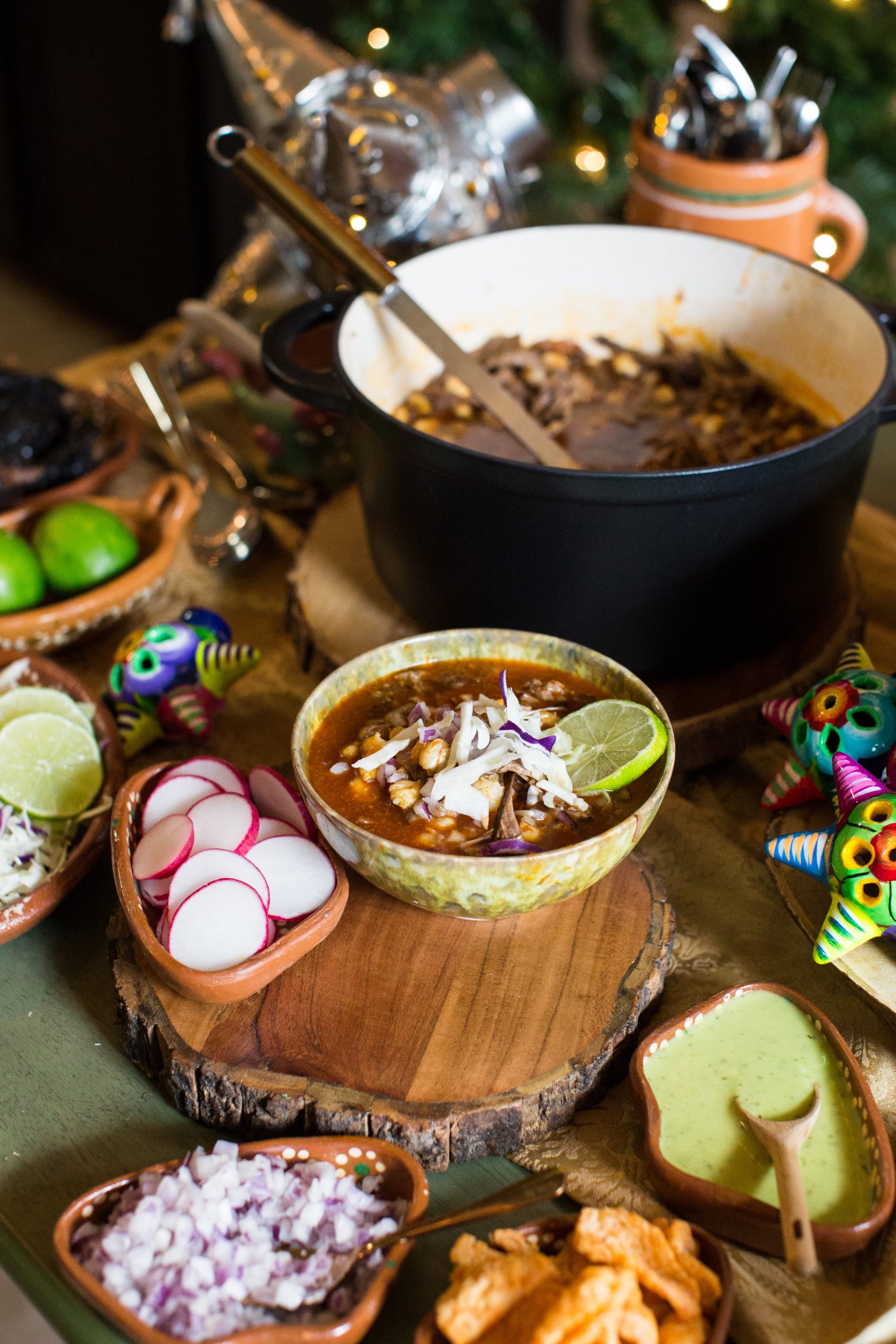 I season the beef with plenty of cumin and salt before searing on both to lock in all the flavor. Beef broth, a bay leaf, oregano, and the chile sauce is added then simmered until the beef is fork-tender. While the beef and chiles sauce simmer away they create the most deliciously rich, earthy, smoky broth. The fork-tender beef is added back to the Dutch oven along with the hominy. A quick simmer, then we are set to ladle up a steaming bowl of beef pozole rojo to our guests.
Let's talk toppings! I mean what's a warm bowl of pozole without tasty toppings? Consider having a few crunchy/tasty options like – sliced cabbage, lime wedges, sliced radishes, diced avocado, a few salsas or tostadas.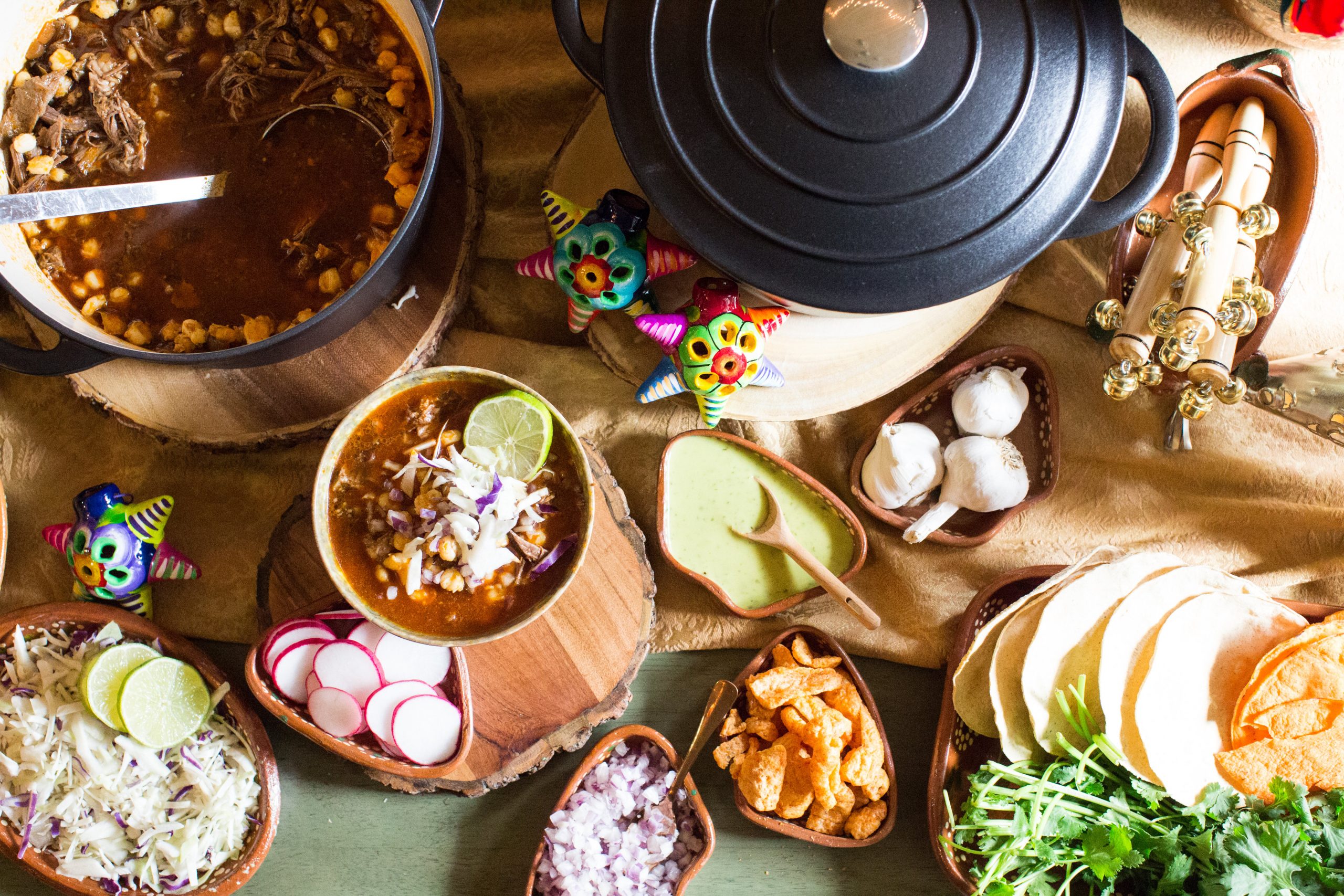 I set up my pozole bar away from the table where we are assembling tamales so people are free to serve themselves, wander with their bowl to chat with other guests, eat outside (I also set up an outside table) and go in for seconds.
I keep my pozole warm in a slow cooker the transfer to a Dutch oven just before guests arrive. I add a colorful tablecloth, place out bowls, utensils and plenty of garnishes so my guests are free to eat when they, please.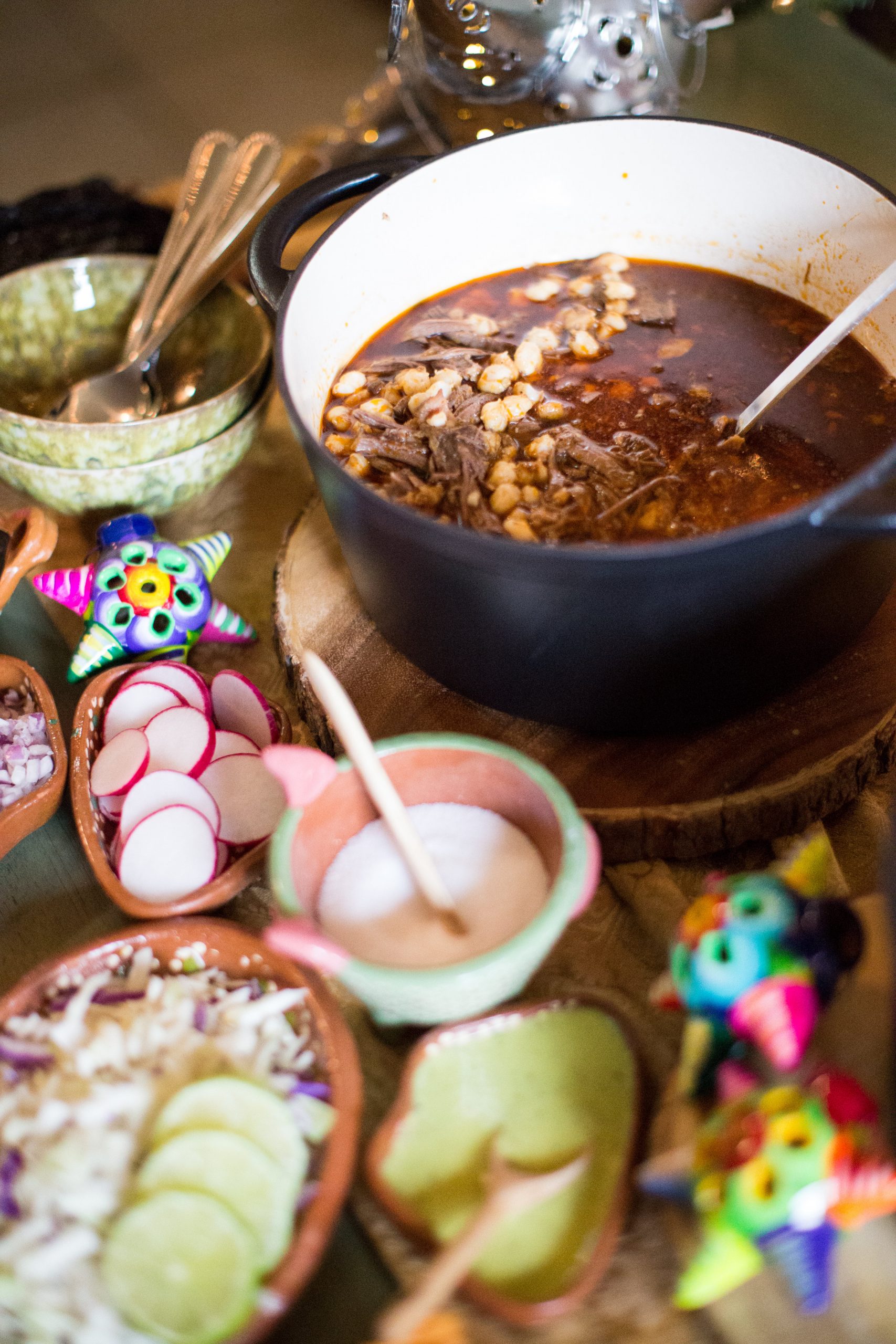 I'm so excited to host our tamalada this year and plane to make a double batch of this beef pozole rojo, por que tu sabes…
Panza Llena Corazón Contento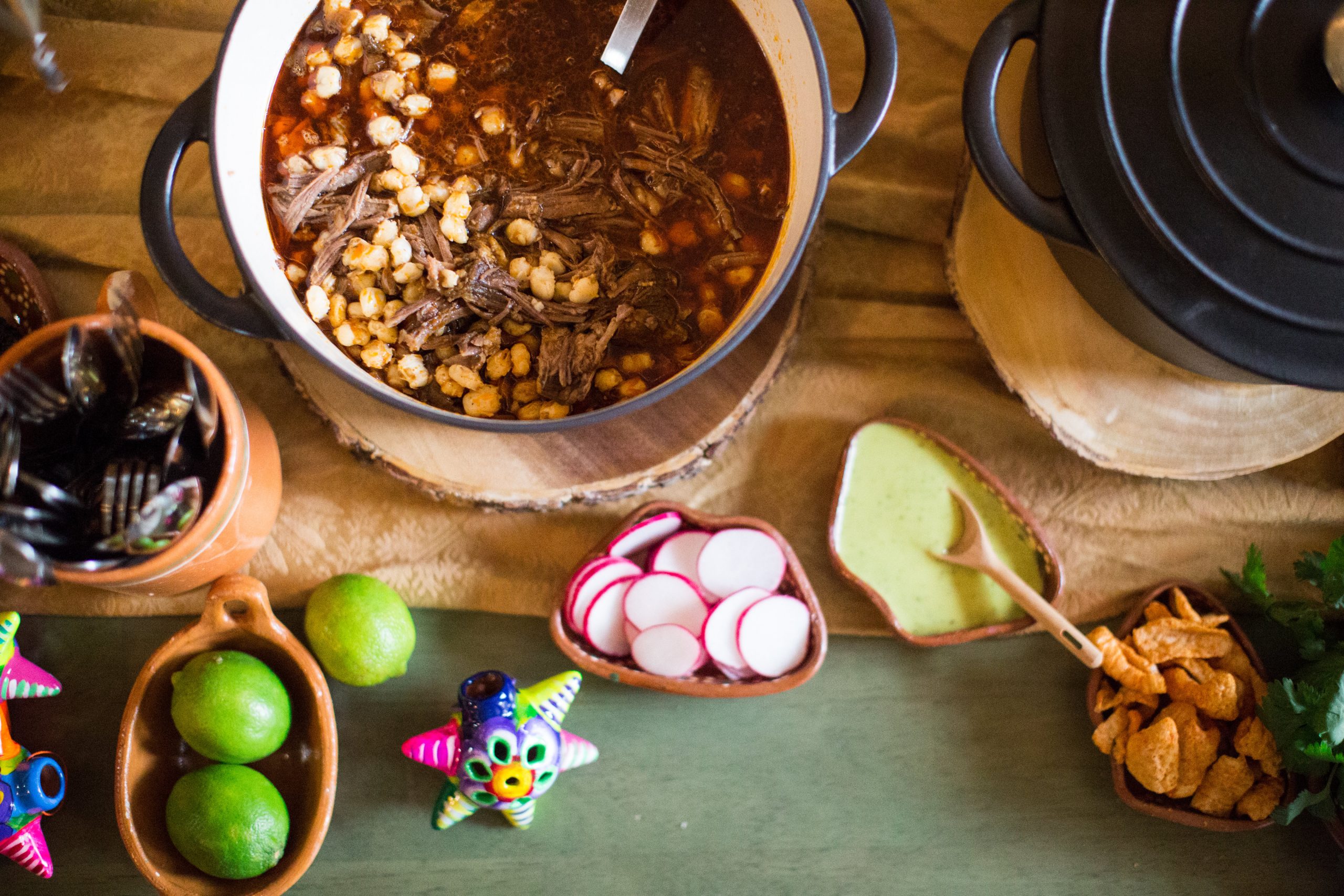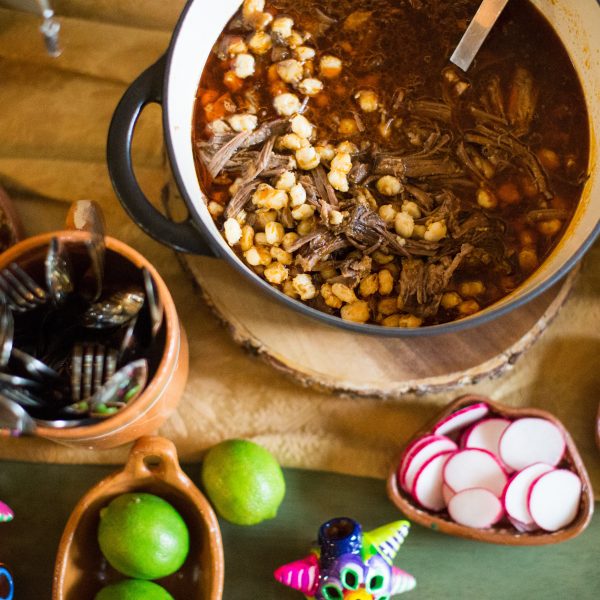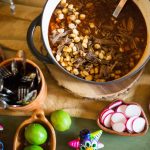 Beef Pozole Rojo
A hearty Mexican soup, pozole (which translates to "hominy") is a traditional soup that can be made with chicken, beef or pork. Pozole Rojo is made from dried chiles while Pozole Verde is made from tomatillos.
Ingredients
4

ancho chiles

3

garlic cloves

3

teaspoon

salt

4

pounds

beef chuck roast

2

teaspoons

ground cumin

2

teaspoon

salt

2

tablespoons

vegetable oil

1

onion

diced chopped

8

cups

beef broth

1

tablespoon

oregano

1

bay leaf

3

15- ounce cans hominy drained and rinsed

To serve: shredded cabbage

diced onion, sliced radishes, cilantro, salsa, tostadas, chicharrones and limes
Instructions
For chile sauce: Remove stems, and seeds from chiles, place in a bowl pour boiling water over them.to cover. Allow to soften, about 15 minutes. Once chiles have softened add to a blender along with 1 cup of the soaking liquid, garlic cloves and salt. Blend until smooth, strain.

For beef: Season beef with cumin and salt, set aside. Heat a duchy oven over medium-high heat, add oil. Add onions, cook until soft and translucent, about 4 minutes. Add chuck roast, sear on both sides, about 4minutes each side. Stir in beef broth, bay leaf, oregano and ½ cup chile sauce. Bring to a boil, reduce heat, cover and cook for 2 ½ hours – 3 hours, until beef is tender.

Carefully remove beef from Dutch oven, shred with two forks and return to Dutch oven, stir in hominy, cover and cook an additional 20 minutes. Taste add additional salt If need. Serve with assorted toppings and the remaining chile sauce.